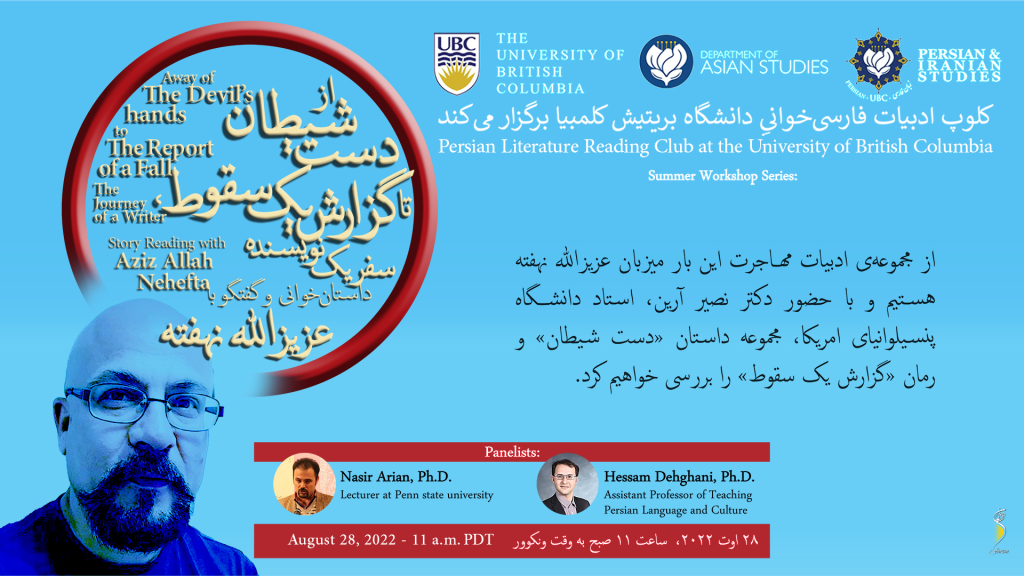 The Persian Language and Iranian Studies Initiative at UBC, the UBC Persian Literature Reading Club, and the UBC Persian Club are hosting a series of events analyzing the literature of migration and exile in Modern Persian Literature in Summer 2022. The last session of the Summer 2022 series features guest speaker Aziz Allah Nehefta. This panel, joined by Dr. Hessam Dehghani (UBC Department of Asian Studies) and Dr. Nasir Arian (Penn State University), will discuss Aziz's latest works about the fall of Afghanistan into the hands of Taliban in his novel "Report of a Fall" and his short story collection "Hand of Devil".
The event is sponsored by the Department of Asian Studies. 
Date & Time:
Sunday, August 28, 2022
11:00am (PDT) / 10:30pm (Tehran Time)
Location: online via Zoom
Presented in Persian
Free & open to the public. Registration is required via the form below.
Guest Speaker
Aziz allah Nehefta is a novellist, short-story-writer, poet and journalist who was born in Kabul in 1973. He attended primary and secondary school at the franco-afghan Lycee Estiqlal. He later immigrated to Pakistan due to civil war in the 80s.
In Pakistan, he started to publish poems and short stories in literary magazines. His first book of poems was published in 1995. He worked as a librarian in PCFA (program cultural franco-afghan), a French spurted organization for Afghan refugees in Pakistan. When the Taliban took the power in Kabul, he started to write about stories he heard from the refugees.
Panelists
Dr. Hessam Dehghani earned his first PhD in Linguistics from Allameh Tabātabāi University working on the "Structural analysis and Phenomenological study of Persian Literature" in 2012. He then earned another PhD in Philosophy from Boston College in 2019. Since then, he has been a post-doctoral researcher and associate researcher at Harvard Divinity School and the Center for Middle Eastern Studies where he has researched about the formation of the Persianate identity in Persian Mystic Literature. He has published a number of essays in Persian including "Phenomenology of Poetry: Re-reading Ahmad Shamlou's poem "the walls". He has also presented on different aspects of Persian mystic literature regularly at Harvard and Boston College.
Besides his research interest, he has been teaching English as a foreign language in Iran, and Persian and Arabic in North America for the past twenty years. Since 2012, he has taught Persian and Arabic and directed Persian program single-handedly at Boston College for which he received both teaching and leadership award from that institution. He has recently started his tenure as an assistant professor of teaching Persian language and Culture at UBC. In pedagogy, his interests lie in material development and assessment for which he has passed multiple ACFTL workshops and received several certifications from 2013 up to present. He is passionate about implementing technology in classroom and developing a course book for Persian Students of 21st century.
Dr. Nasir Arian, Lecturer at the Penn State University
Should you have any questions, please contact Dr. Hessam Dehghani at hessam.dehghani@ubc.ca.