The Department of Asian Studies is delighted to invite you to our annual Careers Night! Navigating life after graduation can be hard, so each year we bring in alumni with diverse experiences – at home and in Asia – to inform and inspire current students. This event will feature a round robin networking session, raffle prizes, and a delicious free dinner. Careers Night is the perfect opportunity to make connections, meet fellow Asian Studies students, and feel more confident in taking the next steps on your career path.
Thursday, March 12th, 2020
Jack Poole Hall, Robert H. Lee Alumni Centre
Free – Registrations have now closed; we will welcome sign ups for our Waitlist from 5:30pm on the day (first come, first served), and space permitting, we will advise at 5:50pm. 
This event is co-organized by the Department of Asian Studies and the Faculty of Arts.
These annual events, held in February or March of each year, are open to students who have declared or are potentially interested in declaring a major in Asian Studies, and alumni who are interested in sharing their personal insight and experiences.
As a student:
* Ask the burning questions about what a degree in Asian Studies has to offer
* Gain extremely helpful networking tips (e.g. How to Use LinkedIn 101)
* Meet your fellow undergraduates and learn about their career and academic plans
* Gain an excellent head-start in planning your next move during and after UBC
As an alumni:
* Share what you did at UBC that helped you succeed
* Give back to your alma mater by providing your insights to the students of what they should be expecting
* Meet and make connections with other alumni, faculty, and students
* Meet potential employees among our diligent and passionate students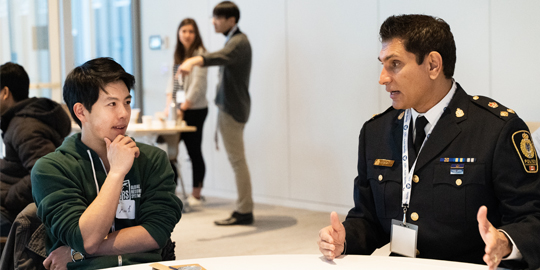 2020 Event Program
(Dress: Business Casual)
We'll have plenty of Asian Studies merchandise for sale too – bring your cash!
6:00 pm – Doors open
6:10 pm – Welcome
6:30 pm – Dinner Served
7:00 pm – Networking Round Tables: Ask Me Anything (15-min rounds plus breaks)
9:00 pm – Event concludes
Students will break into groups and rotate among the alumni. Ask our alumni how they got their first jobs after graduating and how they have navigated through the "real world". Confirmed alumni include:
Kayla Black, BA '14 – Project Coordinator at The Law Foundation of BC
Kayla studied Korean culture and language at UBC, including a year abroad with GoGlobal in South Korea. Following her graduation in 2014, she worked at a local Vancouver charity, First Steps, to prevent child malnutrition in North Korea. Recently, Kayla began working at the Law Foundation of BC, an organization which funds law-related public programs and projects.
Gabriela Chen, BA '15 – Account Based Marketing Analyst, Procurify
Gabriela had the opportunity to study in Vancouver, Hong Kong and Japan – earning her skills in English, Japanese, Cantonese and Mandarin while growing up. Immediately after graduating in 2015, Gabriela supplied and serviced restaurants and retail businesses as a full cycle sales for four years with a publicly listed Japanese import and distributor: Nishimoto Tradings Inc. In 2019, Gabriela became curious between different business management styles in the city and currently leads sales outreach efforts for local software company Procurify as their marketing analyst.
Ellie Cho, BA '16 – CG Artist

Ellie graduated from UBC with honours in Asian Languages and Cultures (Mandarin) and minor in English (literature). She found her passion in learning the language in Taiwan through scholarships and went back again through Go Global. During her time at UBC, she also studied and worked under Dr. Ross King, as well as studying translation in Korean. After graduating, she found a position in a credit union, but she left in order to pursue a more creative career. After further schooling, Ellie is now in the visual effects industry as a CG artist and has worked on games and films in companies like Electronic Arts, MPC, and Sony Pictures Imageworks.
Micki Cowan, BA '11 – Assignment Producer/Reporter at CBC Vancouver
Micki is an assignment producer and reporter at CBC Vancouver. Half the time she is making big decisions about what stories the newsroom covers and how it covers them. The other half she is out in the field conducting interviews, doing live radio hits and going on TV. Her passions include municipal affairs, the environment and making use of her Japanese language skills.
Reid Hamilton, BA '93 – Assistant Vice President, HSBC
After graduating with a BA in Asian Studies in 1993, Reid spent the next five years living in Hong Kong working as an executive recruiter focusing on banking and finance. He earned his MBA in Finance from NYU in 2001. Following this, Reid spent the next 15 years in various foreign exchange and interest rate risk management roles in New York and Hong Kong. In 2015 Reid returned to Vancouver and is currently an Assistant Vice President with HSBC's commercial banking group covering large corporates in Vancouver.
Alysha Joo, BA' 16 – Knowledge and Records Management Specialist, Land Title and Survey Authority of British Columbia
Alysha graduated from UBC with honours in Asian Area Studies. She focused on courses relating to Japanese history, Korean history, Korean language and Korean literature. She also worked for the Department of Asian Studies as an Office Assistant through the Work Learn program. After graduation, her interests in history and literature led her to pursue a combined Masters of Library and Information Studies (MLIS) and Archival Studies (MAS) at UBC's School of Information (iSchool). During this time, she undertook a variety of opportunities to broaden her interests, as a Student Librarian providing reference and educational support at UBC Woodward Library, by exploring records and privacy management in public organizations through an internship with the City of Port Coquitlam, as well as through pursuing her research interests on the impact of emerging technologies on information management and digital preservation as a Graduate Research Assistant with Blockchain@UBC. Immediately after the completion of her MAS & MLIS degrees, Alysha gained employment as the Knowledge and Records Management Specialist with the Land Title and Survey Authority of British Columbia, where she currently works assisting in the development of a Knowledge Management Strategy and Knowledge Base for land title practice.
Nicole Lin, BA '19 – Graduate Student in the Asian Studies MA Program
Nicole is currently a first year Korean Studies MA student in the UBC Asian Studies Department studying under the supervision of Dr. Ross King. She recently completed her BA and graduated from UBC in 2019, double majoring in History and Asian Area Studies. Her focus area primarily concerns colonial Korea and colonial Korean literature. Throughout her BA and MA, Nicole has taken part in the Go Global Exchange Program, Arts Co-Op program, Work Learn, and has held RA and TAships with the Department of Asian Studies.
Richard N. Liu, BA '93 – Board Director at the Pacific Canada Heritage Centre – Museum of Migration
Richard explored China as a student attending Peking University that led to a rich 20-plus year career at the Canadian Embassy, the Swiss Chamber of Commerce, and Western Academy of Beijing, in areas of diplomacy, public relations, major events organization and education. As a leader in the development of a wide variety of volunteer projects in China, Richard started the influential "Canadians in China" network; founded the rapidly growing Canadian Alumni Network (CAN) that brings together thousands of alumni currently in China who attended Canada's post-secondary institutions; and was one of the original founding committee members to start the very first Terry Fox Run for Beijing in 1999. Since returning to Canada in 2014, Richard now sits on various boards; and advises companies and organizations on a variety of sectors pertaining to Asia.
Daryl Louie, BA '10 – Co-Founder and CEO, AntiSocial Media Solutions
Daryl is the Co-Founder and CEO of AntiSocial Media Solutions, a digital marketing agency with offices in Vancouver and Toronto. His team handles social media strategy and execution, an all in-house media production team, website build and SEO optimization, and digital advertising campaign management.
Often found photobombing selfies, Daryl is deeply involved in promoting AntiSocial's office culture.
He has worked in digital marketing for 10+ years, spanning many industries. The teams he leads have worked on brands prominent through their Digital Marketing including Jimmy Pattison Group, Vancouver Police Foundation, Fairmont, Notable, El Furniture Warehouse, Blueprint, 7-Eleven, and more.
Lucy Lu, BA '19 – Content Creator, Heyni Technology Corp.
Lucy graduated from UBC with the major in Asian Area Studies in 2019. She completed courses related to East Asian culture, art, and history. The two summer internships in China, with the role of marketing assistant in a local cultural museum and the role of project assistant in Chongqing foreign cultural exchange center, provided her insights into the cultural industry. By taking Chinese history, literature, and film courses, she gradually founded her passion for Chinese language and culture. Upon graduation, she joined an online Chinese education company in Vancouver – HEYNI Technology Corp. Combining Lucy's academic background with her creative writing skill and theatre performance, she is working as a Content Creator & Event Planning Assistant to help global students to learn Chinese, and to facilitate the multicultural communication within Greater Vancouver. Outside of her work, she is a writer and storyteller to narrate young people's life struggles positively.
Chandima Silva, BA '18 – Academic Program Coordinator, Simon Fraser University
Chandima graduated with a Bachelor of Arts in Asian Area Studies with a focus on South and Southeast Asia in 2018, which he complemented with an exchange stint at the National University of Singapore. He is currently an Academic Program Coordinator for the School of Computing Science at Simon Fraser University, where he manages the delivery of the undergraduate and graduate programs alongside two other kick-ass colleagues. In addition to his full-time work, he is involved on the Asia Pacific Youth Council for the Asia Pacific Foundation as a Director of Arts and Culture Programming, which involves extending the mandate of connecting Canadian youth with Asia through events centred around pan-Asian art and culture.
He enjoys travelling and eating his way around the world and is passionate about increasing LGBTQ+ visibility and inclusion.
Zining Wang, BA '18 – Program Specialist at Asia Pacific Foundation of Canada
Coming to study at UBC in summer 2013 was Zining's first time to go abroad. Fast forward to 5 years later, she completed a double major in Asian Studies and Economics, a minor in Commerce and 16 months of Co-op work. Learning Farsi, Japanese, and exploring her Chinese identity through literature and movies became her fondest memory of UBC. Upon graduation, Zining joined the Asia Pacific Foundation of Canada, a not-for-profit think tank promoting Canada-Asia relations, to pursue her passion connecting Asia to the rest of the world. Realizing the mentorship she received from alumnus and professors has contributed greatly to her journey, Zining founded the Asia Pacific Mentorship Program in 2017 that provides students opportunities to learn more about a future career related to Asia. Outside of her work, Zining is a dialogue facilitator and has engaged with multiple initiatives to support conversations about diversity, inclusion, and intercultural awareness on UBC campus and beyond.
Jennifer Ward, BA '12 – Freelance Translator (Japanese to English)
For seven years, Jennifer has worked from home, self-employed, as a freelance translator of light novels and manga. Cumulatively, she's translated nearly thirty light novels and hundreds of volumes of manga in digital and print for Yen Press, Seven Seas, Kodansha USA and Kodansha JP, and other publishers.
Emily Wu, BA '03 & MA '07 – Program Leader, UBC Extended Learning & UBC Internal Coach
Emily is currently an Internal Coach at UBC and a Program Leader at the UBC Extended Learning. Her current work involves developing, delivering, and managing innovative educational programs for adult professionals. Prior to working at UBC, she has worked as an Assistant to Consul for Cultural Affairs at Consulate General of Japan in Vancouver and a Coordinator for International Relations on the JET program. Emily currently serves on the board of Powell Street Festival Society and volunteers with Japan Fair Association of Vancouver and Big Sisters of BC Lower Mainland.
Juliana de Souza, Career Strategist, Arts – Centre for Student Involvement and Careers 
Registrations have now closed; we will welcome sign ups for our Waitlist from 5:30pm on the day (first come, first served), and space permitting, we will advise at 5:50pm.