Located on the University of British Columbia Vancouver campus, the Asian Centre is home to the Department of Asian Studies. The Department manages multi-functional facilities that are suitable for conferences, seminars, workshops, exhibitions, and cultural performances.
We have 2 spaces: the Auditorium and the Seminar Room both located in the Asian Centre on 1871 West Mall, Vancouver, BC, V6T 1Z2. The building is wheelchair accessible. The spaces are available for rent by UBC units and public groups, with priority given to Asia-related events.
All organized gatherings will need to meet the requirements of the relevant Provincial Health Orders that are current at the time of the event. For information and guidance at UBC in Vancouver, please visit the UBC COVID-19 Events and Gathering Safety Planning webpage.
Facilities
The Auditorium is the most versatile space in the Asian Centre where you can customize the layout in order to best accommodate your needs. 
Size: 54'x42′
Maximum Capacity: 200 Standing Capacity / 130 Seated Capacity 
Below is a list of all available features that come with the rental:
20-foot screen
190 stackable chairs
15 collapsible 8 x 2.5 ft tables
1 lectern
Hosting access to the Asian Centre foyer
Built-in coat check area
Dressing Room
Additional A/V Equipment (e.g. Built-in LCD Projector & Sound System, microphones) must be requested and will add an additional charge – see here for the full list of available equipment.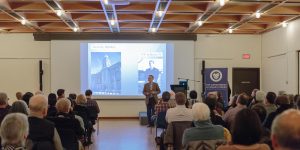 Located on the main floor of the Asian Centre, the Seminar Room has a wall of windows with a beautiful view of our sunken garden that surrounds the building. 
Size: 31′ x 15'5″  
Maximum Capacity: 25 Seated (ideal for 10-20) 
Included equipment: 9 tables, 25 air-flow mesh chairs, 70-inch retractable screen, a built-in 6-foot blackboard and whiteboard, A/V & Projection equipment.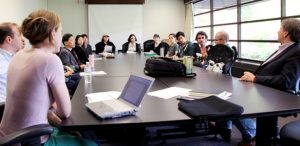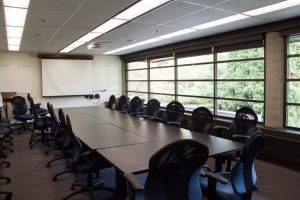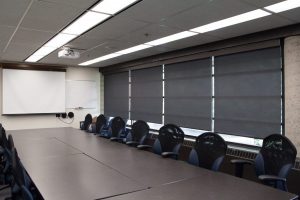 Pricing
Our facility rentals are divided into 2 sessions: 4 Hours and Full Day. We offer discounted rates for all UBC faculties, departments, schools and programs. Please note the final prices will include tax.
| | | |
| --- | --- | --- |
| Auditorium | UBC Rate | Public Rate |
| 4 hours | $200 | $350 |
| Daily Rate | $325 | $550 |
| | | |
| --- | --- | --- |
| Seminar  | UBC Rate | Public Rate |
| 4 Hours | $120 | $150 |
| Daily Rate | $180 | $225 |
Booking a Room
See below for an overview of the booking process. 
Fill out our booking form to request a quote.

We will contact you to confirm your request within 5 business days. Once confirmed, we will issue you a quote and send you our rental agreement for the respective venue for your review.

Complete the payment to secure the booking. 

Depending on your familiarity with the venue, we will organize a tour of your venue and arrange the pickup of keys if your event is after-hours.

Your event day(s)!

Following the terms of the Rental Agreement, our staff will inspect the condition of the venue after your event and return or void the damage deposit if everything is in order.

 
FAQ
This is a list of additional equipment available in the Auditorium. Some of the equipment is included with room rental and some are charged at their respective rate. 
Projection
Built-in LCD Projector & Sound System ($150)

 
Microphone and Audiovisual Equipment
Wired Handheld Microphone x 4 ($50 each)

 

Wireless Lapel Microphone x 4 ($75 each)

 

4-Channel Audio Mixer ($30)
Microphone cables (included with room rental)
Presentation Aids:
Wireless Presenter Remote (included with room rental)
Internet
Guest Wireless Internet (available through the 'ubcvisitor' network, included with room rental)
Ethernet Cable (included with room rental)
Yes and no. No, the Asian Centre does not provide food services. The Asian Centre is not responsible for food and drink services/serving at your event. If you are looking for a catering service on campus, please feel free to check out UBC Food Services – Catering.  
You are welcome to bring your own catering to your event as long as it complies with the Vancouver Coastal Health Authority's guidelines for serving food at special events, which can be found on their website here.  
Yes, the Asian Centre has temporary space for food storage. For temporary food storage space, there is a Downstairs Kitchen available for rent ($20). The Downstairs Kitchen provides access to a general sink and fridge for briefly storing your food/drinks during your event. Please note that this space is not for cooking meals.
No. We do not allow alcohol to be served in our facilities. 
The wireless service is for all campus visitors. No login is required, however, users are required to accept the Terms of Service when first connecting. Please note that bandwidth is limited. 
Find more information here.  
If you are looking for a more stable connection during your event, there is Ethernet access available in the Auditorium. 
The Asian Library located in the Asian Centre manages two seminar rooms, one seating 8 persons and the other 10 persons, which are available for meetings and group study. One room is equipped with a television, DVD player and projection screen. Please contact the circulation desk at 604-822-2427 for room bookings. For more details, please visit Asian Library Space and Facilities. 
The closest parkade to the Asian Centre is the Fraser River Parkade. The address of the parkade is 6440 Memorial Rd, Vancouver, BC V6T 1Z2. 
At the moment, we only accept cash or cheque, in person at the Asian Centre. Please note that our physical office is closed on Fridays. 
If you are booking as part of another UBC unit, you can pay through an internal transfer on Workday.