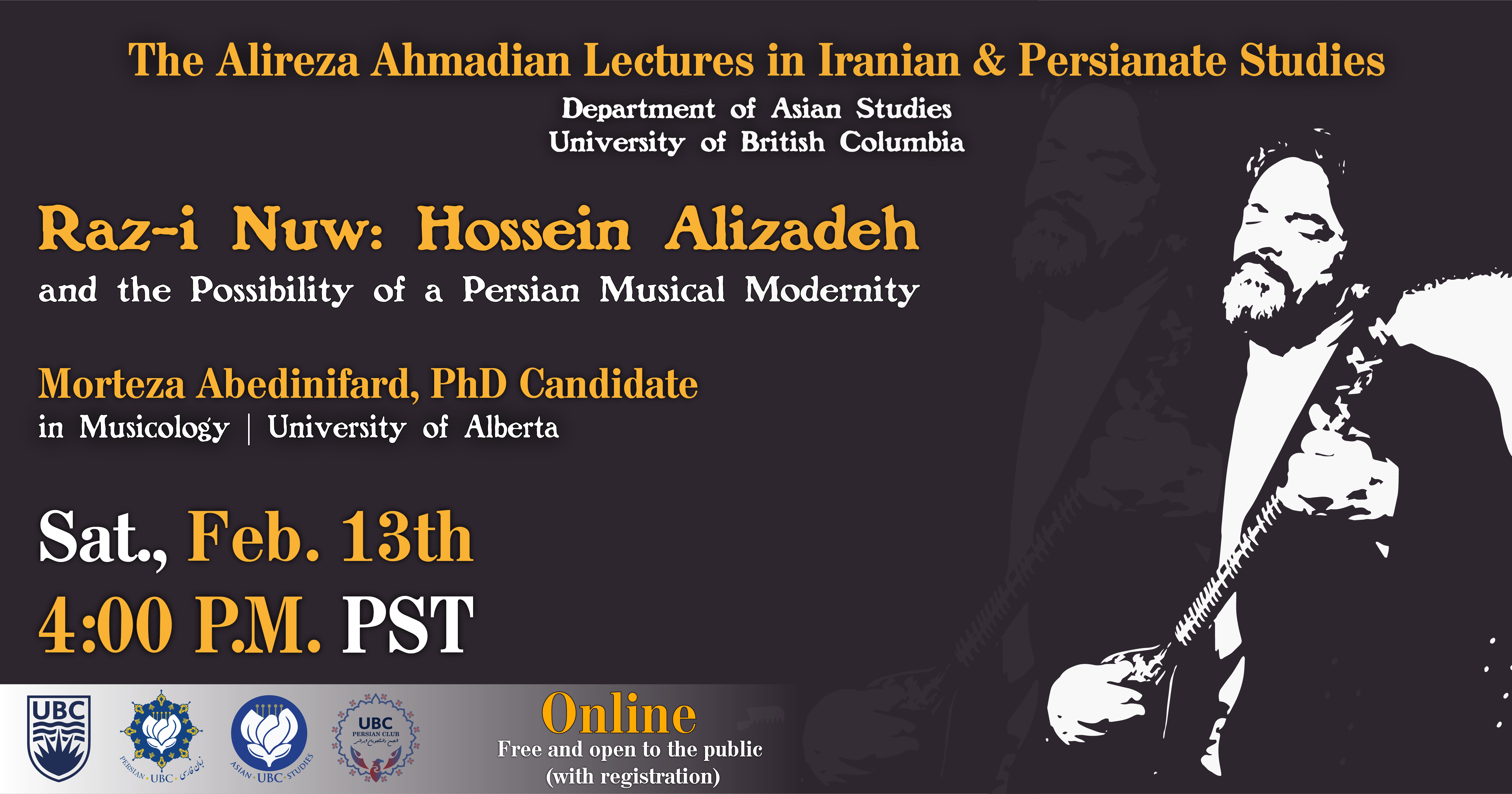 Poster design: Razman Goudarzi (UBC student; Current UBCPC President)
Presented in English with subtitles. 
Thank you to everyone who attended! The recording can be viewed on YouTube via this link here.
Presenter: Morteza Abedinifard (PhD Candidate in Musicology, University of Alberta).
Hossein Alizadeh's musical novelties are distinct from other contemporary composers in an important manner: they seek to activate certain potentialities within Persian music in order to create fresh sonorities and a novel relationship between sound and text. An example of these innovational attempts is Alizadeh's album Raz-i Nuw (Novel Mystery), a thoroughly original approach to polyphony in Persian music, which he composed for four vocal lines, two percussions, and a melodic instrument (the "Tar" and a modified "Tanbour" in different sections). In my presentation, I will focus on certain novelistic aspects of this musical offering that have decidedly challenged conventional approaches to Persian music while at the same time preserved some significant structural characteristics of this musical traditions. In particular, I will underline and examine Alizadeh's efforts in certain vocal pieces in this album where he has succeeded in constructing a realistic relationship between music and "meaning" in the text. I argue that this new approach to text-setting, although not entirely unprecedented among Persian composers, is particularly interesting in Alizadeh's music for an important reason: it shapes its musical realism through an inherently local, i.e., Persian, approach to musical materials. In other words, Alizadeh's music goes beyond the conventional "capacities" of Persian music and actively engages in the reality of the text, without fundamentally disrupting the structures of Persian musical culture.
Morteza Abedinifard is currently a PhD Candidate in Musicology at the University of Alberta. Morteza's research interests include music philosophy, music history, and conceptual history. He has been playing the Setar for over 15 years.
About the Alireza Ahmadian Lectures in Iranian and Persianate Studies: Alireza Ahmadian (1981 – 2019) was an enthusiastic researcher, a consummate socio-political analyst, and an opinion leader on foreign policy who nurtured the virtues of diplomatic dialogue and liberal democracy. Alireza was a proud and devoted UBC alumnus, supporter of UBC's Asian Studies department, and beloved member of Canadian-Iranian Community. UBC's Asian Studies department renamed this lecture series in his honour in 2019. The Ahmadian family and friends have provided funding to support this series, and this generous gift will see these important academic and community engagement events supported through to the end of the 2025/2026 academic year. To access the full list of events, click here.