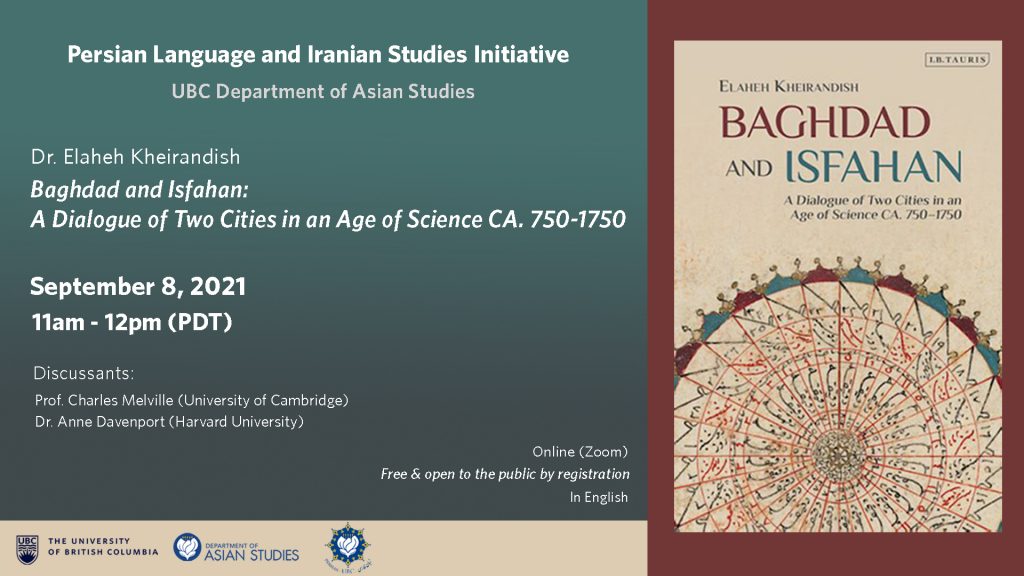 Moderated by Dr. Hessam Dehghani (University of British Columbia), this book talk features author Dr. Elaheh Kheirandish in discussion of her book Baghdad and Isfahan: A Dialogue of Two Cities in an Age of Science CA. 750-1750 alongside two panelists Prof. Charles Melville (University of Cambridge) and Dr. Anne Ashley Davenport (Harvard University). The event is hosted by Persian Language and Iranian Studies Initiative at UBC and sponsored by the UBC Department of Asian Studies.
Date & Time:
September 8 | 11am – 12pm (PDT)
Location: online via Zoom
This talk will be presented in English.
Free & open to the public. Click the link below to register for the event.
Registration link: https://ubc.zoom.us/webinar/register/WN_BZJyihShSlWR0SNT6bp_8g
About the speaker
Elaheh Kheirandish is a lecturer and researcher at Harvard University, Cambridge, Massachusetts. She holds a PhD in the History of Science from Harvard University, as well as graduate degrees in Mathematics and Science Education from the University of Rhode Island. Her undergraduate degrees are in Applied Mathematics and Chemistry. She has taught courses at several departments at Harvard University, curated exhibits at Harvard and Brown Universities, produced documentary films and digital projects, and lectured internationally. Her most recent affiliation is with the Department of History of Art and Architecture at Harvard University, and the Agha Khan Program for Islamic Architecture.
Discussants
Charles Melville, University of Cambridge
Charles Melville is an Emeritus Professor of Persian History at the University of Cambridge. He has been a long-serving member of the Governing Council of the British Institute of Persian Studies and is currently (since 2017) President. He has also served on the Board of the Societas Iranologica Europaea (1995-2003) and was President of The Islamic Manuscript Association (2006-19) and a trustee of the Gibb Memorial Trust until 2019. Since 1999, he has been Director of the Shahnama Project, based in Cambridge. In 2010 he was behind an exhibition of Persian manuscripts and paintings of the Shahnama (Persian Book of Kings) at the Fitzwilliam Museum. He is series editor of 'Studies in Persian Cultural History' (Brill, Leiden) and the 'Idea of Iran' symposia (Soudavar Memorial Foundation). He is a Permanent Fellow at the Centre for the Study of Manuscript Cultures (CSMC) at Hamburg University and currently has a Leverhulme Trust Emeritus Fellowship with a project on 'Visualising Persian history'.  He has travelled widely in Central Asia and Iran (both before and after the Islamic Revolution).
Anne Davenport, Harvard University
Anne Ashley Davenport is a senior fellow at the Center for the Study of World Religions at the Harvard Divinity School. Raised in France, she received a diploma from the University of Nancy before entering Harvard College where she earned a bachelor of arts degree cum laude. She received a master's degree in teaching from Simmons College and completed her Ph.D. in the history of science at Harvard in 1998. Recipient of grants from the Cades Foundation and the Institute for Medieval Philosophy and Theology at Boston College, Dr. Davenport was a Dibner Fellow at the Massachusetts Institute of Technology. She has written a number of scholarly articles. Her first book, Measure of Greatness: The Intensive Infinite, 1250-1650, was published by Brill last year.
Moderator
Hessam Dehghani, University of British Columbia
Hessam Dehghani is an Assistant Professor of Teaching, Persian Language and Culture. He obtained a first Ph.D. in Linguistics from Allameh Tabataba'i University in Tehran, Iran, with a dissertation titled "Interpretation and Literary Theory: From Structuralism to Ricoeurian Hermeneutics" (2011). In 2019, he earned a second Ph.D. in Philosophy from Boston College, where he was a Fellow at the Clough Center for Constitutional Democracy (2014-2018). His dissertation, "The Topology of Community in Aristotle: a Phenomenological Approach," offers a phenomenological reading of Aristotle's formulation of a "just community" and its appropriation in Islamic thought.
About the Book: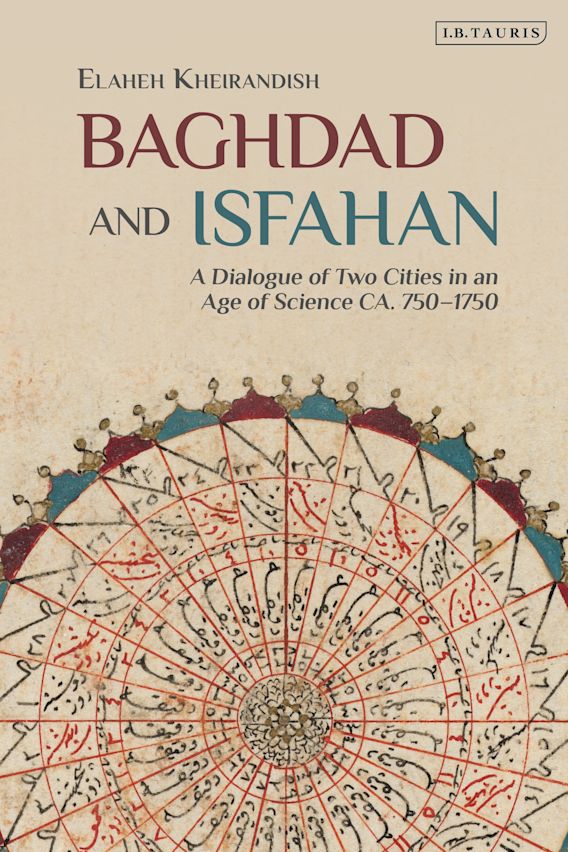 Baghdad and Isfahan: A Dialogue of Two Cities in an Age of Science CA. 750-1750
Elaheh Kheirandish
Renowned as great centres of learning, the cities of Baghdad and Isfahan were at the heart of the Islamic civilization as rich capital cities and centres of intellectual thought. Their distinct cultural voices inspired a unique historical dialogue, which finds new expression in Baghdad and Isfahan, the story of how knowledge was transmitted and transformed within Islamic lands, and then spread across Europe. Capturing the history of Baghdad and Isfahan from 750 to 1750, Elaheh Kheirandish draws on the voices of court astronomers, mathematicians, scientists, mystics, jurists, statesmen and Arabic and Persian translators and scholars to document the extensive and lasting contribution of sciences from Islamic lands to the history of science. Kheirandish bases her narrative on a unique medieval manuscript and other historical sources and the result is more than a thousand-year 'tale of two cities' – it is a city by city, and century by century, look at what it took to change the world. In a feat of travelogue and time travel, this unique book creates parallel stories with modern and historical characters, crossing cities worldwide, and capturing changes through time. Interweaving multiple narratives, histories, and futures, she charts the possible paths – formalized and serendipitous, lost and recovered – by which knowledge itself is translated and transmitted across time and cultures.