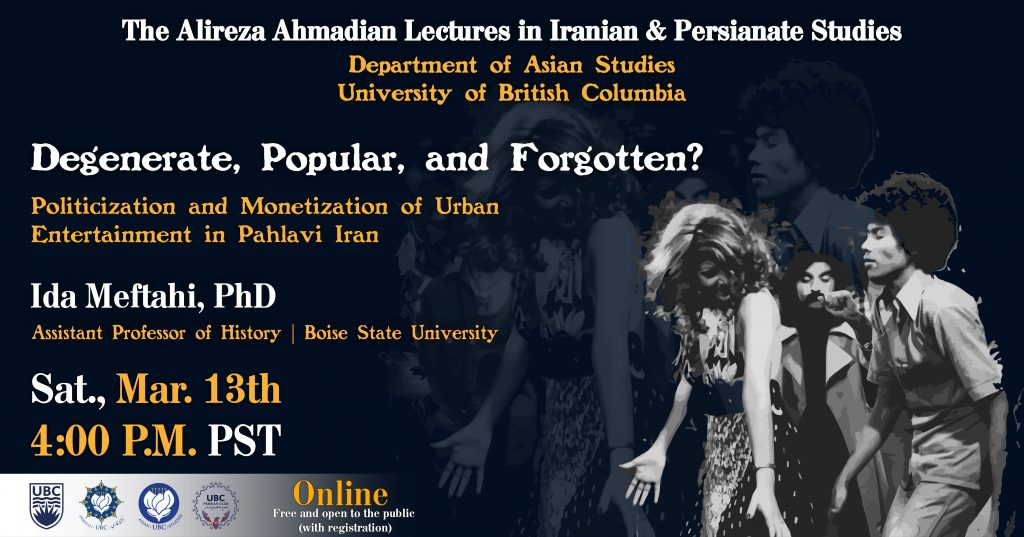 Poster design: Razman Goudarzi (UBC student; Current UBCPC President)
Presented in English with subtitles. Registration is essential here.
Relatively understudied and prevalently deployed in the cultural discourse of contemporary Iran, the term "degenerate" (mubtazal) has historically been used to devalue and dismiss a range of arts, most of which belong to the realm of urban popular culture. While in the leftist discourse the term contrasted the valorized politically conscious "committed" (muti'ahhid), in other contexts degenerate connoted a lack of artistic quality and tastelessness. When applied specifically to performing bodies (performance in its broad sense), the term degenerate incarnated certain types of corporeal qualities, gender performativity, and affect. The term was especially prevalent in the art discourse of the Tudeh Party's, Iran's major Marxist organization, which during its heydays in 1940s, was heavily invested in culture and arts as the media of politics. Engaging major literary and artistic figures of the era, the cultural ventures of the party involved producing a number of publications on the topic, and a range of performative forms including theatre, music, and choreographed political demonstrations those of which have greatly shaped Iranian cultural thought and performative politics to this day.
Focusing on the gendered and corporeal aspects of the term "degeneration" (ibtizal) and its binary oppositions "committed" and/or "artistic," this paper aims to historicize and unpack these terms in the Tudeh Party's discourse on arts and public performative politics, such as performing and visual arts, political demonstrations and meetings, celebrations, speeches, political behavior, and anthems. My primary sources for this study include documents and periodicals of the Tudeh Party as well as those belonging to the embassy and consulate of the Soviet Union, and organizations with strong ties to it, such as VOKS, and memoirs of members of the Tudeh Party. An in-depth analysis of these notions and the moral and aesthetic qualities they entail is critically important for understanding contemporary Iranian arts, cultural criticism, and public political performance.
Ida Meftahi is an assistant professor of Middle Eastern history at Boise State University, where she teaches a range of interdisciplinary courses on Middle Eastern and Iranian history and culture. She holds a PhD from the University of Toronto's Department of Near and Middle Eastern Civilizations. She has been a postdoctoral fellow at the Institute for the Arts and Humanities at Pennsylvania State University (2013–14), as well as a visiting assistant professor of contemporary Iranian culture and society at the University of Maryland (2014-2019). Meftahi specializes in the history of modern Iran, emphasizing the intersections of politics, gender, and performance (it its broader Goffmanian sense).  She has presented and published her work in a number of academic forums in different areas of the humanities and social sciences in North America, Europe, and the Middle East. Her first book, Gender and Dance in Modern Iran: Biopolitics on Stage (2016) received the Association for Iranian Studies' prestigious Latifeh Yarshater Award for its original contribution to the field of Iranian women's studies. With a unique approach to embodiment and vigorous historiography of understudied realms of urban popular culture, Meftahi's work has emerged as a frequent reference for recent academic inquiries into urban Iranian cultural history, ethnomusicology, and gender studies as well as cinema, theatre, and dance studies. Building on over fifteen years of extensive international archival and ethnographic research in Iran and around the world, Meftahi is currently working on a second book project, tentatively titled "Tulip Grove, Tehran: Urban Geopolitics, Gender, and Performative Culture in Modern Iran." The book features a detailed historical-anthropological investigation of Tehran's historic Lalehzar Street and its vicinity between 1880 and 1960. It takes the lens of performance studies to the streets and venues of this crucial zone of cultural production and diplomacy. "Tulip Grove, Tehran" allows for a closer exploration of the interrelations of cultural production and spectatorship, religious and political practices, as well as (face-to-face) social interactions in light of major historical local and international turning points.
About the Alireza Ahmadian Lectures in Iranian and Persianate Studies: Alireza Ahmadian (1981 – 2019) was an enthusiastic researcher, a consummate socio-political analyst, and an opinion leader on foreign policy who nurtured the virtues of diplomatic dialogue and liberal democracy. Alireza was a proud and devoted UBC alumnus, supporter of UBC's Asian Studies department, and beloved member of Canadian-Iranian Community. UBC's Asian Studies department renamed this lecture series in his honour in 2019. The Ahmadian family and friends have provided funding to support this series, and this generous gift will see these important academic and community engagement events supported through to the end of the 2025/2026 academic year. To access the full list of events, click here.