This lecture is held as a component of JAPN465: Japanese Media and Translation.
Date & Time:
October 1 | 5pm (PDT)
Location: online via Zoom
This lecture will be presented in English.
Free & open to the public. Registration is required. Please see the bottom of this page to register for this event.
This paper investigates how Japanese translators use Japanese gendered features in translating the speech of non-Japanese women and men (Inoue 2003; Shibamoto Smith 2004). The data consists of the translated speech in English and Russian literary works, TV dramas, films and newspaper interview articles. Based on the methodology of discourse analysis, Dr. Momoko Nakamura examines the occurrences of feminine and masculine features in the wide range of media discourse (Nakamura 2013). The analysis shows: 1) Japanese translators overwhelmingly use feminine features in translating non-Japanese women's speech, and 2) while they also employ masculine features in translating non-Japanese men's speech, with respect to the casual, laid-back speech of non-Japanese men, they have created a specific Japanese style used only in the translation of the speech. The findings suggest: 1) the predominant use of feminine features for the speech of non-Japanese women works to naturalize Japanese femininity beyond linguistic and ethnic boundaries, and 2) the invention of the style for non-Japanese men serves to enregister the Japanese stereotype of non-Japanese casual masculinity, depending on which Japanese masculinity maintains its idealized status. In sum, this paper contributes to elucidating the inter-lingual intersections of gender construction.
Guest Speaker: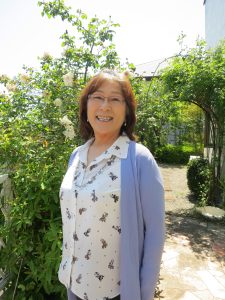 Momoko Nakamura, Ph.D. is Professor of English at Kanto Gakuin University, Japan. Her research interest includes linguistic construction of gendered, sexualized identity and discursive formation of gendered styles. She is the author of Jibunrashisa to nihongo [Identity and Japanese] (2021, Chikuma shobo), Shinkeigo 'majiyabaissu': shakaigengogaku no shiten kara [New Honorifics "Majiyabaissu": A Sociolinguistic Approach] (2020, Hakutakusha), Gender, Language and Ideology: A Genealogy of Japanese Women's Language (2014, John Benjamins), and Honyaku ga tsukuru Nihongo: Hiroin wa onna kotoba o hanashi tsuzukeru [Translation and Japanese: Heroines Speak Women's Language] (2013, Hakutakusha). HP: https://momo-jlgs.themedia.jp/
Should you have any questions, please contact the Department of Asian Studies at Asian.Studies@ubc.ca.