The Alireza Ahmadian Lecture in Iranian and Persianate Studies presents: Gardens in Persian Literature: Ecology of Material and Metaphysical Beauty, from Balkh to Shiraz on October 14, 2022.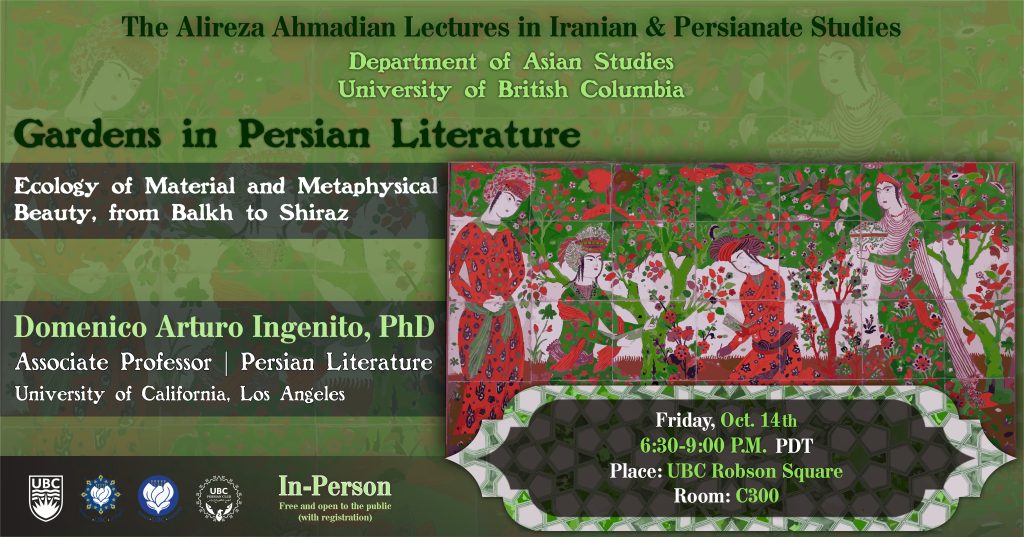 Date & Time:
Friday, October 14, 2022 | 6:30pm-9:00pm (PDT)
Location: Theatre C300, UBC Robson Square, 800 Robson St, Vancouver, V6E 1A7
This talk will be presented in English.
Free & open to the public. Registration is required (please find the registration form below).
Guest Speaker
Domenico Ingenito is Associate Professor of Persian Literature at the University of California, Los Angeles, and Bahari Fellow in the Persian Arts of the Book, Bodleian Libraries, University of Oxford (Spring 2023). His research interests center on medieval Persian poetry, the visual culture of Iran and Central Asia, gender and translations studies, and manuscript culture. His most recent articles are: "Hafez's 'Shirāzi Turk': A Geopoetical Approach (Iranian Studies)" and "'A Marvelous Painting': The Erotic Dimension of Saʿdi's Praise Poetry" (Journal of Persianate Studies). His most recent book is Beholding Beauty: Saʿdi of Shiraz and the Aesthetics of Desire in Medieval Persian Poetry (Brill, 2020). His Italian translation of Forugh Farrokhzad's collected poems, along with all original texts, will be published in 2022 by Bompiani. He is currently working on an English translation of a selection of Sa'di's poems (University of California Press) and a monograph on kingship, poetic creativity, and homoeroticism in the context of Ghaznavid praise poetry.
About the Alireza Ahmadian Lectures in Iranian and Persianate Studies: Alireza Ahmadian (1981 – 2019) was an enthusiastic researcher, a consummate socio-political analyst, and an opinion leader on foreign policy who nurtured the virtues of diplomatic dialogue and liberal democracy. Alireza was a proud and devoted UBC alumnus, supporter of UBC's Asian Studies department, and beloved member of Canadian-Iranian Community. UBC's Asian Studies department renamed this lecture series in his honour in 2019. Alireza's friends in the community have provided funding to support this series, and this generous gift will see these important academic and community engagement events supported through to the end of the 2025/2026 academic year. To access the full list of events, click here.
Should you have any questions, please contact the Department of Asian Studies at Asian.Studies@ubc.ca.