The Persian Language and Iranian Studies Initiative at UBC, the UBC Persian Literature Reading Club, and the UBC Persian Club are hosting a series of events analyzing the literature of migration and exile in Modern Persian Literature in Winter and Spring 2022. The first session of the Winter and Spring 2022 series concerns the war and migration and the life-world of the migrant in the works of Rira Abbasi. Some of her best works are going to be reviewed and critically analyzed by a panel of specialists including writers, poets, and publishers.
The event is sponsored by the Department of Asian Studies.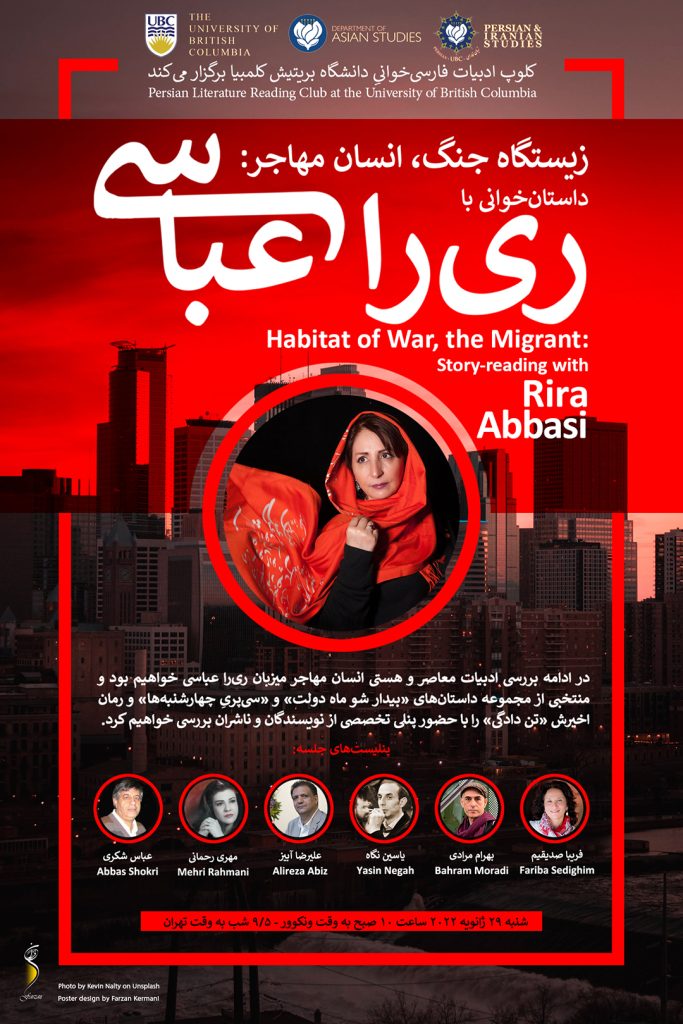 Date & Time:
Saturday, January 29, 2022
10:00am – 12:00pm (PST)
Location: online via Zoom
Presented in Persian
Free & open to the public. Registration is required via the form below.
۱. زیستگاه جنگ، انسان مهاجر: داستان‌خوانی با ری‌را عباسی
زمان: شنبه ۲۹ ژانویه ۲۰۲۲ ساعت ۱۰ صبح به وقت ونکوور- ۱۰ شب به وقت تهران
 در ادامه بررسی ادبیات معاصر و هستی انسان مهاجر میزبان ری‌را عباسی خواهیم بود و منتخبی از مجموعه داستان‌های «بیدار شو ماه دولت» و «سی‌پریِ چهارشنبه‌ها» و رمان اخیرش «تن دادگی» را با حضور پنلی تخصصی از نویسندگان و ناشران بررسی خواهیم کرد.
پنلیست های جلسه:
فریبا صدیقیم
بهرام مرادی
یاسین نگاه
علیرضا آبیز
مهری رحمانی
عباس شکری
حسام دهقانی

لطفا برای ثبت نام فرم زیر را پر کنید
Guest Speaker
Rira Abbasi was born in Khorramabad, Iran. Acclaimed as Iran's Lady Poet Laureate and the winner of the Parvin Etesami Poetry Award in 2005, Rira is also a member of Iran's Writers Association and the founder and director of the biennial International Peace Poetry festival since 2007. Black Elf of Wednesdays (2000), No More Guns for this Lor Woman (2001), and the bold collection of love poems "Who Loves You More Discreetly?" (2002) are among her works. Rira has edited and introduced the first collection of Iranian Peace Poetry (an anthology) in 2002. In 2008, she founded the R.B.H, an establishment in line with the International Peace Poetry Festival. A brainchild of Rira Abbasi and supported solely by individual donations and sponsorship of non-governmental organizations, the charter of the Peace Poetry Festival states that "Poetry for peace is affiliated to humanity, regardless of race, religion, sex and geography".  The world's first statue, representing "The Poetry of Peace" was made by a team supervised by Rira's husband, Ali Khorram.
Many of her reviews and literary criticisms have been published in literary journals. Also, many of her poems have been translated into several languages such as Italian, English, German, Indian, Japanese, Spanish, Chinese, Romanian, Arabic, Turkish and etc. Rira has been invited to many authoritative international poetry festivals so far and has attended in some of them. She has edited and translated "Local Poetry" (Tehran, 2005) which is published at Studies and Research Center and Cultural Anthropology. "Inversion" (Tehran, 2008) and "Tin Frog" (Tehran, 2010) are two recent novels by Rira which are banned to publish by the government. Rira has also collected the anthology of World's Peace Poetry which is a multilingual selection of poems from the first and the second International Peace Poetry Festival and is ready to print.
In 2011, Rira received a grant from Prince Claus Fund institute to take part in 21 Festival Internacional de Poesía de Medellín, Colombia. In April 2012 a short film was made based on of her longer poems called "MYSTERIOUS NUCLEUSES" In 2014, Rira's efforts led to the publication of Iran's first multilingual anthology of poetry "Peace, the Poetry of Life " (contemporary poets of the world). Her works include Valentine, the White Sheep (April 2014). In 2015, Rira's efforts led to the publication of "Inversion" a novel entitled  (Naakoja Publications, Paris). A collection of stories "Bear and fever Marquez "was published in 2020. Maryam Ala Amjadi's translations of Rira Abbasi's poetry chapbook "I Gave Birth in War" received Honorable Mention and will be published by QuillsEdge Press, US. In 2021, Rira's efforts led to the publication of "Tandadegi" a novel (Ikhanum Publication, Kabul Afghanistan). Her latest work is a collection of stories entitled "Wake up Mah Dolat", which was published in 2021(Aftab Publication, Oslo Norway).
Panelist
Fariba Sedighim
Bahram Moradi
Yasin Negah
Alireza Abiz
Mehri Rahmani
Abbas Shokri

Hessam Dehghani