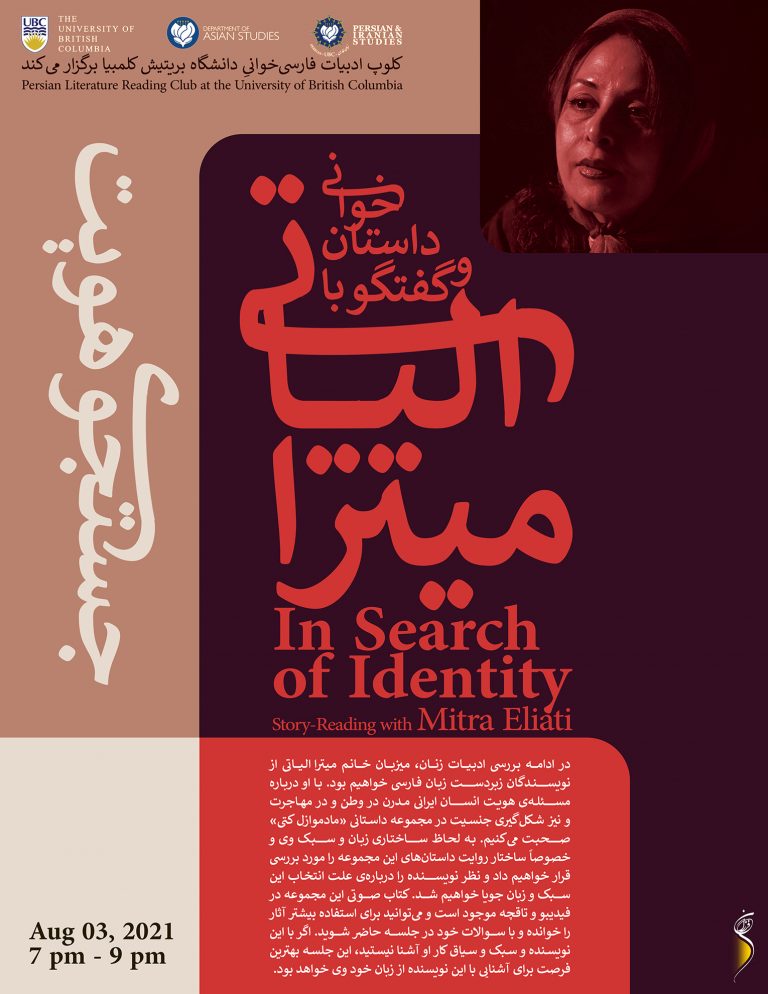 Following the journey through women's literature in Persian, the Persian Language and Iranian Studies Initiative at UBC and the UBC Persian Literature Reading Club are hosting another prominent figure in modern Persian literature, Mitra Eliati. The focus of the workshop would be her collection of short stories, titled "Mademoiselle Kati". In this workshop, we will talk with Eliati about modern Iranian's search for identity within their country and through immigration. We will also delve into the formation of sexuality in the characters of her stories. If you are not familiar with this brilliant author, this session is the best opportunity to speak with her and listen to her read and discuss her stories.
About the Speaker:
Mitra Eliati is an Iranian novelist and poet. Her first collection of stories was published in 2001 by Cheshmeh Publications. This book received a lot of attention from literary critics and won various awards such as the first collection of short stories in 2002 "Golshiri Foundation" and the book of the year award "Story House". Eliati's collection of short stories, "Mademoiselle Katie" includes 7 short stories that have reached their seventh edition so far. Her second collection of stories entitled "Mermaid Cafe" has been published by Cheshmeh Publishing (2008) and has reached its third edition.
In addition to writing short stories, Mitra Eliyati has been the judge of several Iranian short story festivals, including: judging the best stories of Isfahan, Mashhad, Khorramabad, Gorgan, etc.
میترا الیاتی (تهران 3 فروردین 1329-  )
داستان‌نویس و شاعر ایرانی. مادمازل کتی و چند داستان دیگر، اولین مجموعه داستان میترا الیاتی در سال 1380 توسط انتشارات چشمه منتشر شد. این کتاب از سوی منتقدین ادبی مورد توجه بسیاری قرار گرفت و جوایز مختلفی همچون جایزۀ اولین مجموعه داستان سال 1381 «بنیاد گلشیری»، و جایزۀ کتاب سال «خانۀ داستان» را از آن خود کرد. مجموعه داستان مادمازل کتی شامل 7 داستان کوتاه است که تاکنون به چاپ هفتم رسیده. دومین مجموعه داستان او نیز تحت عنوان «‌کافه پری دریایی» توسط نشر چشمه (۱۳۸۷) منتشر شده و تاکنون به چاپ سوم رسیده است.
میترا الیاتی علاوه بر داستا‌‌‌ن‌نویسی تاکنون داوری چند جشنوارۀ داستان ‌کوتاه کشوری از جمله: داوری داستان‌های برتر اصفهان، مشهد، خرم‌آباد، گرگان و… را به‌عهده داشته است.
Date & Time:
August 3 | 7pm – 9pm (PDT)
Location: online via Zoom
Presented in Persian
Free & open to the public. Registration is required via the form below.
The event is sponsored by UBC Department of Asian Studies.