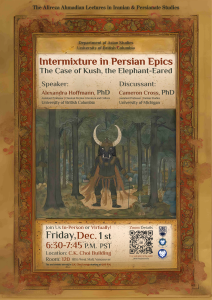 Poster design by Razman Goudarzi
The Alireza Ahmadian Lecture in Iranian and Persianate Studies presents: Intermixture in Persian Epics: The Case of Kush, the Elephant-Eared on December 1, 2023.
Irānshāh b. Abi Khayr's Kushnāmeh (written ca. 1108-1111 CE) features an unusual protagonist for a Persian epic poem. With his elephant-ears, tusks, and boar-snout, Kush looks very different from most of the people who populate the epic world, while his aggressive, sexually deviant, and blasphemous behavior set him apart from other epic heroes. As the text rationalizes Kush's difference through his mixed lineage, this talk uses the example of Kush to explore how Persian epics deal with the intermixture of Iranians with peoples of different stock – the racial, monstrous, or demonic Other.
Speaker
Alexandra Hoffmann is an Assistant Professor of Classical Persian Literature and Culture at the University of British Columbia. Her research focuses on masculinities and embodiment in Persian epics and romances from the eleventh to the seventeenth century CE.
Discussant
Cameron Cross is an Assistant Professor of Iranian Studies at the University of Michigan, Ann Arbor.  His research interests broadly fall in the arena of narrative studies, examining questions about language and audience, gender and power, and selfhood and society as explored in Persian, Arabic, Greek, and other literary languages of Southwest Asia and neighboring regions. He is the author of Love at a Crux: The New Persian Romance in a Global Middle Ages (U Toronto Press, 2023), and several articles on comparative epic and amorous tales.
Registration required. Register here: https://ubc.zoom.us/webinar/register/WN_VW6hdwpNRxCReKm1pNPNQA
Tea and sweets will be served starting from 6pm.
---
About the Alireza Ahmadian Lectures in Iranian and Persianate Studies: Alireza Ahmadian (1981 – 2019) was an enthusiastic researcher, a consummate socio-political analyst, and an opinion leader on foreign policy who nurtured the virtues of diplomatic dialogue and liberal democracy. Alireza was a proud and devoted UBC alumnus, supporter of UBC's Department of Asian Studies, and beloved member of Canadian-Iranian Community. The department renamed this lecture series in his honour in 2019. Alireza's friends in the community have provided funding to support this series, and this generous gift will see these important academic and community engagement events supported through to the end of the 2025/2026 academic year. Read More …
Should you have any questions, please contact the Department of Asian Studies at Asian.Studies@ubc.ca.