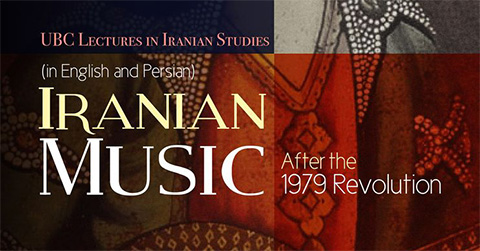 سلسله سخنرانی‌های ایران‌شناسی و فارسی‌پژوهی علیرضا احمدیان
موسیقی ایران پس از انقلاب ۱۳۵۷
امیر اسلامی، نوازنده و آهنگساز، مدرس سابق دانشگاه هنر تهران؛ به همراه هامین هنری، نوازنده
انقلاب در هر کشوری همواره تبعات خوب و بد فراوانی به همراه داشته است. انقلاب سال ۱۳۵۷ ایران نیز از این قانون مستثنی نیست. گرچه به‌ویژه به دلایل مذهبی و سیاسی وقت، بسیاری از تحولات در زمینهٔ موسیقی روندی منفی داشته است، بنا بر اصلی روان‌شناختی و جامعه‌شناختی، «هر آن چه منع شود، بیشتر مورد توجه قرار می‌گیرد.» موسیقی ایران نیز طی چهل سال گذشته علی‌رغم تمامیِ مشکلات، موانع و سرکوب‌ها، در بسیاری از جهات پیشرفتی چشمگیر داشته است، پیشرفتی که بر تلاش و مبارزهٔ موسیقی‌دانان برای احقاق حق خود و زنده نگه داشتن موسیقی مبتنی بوده است. در این نشست، نگاهی گذرا به این تحولات منفی و مثبت خواهیم داشت.
Musician and researcher Amir Eslami, along with musician Hamin Honari will be discussing the post-revolutionary Iranian music. Their talk will be followed by a short musical performance by them. (Mr. Eslami will be speaking in Persian. Mr. Honari will be delivering his talk in English.)
About the Alireza Ahmadian Lectures in Iranian and Persianate Studies: 
Alireza Ahmadian (1981 – 2019) was an enthusiastic researcher, a consummate socio-political analyst, and an opinion leader on foreign policy who nurtured the virtues of diplomatic dialogue and liberal democracy. Alireza was a proud and devoted UBC alumnus, supporter of UBC's Department of Asian Studies, and beloved member of Canadian-Iranian Community. The department renamed this lecture series in his honour in 2019. Alireza's friends in the community have provided funding to support this series, and this generous gift will see these important academic and community engagement events supported through to the end of the 2025/2026 academic year.
Read More …
Should you have any questions, please contact the Department of Asian Studies at 
Asian.Studies@ubc.ca
.