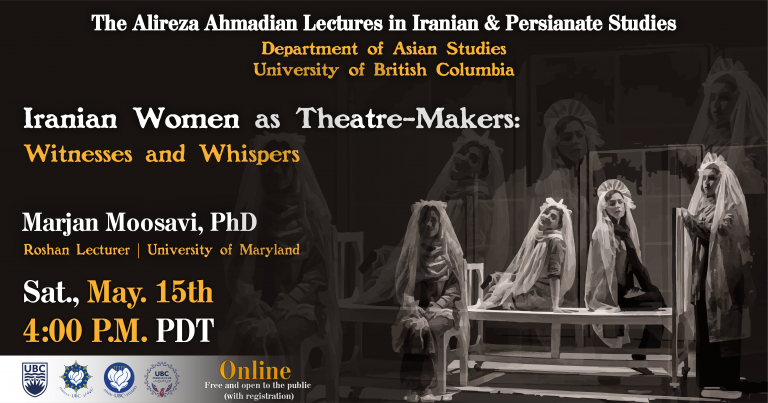 Poster design: Razman Goudarzi (UBC student; Current UBCPC President)
Presented in English with subtitles. Registration is essential here.
Witnesses, whispers, and wigs in the plays created by contemporary Iranian women playwrights are 'problematic' markers of spatial and corporeal presence that fail to comply with stage regulations of Islamic decency fully yet manage to embody multiple and nuanced meanings and representations. In this presentation, Dr. Marjan Moosavi shares what she learned from examining female theatre-makers' use of witnesses and whispers of/about women in their private and public encounters. By looking at the narrative and aesthetics of plays, props, and processes, this presentation engages with the following questions: how do shared narratives and spaces in women's performances invite spectators to bear witness and develop an ethical response? How do 'problematic' witnesses and whispers on stage simultaneously carry discourses on ambivalence and playfulness concerning values and virtues?
Marjan Moosavi is the Roshan Lecturer of Persian Studies and Performance at the University of Maryland, where she teaches courses about theatre, multimedia art, and activism through art in Iran and its diaspora. She has served as a faculty member and designed curricula for the University of Toronto, York University (Canada), Portland State University (U.S.A), and Parand Azad University (Iran). Marjan is the author of several scholarly articles, book chapters, and interviews published in Theatre Topics, The Drama Review (TDR), New Theatre Quarterly, Asian Theatre Journal, and Ecumenica. She is the Principal Investigator and Curator for the First Photo Exhibition on the Middle Eastern Theatre, founder and the Principal Investigator of the First Digital Guide to Theater of the Middle East, and the Regional Managing Editor of the Iran section for TheTheatreTimes.com. Recent collaborations include those with Gatherings (University of Toronto), IPCCR (International Program for Creative Collaboration & Research, University of Maryland), and Persian Digital Humanities (University of Maryland). Embracing her new virtual reality, Marjan appreciates connecting with you via Zoom for a saffron tea and a sweet chat!
About the Alireza Ahmadian Lectures in Iranian and Persianate Studies: Alireza Ahmadian (1981 – 2019) was an enthusiastic researcher, a consummate socio-political analyst, and an opinion leader on foreign policy who nurtured the virtues of diplomatic dialogue and liberal democracy. Alireza was a proud and devoted UBC alumnus, supporter of UBC's Asian Studies department, and beloved member of Canadian-Iranian Community. UBC's Asian Studies department renamed this lecture series in his honour in 2019. The Ahmadian family and friends have provided funding to support this series, and this generous gift will see these important academic and community engagement events supported through to the end of the 2025/2026 academic year. To access the full list of events, click here.