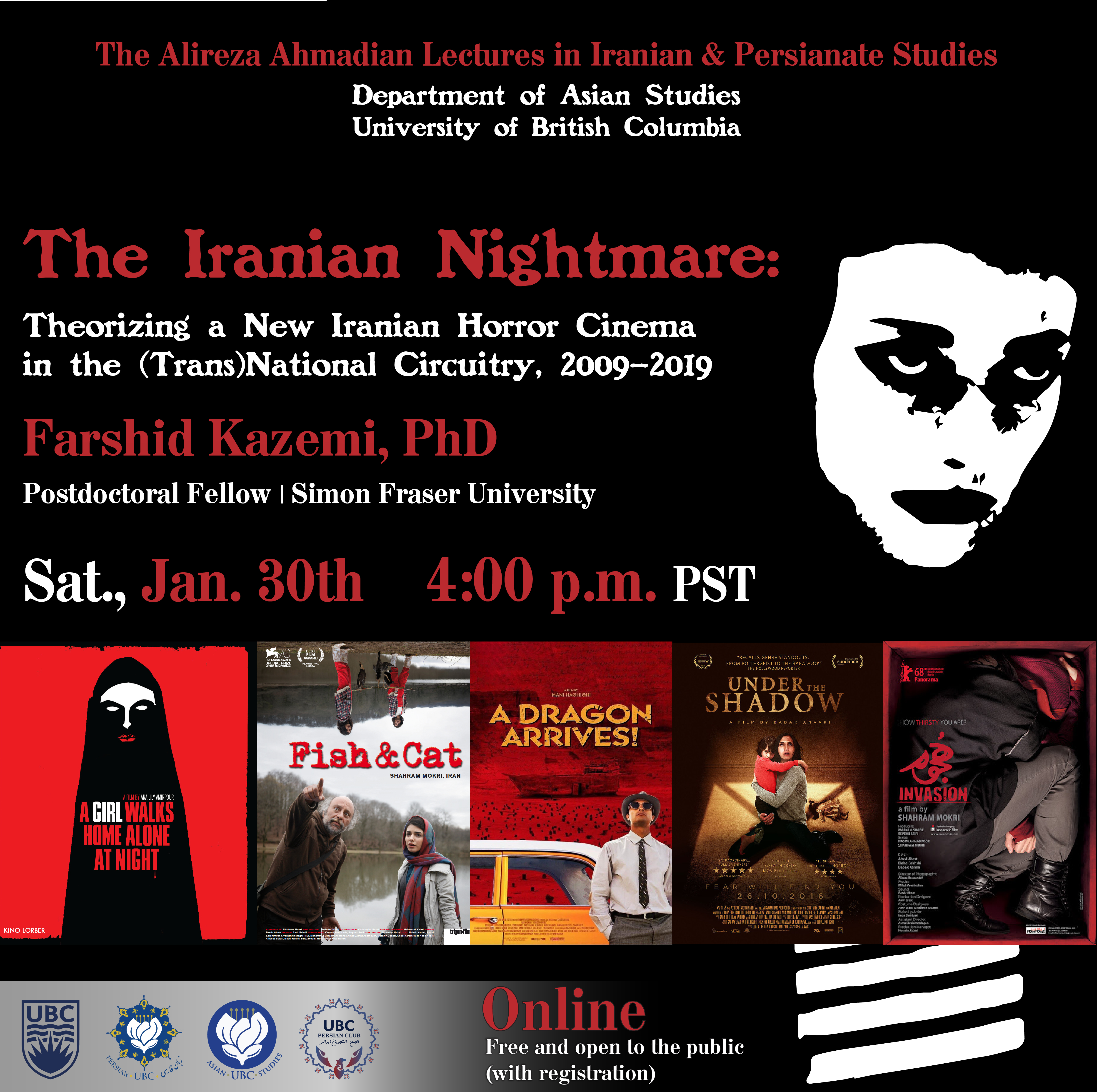 Poster design: Razman Goudarzi (UBC student; Current UBCPC President)

Presented in English with subtitles. 
Thank you to everyone who attended! The recording can be viewed on YouTube via this link here.
There is a notable shift in the films that are emerging from Iran today from the art-house films of the New Iranian Cinema that used to populate and dominate international film festivals with directors such as Kiarostami, Makhmalbaf, Panahi, Rasoulof, Bani-Etemad, Ghobadi, etc. Indeed, it is in this band of new Iranian horror films where a visible shift can be detected between the New Iranian Cinema of the mid 1990s and 2000s, with its unique style and recognizable conventions (i.e., the blurring of documentary and narrative fiction, the use of non-professional actors, rural landscapes, etc.), and these emerging genre bending films. In this presentation, I will delineate a group of films that emerged in the aftermath of the 2009 mass protests in Tehran that deploy certain conventions of the horror genre as a politically subversive critique of the claustrophobic, terrifying, and paranoiac atmosphere of post-2009 Iranian society, by theorizing a new filmic movement that is structured around what I call, The Uncanny between the Weird and the Eerie. For my analysis, I rely on Mark Fisher's formulation of the two modes that he uncovers in certain instances of music, novels and films, and that he characterizes as "The Weird and the Eerie (Beyond the Unheimlich)." A theoretical correlation will be made between these two modes theorized by Fisher to their literary counterparts in Persian-Arabic literature called: 'ajib wa gharib ('Ajib, meaning wondrous, marvellous or amazing; and gharib, meaning, strange or weird).
One of the most artful horror films that can be said to have inaugurated this genre bending film movement is Shahram Mokri's Fish and Cat (2013), with Ana Lily Amirpour's A Girl Walks Home Alone At Night (2014), as one of its transnational or diasporic examples. What distinguishes and characterizes the films of this movement that I have dubbed das unheimliche or the uncanny between the weird and the eerie is their evocation of the fearful environment of post-2009 Iran, and a number of thematics that they commonly share. For example, among the various components shared by this movement, are such motifs as political and ideological critique through the deployment of supernatural elements or occult phenomenon (devil/satan, vampires, jinn, Aal and zaar, etc.). They also touch on such taboo subjects as (female and male) sexuality, homosexuality and transsexuality in Iran. They are often pervaded by doubles or Doppelgängers, dreamlike worlds, nightmarish landscapes, paranoid and menacing atmospheres, surveillance, invisible threatening forces, and a sense of pervading fear and terror or impending doom. Finally, through a close examination of some of the formal and narrative feature of these films, it will become clear as to why these films constitute a new movement, since beyond embodying the uncanny between the weird and the eerie ('ajib wa gharib), they share a common set of motifs that evoke the menacing and terrifying atmosphere of post-2009 Iranian society.
Farshid Kazemi is a Postdoctoral Fellow at the School for the Contemporary Arts, Simon Fraser University. His research interests combine an interdisciplinary and theoretical approach to Film and Media Studies/Film Theory, Iranian Studies, and Islamic and Middle Eastern Studies. He holds a Ph.D. in Islamic and Middle Eastern Studies from the University of Edinburgh, with a thesis on Iranian cinema and second wave psychoanalytic film theory titled: The Interpreter of Desires: Iranian Cinema and Psychoanalysis. He has published several articles and book chapters on Iranian cinema, psychoanalytic film theory/feminist film theory in journals such as Camera Obscura. His book on the film A Girl Walks Home Alone At Night will be published by Auteur/Columbia University Press in 2020.
About the Alireza Ahmadian Lectures in Iranian and Persianate Studies: Alireza Ahmadian (1981 – 2019) was an enthusiastic researcher, a consummate socio-political analyst, and an opinion leader on foreign policy who nurtured the virtues of diplomatic dialogue and liberal democracy. Alireza was a proud and devoted UBC alumnus, supporter of UBC's Asian Studies department, and beloved member of Canadian-Iranian Community. UBC's Asian Studies department renamed this lecture series in his honour in 2019. The Ahmadian family and friends have provided funding to support this series, and this generous gift will see these important academic and community engagement events supported through to the end of the 2025/2026 academic year. To access the full list of events, click here.