The Persian Language and Iranian Studies Initiative at UBC and the UBC Persian Literature Reading Club, and the UBC Persian Club are hosting a series of events analyzing the literature of migration and exile in Modern Persian Literature. The first workshop features author, Fariba Sedighim, who will speak about "language and migration" by way of a discussion on her collection of short stories titled I Was Once a British Woman, followed by a discussion on her latest novel I in Parentheses.
در این جلسه در بررسی ادبیات مهاجرت و در تبعید، در بخش اول جلسه، در قالب خوانش بخش‌هایی از مجموعه داستان «من زنی انگلیسی بوده¬‌ام» نظر نویسنده را درباره‌ی مسئله زبان در ادبیات و خصوصا ادبیات مهاجرت جویا خواهیم شد. در بخش دوم با مصاحبه ای با ایشان درباره رمان اخیرشان، «من در پرانتز»، با سبک و دغدغه‌های این نویسنده آشنا می‌شویم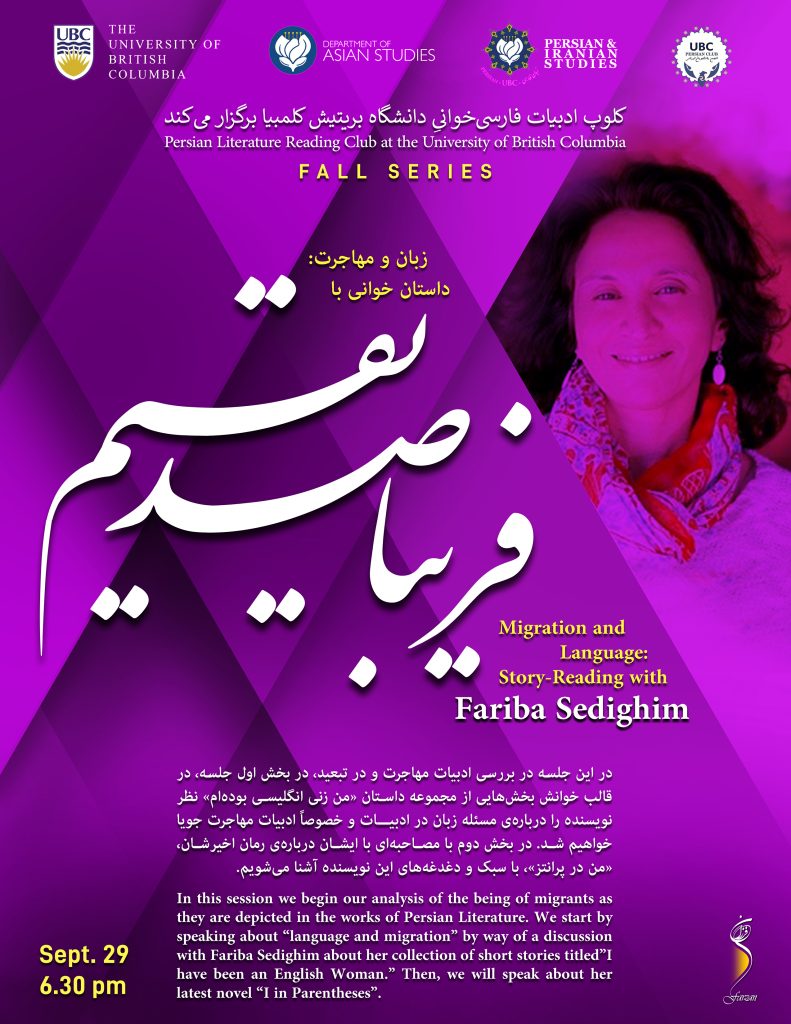 Date & Time:
September 29
6:30pm – 8:30pm (PDT) | 6:00am – 8:00am (Kabul Time) | 5:00am – 7:00am (Tehran Time)
Location: online via Zoom
Presented in Persian
Free & open to the public. Registration is required via the form below. لطفا برای ثبت نام اینجا کلیک کنید
About the Speaker:
Fariba Sedighim was born in 1959 C.E., 1338 of the Persian Calendar, henceforth P.C., to a religious Jewish family of Nahavand, Iran. In 1992 C.E., 1371 P.C., Fariba Sedighim published her first book in Persian, entitled in translation Two Brothers, Two Friends. Around that time, Fariba began to write stories for adults, in addition to her flourishing poetry and children's stories. Her new creative phase produced an array of works in Persian, including a collection of poems entitled This Heart Won't Beat Regularly; two collections of stories, namely, The Candles Beneath the Colander and I Was Once a British Woman; three works for children and youngsters entitled I Love You as Much as the Folds in My Skirt, Do You Know My Friend?, and Who Took All the Water in the Lake?; and a novel entitled Leora.
فریبا صدیقیم
درسال 1338 در تهران متولد شد . تا سن 11 سالگی در شهرستان کوچکی به نام نهاوند زندگی می کرد و بعد با خانواده به تهران مهاجرت کرد. مدرک تحصیلی اش را در رشته ی فیزیوتراپی از دانشگاه تهران گرفت . در سال 2001 با خانواده به آمریکا مهاجرت کرد. کار ادبی اش را از حدود بیست و پنج سال پیش با کار کودکان و نوجوانان شروع کرد و سپس با شرکت در کلاس های ادبی دکتر رضا براهنی به شعر و داستان نیز رو آورد. علاوه بر کتابهایی که نوشت با مجلات و سایت های ادبی مختلف در زمینه شعر، داستان و نقد شعر و داستان همکاری داشته است. حاصل فعالیت های ادبی اش را در ذیل مشاهده می کنید: در زمینه ی کودکان و نوجوانان: "دو برادر دو دوست"، "اگر مادر بود چکار می کرد؟"، "سعید و اسباب بازی هایش"، "من چی نقاشی کنم؟"، "احمد و بوته ی گل سرخ"، "چطور مادر را خوشحال کنم"، "من خودم"، "خانم بلوز آبی"، "کوچکترها بزرگترها"، "سفید گریه نکن"، "نابغه ی کوچک"، "دوستت دارم "، "شما دوست مرا می شناسید" . برای بزگسالان: مجموعه ی شعرهای " به تعویق می اندازیم تا کی ؟ " ، و " این قلب معمولی نمی زند " و مجموعه داستان های " شبی که آخر نداشت"، " شمع های زیر آبکش " و " من زنی انگلیسی بوده ام". رمانهای او عبارتند از "لیورا" و «من در پرانتز».
The event is sponsored by the Department of Asian Studies.