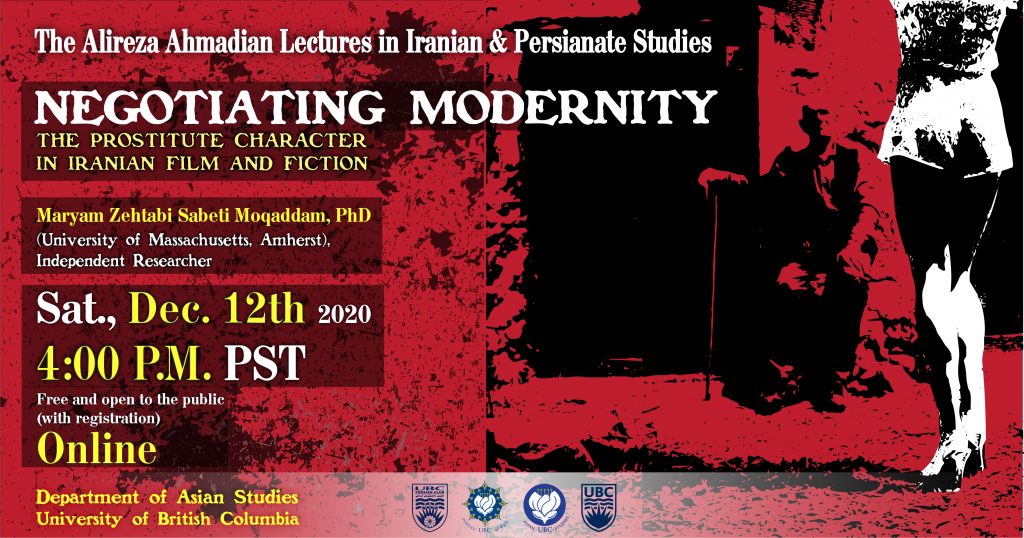 Poster design: Razman Goudarzi (UBC Student; Current UBCPC President)
Thank you to all who attended! The session recording link can be found here. 
Prostitutes have been judged, stigmatized, criminalized, pathologized, and marginalized, but also sought after, idolized, and revered. They have been regarded as both victims and conquerors, commodified bodies and entrepreneurs. Their profession is a paradox—shrouded in myths—constructed, conceived, and theorized in a myriad of ways due to its varying legal definitions and the numerous permutations it undergoes to contravene the laws.
In Iran, the dearth of sociohistorical sources on prostitution and the lack of writings by prostitutes themselves up until mid-twentieth century (Sattareh Farman-Farmaʾian's influential On Prostitution in the City of Tehran would not appear until 1970), made it the purview of literary writers and artists to shed light on the life and working conditions of prostitutes. Although in the previous centuries prostitutes cropped up sporadically in literary texts, it was with the dawn of the twentieth century, and as a result of the consequential and exceptional socio-political developments of the time, that a remarkable number of Iranian literary writers turned their attention to bringing the plight of prostitutes to light to lay bare the causes as well as consequences of prostitution for both individual prostitutes and the society at large.
Associating prostitution with economic corruption, political decay, and religious hypocrisy—among other themes—Iranian writers inscribed their social, political, and religious commentary on the body of the prostitute character. Similarly, Iranian filmmakers used the prostitute character to embody the clash of tradition and modernity in the country. In this talk, our presenter will scrutinize the image of the prostitute and her inflationary popularity in written and visual texts from the Constitutional Revolution (1906-1911) to the Islamic Revolution (1979) to shed light on the shifts in discourse on prostitution in the twentieth-century Iran.
Maryam Zehtabi Sabeti Moqaddam has a Ph.D. in Comparative Literature from the University of Massachusetts Amherst where she recently defended her dissertation on the representations of sex workers in Persian film and fiction from the Constitutional Revolution (1906-1911) to the Islamic Revolution (1979). She is particularly interested in feminist, gender, and sexuality studies and the intersection of religion and women studies. She is also a published translator aspiring to introduce Iranian women writers to Western audiences through translation and criticism of their works.
About the Alireza Ahmadian Lectures in Iranian and Persianate Studies: Alireza Ahmadian (1981 – 2019) was an enthusiastic researcher, a consummate socio-political analyst, and an opinion leader on foreign policy who nurtured the virtues of diplomatic dialogue and liberal democracy. Alireza was a proud and devoted UBC alumnus, supporter of UBC's Asian Studies department, and beloved member of Canadian-Iranian Community. UBC's Asian Studies department renamed this lecture series in his honour in 2019. The Ahmadian family and friends have provided funding to support this series, and this generous gift will see these important academic and community engagement events supported through to the end of the 2025/2026 academic year. To access the full list of events, click here.