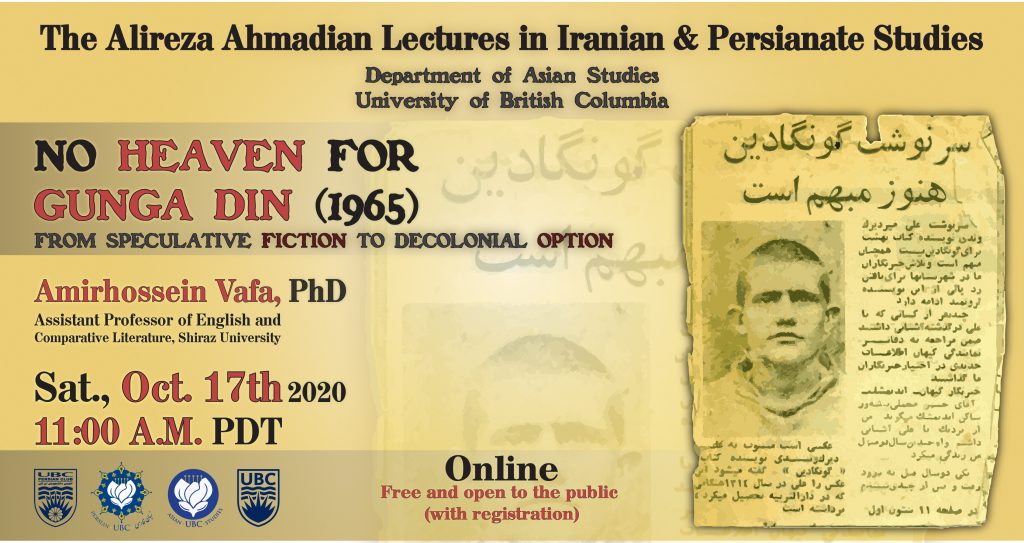 Poster design: Razman Goudarzi (UBC student; Current UBCPC President)
Free to attend online but registration is essential; registration link will be posted here shortly.
[RSVP link will be available soon.] Studies of Anglophone literature, or postcolonial writing in English, are often limited to literatures of the Commonwealth and the former colonies of the British Empire. Yet in this talk, I seek to introduce Ali Mirdrekvandi's No Heaven for Gunga Din (1965), one of the few cases of Anglophone writing in Iran, a nation which – though never under formal colonial rule – has been deeply shaped by the discourse of colonial modernity.
Ali Mirdrekvandi (1916–1964) was a rural labourer from the western region of Lorestan, who escaped the famine that struck rural Iran in the aftermath of the First World War, and arrived in Tehran during the Allied occupation of the city in WWII. Finding a job as a servant to a regiment of British and American troops, Mirdrekvandi grew an interest in English, and finished the manuscript of a novel which was posthumously published in London: No Heaven for Gunga Din is an allegorical speculation over the imagined aftermath of World War III in the distant future. The protagonist, an Iranian servant named after Rudyard Kipling's famed Gunga Din, accompanies a regiment of Anglo-American soldiers towards Heaven across the Milky Way Galaxy! Mirdrekvandi's cosmic journey, in search of "an-other order of thinking" (a concept I borrow from Walter D. Mignolo) does in my reading provide a decolonial option to recast contemporary Iranian history, and its problematic sense of worldliness since the advent of colonial modernity.
Amirhossein Vafa is an Assistant Professor of English and Comparative Literature at Shiraz University, and the author of Recasting American and Persian Literatures (Palgrave, 2016). Amirhossein's recent research has been twofold, but intertwined: To read English Literature as a non-European participant in Anglophone literary studies, and to decolonize the Canon of modern Persian/Iranian literature to unlearn & recast the modern/colonial history of the Middle East region.
About the Alireza Ahmadian Lectures in Iranian and Persianate Studies: Alireza Ahmadian (1981 – 2019) was a proud and devoted UBC alumnus, supporter of UBC's Asian Studies department, and beloved member of Vancouver's Iranian community. UBC's Asian Studies department has renamed this lecture series in his honour for the 2019/20 academic year. To access the full list of events, click here.