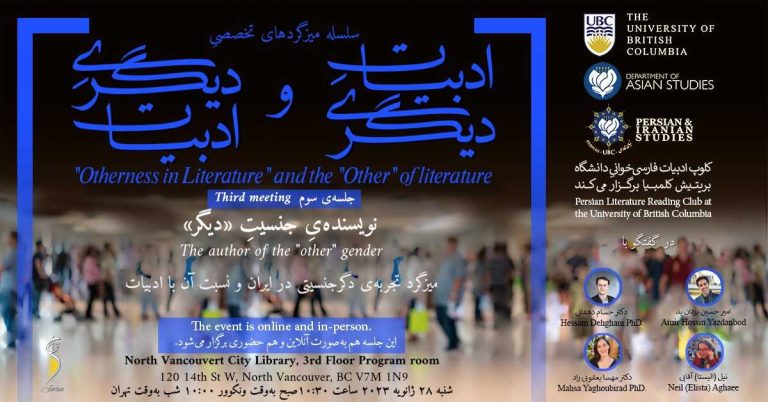 This year, UBC Persian Literature Reading Club at UBC's Iranian and Persianate Literature, Language and Culture Program at UBC is hosting a series of panel discussions about "Otherness" in modern Persian Literature. The question is what it means to be an "Other" as a writer creating and promoting new genres other than the main body of Persian Literature or to be "Other" in depicting the experience of the minorities in the Persianate world. During the Fall, Winter, and Spring of the upcoming year, we will attend to both trends in modern Persian Literature.
The sessions are hosted by Iranian writer and critic Amir Hosseing Yazdan Bod and Dr. Hessam Dehghani from the Iranian and Persianate Literature, Language, and Culture Program at UBC. For each session, they invite a writer in that specific genre, introduce and analyze genres as varied as science-fiction, crime novels, detective stories, literature of religious, racial and ethnic minorities, and the like.
Our third-panel discussion in the series "Otherness in Literature and the Other of Literature" concerns the experience of gender minorities in Iran and how it is related to literature. The event hosts Alista Aghaee (Iranian novelist), and Dr. Mahsa Yaqoubi Rad (specialist in queer studies and a registered clinical psychologist in Vancouver).
Date & Time:
Saturday, January 28, 2023
10:30am (PST) / 10:00pm (Tehran Time)
Location: 3rd floor Program room, North Vancouver City Library
There is also an option to attend virtually via Google Meet.
Presented in Persian
Free & open to the public. Registration is required via the form below (click here).
جلسه سوم
عنوان جلسه: «ادبیاتِ دیگری و دیگریِ ادبیات» : نویسنده‌یِ جنسیتِ «دیگر»
میزگرد تجربه‌ی دگرجنسیتی در ایران و نسبت آن با ادبیات در گفتگو با
امیر حسین یزدان بد
دکتر حسام دهقانی
نیل )الیستا (آقایی
دکتر مهسا یعقوبی راد (دکترای روانشناسی و درمانگر بالینی ثبت شده در ایالت بریتیش کلمبیای کانادا) متخصص مطالعات دگرجنسیتی
تاریخ جلسه:
شنبه ۲۸ ژانویه
۲۰۲۳ ساعت ۱۰/۵ صبح به وقت ونکوور ۱۰:۰۰ شب به وقت تهران
Guest Speakers:
Neil (Alista) Aghaee: "I am Neil Aghaee. Born in the winter of 1997. But the readers of my works know me as Alista. It's safe to say that Alista is my artistic name. After three semesters of genetics, I decided to drop out of college to focus on writing. Writing has been the passion and motivation of my life since I can remember. Since then, I have written four books, three of which have been published: Mahaloud, The Girl on the other side of the Mirror, and Bloody Moon.I write fantasy and science fiction Book and mostly for teenagers and young adults.I wrote mahaloud when I was nineteen. I have thousands of ideas and my biggest concern is that my life will not be enough to write them all. Writing is a mission for me, my goal is not fame or fortune. My whole goal is to be able to help others with my writing and words."
من نیل آقایی هستم. متولد زمستان سال هفتاد‌و‌پنج. البته مخاطبین آثارم من رو به اسم اَلیستا می‌شناسند. می‌شه گفت الیستا اسم هنری منه. بعد از گذروندن سه ترم از رشته‌ی ژنتیک، تصمیم گرفتم دانشگاه رو رها کنم تا به صورت تمام وقت، همه‌ی تمرکزم رو روی نوشتن بگذارم. یعنی فعالیتی که از وقتی که به یاد دارم شور و انگیزه‌ی زندگیم بوده. از اون زمان تا حالا چهار کتاب نوشتم که سه تا از اون‌ها چاپ شده: مهَ‌آلود، دختر آن‌سوی آینه و ماه‌خونین. تمام کتاب‌های من در ژانر‌های علمی تخیلی و فانتزی هستند. مه‌آلود رو نوزده سالگی نوشتم. هزاران ایده دارم و بزرگ‌ترین نگرانیم اینه که عمرم به نوشتن تمام‌شون کفاف نده. نوشتن برای من یک رسالته، هدفم شهرت یا ثروت نیست. تمام هدفم اینه که بتونم با نوشته‌ و با کلماتم به دیگران کمک کنم.
Mahsa Yaghubi Rad holds a Ph.D. in psychology and a registered clinical counselor (RCC) in British Columbia. She has worked with a variety of populations, including queer community. She also works as a research assistant (RA) in the Child and Teens Studies Lab at UBC. During her Ph.D. dissertation titled "The Fundamentals, Development, & Fortunes of Iranian Transgender Persons' Identity" she developed a comprehensive understanding of the psychological-related processes that transgender individuals experience in Iran during their journey to attain self-perception as a trans person.
مهسا یعقوبی راد دانش آموخته دکتری روانشناسی از دانشگاه تربیت مدرس و درمانگر بالینی ثبت شده در ایالت بریتیش کلمبیای کانادا است که در دوران کاری خود با گروه هاي متفاوتي از جمله اقليتهاي جنسيتي کار کرده است. او همچنين بهعنوان دستیار پژوهشی در آزمایشگاه روانشناختی the child and teens studies lab در دانشگاه UBC مشغول به فعاليت است. مهسا در رساله دکتری خود با عنوان " وارسی بنیان‌ها، فرایند و فرجام هویت افراد تراژاد ایرانی"، به داستان زندگی افراد تراژاد پرداخته است و سعی بر آن داشته است تا درک روشنی از تجربه روان‌شناختی افراد تراژاد ایرانی در جریان فرایند تحول هويت ايشان، به دست آورد.
Panelists
Amirhossein Yazdanbod was born in 1977 in Tehran. He studied philosophy and physics, but later changed his area to computer engineering. He started writing fiction in 2004 and his short story "For Marcia, the Dear Scoundrel" won Ghalam-e Zarrin-e Zamaneh short fiction prize in 2007. Amir's first collection of stories, The Portrait of the Incomplete Man (Cheshmeh, 2009) won two national book prizes including "Golshiri". His latest work Stutter (Ofoq, 2013), is a political novel that occurs in Iran, Afghanistan, and Azerbaijan. He is also a member of the PEN Canada Writers in Exile group and published essays and short stories in Canada.
امیرحسین یزدان‌بد متولد ۱۳۵۶ در تهران است. او تحصیلاتش را در فیزیک کاربردی با گرایش حالت جامد وفلسفهٔ غرب نیمه تمام رها کرد. تحصیلات اصلی او در زمینهٔ کامپیوتر و امنیت شبکه متمرکز شد. از سال ۱۳۸۴ نوشتن داستان را جدی گرفت اگرچه پیش از آن هم چند یادداشت و تک داستان از او در نشریات چاپ شده بود. مجموعه داستان «پرتره‌ی مرد ناتمام» او با اقبال بسیاری روبه‌رو شد و جوایز بنیاد هوشنگ گلشیری وگام اول را نصیب او کرد. هم‌چنین او با همین اثر فینالیست جایزه منتقدان و نویسندگان مطبوعات شد و نامزد دریافت جایزه روزی روزگاری هم بود. یزدان‌بد به خاطر داستان کوتاه «برای مارسیای رذل عزیز» برندهٔ قلم زرین شد. چهارسال بعد او نخستین رمانش «لکنت» را از نشر افق منتشر کرد که با توجه بسیاری از جانب نشریات و روزنامه‌ها و منتقدان مواجه شده است. وی هم‌اکنون ساکن کانادا و عضو انجمن پن و حلقه‌ی نویسندگان در تبعید است و آثاری در نشریات معتبر از جمله فصلنامه‌ی تخصصی اتحادیه‌ی نویسندگان کانادا از وی منتشر شده است.
Dr. Hessam Dehghani earned his first PhD in Linguistics from Allameh Tabātabāi University working on the "Structural analysis and Phenomenological study of Persian Literature" in 2012. He then earned another PhD in Philosophy from Boston College in 2019. Between August 2019 and December 2020, he was a post-doctoral fellow and associate researcher at Harvard Divinity School and the Center for Middle Eastern Studies where he focused his research on the formation of the Persianate identity in Persian Mystic Literature. He has presented on different aspects of Persian mystic literature regularly at Harvard University and Boston College. His latest presentation on Persian Literature at Alireza Ahmadian Lecture Series can be found here. He is also the director and founder of Persian Literature Reading Club at UBC, a public humanities initiative where the most prominent Persian writers, academics, students and the Persianate community at large come together to read about and discuss some of the most pressing human issues raised in the works of Modern Persian Literature.
Besides his research interest, he has been teaching English as a foreign language in Iran since 2000, and Persian and Arabic in North America for the past 8 years. Since 2012, he has taught Persian and Arabic and directed Persian program single-handedly at Boston College for which he received both teaching and leadership award from that institution. In 2021, Dr. Dehghani started his tenure-track position as an assistant professor of teaching Persian language and Culture at the University of British Columbia. In pedagogy, his interests lie in Content-based Instruction and Critical Heritage Language Education for which he has passed multiple CAL, ACFTL and STARTALK workshops and received several certifications from 2013 up to present. He is passionate about implementing technology in teaching Persian and creating open access interactive online textbooks. Implementing the latest findings in Critical Heritage Education and Second Language Acquisition, he and his wife, Mahtab Sirdani, devised a new method of teaching literacy to the heritage learners of Persian, they call Collaborative Storytelling (CT).
Should you have any questions, please contact Dr. Hessam Dehghani at hessam.dehghani@ubc.ca.