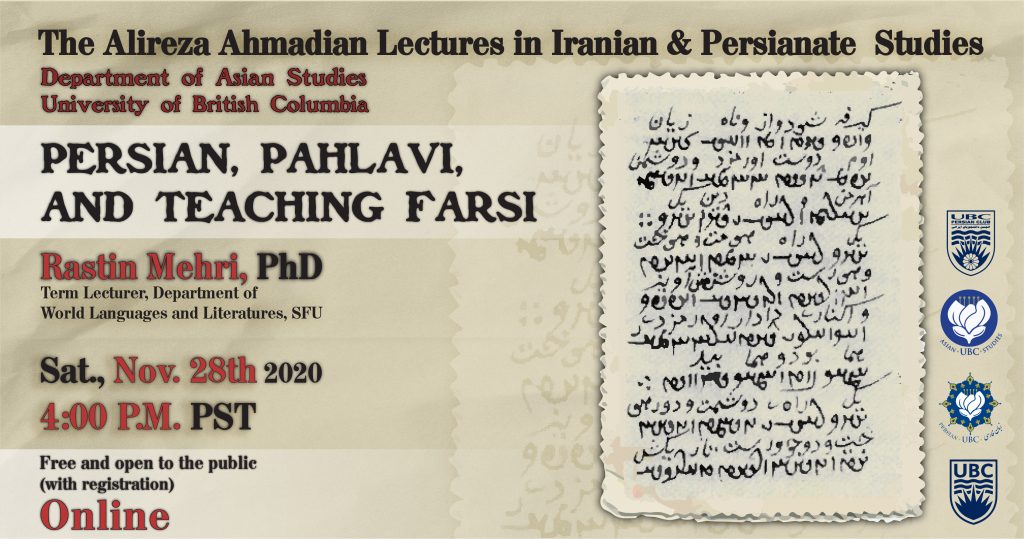 Poster design: Razman Goudarzi (UBC student; Current UBCPC President)
Thank you to everyone who attended! The recording can be viewed here.
Teaching historical content that is relevant, engaging, and accessible for students of Language is something that social studies scholars have scarcely investigated. The present article reveals how knowledge of Middle Persian illuminates many complex aspects inherent in both the grammar and orthography of Modern Persian/Fārsī and particularly in teaching them as a second language. This presentation will maintain that a cogent knowledge of Middle Persian is in fact crucial in understanding many aspects of Modern Persian grammar, both basic and higher level; and that it enable scholars, teachers and educators obtain a clarity on how to best teach the growing and diverse population of students of Persian Language in schools and universities across North America.
Rastin Mehri obtained his Ph. D. from the School of Oriental and African Studies, in the University of London, U.K., and holds a B.F.A., B.A. and an M.A. from the University of British Columbia in Vancouver, Canada. His research interests include the history, literature and social situation of the Middle Eastern and South Asian Diaspora in British Columbia, Canada. He has taught courses in Arabic, Middle Persian and Persian as term-lecturer at SFU, and as a guest-lecturer in UBC.
About the Alireza Ahmadian Lectures in Iranian and Persianate Studies: Alireza Ahmadian (1981 – 2019) was an enthusiastic researcher, a consummate socio-political analyst, and an opinion leader on foreign policy who nurtured the virtues of diplomatic dialogue and liberal democracy. Alireza was a proud and devoted UBC alumnus, supporter of UBC's Asian Studies department, and beloved member of Canadian-Iranian Community. UBC's Asian Studies department renamed this lecture series in his honour in 2019. The Ahmadian family and friends have provided funding to support this series, and this generous gift will see these important academic and community engagement events supported through to the end of the 2025/2026 academic year. To access the full list of events, click here.