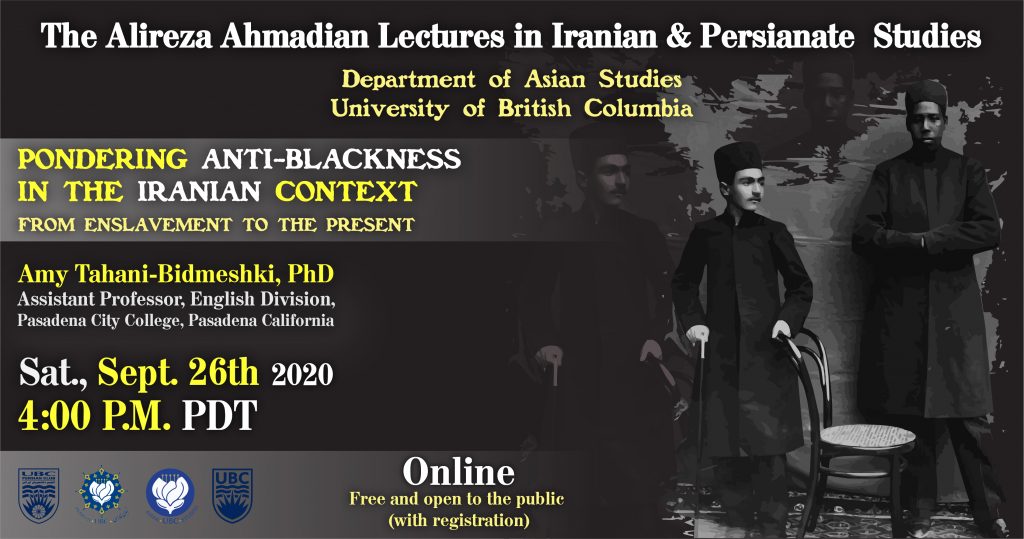 Poster design: Razman Goudarzi (UBC student; Current UBCPC President)
Thank you to all who attended the session. The recording has been posted on YouTube and can be accessed here.

On May 25, 2020, George Floyd, a 46-year-old unarmed Black man, was murdered by law enforcement officers in Minneapolis, Minnesota for allegedly using a counterfeit bill at a grocery store. This particular incident spiked the rage of the entire world including the state of Iran and its citizenry. In this talk, I will think through the long legacy of global antiblackness and its horrific history of enslavement and genocide and discuss how Iran and Iranians (nationals and those in diaspora) are active participants in the dehumanization of Black peoples. While Iranians within Iran and throughout the world mourn the unjust murder of an innocent Black man, most fail to acknowledge their own complicity in antiblackness including the enslavement of Black Africans by Persian aristocrats in the last few centuries, the current and continuous suppression of Iran's Black populations and their grievances, and cultural practices such as Haji Firuz. Thinking about antiblackness in the Iranian context since enslavement to the present allows us to become aware of how whiteness finds support for its violence against Black communities throughout the world and leaves us to ask ourselves, how will we show up for Black lives?
Dr. Amy Tahani-Bidmeshki teaches with an emphasis on the study of race, sexuality, class, and gender within the larger context of American history and culture. Her teaching and research interests include Afro-pessimism, critical theory, anticolonialism, internationalism, psychoanalysis, nationalism, the literatures of revolutionary movements, and resistance literature. In addition to working on the far-reach of Black radicalism in Southwest Asia and North Afrika, she looks at Black masculinity and the long history of Black fatherhood in the United States. Her most recent publication "The Specter of Black Fatherhood in 12 Years a Slave" can be found in the fall 2019 issue of Rhizomes and "Queering the Iranian Nation" appears in Iran Namag on "Iranian Men and Masculinities" (3.1, spring 2018). She currently teaches in the English Division at Pasadena City College in Pasadena, California.
About the Alireza Ahmadian Lectures in Iranian and Persianate Studies: Alireza Ahmadian (1981 – 2019) was an enthusiastic researcher, a consummate socio-political analyst, and an opinion leader on foreign policy who nurtured the virtues of diplomatic dialogue and liberal democracy. Alireza was a proud and devoted UBC alumnus, supporter of UBC's Asian Studies department, and beloved member of Canadian-Iranian Community. UBC's Asian Studies department renamed this lecture series in his honour in 2019. The Ahmadian family and friends have provided funding to support this series, and this generous gift will see these important academic and community engagement events supported through to the end of the 2025/2026 academic year. To access the full list of events, click here.