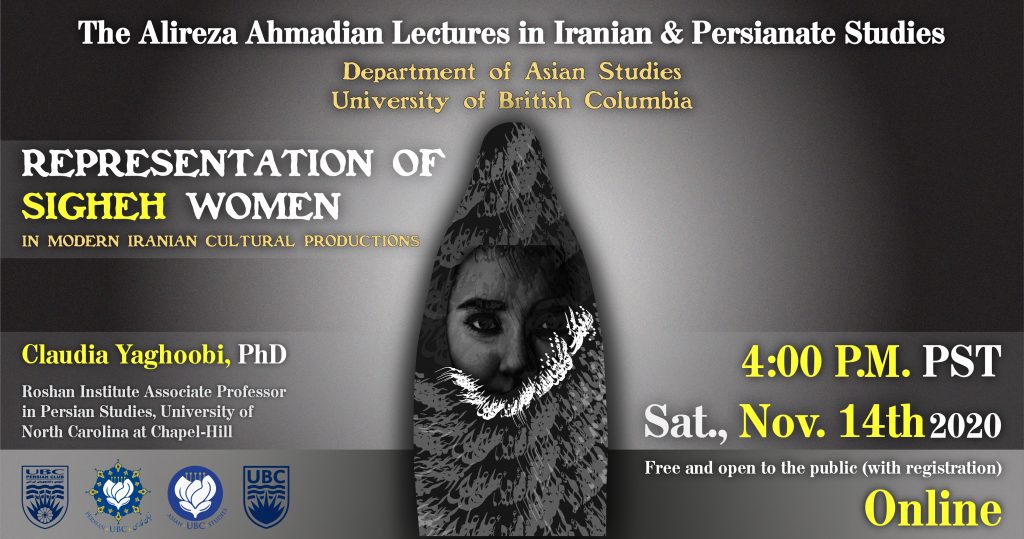 Poster design: Razman Goudarzi (UBC student; current UBCPC President)
Thank you to everyone who attended! The recording can be viewed on YouTube here.
In this talk, analyzing the representation of sigheh (temporary marriage) women literature of the Pahlavi era (1924-1979) and two cinematic works produced after the Islamic Revolution (1979-), I will argue that these cultural productions reflect the manner in which the practice of sigheh impacts women by calling into question how sexuality works as a form of political analysis and power. However, I will also move beyond the literary and cinematic realms and examine in-depth a rather controversial social institution which has been the subject of disdain for many Iranian feminists and captured the imagination of many Western observers. Despite their legality and legitimization, sigheh marriages carry a social stigma that marks the couple, particularly the woman, who enter such marriages. Seen within the context of gender inequity and segregation, I situate temporary marriage at the intersection of submission and resistance, transgression and compliance, obstacles and possibilities. The literature and films of modern Iran manifest the female body as the locus for socio-cultural policing – a site of social inscriptions, both subordinate and passive. I will illuminate how the female body is produced through an interaction of disciplinary institutions and governments within a patriarchal system that inscribes sociocultural codes and power structures on the female body. Nonetheless, while the female body is an embodiment of sociocultural, political, and historical possibilities that are part of the regulatory discourse of the larger power structure, I will also highlight the fact that the female body has agency. Despite the fact that female sigheh characters are portrayed as invisible, liminal, vulnerable, and often stigmatized, they are simultaneously depicted as exercising a certain power by occupying a significant space in the social imaginary of the dominant Iranian culture. It is through this dual position that they disrupt the standard narratives about Iranian women and their sexuality. Sigheh women pose threats to the status quo, hold power over men, and create anxiety over male sexuality in Iranian society even while they themselves are marginalized and subject to violence.
Claudia Yaghoobi is a Roshan Institute Associate Professor in Persian Studies at the University of North Carolina, Chapel Hill. She is the author of the following books: Subjectivity in 'Attar, Persian Sufism, and European Mysticism (Purdue UP 2017) and Temporary marriage in Iran: Gender and Body Politics in Modern Iranian Film and Literature (Cambridge UP 2020); and co-editor of the book series, Sex, Family and Culture in the Middle East (with Janet Afary) and winner of the Hammed Shahidian Critical Feminist prize, awarded by the Iranian Women's Studies Foundation in 2014.
About the Alireza Ahmadian Lectures in Iranian and Persianate Studies: Alireza Ahmadian (1981 – 2019) was an enthusiastic researcher, a consummate socio-political analyst, and an opinion leader on foreign policy who nurtured the virtues of diplomatic dialogue and liberal democracy. Alireza was a proud and devoted UBC alumnus, supporter of UBC's Asian Studies department, and beloved member of Canadian-Iranian Community. UBC's Asian Studies department renamed this lecture series in his honour in 2019. The Ahmadian family and friends have provided funding to support this series, and this generous gift will see these important academic and community engagement events supported through to the end of the 2025/2026 academic year. To access the full list of events, click here.