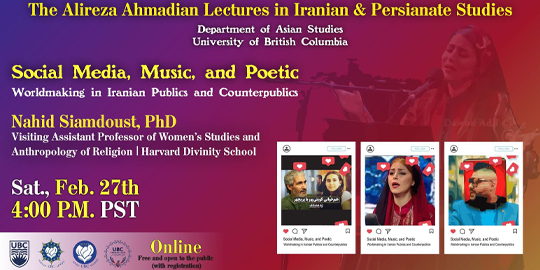 Poster design: Razman Goudarzi (UBC student; Current UBCPC President)
Please note today's session is cancelled due to a change in our speaker's schedule. If you registered for the talk, you will receive an email to advise of this. Thank you for your interest!
Presented in English with subtitles. Registration is essential here.
Music has long served within Iran's public sphere as an important channel for social and political mediation. In this talk, Nahid will examine the role of music in the poetic creation of alternative worlds, the instrumentalization of joy both within these worldmakings as well as their cooptations, and the impact of social media – and the securitization of online spaces – on these processes.
Nahid Siamdoust is a Visiting Assistant Professor on Women's Studies and Anthropology of Religion Women's Studies in Religion Program Research Associate 2020–21. Previously, she was a Postdoctoral Associate at the Program in Iranian Studies in MacMillan. Next year she will be joining the Department of Middle Eastern Studies at the University of Texas, Austin, as an Assistant Professor. Dr. Siamdoust received her doctorate from the University of Oxford, where she graduated in Modern Middle Eastern Studies at St. Antony's College. Her book, Soundtrack of the Revolution: The Politics of Music in Iran was published in 2017 by Stanford University Press. Dr. Siamdoust is an anthropologist and media scholar whose work concentrates on the intersection between politics, culture and media in Iran and the wider Middle East, with a focus on questions of cultural mediation, political power and social movements.
About the Alireza Ahmadian Lectures in Iranian and Persianate Studies: Alireza Ahmadian (1981 – 2019) was an enthusiastic researcher, a consummate socio-political analyst, and an opinion leader on foreign policy who nurtured the virtues of diplomatic dialogue and liberal democracy. Alireza was a proud and devoted UBC alumnus, supporter of UBC's Asian Studies department, and beloved member of Canadian-Iranian Community. UBC's Asian Studies department renamed this lecture series in his honour in 2019. The Ahmadian family and friends have provided funding to support this series, and this generous gift will see these important academic and community engagement events supported through to the end of the 2025/2026 academic year. To access the full list of events, click here.