The Persian Language and Iranian Studies Initiative at UBC, the UBC Persian Literature Reading Club, and the UBC Persian Club are hosting a series of events analyzing the literature of migration and exile in Modern Persian Literature in Winter 2022. The third session of the Winter 2022 series features one of the leading writers of contemporary Persian literature, Abu Torab Khosravi. In this session, we will discuss his approach towards the nature of story.
The event is sponsored by the Department of Asian Studies.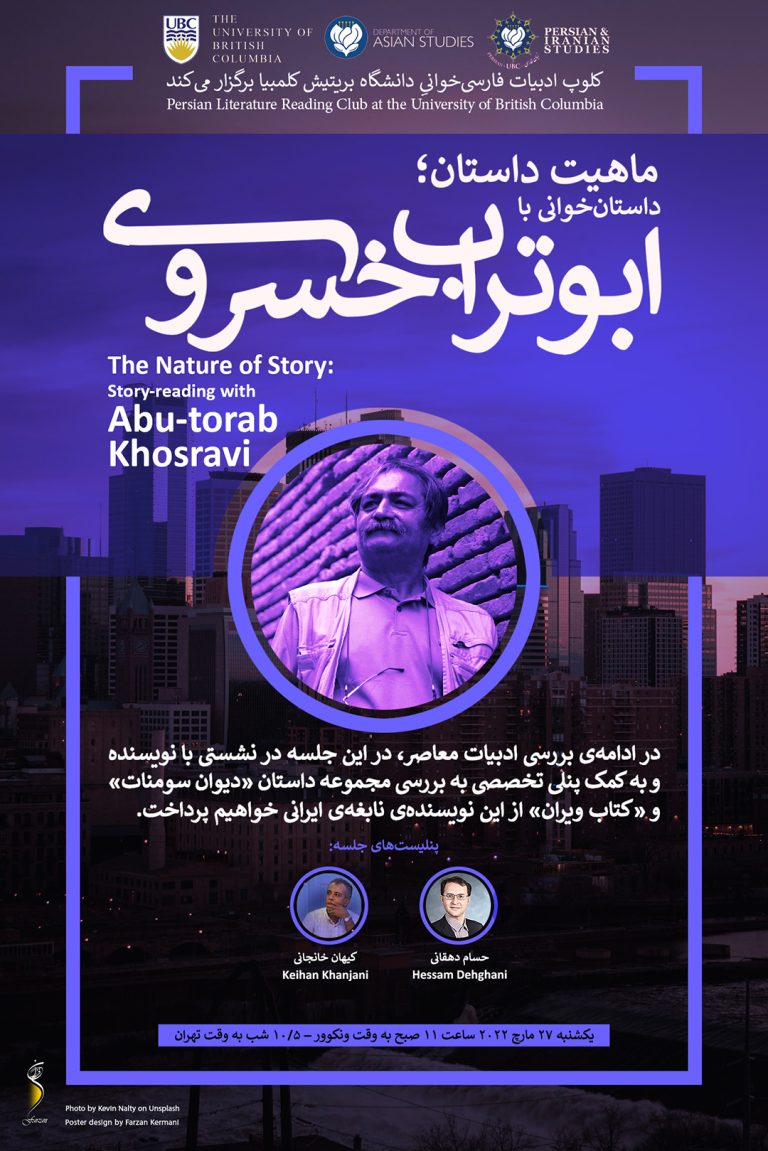 Date & Time:
Sunday, March 27, 2022
11:00am (PDT) / 10:30pm (Tehran Time)
Location: online via Zoom
Presented in Persian
Free & open to the public. Registration is required via the form below.
«ماهیت داستان: داستان‌خوانی با ابوتراب خسروی»
در این جلسه در نشستی با نویسنده و به کمک پنلی تخصصی به بررسی مجموعه داستان «دیوان سومنات» و «کتاب ویران» از این نویسنده‌ی نابغه‌ی ایرانی خواهیم پرداخت
پنلیست های جلسه:
حسام دهقانی
 کیهان خانجانی
بلقیس سلیمانی
لطفا برای ثبت نام فرم زیر را پر کنید
Guest Speaker
Abu-torab Khosravi is an Iranian writer and novelist who was born in Fasa, a city in Fars province in Iran in March 1956. He has obtained a special place among the third generation of Iranian fiction writers through writing a collection of short stories under the title of "Hāvīyeh" and "Dīvān-e-Sūmanāt" and the trilogy of novels titled "Asfār-e-Kātebān," "Rūd-e-Ravī," and "Malekān-e Azāb."
He has won several national awards including Mehregan-e Adab for "Asfār-e Kātebān," The 4th Houshang-e Golshīrī award for "Rūd-e Rāvī," The 11th Houshang-e Golshīrī award for "Ketāb-e Vīrān", and finally the 7th Jalāl Al-e Ahmad's Literary award for "Malekān-e Azab".
ابو تراب خسروی، خالق سه گانه «اسفار کاتبان»، «رود راوی» و «ملکان عذاب» در فروردین ماه سال ۱۳۳۵ در استان فارس و شهرستان فسا به دنیا آمد. ابوتراب «هاویه» را در سال ۱۳۷۰ منتشر کرد اما آن اثری که نام او را بر سر زبان ها انداخت مجموعه داستان «دیوان سومنات» است، مجموعه ای که داستان معروف و بی نظیر «مرثیه ای برای ژاله و قاتلش» را در خود جای داده است. آثار خسروی گرچه بر بستر فرهنگ و تاریخ ایران زمین شکل می‌گیرد، اما مفاهیم، زبان و ساختار آنها مرزهای جغرافیایی و فکری را درمی‌نوردند. 
از دیگر آثار ابوتراب خسروی می توان به «آواز پر جبرئیل» نیز اشاره کرد. او علاوه بر داستان، پژوهش هایی نیز در خصوص داستان و داستان نویسی دارد که تحت عنوان «حاشیه ای بر مبانی داستان نویسی» منتشر شده است. ابوتراب خسروی جایزه های ادبی بسیاری را برای آثارش به دست آورده است. «اسفار کاتبان،» برنده جایزه مهرگان ادب، «رود راوی» برنده چهارمین دوره جایزه هوشنگ گلشیری، «کتاب ویران» برنده یازدهمین دوره جایزه هوشنگ گلشیری و «ملکان عذاب» برنده هفتمین دوره جایزه ادبی جلال آل احمد شده است.
Panelists
Hessam Dehghani

Keihan Khanjani