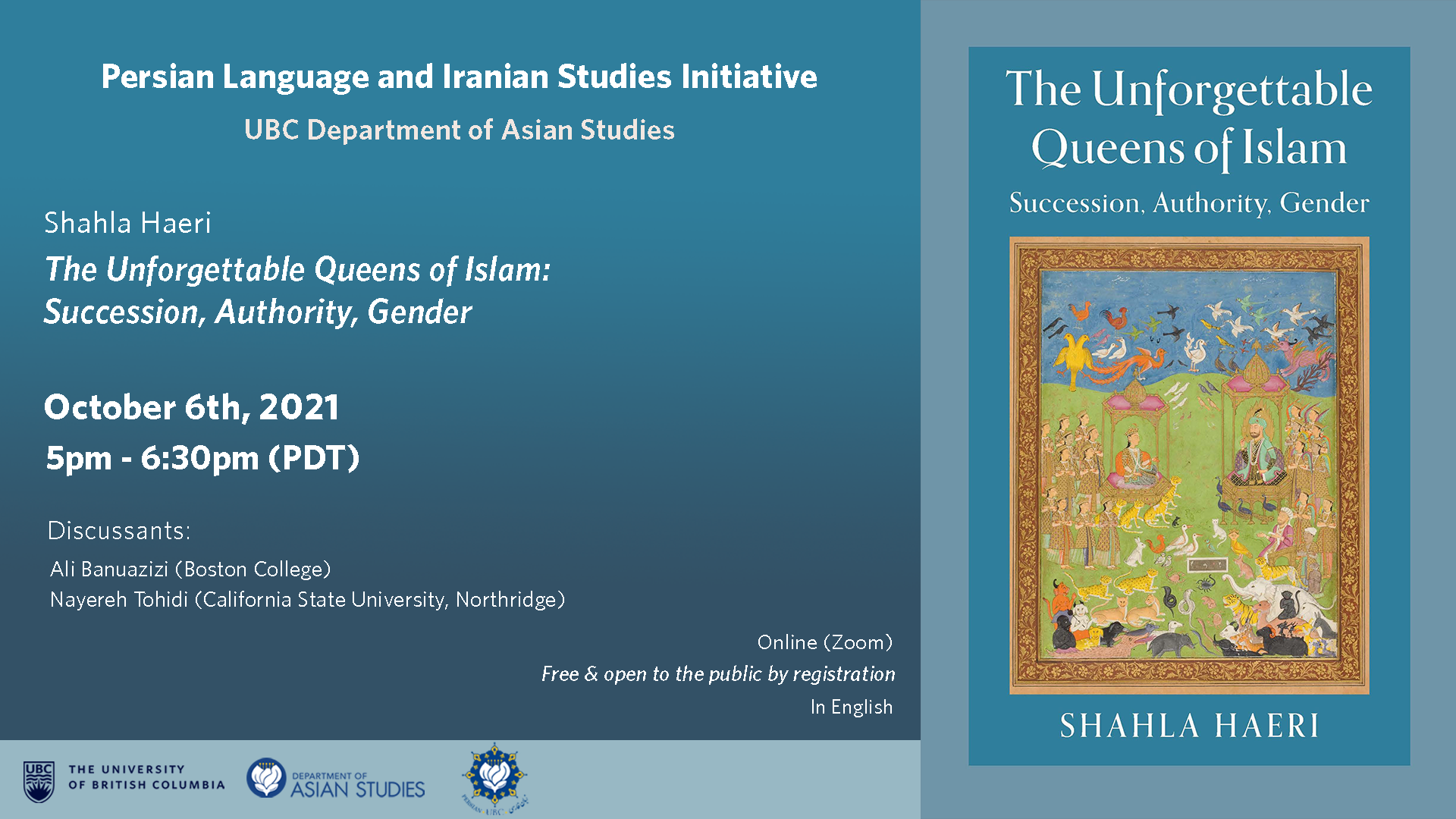 The Persian Language and Iranian Studies Initiative at UBC is hosting a virtual book talk featuring author Dr. Shahla Haeri in discussion of her book The Unforgettable Queens of Islam: Succession, Authority, Gender. Moderated by Dr. Hessam Dehghani (University of British Columbia), the session will include a discussion of Dr. Haeri's book, followed by a Q&A session with two panelists Professor Ali Banuazizi (Boston College) and Professor Emeritus Nayereh Tohidi (California State University, Northridge). The event is sponsored by the UBC Department of Asian Studies.
Date & Time:
October 6 | 5pm – 6:30pm (PDT)
Location: online via Zoom
This talk will be presented in English.
Free & open to the public. Click the link below to register for the event.
Registration link: https://ubc.zoom.us/webinar/register/WN_MQ8K_bDAT1mSJSMZwZ_Ijg
About the speaker
Shahla Haeri is a former director of the Women's Studies Program at Boston University, Shahla Haeri is one of the pioneers of Iranian Anthropology, and has produced cutting-edge ethnographies of Iran, Pakistan and the Muslim world. Her landmark books include her classic ethnography, Law of Desire: Temporary Marriage, Mut'a, in Iran (1989/2014) translated into Arabic and reprinted frequently, highlighting the tenacious but secretive custom of temporary marriage in Iran; No Shame for the Sun: Lives of Professional Pakistani Women (2002/2004), widens the ethnographic scope to make visible lives of educated and professional Muslim women. Her most recent book, The Unforgettable Queens of Islam: Succession, Authority, Gender (Cambridge University Press) is a groundbreaking book on the extraordinary lives and legacies of a few remarkable Muslim women sovereigns from across cultures and Islamic history. Dr. Haeri's academic and creative oeuvre include directing a video documentary, Mrs. President: Women and Political Leadership in Iran (2002, 46 min.) focusing on six women presidential contenders during the Iranian presidential election of 2001. She is the recipient of many fellowships, grants, and postdoctoral fellowships.
Discussants:
Ali Banuazizi, Boston College
Ali Banuazizi's scholarly interests include political cultures of the Middle East; comparative study of religion, civil society, and politics in the Middle East; and Iran's social history and contemporary domestic politics and foreign relations. Professor Banuazizi is currently the Director of the Program in Islamic Civilization and Societies (ICS) and Chair of the International Studies Academic Advisory Board at Boston College. He is a past President of the Middle East Studies Association (MESA) and the International Society for Iranian Studies (ISIS). He has held visiting appointments at Princeton, Harvard, Hebrew University of Jerusalem, M.I.T., and Oxford University.
Nayereh Tohidi, California State University, Northridge
Nayereh Tohidi is a Professor and former Chair of the Department of Gender & Women Studies at California State University, Northridge. Currently, she is the founding Director of the Middle Eastern and Islamic Studies at CSUN and also a Research Associate at the Center for Near Eastern Studies of UCLA where she has been coordinating the Bilingual Lecture Series on Iran since 2003. Professor Tohidi earned her MA and Ph.D. from the University of Illinois at Urbana-Champaign and a BS (with Honors) from the University of Tehran in Psychology and Sociology. She is the recipient of several grants, fellowships and research awards, including a year of Fulbright lectureship and research at the Academy of Sciences of the Soviet Republic of Azerbaijan; post-doctoral fellowships at Harvard University; Stanford University; the Woodrow Wilson International Center for Scholars; the Keddie-Balzan Fellowship at UCLA; and an NEH grant to develop the MEIS Program at CSUN. She has held visiting positions at Universities of Iowa, Minnesota, Harvard, UCLA, and USC.
Moderator
Hessam Dehghani, University of British Columbia
Hessam Dehghani is an Assistant Professor of Teaching, Persian Language and Culture. He obtained a first Ph.D. in Linguistics from Allameh Tabataba'i University in Tehran, Iran, with a dissertation titled "Interpretation and Literary Theory: From Structuralism to Ricoeurian Hermeneutics" (2011). In 2019, he earned a second Ph.D. in Philosophy from Boston College, where he was a Fellow at the Clough Center for Constitutional Democracy (2014-2018). His dissertation, "The Topology of Community in Aristotle: a Phenomenological Approach," offers a phenomenological reading of Aristotle's formulation of a "just community" and its appropriation in Islamic thought.
About the book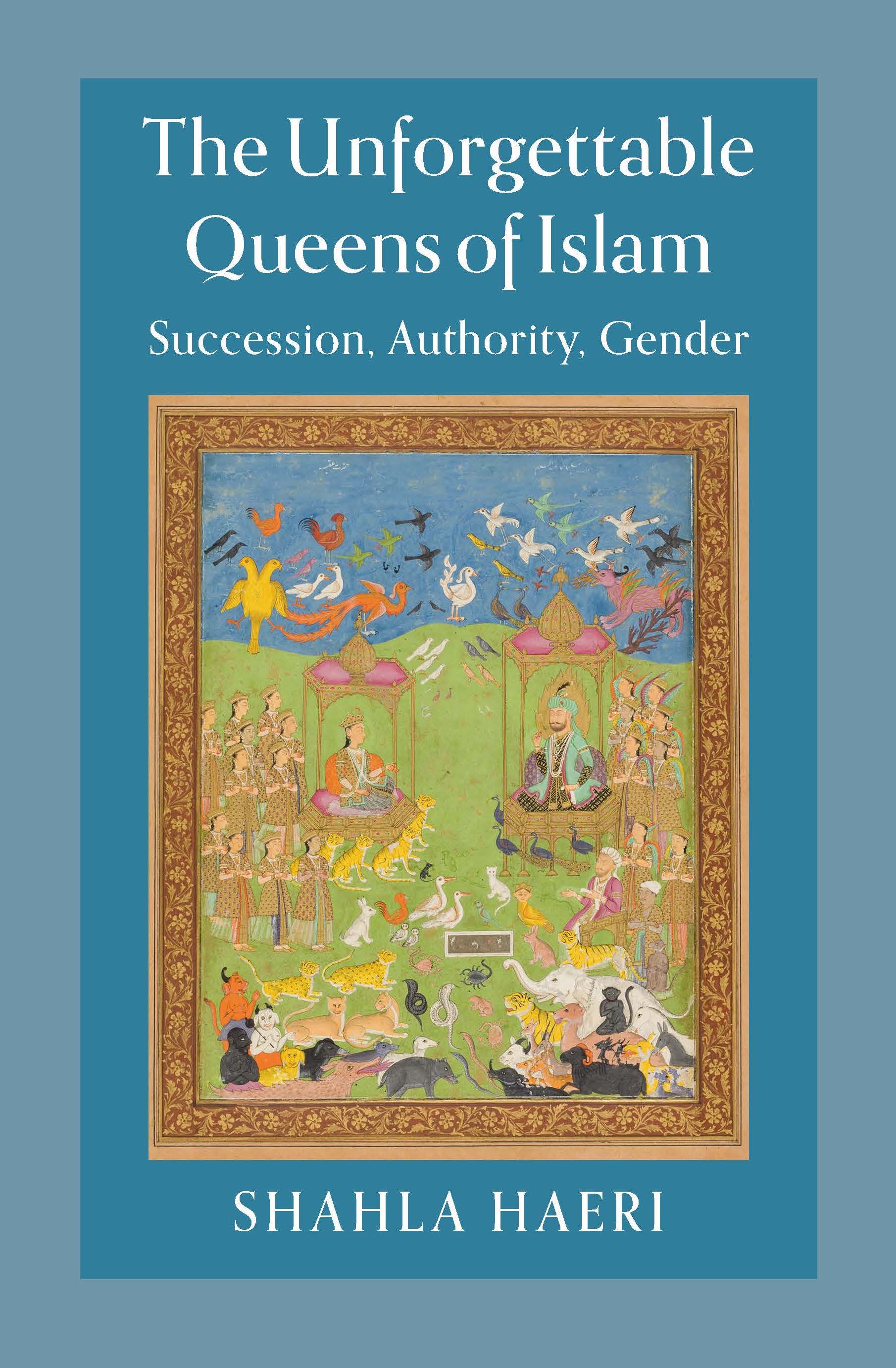 The Unforgettable Queens of Islam: Succession, Authority, Gender
Shahla Haeri
In this landmark study, Shahla Haeri offers the extraordinary biographies of several Muslim women rulers and leaders who reached the apex of political systems of their times. Their stories illuminate the complex and challenging imperatives of dynastic succession, electoral competition and the stunning success they achieved in medieval Yemen and India, and modern Pakistan and Indonesia. The written history of Islam and the Muslim world is overwhelmingly masculine, having largely ignored women and their contributions until well into the 20th century. Religious and legal justifications have been systematically invoked to justify Muslim women's banishment from politics and public domains. Yet this patriarchal domination has not gone on without serious challenges by women – sporadic and exceptional though their participation in the battle of succession has been. The Unforgettable Queens of Islam highlights lives and legacies of a number of charismatic women engaged in fierce battles of succession, and their stories offer striking insights into the workings of political power in the Muslim world.