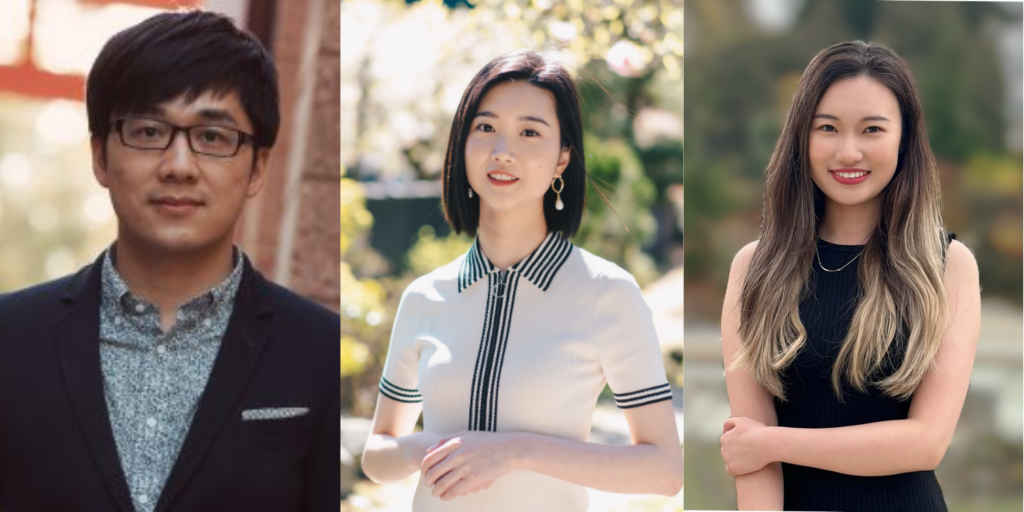 The Chinese Language Program (CLP) has played a vital role in the professional development of student employees, who consider it a critical step in their university careers. This year, the CLP has provided a series of professional development opportunities that have been beneficial for students in terms of career exploration, skill enhancement, and interview preparation.
The best part is that several generous CLP alumni and an esteemed professor from the Department of Asian Studies have offered their expertise to assist students in expanding their professional skillset. This collaborative environment has fostered a sense of community and support, enabling students to learn from one another's experiences and grow both personally and professionally.
1st Professional Development Workshop
"Sharpening Skills for Your Job Market Appeal"
On February 3, 2023, the CLP hosted its first Teaching Assistant and Work Learn (TAWL) professional development workshop of the term, bringing together a diverse group of students and professionals via Zoom. The workshop featured two distinguished guest speakers who were both alumni of the Chinese Language Program (CLP). They shared valuable insights and experiences about how their involvement in the program helped them develop essential skills that have been instrumental in shaping their professional careers.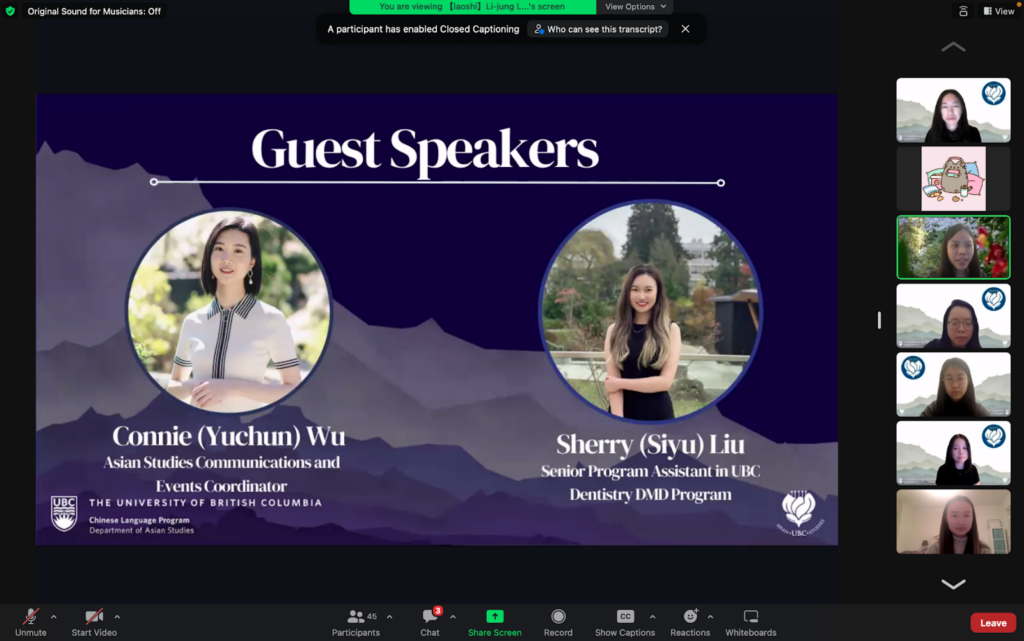 The evening's distinguished guest speakers included Connie Yuchun Wu, the Communications and Events Coordinator for the Department of Asian Studies, and Sherry (Siyu) Liu, an accomplished CLP alumna who currently works as Senior Program Assistant in the UBC Dentistry DMD Program. Their participation added significant value to the event, allowing attendees to gain valuable insights into their experiences and learn from their expertise.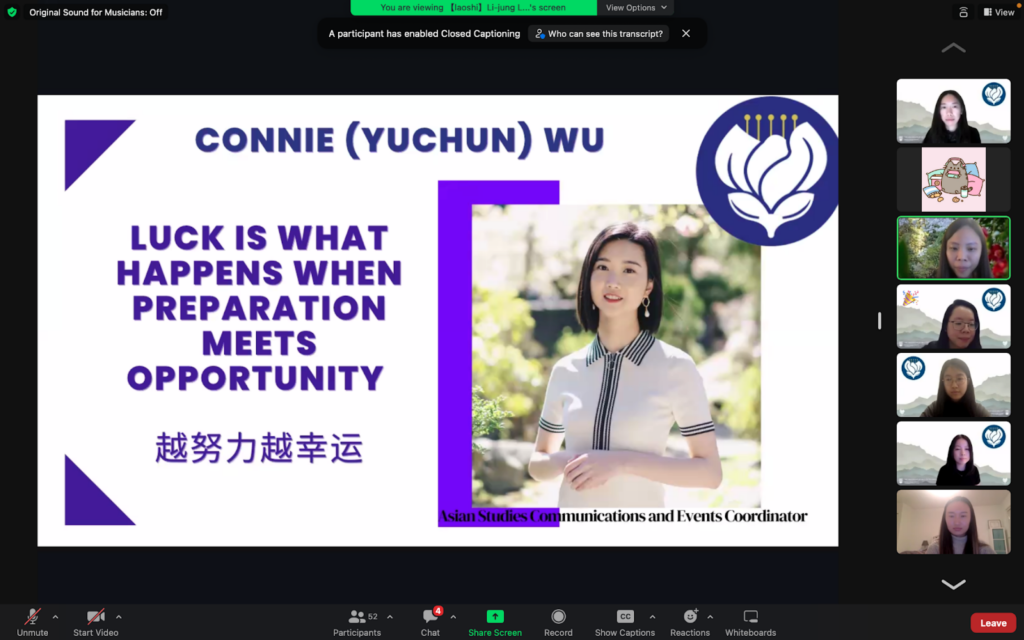 During Wu's presentation, she shared valuable insights and advice for Teaching Assistants and Work Learns, emphasizing the importance of developing a professional attitude when searching for work opportunities. Wu's presentation focused on the concept of "Luck Is What Happens When Preparation Meets Opportunity," and she encouraged students to take a proactive approach by honing their skills and preparing themselves before entering the job market. Her valuable insights offered attendees practical tips and strategies for success in their professional lives.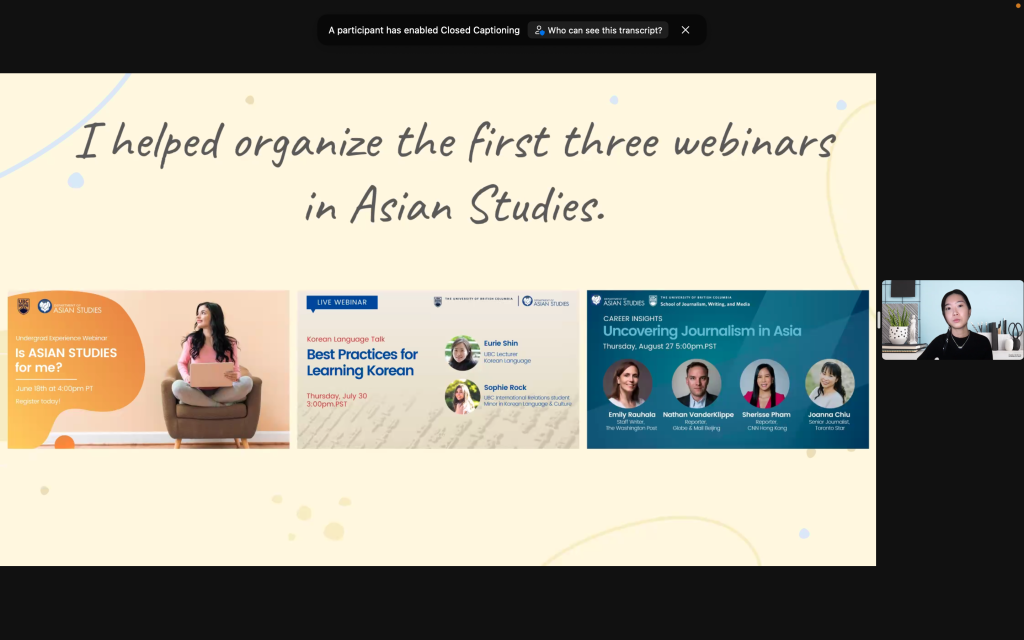 Connie shared her own undergraduate experiences of helping organize three webinars for the Department of Asian Studies, highlighting the importance of stepping out of one's comfort zone to gain valuable experiences within the university. She emphasized that such experiences not only improve one's resume and skill sets but also provide opportunities to network for future career prospects within and outside academia. Connie's firsthand experience underscored the importance of taking an active role in shaping one's professional trajectory.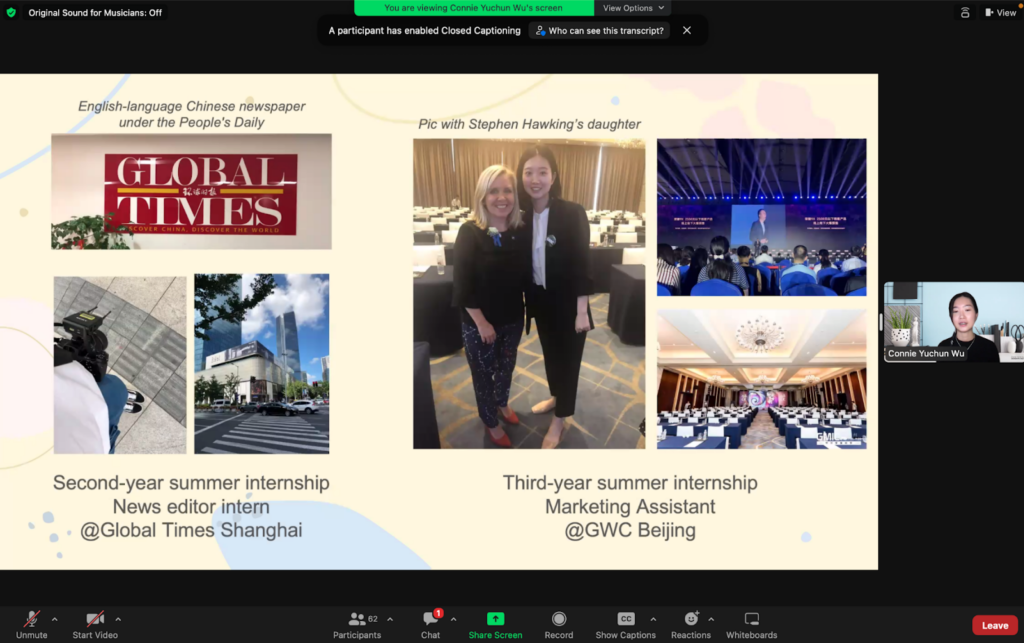 In addition to her webinar organizing experience, Connie also shared her hands-on work experiences as a News Editor for Global Times Shanghai and a Marketing Assistant for GWC Beijing during her summer internships. She spoke about how these experiences helped her develop her skills and identify her interests in media studies.
Through her personal experience, Connie urged attendees to reflect on their focus and interests, emphasizing the importance of being prepared for various professional opportunities that may come their way. Her insightful advice emphasized the value of gaining practical experiences and exploring one's interests to make informed career decisions.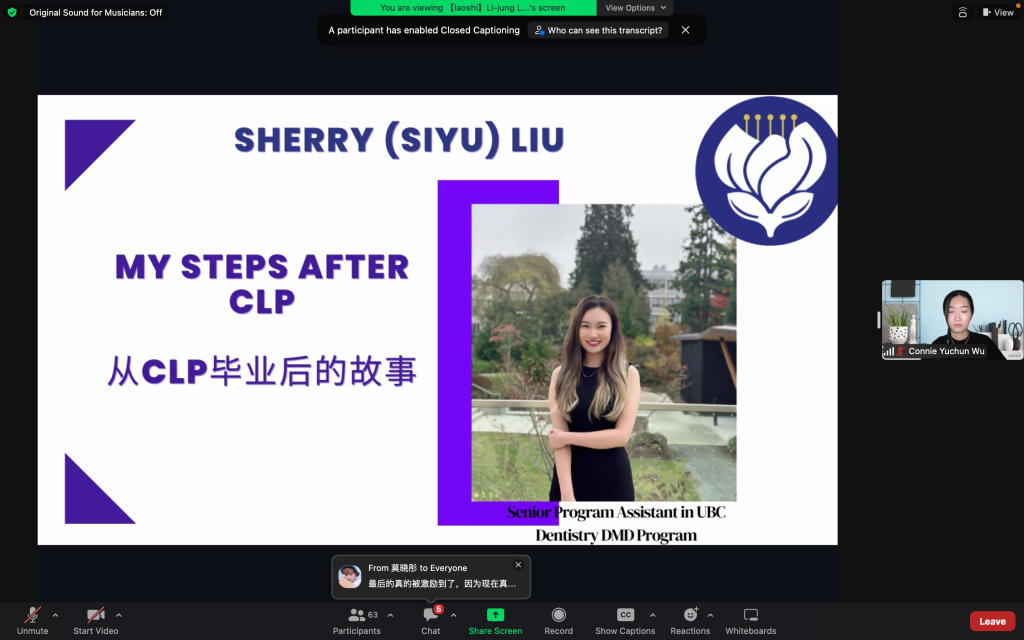 In the subsequent presentation, Sherry (Siyu) Liu, Senior Program Assistant in the UBC Dentistry DMD Program, shared how her previous role as a TAWL Coordinator with the Chinese Language Program helped prepare her for her current position. Sherry explained that her time at the CLP presented numerous opportunities for her to grow her interpersonal and practical skills, which have proven invaluable in her current job. Her experience highlighted the importance of actively seeking out opportunities to develop and refine one's skill set in preparation for future professional roles.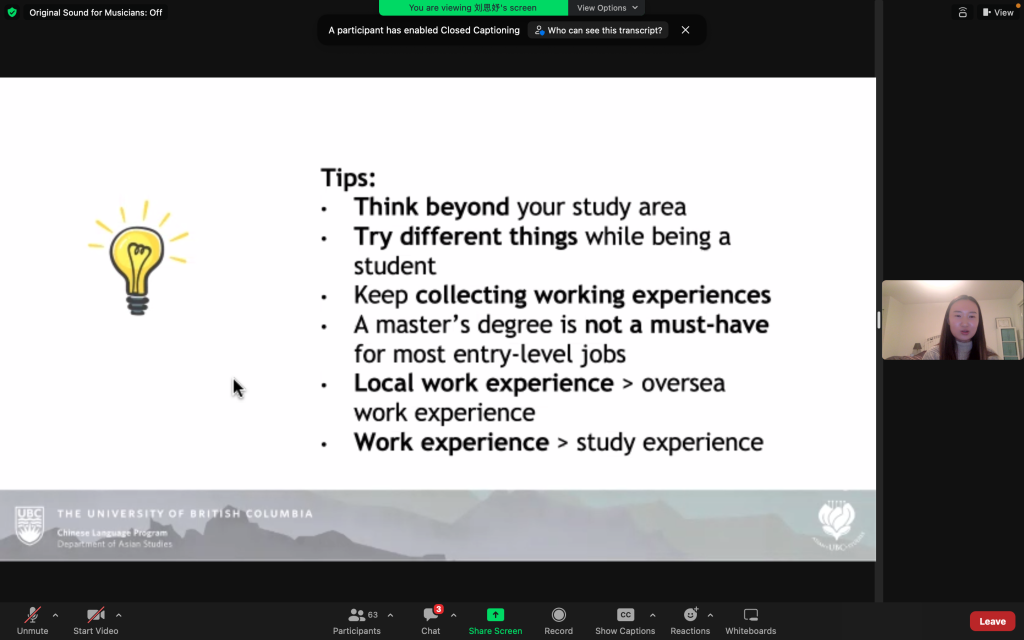 Sherry encouraged attendees to engage in a comprehensive brainstorming process to identify potential job opportunities. She emphasized the importance of considering one's area of study, personal interests and attributes, and the current job market while exploring potential career paths. Sherry also stressed the significance of accumulating relevant experiences and hard skills to enhance one's resume and prepare for job acquisition. Additionally, she shared some valuable tips and tricks for navigating the job market, providing attendees with practical insights to help them succeed in their job search.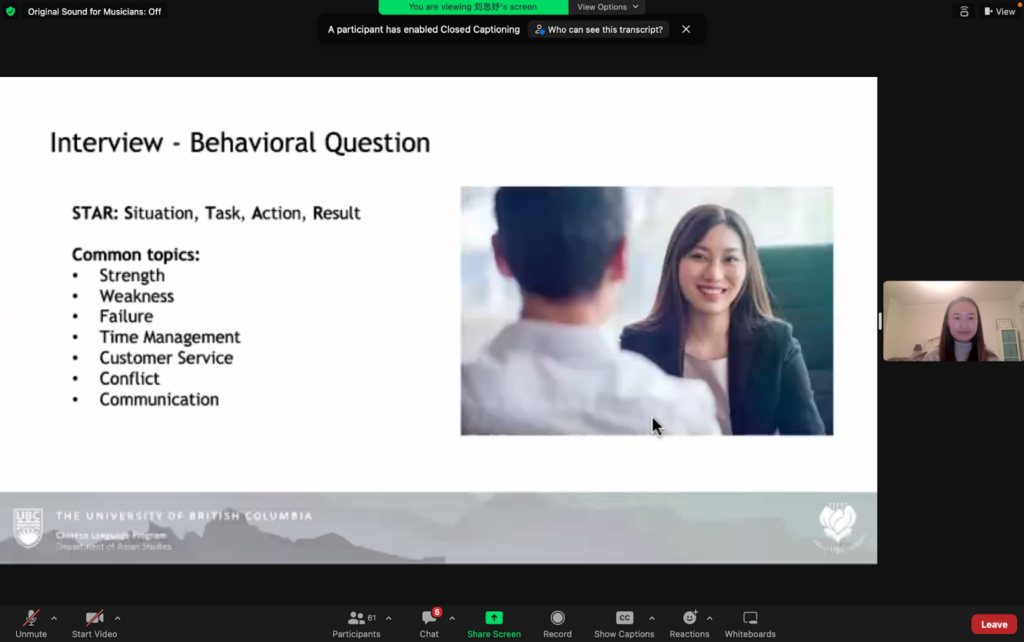 Sherry went on to offer some valuable advice on preparing for the interview process. She recommended utilizing the STAR method (Situation, Task, Action, Result) to organize one's thoughts when responding to behavioral questions aimed at assessing an applicant's ability to perform under stress. Sherry emphasized that the STAR method is a practical and effective way to structure responses to behavioral questions, enabling interviewees to clearly communicate their experiences and skills while highlighting their qualifications for the job.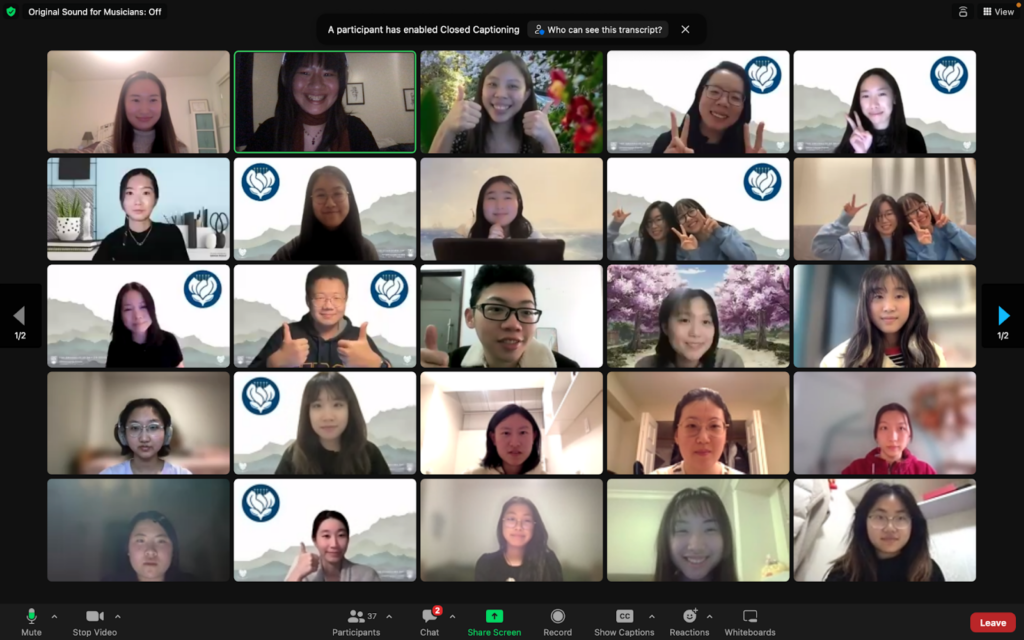 The Teaching Assistants, Work Learns, and students present at the workshop also took the opportunity to share their own tips and tricks for professional development. The supportive environment fostered within the CLP community created a space for attendees to exchange ideas and insights, strengthening the bond between its members. This collaborative spirit is a hallmark of the CLP family, characterized by dedication and hard work towards personal and professional growth.
---
2nd Professional Development Workshop
"How to Stand Out during Interviews"
In a highly competitive job market, making a lasting impression during an interview is crucial to landing your dream job. With so many qualified candidates contending for the same positions, it can be challenging to distinguish oneself from the crowd. Yet, by investing in proper preparation, you can increase your chances of impressing your potential employer and securing the job you desire.


On March 3, 2023, Dr. Renren Yang, Assistant Professor of Modern Chinese Popular Culture, led the second professional development workshop. Drawing from his extensive experience in the academic world, he provided invaluable insights on interview techniques and strategies that are key to standing out from the competition.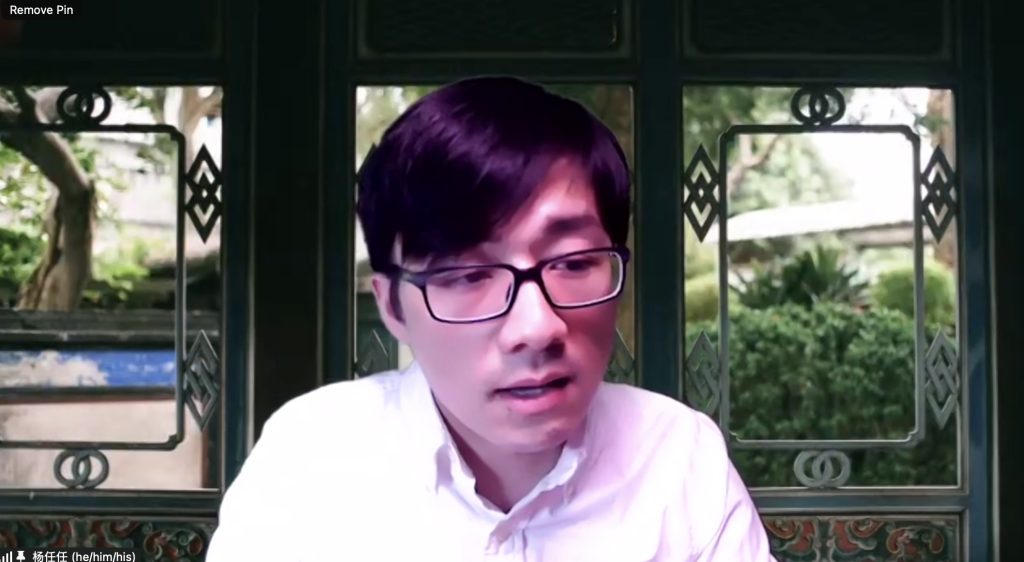 Dr. Yang suggested that approaching an interview as an adventure can help candidates to stay focused on the positive aspects of the experience, rather than getting consumed by nerves or self-doubt. He advised that a mindset of curiosity and openness can make a positive impression on the employer. He encouraged candidates to view the interviewing process as an opportunity for adventure and breakthrough, rather than just a display of language expression.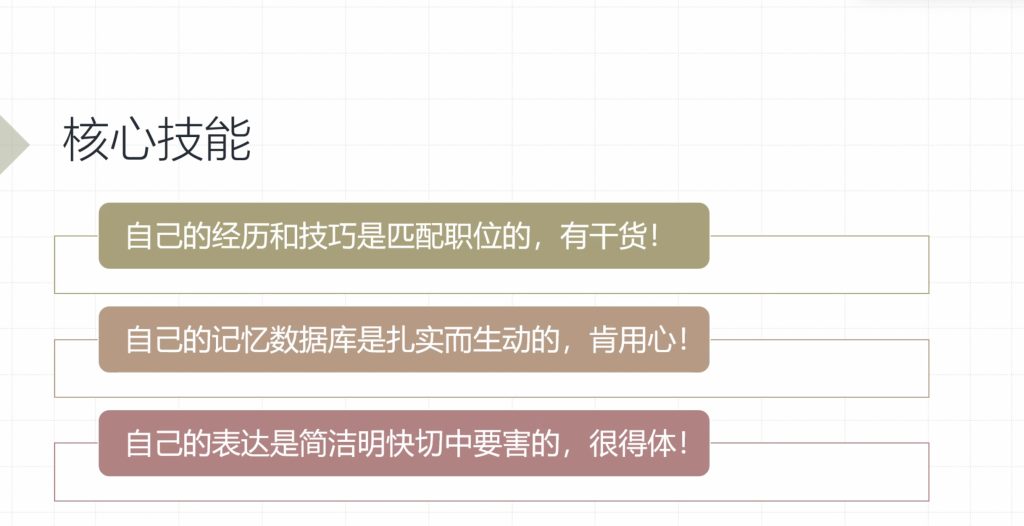 Dr. Yang stressed the significance of authenticity throughout the interview process. Rather than attempting to portray a flawless image, it's essential to be true to oneself and what one brings to the table. This approach can help establish a more genuine connection with the interviewer and increase the likelihood of distinguishing oneself from other candidates.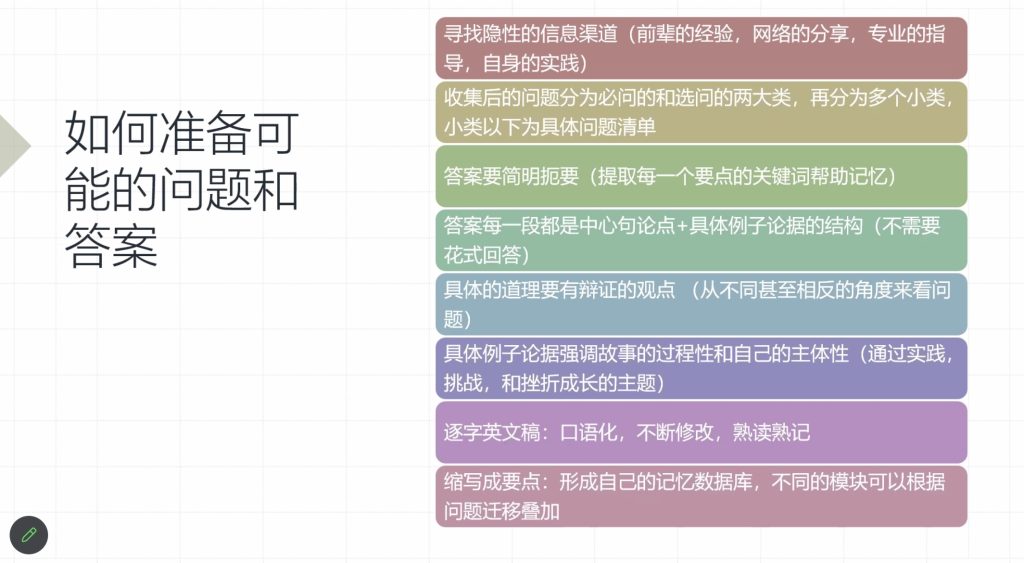 Dr. Yang pointed out that showing enthusiasm for a position during an interview can leave a positive impression on the interviewer. You can convey this enthusiasm through your tone of voice, body language, and the questions you ask during the interview. It's important to do your research beforehand and come prepared with a list of questions to ask the interviewer. This not only shows your interest in the position but also helps you gain a better understanding of the company and the role.
It's also a good idea to prepare key points and potential questions and answers in advance, categorizing them into mandatory and optional questions. This level of preparation can help you feel more confident during the interview and handle any unexpected scenarios that may arise.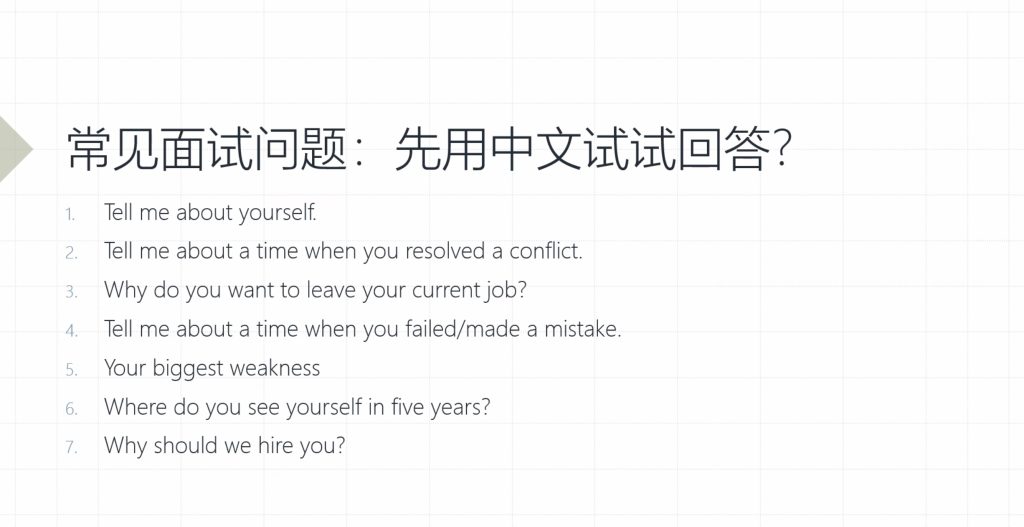 To maximize your chances of acing the interview, Dr. Yang suggested doing thorough research on the company and position before showing up. Knowing about the company's culture, mission, and values will not only demonstrate your enthusiasm and genuine interest in the position, but it also allows you to tailor your responses to the company's specific needs.
Moreover, it's essential to prepare for common interview questions such as "Tell me about yourself" and "What are your strengths and weaknesses?" You can do so by rehearsing your answers in front of the mirror or with a trusted friend or family member. Doing so will help you be more confident, ensure that your answers are on point, and keep them brief and to the point.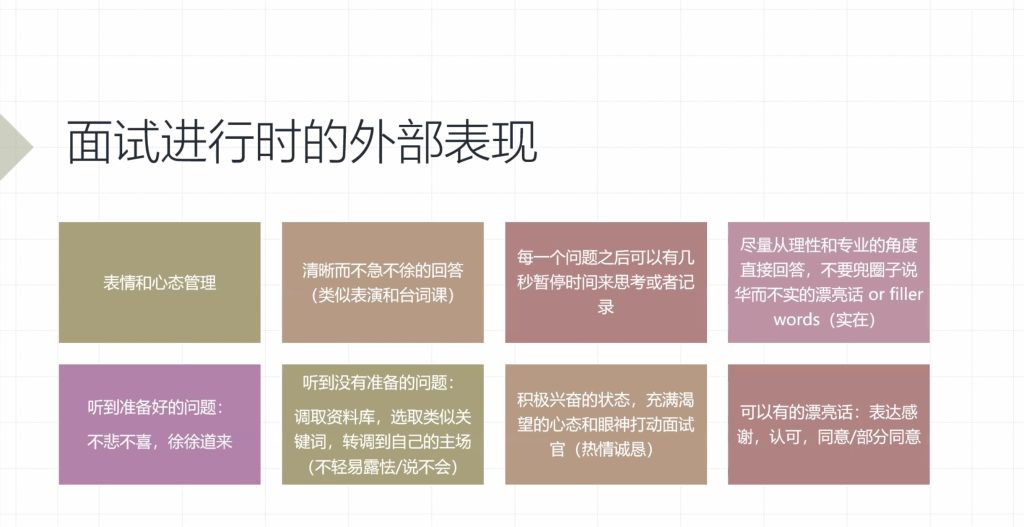 Expanding on the practical tips, Dr. Yang highlighted that a candidate's body language can communicate just as much as their verbal responses. Maintaining eye contact, sitting up straight, and using confident gestures can convey a sense of professionalism and confidence. On the other hand, fidgeting, avoiding eye contact, and slouching can indicate a lack of confidence and discomfort.
Additionally, clear and concise communication is essential in the interview process, as it can demonstrate your ability to articulate your ideas effectively. By using clear and direct language, you can convey your ideas in a way that is easy for the interviewer to understand, and this can leave a positive impression. Overall, these soft skills can complement your technical abilities and can increase your chances of standing out from other candidates.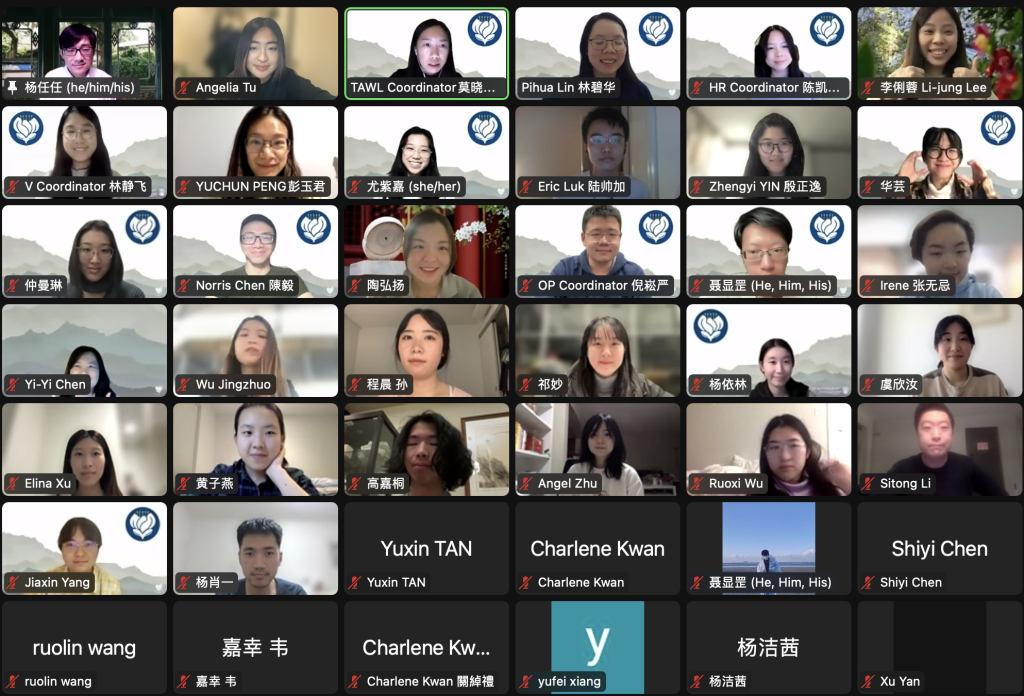 We are confident that the valuable insights shared by Dr. Renren Yang will prove beneficial in your job search and career development journey. Dr. Yang's unique approach to the interview process encourages individuals to view it as a personal journey, where one can learn and grow both professionally and personally. Embrace the process, and use it as an opportunity to showcase your true potential while staying true to your authentic self. These tips will surely help you stand out and succeed in today's competitive job market.
Thank you to all the dedicated TAWLs who took the time to attend the Professional Development events. Your unwavering support and active participation have played a pivotal role in making these events a resounding success. Your eagerness to learn and grow is truly commendable, and we appreciate your commitment to professional development.
We look forward to your continued involvement in future events. Be sure to stay tuned with @ubcchinese on Instagram for future workshops!

Written by Shih-wei Wang and Angelia Tu