Do you always fancy yourself mastering a new language?
Have you dreamed of exploring a significant culture or civilization?
Are you considering complementing your chosen major with a minor that gives you a competitive edge in career choices?
If you answer YES to the questions above, then the Chinese Language Program (CLP) can be your home away from home! You may turn your passion for a distinctive language and culture into a minor at UBC!
Multilingual proficiency is among the top skills required of all professionals in today's job market. A Chinese minor prepares students for careers in an extensive array of professional fields requiring practical expertise in the Chinese language and culture. Our graduates have leveraged their marketable knowledge of Chinese in business, government service, international affairs, foreign trade, media, fashion, cuisine, film, and many more career aspirations in the rapidly changing world. Many graduates who earned a Chinese minor also gain qualifications to pursue higher degrees in the humanities, sciences, social sciences, and law. A minor in Chinese is fast growing into one of the most popular subjects in the global economy.
By joining one of North America's most robust Chinese programs, students may enjoy extensive learning resources, including an outstanding curriculum, scholarship opportunities, Chinese studies resources in the Asian Library, oral practices to increase communication competency through authentic conversations, and engaging in various cultural activities. While pursuing a Chinese minor, you may also be interested in going study abroad through Go Global international experiences.
---
Program Policy and Requirements
So, what are the logistics of minoring in Chinese?
To minor in Chinese at UBC, students declare the Minor in Asian Language and Culture with a focus on China, which requires the completion of a total of 30 credits of coursework as follows:
ASIA/CLCH credits: 12-18
0-6 credits: ASIA/CLCH 100-level or above (this may include ASTU 201/202 or CHIN 388/389/449)
12-18 credits: ASIA/CLCH 300-level or above, of which at least 12 ASIA credits must be related to China (this may include CHIN 388/389/449)
Language credits: 12-18
12-18 credits of CHIN / CNTO, of which 6 credits must be at or above the 300-level
To suit the needs of students from various backgrounds, the Chinese Language Program offers a full range of courses:
Non-heritage courses for students who do not have prior Chinese speaking knowledge.
Heritage courses for students who have acquired a limited level of Chinese proficiency in a Chinese-speaking surrounding.
Literature courses for students who have advanced knowledge of the Chinese language and are interested in learning about Chinese literature.
---
Hear from your fellow students
Within a large community of learners in the Chinese Language Program, you may wonder what learning outcomes one can get from minoring in Chinese and how it may benefit your career expectations. We invite four students from different academic fields, including sciences, finance, and economics, to share stories about how a Chinese minor has positively affected their lives.
Angelia Tu, a third-year student majoring in Behavioural Neuroscience and minoring in Chinese, is taking CHIN 345, an advanced-level heritage Chinese course. She talks about how knowing a second language can be advantageous for her desired career in neuroscience research: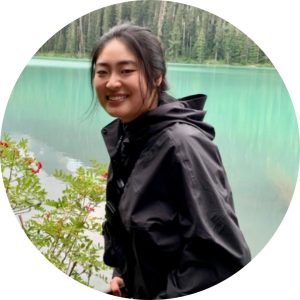 "As language connects people from around the world, I have met various individuals who have helped me gain insight into future career paths outside of English-speaking countries, and introduced me to the advantages of foreign language skills in a professional setting. For example, because Chinese is widely spoken worldwide, minoring in Chinese can help me gain an advantage in technology and neuroscience-related research markets, where knowing a second language makes me a more desirable candidate for future research employers.
The Chinese courses I have been taking are all very inclusive and supportive of students at various stages of their career-pursuing journey."
Angelia Tu
Third-year student majoring in Behavioural Neuroscience with a Chinese minor
---
Lian Boltwood, a fifth-year student majoring in Global Resource Systems and minoring in Chinese, is currently taking CHIN 388, a non-heritage classical Chinese course. She shares with us her experience of starting non-heritage Chinese in the beginning and gradually acquiring the confidence and skills to learn Chinese seriously: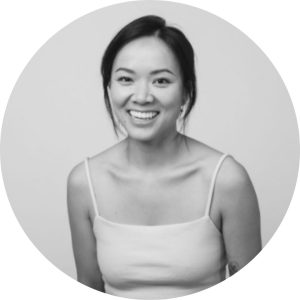 "I spontaneously took CHIN 131 in my first year and was surprised by how much I enjoyed it. After that term, I took a Chinese course every semester because I found them rewarding, fun, challenging, and supportive. The Chinese language courses at UBC are some of the most well-supported, organized, and encouraging learning environments on campus. As someone who had never spoken a word of Chinese before, I now feel that I have a solid foundation and the skills to continue learning Chinese long after university if I choose."
Lian Boltwood
Fifth-year student majoring in Global Resource Systems with a Chinese minor
Lian expresses that she now feels inspired to continue her Mandarin learning journey and hopes to move to Taiwan to attend a Mandarin Training Center at National Taiwan Normal University. Minoring in Chinese has also given her the opportunity to make many close friends and meaningful connections.
---
Jiaxin Yang is a fourth-year student majoring in Finance and minoring in Chinese. She is taking CHIN 481, a modern Chinese literature course for students with advanced knowledge of Chinese. Jiaxin talks about how the diverse community in her Chinese classes allows students from different disciplinary backgrounds to contribute to exciting discussions: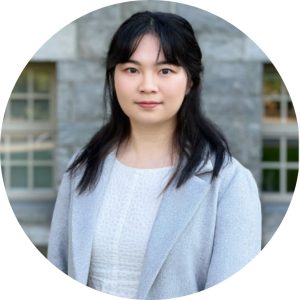 "The community in Chinese classes is diverse. Although everyone has a background relating to Chinese culture, we all have different upbringings. You can find students who were educated in mainland China and came here for university. You can also find people who immigrated to Canada in elementary or secondary school and grew up here. Since the Chinese Language Program offers many literature electives, you can meet students from all different faculties and departments. Our diverse disciplinary backgrounds brought various perspectives and insights to our discussions of literature in class."
Jiaxin Yang
Fourth-year student majoring in Finance with a Chinese minor
Jianxin points out that the dynamic and friendly debates among the students, together with the encouragement from the professors, allow learners to build engaging discussions in the classroom.
---
Evan Maki, a fourth-year student majoring in International Economics and minoring in Chinese, is taking CHIN 335, an advanced-level non-heritage Chinese course. Evan talks about how his Chinese classes have provided him with diverse peers who helped him with his intercultural learning and guided him to realize his role as a global citizen: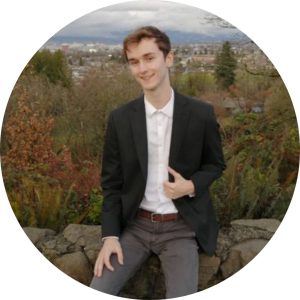 "I've been able to meet people from an array of different backgrounds and cultures working toward the same goal, and through such dialogues have learned about culture through many different means. For example, in CHIN 335 we recently made and listened to presentations about holidays important to our own culture, which helped us practice our speaking and comprehension, and introduced us to new cultures and traditions. On self-reflection, I believe that interacting with the Chinese language learning community at UBC has made me a more informed global citizen and increased my awareness of the breadth of culture in our world. Speaking Chinese allows me to view life from another perspective; especially in Vancouver, speaking Chinese has helped me forge strong connections and friendships within the Chinese-speaking community."
Evan Maki
Fourth-year student majoring in International Economics with a Chinese Minor
As an American, Evan says he wishes to apply for government jobs once he graduates. He also talks about how minoring in Chinese can help with his career progression. "Showing your proficiency and willingness to continually improve your Chinese level can open various government employment opportunities, such as within the US department of state or even the US intelligence apparatus, where being able to demonstrate foreign language skills not only makes you a more likely hire, but also gives you a wage bonus depending on the case," said Evan.
---
Combining a Chinese minor with a major in Arts, Science, or any professional field guarantees you the advantage of communication skills and international perspectives when entering careers after graduation. We hope this post has given you some insights in minoring in Chinese. Please visit our guide to majoring and minoring Asian Studies for further information about minor requirements.
Written by Isidora Bašanović
Edited by Shih-wei Wang