Interested in what you can do with a degree in Asian Studies? In our Alumni Spotlight Interview Series, we ask our alumni about their career paths, how they became interested in Asian Studies and for any advice they would give to current students. In this interview, Chulthim Guring has just completed his Master of Arts in Tibetan Buddhism (Asian Religion) and shares his experience below!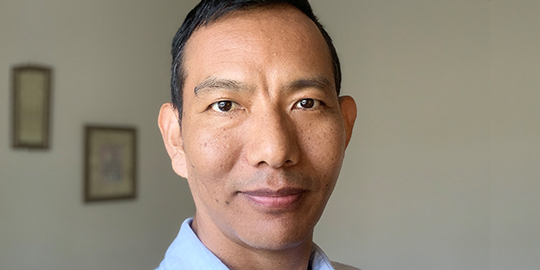 Could you tell us a little about your life, studies and career, prior to studying an MA with UBC?
Hi everyone! This is Chulthim; my friends call me Mriti. I am proud to say that I graduated from UBC. I could not have imagined that a man from the Himalaya trans-border region of Nepal, where there is no electricity, no proper roads and no schools, situated around 12 thousand miles from UBC, could nonetheless make this happen. My life has been a journey from Mustang to Montreal, and from monastery to McGill. And the Karmapa International Buddhist Institute and UBC provided a sojourn between them. I am here today in this spotlight to celebrate that successful sojourn at UBC.
I was born in Mustang, in the northern border area of Nepal, and raised and educated in a Tibetan Buddhist monastery in Pokhara, Nepal. I am currently registered for my PhD studies at McGill University, where my research topic is Buddhist Psychology. Before that, I joined UBC to pursue an MA in Asian Studies, focusing on the Tibetan monastic education system.
Prior to UBC, most of my formal education took place in monastic institutes in Nepal and India. I worked there as a teacher, administrator and social activist. I was fortunate to get a teaching job at an institute called Karmapa International Buddhist Institute in New Delhi. I worked there first as an instructor for four years, then later as an administrator for four additional years. At the same time, I was also working as a secretary for a charitable organization called KIBS in New Delhi.
What led you to undertake the studies with us, and to focus on Tibetan Buddhism – have you always had a particular interest in studying that area?
All my previous religious, academic and social activities in Nepal and India prompted me to pursue my masters at UBC. I strongly felt that contemporary higher education is necessary to work internationally in different fields. With a bit of research and a trusted friend's suggestion that UBC has a good Asian Studies program, I decided to apply and I was glad that they accepted me.
Concerning my study of Tibetan Buddhism at UBC, I already had the traditional Buddhist higher education. However, [in my previous studies] I missed the contemporary or larger picture of Buddhism as one of the world's religions. Buddhism also has a huge impact on the daily lives of people, not only those who live in monasteries. Asian Studies at UBC filled that missing gap in my academic life. It offered me a new lens to look at religion and society with a neutral or "etic" perspective [that of an outsider looking in to another culture].
Generally speaking, from my childhood onwards, I have found it difficult to see others' suffering and poverty. As a solution, as the historical Buddha Shakyamuni said, enlightening one's mind through education is the best way to eliminate all sort of suffering. So, through my education, I hope one day I can enlighten others' minds. I am not talking here about Buddhist enlightenment; I am simply hoping that one day I can provide a basic education to children in remote areas of developing countries. I believe that every child in the world should have access to a primary level of education. This is my dream. This might be an ambitious goal, but why not, if that is for the betterment of the world.
We understand that your MA studies assisted you greatly in improving your English language skills; do you have any other positive experiences that you would like to share with us?

Yes, I would say that the backbone of your academic studies is the academic English language skill. I struggled a lot to learn that skill, but now I think I am gradually succeeding in it. Apart from my MA, I also learned communication skills and how to articulate my thoughts clearly. Usually people from Asia are more emotionally passive – so am I. It was greatly advantageous for me to learn how to get into a North American university, from registration to orientation, to the virtual graduation ceremony. Being in Canada as an international student already taught me so much, like how to make and spend money carefully and within your budget, and how to handle having roommates, which are not super common back home. I count all of these as a great learning opportunity during university life. All these experiences made me a stronger and more confident person and hopefully a better human being.
Where do you hope that your studies will lead you next, now that you have completed your MA?
In the same year I completed my masters at UBC in 2019, I started my PhD at McGill. I am happy that my transition from MA to PhD was smooth. I would say that is mainly due to my concrete studies in my masters, which have been and will be the bedrock for my entire academic endeavours.
Can you give any advice to anyone considering completing an MA in Asian Studies?
The single mantra for succeeding in your graduate program in Asian Studies or any other discipline is to be a smart learner, on top of being diligent. I believe that every problem has a solution. You just need to find the right way. Use all available resources outside the classroom, both official and unofficial, and both verbal and written information. Sometimes, your cohorts or graduate friends can be even more helpful than the official help desk. Hence, be social and build up your friendship network.
I learned the hard way back home with few resources and under the threat of physical punishment. I often studied without any electricity. Nevertheless, I still managed to accomplish my dreams in education; therefore you can definitely make it. Use my life as encouragement for your academic life.
I recently met one of my grad student friends, who also had been my roommate. He is smarter and much younger than me, but more senior in education. He told me that whenever he was down and unsure about his studies, he thought of me and gained inspiration to finish his studies. If you look at my life history, my age, and my condition, you will surely be inspired to complete your studies.