Interested in what you can do with a degree in Asian Studies? In our Spotlight Interview Series, we ask our students, postdocs and alumni about their career paths, how they became interested in Asian Studies and for any advice they would give to current students. In this interview, alumnus Faiz Jaffar leads us through high school French classes first made him interested in Chinese, how his UBC studies and connections helped him land his current job, and what led a global CEO to break out in spontaneous applause!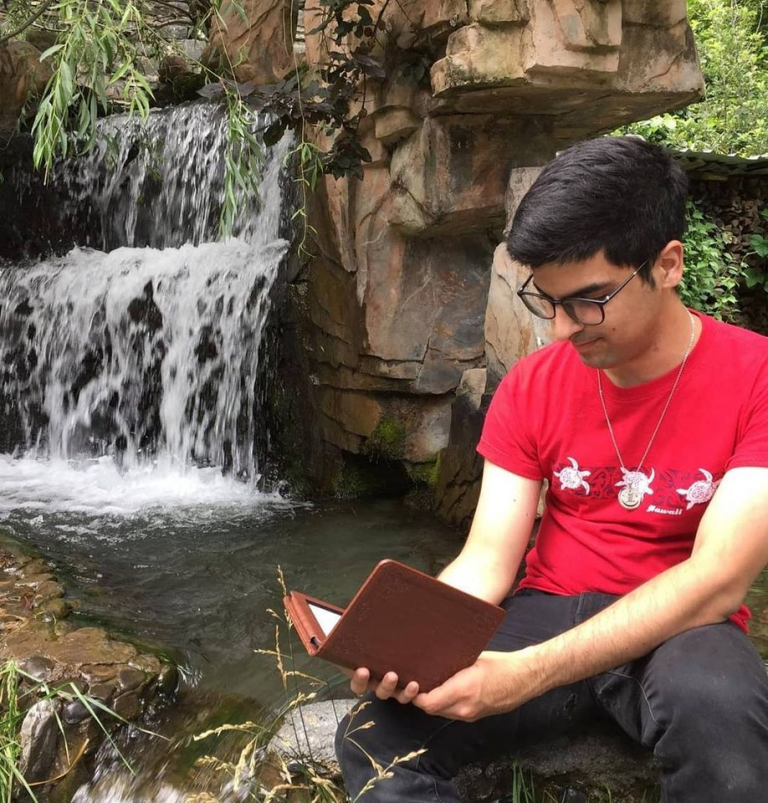 Tell us a little about yourself, your background and how you became interested in Asian languages and cultures?
I think you would be hard-pressed to find a more unremarkable background than mine (2 working class immigrant parents, annoying siblings and a preference for books over people). So I won't waste too much time on where I was born and where I grew up.
As far as Asian languages goes, since elementary school I had an obsession with Anime and hoped to one day learn Japanese, though I had no idea how. On the first day of French class we got to choose our own seating. As it happened, I sat next to a quiet mousey girl who was older than me by nearly 2 years, having arrived from China less than a year ago, and completely unable to speak a word of English. Now, for some reason or other, I was desperate to talk to her. My friend pointed out that since I was failing French, my best bet would be to learn Chinese. In retrospect, he was probably teasing me, but teenage me took it completely literally. The next weekend I went to the library, took out every Chinese book they had, studied 10 hours a week, and in a year's time I could speak and read basic Chinese.
Now I wish I could say I learned Chinese because the future was in China, or that Chinese is the language of emerging business, but no. 1.7 billion people, the world's second largest economy, for all of it, I simply did not care. I became interested in Asian languages and culture because of French.
Could you elaborate on an experience that you felt was fundamental in your acquisition of the language or appreciation of the culture?
When I arrived at UBC, I immediately enrolled in the intensive Chinese classes. But even with my UBC course load, I never stopped self studying. After classes, I listened to Chinese music, joined Chinese-language clubs, and kept my own Chinese notes. Sometimes my own notes (complete with slang, video-game vocabulary, and the occasional swear word) were longer than the textbook notes for our class.
To really learn the language I had to build on top of what I learned in class. I tell my friends who are serious about language acquisition that 4 hours a week is just the warm up.
What are your career and academic goals? And how did UBC help you achieve them?
I started UBC dreaming that I'd come out of Asian studies fluent in Chinese, move to China and work in some international company, flying around the world for business and staying at fancy hotels.
Currently I am fluent in Chinese, living in China, working at this international company that flies me around for business. Though it turns out that one doesn't have time to enjoy the fancy hotels when you have jetlag and a board meeting at 8:00am. Though I have no right to complain; I have been tremendously blessed and lucky to have made as far I have. Unfortunately the truth of being "lucky" is a very unsatisfying answer to those entering Asian Studies, so I have learned to amend my answer to the following.
UBC is a world renowned university with international prestige and global outreach. It was while studying at UBC that I managed to meet and impress the delegation from the Chinese consulate in Vancouver. Had I gone to a less prestigious institution, I probably would not have dined with Chinese diplomats. Had I not dined with Chinese diplomats, I would not have received the full-ride Chinese scholarship to pursue my Chinese Master's degree (in Chinese Law), the degree that made it possible for me to work in China. It was while living in Beijing that a fellow UBC Asian Studies Alumni introduced me to the Canadian Alumni Network, where I networked for my current job. As snobbish as it may sound, my current career trajectory is only possible because of a fellow UBC alumni.
What was your first job after graduation and what other jobs did you have before your current position?
My first proper job was actually during my studies, at the UBC Asian Studies Office as a Work-Learn, so credit where credit is due. After graduating from Asian Studies, I immediately went to China to study my master's degree, where I did legal internships in a Chinese law firm and a Chinese SOE. So strictly speaking, my current job is my "first job after graduation." However, before starting this position I had finished 3 co-op terms, 2 work-learn positions and 2 legal internships. The point I'm making here is that "first job after graduation" means something very different for my generation than my parents' generation. University now is where we get our education and work experience. My first job after graduation required 3 years experience, and it was still an entry level position.
What makes you proud about your current job? How does it relate to your degree?
My degree was in Chinese language and culture, and currently I work as a management consultant specializing in foreign-NGO's that want to do business in China. Overall, I am pleasantly surprised how applicable my degree is to my job. Although I am not often popping out my book report on Romance of Three Kingdoms or my psycho-analysis of The Tale of Genji, the mindset of learning, adapting, and explaining a culture has been highly relevant.
Let me give one example of a moment of pride in my current position: we were hosting an Asia-Pacific conference at a Marriott hotel in Kuala Lumpur, Malaysia. We had delegates from across the APAC area, Pakistan, China, New Zealand, Thailand, ect. Among the delegates was a special guest delegation from Australia, whom we were hoping to register as clients. It was late in the afternoon of the final day of our conference. I  was speaking to the Pakistani delegate in Urdu, and mid-conversation I spotted the Australians preparing to leave for the airport. I snapped back into English and ask "Can you wait right there for just 5 minutes, please?" I then said to one of our Malaysian partners  in the best Mandarin I can muster: "The Australians are leaving, but we didn't give them their surprise. Can you ask one of the staff to run down and grab their gift bag?" She gave me a nod. As I turned back to return to my Urdu conversation, I saw that the organization's global CEO saw what transpired and was looking at me in shock and awe. In a more perfect world, at that point a "UBC Asian Studies" banner would have dropped behind my head. But alas, I had to make due with a minor applause.
Has learning an Asian language helped you achieve your personal or professional goals? What tips do you have for students who are keen to play the 'language card' in their career development?
Seeing as I work in China in a bilingual office, I can very safely say that mastery of Chinese has been very helpful to get me to where I am. Incidentally, while at this current position I have also had a chance to use my Urdu, Hindi and Japanese. So you will never find a stronger advocate for Asian languages than me.
That said my advice for the "language card" is that it's a weak card unless it's been dragged through the mud. To come out of university with a degree that says you can speak Mandarin or Japanese doesn't carry that much weight, in my experience. Having worked in China or Japan does. There is an old wisdom that you need to live and immerse yourself in a foreign country to learn that language, and I don't really agree with that. I think it is completely possible to learn a foreign language (albeit with extra effort) in Canada. But that language ability is not proven unless it has been applied to the context of native speakers in its native setting. If you can only go abroad once, I'd much rather advise you to do it after you've learned the language to prove yourself, instead of in the early-stages to learn the language faster. Having a degree or even language proficiency test in a foreign language can be nebulous and a gamble for employers. But having used your "language card" to close a deal, conduct a meeting, or run a project, is hard proof that you have a card to play.
Do you have any advice that you would like to impart to students and/or recent graduates? (Taking into mind, of course, that our world right now is very different than usual!)
Of all of the long term damage and tragedy that has come with 2020, I think one silver-lining of it is that the world has shrunk. Asia is closer in 2020 to Canadians than it ever was in 2019. Worldwide, all administrative roles or jobs in the service industry (where Asian-Studies students really shine) have transitioned online. Jobs that previously would require you to be in the office, two-doors down from the manager have been conducted entirely in zoom for over half a year. In my company, we have had multiple employees work from home since February, one of whom is working from Europe. Friends of mine have continued to work in China from HK, Australia and Canada. I've had a friend who works in a Japanese office with fluent Japanese, and she has not even left her parent's house(s).
I mentioned earlier that you need work experience, and that ideally you want work experience in the language you are studying and in the country you are studying about. The new world of 2020 has made jumping that gap much easier. You can work for countries in China, Japan, Korea entirely online. Companies in all 3 countries have built the infrastructure to work from home, and once built it becomes very hard to unbuild. Yes, companies will want people to return to the office, but it will no longer be necessary. You've been handed a world that no Asian Studies student has ever graduated into, a smaller more interconnected world. Use it to your advantage.