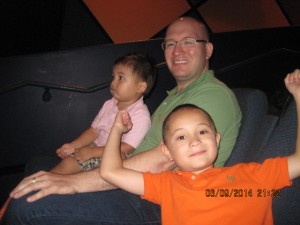 Franklin Rausch
Ph.D. 11
1. Where are you currently working and what are you working on?
I am currently an assistant professor at Lander University (Greenwood, South Carolina). As part of the History and Philosophy Department, I teach core history classes, general-education world history classes, and upper level classes in Asian history. I am continuing my studies on Korean religious history. I'm working on voluntary martyrdom in Korean Catholicism, the performance of manhood by an American Catholic chaplain who died in a POW camp during the Korean War, and how the "rise" of Korea is connected to Christianity in Korean comics. I also hope to revise and publish a part of my dissertation on An Chunggun before too much longer.
2. How was the move to a new city and how are you adjusting to a new life?
Since my wife and I married in 2005, we have lived in four different countries and three different states, and have moved nine times, so we are adjusted to adjusting. I'm originally from small-town Indiana and I'm finding that small-town South Carolina is not that different (though according to my native South Carolinian students, Greenwood is not a small town!). I really love being here and haven't had any issues adjusting. It's a tight knit community and that's something I like.
3. What is the most exciting experience you had while studying in UBC Asian Studies?
It's hard to think of just one exciting experience. I'd have to say that I just generally had a wonderful time at UBC. In particular, I just enjoyed chatting with professors, staff (especially the wonderful people in the Asian Studies Department office), and my fellow students. Some of the most memorable experiences for me were when our professors would have us over to their houses for parties and the various conferences I attended that UBC hosted.
4. Did your time at UBC prepare you for your current job?
I most definitely believe so. UBC prepared me in a wide variety of ways. My adviser, Dr. Don Baker, helped me a great deal in guiding me both through my time as a graduate student and on the job market. He and several other professors, particularly Drs. Nosco, Shakya, Fulton, and Harlow patiently wrote me a large number of letters of reference. Dr. Harlow also taught me a lot about how to teach when I served as a teaching assistant for her. All of these professors, as well as Dr. Oberoi, Dr. King, and Dr. Hur, helped me to develop as a scholar. It also helped that UBC has a lot of student conferences where I could develop my presentation and teaching skills in a safe environment. Being at UBC was great, and it has helped me in a lot of ways that I probably won't understand until later.
5. Do you have any advise for students hoping to follow in your footsteps?
I think it's important to start looking at job ads as soon (or even before) you enter graduate school so you can prepare yourself to compete in a difficult job market. I was fortunate in that even though my first position (a part-time visiting assistant professorship at Eckerd College in St. Petersburg, Florida) was in Asian Studies, I had to teach a class on world history. That allowed me to effectively apply for world history positions, and that is what I ended up getting. It's important to be flexible and to respond to the needs of the market as much as possible.