Interested in what you can do with a degree in Asian Studies? In our Alumni Spotlight Interview Series, we ask our alumni about their career paths, how they became interested in Asian Studies and for any advice they would give to current students. This interview features Richard N. Liu UBC Asian Studies BA 1993. Richard is currently the Alumni and Development at Western Academy of Beijing.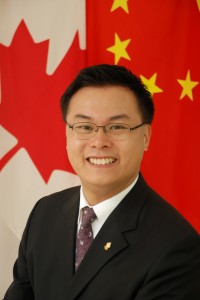 Who are you?
My name is Richard N. Liu. Born in Toronto and raised in BC, I've been residing in Beijing for nearly 20 years, and managing the Alumni Relations office at Western Academy of Beijing (WAB), a leading international school from Nursery to Grade 12 with over 1500 students from 55 different nationalities.
I'm passionate about volunteering and engaging the community. In 2003, I founded the Canadian Alumni Network (CAN), a non-profit, volunteer-based group of 26 alumni chapter representatives that bring synergy and opportunities to currently 1300 alumni in Beijing and over 3000 alumni in China. I'm one of the 26 alumni reps as the UBC Alumni Representative in Beijing; as well as the Vice-Chair for the Peking University International Alumni. I enjoy sports, and the meaning of team work, so I manage the Beijing Softball League and my own team. I've had the distinct privilege of serving the Canadian Paralympic Committee as Team Attache for the Beijing 2008 Summer Games; as well as volunteered for Team Canada at three consecutive Olympic Games. I've also truly enjoyed doing charity work with the start of the Beijing Terry Fox Run and the Special Olympics in China.
How did you start working abroad?
Most notably my family provided the positive encouragement to come to China to study 25 years ago. I've been visiting China since I was a kid, but spent a full year in 1988-1989 studying at Peking University right after high school. It was a very educational year as it directed me to do my BA in East Asian Studies (China) at UBC, after my imminent evacuation from Beijing in June of '89. After graduating from UBC in 1993, I returned to China that summer to continue my Chinese studies at Peking University. Little did I know, my stay in Beijing would extend to 20 years! My UBC Asian Studies degree offered unmatched experiences with job opportunities from public relations to diplomacy to major events organization to education.
How is working and living abroad as a foreigner?
Exciting, the world is your oyster while you live abroad. I've met more people and celebrities than I can count on my Facebook or LinkedIn combined, and feel quite blessed to have experienced so much thus far. The rewards certainly outweigh the cons, however this year (2013) may have been the hardest as there was an unseen factor which none of us foresaw, and simply frustrates all the long-timers here in Beijing: the serious air pollution, at levels we've never seen nor imagined before.
What is one of your funniest or awkward mistakes as a foreigner?
There are so many moments which is part of the norm to living in Beijing, but there was one time which reminded me that the complexities of language and culture can bring some funny moments. It was a number of years ago I was taking a Beijing taxi with a white American friend, and we were flipping easily between Mandarin and English in our conversation, when the taxi driver said to me in Chinese, "Your English is very good!" And I simply replied in Mandarin, "That's because I practice every day." The driver then turned to my friend and said, "Your Chinese is very good!" and my friend said the same, "That's because I practice every day". Needless to say, my friend and I both laughed out loud as this was another simple reminder that sometimes it's only skin deep for some people here, but confirmed our Mandarin levels were pretty good. The driver would never know he was talking with a Canadian who had studied Mandarin, while at the same time I never took any offense to this since it was much more of a compliment and affirmed my Chinese heritage.
Any Advice for other alumni that are hoping to go abroad?
Plan well but aim to stay for the long term to build your networks as it does take time. Learn the language well and travel as much as you can to experience and appreciate the region. Perhaps make China your home base as it's really the "Middle Kingdom!" Canada and Europe is only a 10-13 hour plane ride, while the warm sandy beaches of Southeast Asia are just a few hours away! And some good news for friends and family, Beijing just started allowing for a 72 hour visa-free transit to explore this ancient capital! Pollution aside, Beijing is very rich and diverse with culture. How many can take a short 30-minute drive up to the Great Wall of China on the weekends?
Congratulations to all our Asian Studies grads and welcome to the proud ranks of the UBC Alumni! Stay connected! Tuum Est!

You can read more about Richard and his family's three generations of UBC connections on the UBC Alumni site:
http://www.alumni.ubc.ca/trekmagazine/21-summer2008/generations.php