Interested in what you can do with a degree in Asian Studies? In our Spotlight Interview Series, we ask our students, postdocs and alumni about their career paths, how they became interested in Asian Studies and for any advice they would give to current students. In this interview, graduating MA student Yue Wang shares what inspired her to study dystopian literature and social change as her research focus, and how she finds it interesting to see the dystopian worldviews through manga, anime, and video games.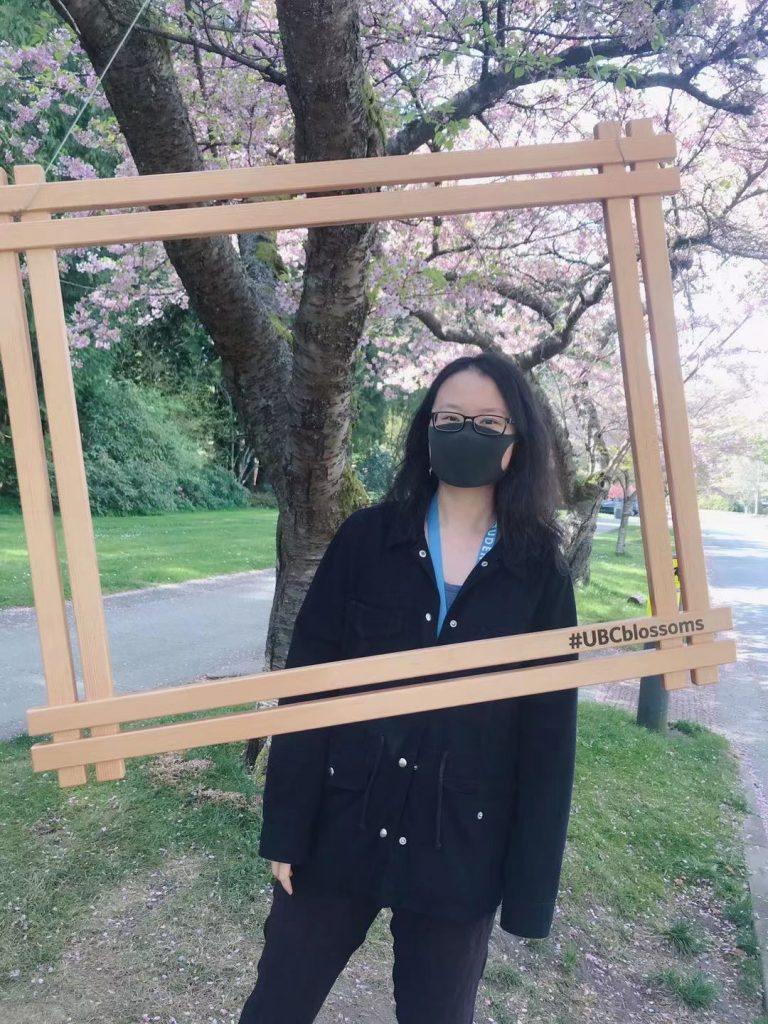 Tell us a little about yourself, your background and how you became interested in Asian languages and cultures?
My name is Yue. I grew up in Qingdao, China, and studied American literature and women writers at SUNY Fredonia for my Bachelor's degree. During my Master's at UBC Asian Studies, I attended IUC-Yokohama and studied dystopia fiction in literature and popular culture.
I became a big fan of Ghibli films and other anime series around the age of ten. In middle school I fell in love with Japanese writers Murakami Haruki, Morimi Tomihiko, and Higashino Keigo. In college, Tanizaki Jun'ichirō became my favorite author. Now I am exclusively reading women writers such as Kawakami Hiromi, Murata Sayaka, and Yamada Amy.
Could you explain to a non-expert what you are researching and why it is significant?
My research mainly focuses on Japanese dystopian literature and social change. Specifically, I study modern Japanese women writers and the reproductive dystopias in their fictions. In these immoral and horrifying fictional societies, people are reduced to spawning machines in the name of humanity's survival. Nonetheless, female characters resist such procreative ideologies by having non-conforming sex for pleasure. If we think about these stories within the context of birthrate decline in contemporary Japan and the tenacious sexist mindset that sees women as childbearing machines, we can argue that these reproductive dystopias critique the existing patriarchy and send warnings against the pursuit of total reproductive efficiency.
What are some other interests you enjoy pursuing outside of your work?
I also enjoy popular culture very much, and love seeing the dystopian worldviews in manga, anime, and video games. I am especially interested in the planning of such dystopias, how they control gender and sex, and how they define humanity and humanness.
What are your future career/educational aspirations and what inspires you in these aspirations?
I am starting my Ph.D. program at Washington University in St. Louis with a focus on Japanese women writers and dystopian fiction in Fall 2021. Murata Sayaka is one of the contemporary writers who inspired me to research dystopias and reproduction; Tawada Yōko is another writer whose ecological dystopias are incredibly captivating and inspiring.
Reflecting over your time in graduate studies, how did you conquer and overcome the hardships under the shadow of the pandemic? What achievements during this time are you most proud of?
The pandemic made accessing books and other materials rather challenging, but I am eternally grateful to our librarian, who kindly helped me secure digital sources, and my advisers for their patience and support. In addition to my friends and family and their warm encouragement, running helped me stay sane during all the insanities. I had to get up early in the morning to avoid the crowds, but Yokohama sunrises were worth it. The owls, raccoons, and eagles that I encountered in Vancouver woods also cheered me up every time I saw them. It was a fantastic experience.