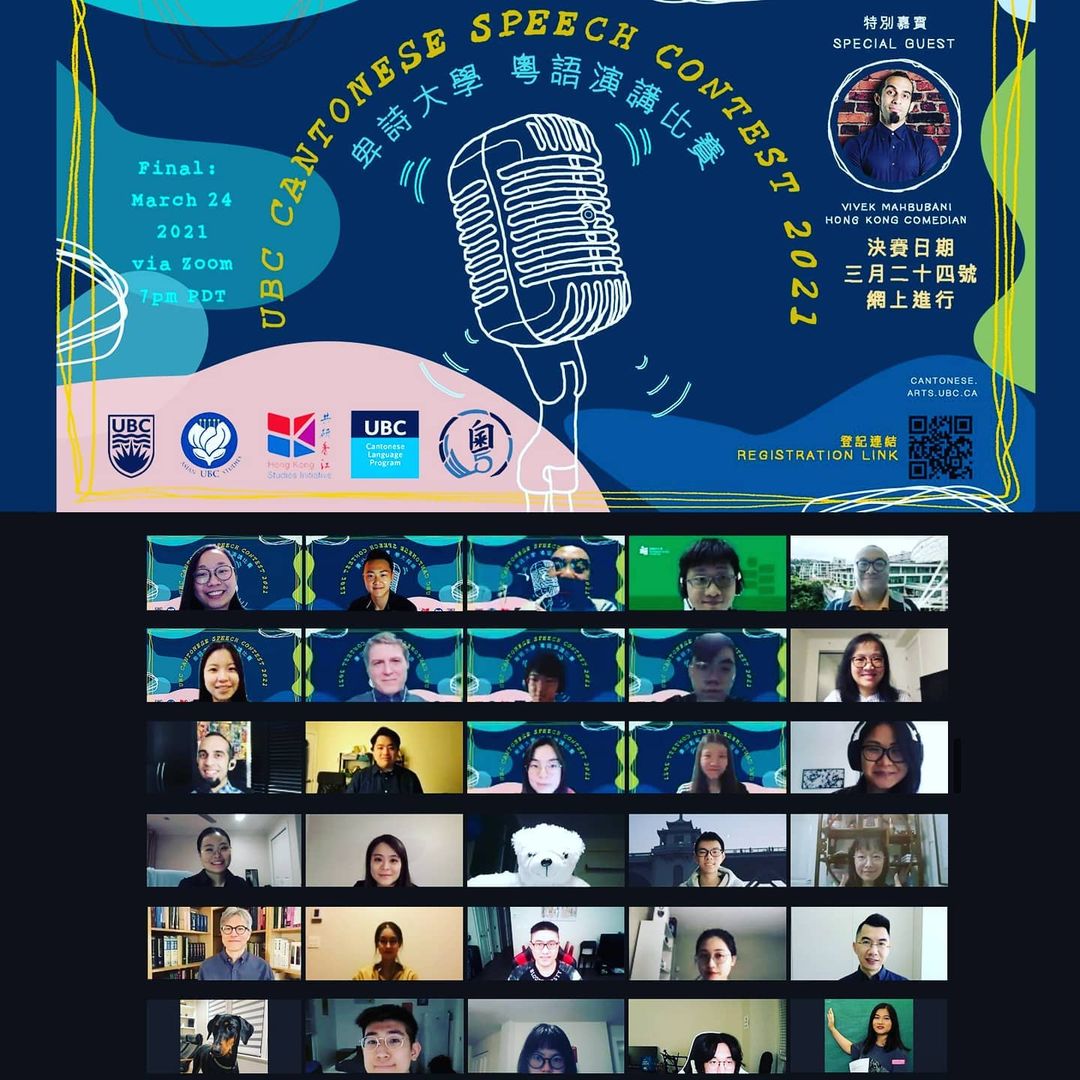 As a part of celebrations for the fifth anniversary of the Cantonese Language Program, the UBC Cantonese Speech Contest was held on March 24, 2021 via Zoom. The contest was open to students currently taking CNTO courses, many of whom had been learning Cantonese for just three months. Despite being a virtual event, the contest attracted an audience of 60 staff, students, and members of the public.
The adjudicating panel consisted of language experts from North America and Hong Kong: Dr. Andy Chin and Dr. Chaak Ming Lau from The Education University of Hong Kong, Ms. Fiona Hui from New York University, Dr. Charles Lam from The Hang Seng University of Hong Kong, and Dr. Qian Wang from UBC Chinese Language Program. Mr. Vivek Mahbubani, an award-winning stand-up comedian from Hong Kong, was also invited to join the panel and perform as a special guest.
The two-hour event kicked off with poetry recital performances by nine finalists. Although many students already spoke Mandarin and were familiar with Chinese poetry, reciting it in Cantonese could be an entirely new experience. It took days of practice to enunciate clearly and weeks of hard work to express the subtle emotions with confidence. A few finalists even challenged themselves by performing long poems with more than 20 lines, earning multiple rounds of applause.  
The second part of the contest was public speaking. The nine finalists each gave a two-minute speech on a chosen topic, and were evaluated based on the content and organization of the speech, pronunciation, expressiveness, and stage presence. Topics varied from "My Funny Nephew", "What I Have Learned During the Pandemic", "An Embarrassing Experience", to "Why Learn Cantonese?" All contestants showed great efforts to conquer (virtual) stage fright and shared their personal stories with poise and eloquence.
The high quality of performances made choosing a winner for each category a difficult job for the adjudicating panel. All adjudicators were impressed by the finalists' proficiency in Cantonese, level of preparedness, and passion to participate in an extra-curricular activity during a busy school term. In particular, Dr. Chaak Ming Lau pointed out that the courage to speak the target language outside the classroom is exactly what it takes to learn a language successfully.
The evening was highlighted by two guest performances. David Siu, a student from CNTO 451 Advanced Cantonese Through Popular Culture, shared his views on the key to passing on Cantonse pop culture — persistence and faith. Finally, stand-up comedian Vivek Mahbubani filled the virtual room with joy and laughter through entertaining anecdotes and keenly perceptive jokes about social behaviour, language, and culture in Hong Kong and beyond.
After guest performances, the long-awaited results were announced as follows:
Poetry Recital Stream:
1st place – Grace Wang
2nd place – Winnie Gan
3rd place – (tie) Huankai Zhang, Arthur Jin
Audience Choice – Julia Peng
Public Speaking Stream:
1st place – Hui He
2nd place – Candy Ye
3rd place – Celine Liew
Audience Choice – Qianye Yin
The UBC Cantonese Speech Contest not only provided a chance for students to practice their language skills, but also pushed them out of their comfort zone, and built their confidence to speak Cantonese in the public. We appreciate the support of UBC Hong Kong Studies Initiative. We also thank adjudicators, performers, guests, faculty members, teaching assistants, and student volunteers, whose hard work made the event a success.