As the final event celebrating the 5th anniversary of the UBC Cantonese Language Program, the UBC Heritage Language Workshop was held on August 19-20, 2021. The two-day virtual event featured 14 talks by UBC scholars representing various departments and units across campus, and attracted 140 registered participants from Canada, the US, Hong Kong, Japan, Singapore, Malaysia, and beyond.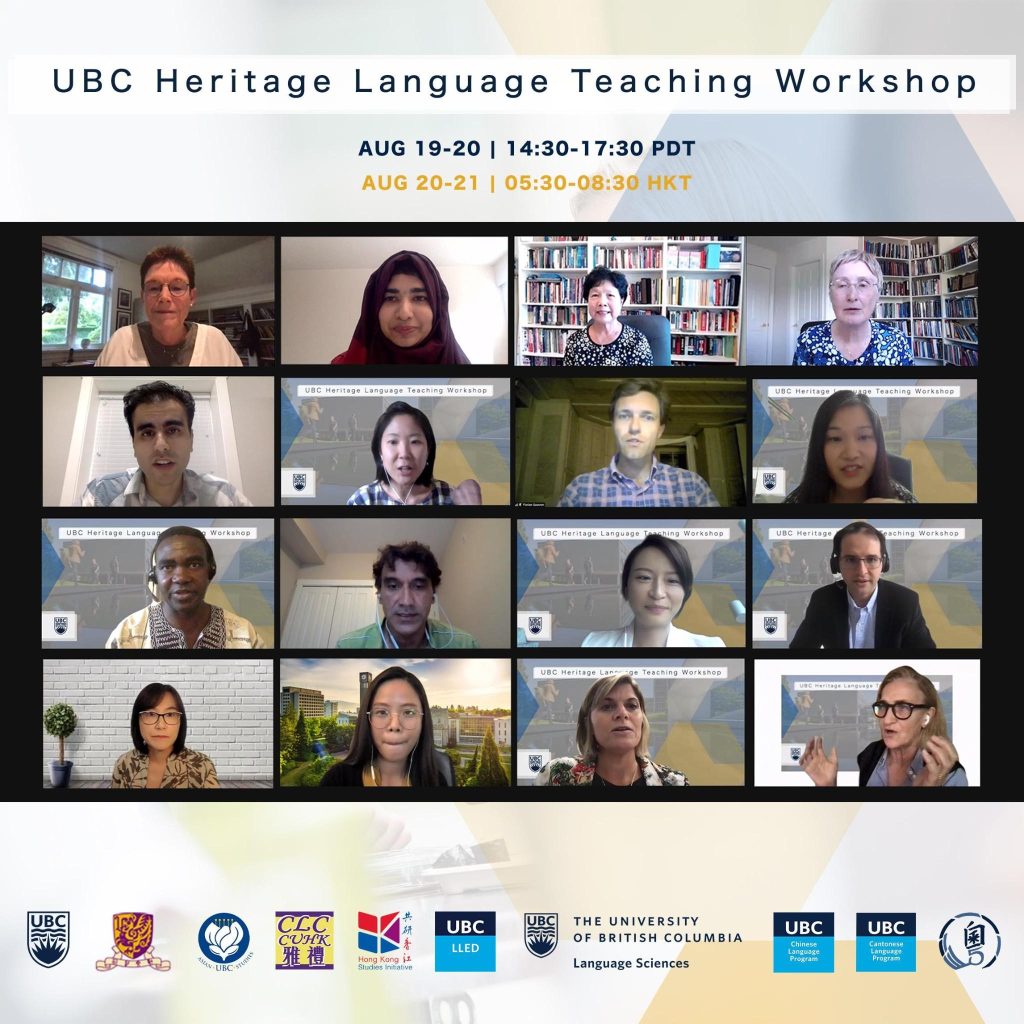 The purpose of the workshop was to provide a platform for the UBC scholarly community to share pedagogical best practices pertaining to the unique needs of a specific student population called heritage language learners. Although more than seven million people reported a home language other than English or French in the 2016 Canadian census, heritage language maintenance has always been a challenge. In Metro Vancouver, for example, it is not uncommon that individuals who were exposed to at least one heritage language in childhood grew up becoming receptive bilinguals — they tend to be most comfortable with English, and have a certain level of listening competency for their heritage language. Many seek to re-learn their heritage language formally in their undergraduate studies.
The theme of the first day of the workshop was "Curriculum and Pedagogy". Our keynote speakers Dr. Duanduan Li (Asian Studies) and Dr. Patricia Duff (Language and Literacy Education) had an informative and thorough discussion on theory, curriculum, and pedagogy in teaching Chinese as a heritage language. The keynote talk was followed by four presentations by language instructors from Asian Studies. Ms Li-jung Lee (Chinese Language Program) shared her strategies to empower students and promote differentiated learning, particularly for intermediate heritage learners. Dr. Zoe Lam (Cantonese Language Program) highlighted the importance of learner autonomy in the design of assessment components to encourage lifelong learning. Dr. Jeonghye Son (Korean Language Program) presented an overview of student demographics and her response to a mix of heritage and non-heritage students in the same classroom. Adding to the discussion on teaching methods, Mr. Gurinder Mann (Punjabi Language and Culture) reminded us that while lecture slides and notes are often welcomed by students, there is, in fact, an array of ways to engage and interact with learners effectively. Dr. Joash Gambarage (Linguistics) demonstrated how catchy grammar songs can help learners remember noun classes and inflection rules in Swahili. Last but not least, Dr. Florian Gassner (German Language Program) recommended the use of a special kind of "notebooks" as an innovative way of assessment to achieve equity, especially when heritage and non-heritage learners are placed in the same class.
The second day of the workshop focused on "Culture and Identity". In their keynote talk, Dr. Bonny Norton and Asma Afreen (Language and Literacy Education) introduced the massive Global Storybooks Project and explained its relevance to imagined identities and Bangla heritage language learning in community programs in Metro Vancouver. Dr. Sunil Kumar Bhatt (Hindi-Urdu Language and Culture) explored the fluidity of the term "heritage" for learners from different parts of the Indian subcontinent, who may perceive Hindi as a heritage language, a second language, or something in between. Continuing the discussion on identity, Dr. Brianne Orr-Álvarez (Spanish Language Program) illustrated the complexity of Latinasian identities through the examples of chifa (a type of Peruvian-Chinese cuisine) and corneta China (a type of musical instrument), and shared how she was inspired to incorporate relevant discussions in coursework. Dr. Sunnie Wang (Chinese Language Program) elaborated on how heritage students contribute to community building within the program, building relationships among learners, volunteers, and the teaching team. Dr. Hessam Dehghani (Persian Language and Culture) reflected on the challenges of teaching literacy in an online setting, and the advantages of putting reading and writing skills in a culturally immersed context. Dr. Luisa Canuto (Italian Language Program) highlighted the bicultural strengths of heritage learners and shared how she designed alternative assignments, such as cultural video projects, to build on such strengths. Finally, Dr. Ayaka Yoshimizu (UBC-Ritsumeikan) walked us through her pedagogical journey of discussing indigeneity and knowledge decolonization with Japanese exchange students, tapping into issues of Asian-Indigenous relationality, such as the status of Ainu people in Hokkaido, Japan. Her talk brought the two-day workshop to a thought-provoking ending.
The UBC Heritage Language Teaching Workshop not only provided an opportunity for language instructors to exchange ideas and learn from each other, but was also a way to engage the general public, to inspire the wider teacher/learner community to consider the cultural background and learning needs of heritage learners when designing a curriculum. These would not have been possible without the support of the various departments, programs, and units at UBC including the Department of Asian Studies, the Chinese Language Program, the Department of Language and Literacy Education, Language Sciences Initiative, Hong Kong Studies Initiative, as well as the staff and volunteers of the Cantonese Language Program. The organizing team hopes that this meaningful dialogue will continue in the future, so that our next generation of heritage learners can call themselves multilingual with pride and confidence.