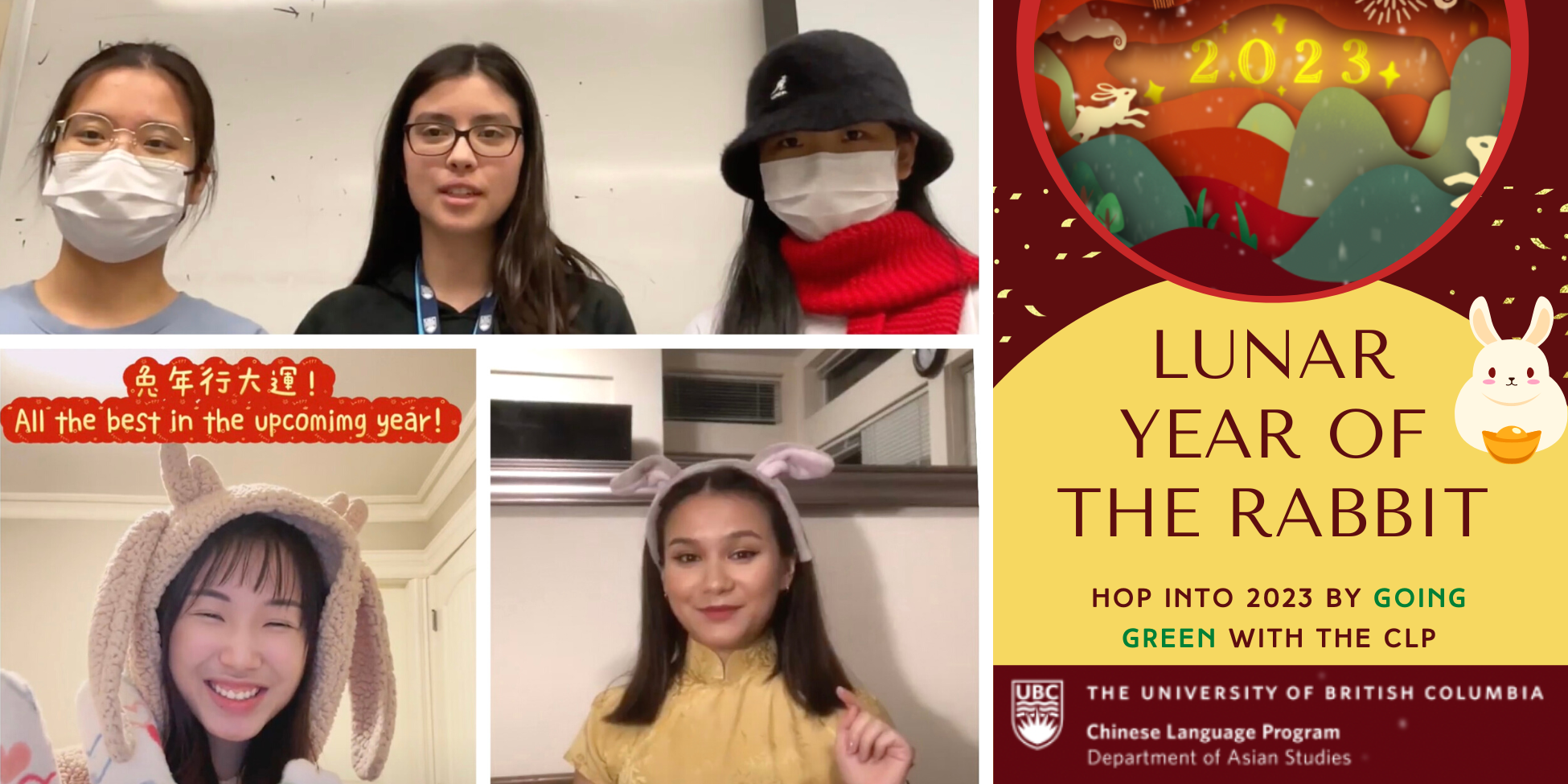 The Lunar New Year is one of the most widely celebrated festivals in East Asia. It marks a time when families and friends come together to embrace the new year with joy and well-wishes for prosperity and success.
2023 is the Year of the Rabbit, a gentle creature that symbolizes longevity, peace, and prosperity. The UBC Chinese Language Program (CLP) hosted the highly anticipated "Lunar Year of the Rabbit: Going Green for 2023" event, bringing together students from diverse educational backgrounds to exchange ideas and tips on how they can make a positive impact on the environment.
Students of Chinese language and culture were encouraged to submit self-made videos to showcase their creative ways of practicing language skills and promoting environmental awareness. To meet the challenge, their video submissions must include two main components: First, they must use auspicious words and phrases for the Year of the Rabbit to extend blessings to their peers; and second, in keeping with the eco friendly theme, they must incorporate their experiences of celebrating the Lunar New Year in sustainable ways that emphasize environmental protection or green practices.
CHIN students' submissions showcased on Instagram
In light of the event, students from various CHIN courses took actions to share their ideas for reducing environmental impact. Many considered food the crucial aspect of celebrating the New Year. As the new year begins, people are encouraged to be more environmentally conscious by reducing waste. One effective way to accomplish this is to prepare meals at home instead of ordering takeout, which helps to reduce the use of disposable containers. This approach is exemplified by Amanda Lee from CHIN 133 006, who chose to make her rabbit-themed dumplings to celebrate the year of the rabbit.
Amanda Lee's video submitted for the New Year Celebration
Amanda's festive video exhibits the joyful atmosphere of the holidays and inspires people to participate in simple yet enjoyable activities, such as making Chinese dumplings instead of ordering takeout food. The video subtly conveys the importance of being environmentally aware, particularly during the busy holiday season. Amanda concludes her message by performing an upbeat Lunar New Year celebration song,"恭喜恭喜" (gong1 xi3 gong1 xi3), wishing everyone a prosperous year ahead while holding her gold-ingot-shaped dumplings.
Embracing the tradition of celebrating festivals with delicious food, Charlene Kwan from CHIN 343 001 shared her experience of making cute bunny-shaped desserts at home. She pointed out that presenting friends with homemade treats can help reduce plastic wrappers and containers commonly used in stores.
Charlene Kwan's video submitted for the New Year Celebration
In addition to preparing food, the group submission by Ada Liang, Jasmine Wu, and Yuti Han from CHIN 437 001 incorporated interdisciplinary performances and practical tips to highlight environmental awareness.
To highlight the diverse creative talents of UBC students, Ada Liang played a piano performance of "财神到" ("The God of Wealth Has Arrived"), creating a lively atmosphere and sharing one of the most well-known songs of the traditional festival with fellow language learners.
Jasmine Wu followed with recitations of festive poems by ancient poets such as Meng Haoran, Wang Anshi, and Lu You. Ada and Jasmine's musical and literary performances showcased their skills and embodied the spirit of the holiday season, filled with harmonious tunes and good company.
Yuti Han concluded the video by sharing her strategies for being more eco friendly this holiday, emphasizing that reducing waste is key. She suggested that items such as old clothes, furniture, and books can be donated, sold, or recycled instead of discarded as trash. If everyone takes just one step towards being more environmentally conscious this holiday season, we can collectively contribute to a waste-free celebration filled with holiday cheer.
Ada Liang, Jasmine Wu, and Yuti Han's video submitted for the New Year Celebration
The "Lunar Year of the Rabbit: Going Green for 2023" event was designed to provide a platform for students to express their creativity in demonstrating their talents and reflecting upon the significance of translating their sense of environmental awareness into action. With the "rabbit" theme at the forefront of their minds, students were inspired to be more conscious of their role in building a harmonious and respectful relationship with the environment. The event was a resounding success, demonstrating the collective power of students to make a positive change in the world.
Once again, a big thank you to all the students who participated in this year's event, and Happy Lunar New Year – 新年快乐!
Written by Alisa Zeng
Edited by Angelia Tu