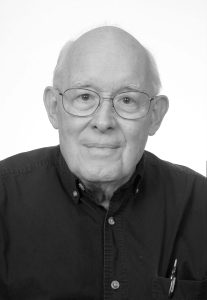 Professor Daniel L. Overmyer FRSC, Emeritus Professor, died peacefully at home after a short battle with cancer, loving family members by his side. Professor Overmyer had a very distinguished career, teaching and publishing widely in the field of Chinese popular religion – a field he helped establish. His aim was to more fully understand traditional Chinese culture through exploring the historical development of Chinese religions and practices and to place Chinese religious phenomena in the context of world religious history. He will be remembered for his scholarly rigour, collegiality, generosity, and open-mindedness. His kindness, that great crack of laughter and mischievous twinkle, his insistence on doing things right and on doing right, and his extraordinary energy that kept him active to the very end are all qualities we will miss with his passing.
Background
Daniel Overmyer came from a missionary family based in Hunan province, China, for two long stints in the 1940s, Hong Kong and the Philippines (see his charming memoir "My Life as I Remember It" written for his grandchildren). His memories include meeting pilots from the famous Flying Tigers brigade, hiking along mountain trails, encountering snakes, and blowing up a toilet by dropping a lighted firecracker in the bowl. He developed polio in 1945 which he describes as not being as serious as some cases, but suffered from post-polio syndrome after retirement which affected his ability to walk. However, after medical treatment in 2015 he began walking again aided by a walker and was driving his car almost to the end of his life.  Dr. Overmyer travelled widely throughout his life, enjoying both family holidays and longer research stints in various parts of the world. His second home on the Oregon coast was a source of delight but he also reveled in the natural beauties of Vancouver and British Columbia. He served for many years as President of Nature Vancouver. One of his proudest achievements was to be instrumental in successfully lobbying for the creation of the Pacific Spirit Park on the Endowment Lands close to UBC, a vast protected forested green space filled with winding trails that has brought enormous pleasure to countless visitors over the years.
He leaves behind his daughter Rebecca (Becky) and son Mark Overmyer-Velasquez, five grandchildren and a sister, Mary Beth. His beloved wife Estella of 53 years predeceased him in 2018.
Academic career
Professor Overmyer did not set out to study China or Chinese religions, gaining a BA in Biology and a BD in Church History but in 1966 he earned a MA in the History of Religions at the University of Chicago and a PhD also at Chicago in Chinese Religions in 1971. He taught at Oberlin College 1970-73, joining the Department of Asian Studies at UBC in 1973 as an assistant professor, becoming full professor in 1984 and retiring in 2000. During his time at UBC he held visiting teaching and research positions at Princeton (1983: Virginia and Richard Stewart Lecturer, Senior Fellow in the Council of Humanities, and Visiting Professor in the Department of Religion); University of California, Berkeley (1985-86); and the Chinese University of Hong Kong (1996-98, Acting Chair and Senate member 1997-98). He was also for a time Honorary Professor at Shanghai Normal University. He received many prestigious awards and distinctions over the course of his career art UBC, including the UBC Killam Faculty Teaching Prize, 2000, and the UBC Killam Faculty Research Prize, 1986. He was Elected Fellow of the Royal Society of Canada in 1988. He received grants (sometimes more than once) from institutions such as the National Endowment for the Humanities, the Canada Council, SSHRC, Kameyama Fund in Buddhist Studies, and the Chiang Ching-kuo Foundation.
Professor Overmyer served in many capacities during his tenure at UBC, including Acting head, Department of Religious Studies, 1984-85; Head, Asian Studies, 1986-1991; and Chair, Centre for Chinese Research, Institute of Asian Research, 1991-1992. He was also Faculty Fellow at St. John's and Green Colleges, amongst numerous other roles. He supervised nearly a dozen PhD and a similar number of MA students at UBC, several of whom have continued in the field. In 2009 two of his former PhD students, Philip Clart and Paul Crowe, edited a Festschrift in his honour:
The People and the Dao: New Studies of Chinese Religions in Honour of Daniel L. Overmyer. Institut Monumenta Serica, 2009.
Publications
Professor Overmyer's publications are legion and highly influential. He collaborated closely with colleagues in China and elsewhere, as well as producing monographs, and edited volumes and articles that have shaped the field in profound ways. He was also founding editor of the Bulletin of the Society for the Study of Chinese Religions, 1976–78, which is now the Journal of Chinese Religions, published by Johns Hopkins University Press and edited by his student, Philip Clart.
His pioneering books include:
Folk Buddhist Religion: Dissenting Sects in Late Traditional China. Cambridge, MA, Harvard University Press,1976. Harvard East Asian Series, #83.
The Flying Phoenix: Aspects of Chinese Sectarianism in Taiwan, by David K. Jordan and Daniel L. Overmyer. Princeton, Princeton University Press, 1986.
Precious Volumes: An Introduction to Chinese Sectarian Scriptures from the Sixteenth and Seventeenth Centuries, Cambridge, MA, Harvard University Asia Center, 1999. Harvard-Yenching Monograph Series, 49.
Book Series: Huabei nongcun minjian wenhua yanjiu (Collection of studies of popular culture in north China villages), co-edited with Fan Lizhu and others, Tianjin: Tianjin guji chubanshe, 2006-2007. Four volumes,1543 pages.
Local Religion in North China in the Twentieth Century: The Structure and Organization of Community Rituals and Beliefs., Leiden: Brill, 2009.
Asian Religions in British Columbia, co-edited with Don Baker and Larry DeVries. Vancouver: UBC Press 2010.
Memories
In the following section, several former UBC colleagues and students provide brief reminiscences of Dan as colleague, teacher, and friend.
Professor Don Baker, Asian Studies, UBC:
When I came to UBC in 1987, Dan was shepherding the department through UBC's transition from a provincial teaching institution to the world-renowned research powerhouse it is today. He helped smooth that transition. Back then, the department was much smaller than it is today. Once a year Dan invited the entire Asian Studies faculty to the head's (his) home for a pot-luck dinner. Though I am proud of how much our department has expanded over the decades since then, I miss the camaraderie Dan fostered in our closely-knit small group then.
Professor Jinhua Chen, Asian Studies, UBC:
A great scholar and a very caring colleague — he was really nice and supportive to me over the past two decades! 
Professor Philip Clart, Leipzig University (PhD UBC, 1997):
I honour Dan Overmyer as a pioneer of a whole subfield in the study of Chinese religions, that of popular (sectarian) traditions, as an exemplary PhD advisor, and as a true gentleman/junzi. His enthusiasm for his work was infectious, his willingness to give support and assistance to his students seemingly unlimited. He had a formative influence not just on the field of Chinese religions, but also on the development of his students as scholars. We all owe him much!
One funny occasion I remember was at a local Chinese restaurant to which he had invited all his graduate students. During dinner we engaged in a profound philological analysis of the restaurant's name, Baolin 寶林 ("precious forest"), speculating about possible Chan-Buddhist and other cultural references. This was in the 1990s, before the days of smartphones and ubiquitous Wi-Fi, so you could spin such conversations on for a long time as long as you had sufficient erudition to draw on. That erudition was certainly with us at the table and no one could cut off pleasurable musings with a simple Google search. It was only as we left the restaurant that we noticed the oversized bowling pin on its roof, advertising the bowling (baolin!) alley in the restaurant's basement! 
Associate Professor Paul Crowe, Simon Fraser University, PhD Asian Studies, 1998:
Professor Overmyer (I still cannot call him "Dan"), was my teacher for the duration of my second MA and my PhD at UBC. I arrived at UBC with an MA in Religious Studies in 1993. I was accepted into the PhD program, despite rudimentary modern Chinese and very poor Classical Chinese reading ability, but with considerable enthusiasm for the study of Chinese religions. We did not meet until late in my first year due to his teaching abroad. When we finally met, it became apparent to him that I was ill-prepared for work at the PhD level; that summer he called me at home to give me an ultimatum: leave the PhD program, take up another MA, work hard on modern and Classical Chinese, and enrol in some Asian Studies undergraduate courses, or quit. While it sounds harsh, I interpreted his offer as one of patience and generosity—I was not the ideal graduate student. I took up his challenge and worked like I have never worked before. I swear I lost five pounds in sweat every time I left one of his graduate reading seminars filed with students vastly more qualified that myself. Despite my mangled translations, Professor Overmyer never treated me with anything but respect and encouragement. I remember eventually working with him on my comprehensive exam preparation each week. I would show up at his house with a paper critiquing a book I had read, and we would sit in his basement office eating baozi and drinking tea as we debated the merits of the book (and my paper) over two or three hours. Rather than a hierarchy of student and teacher, he made the exchanges feel like two scholars struggling to understand important questions. Those meetings meant a lot to me, as did my humane, demanding, humorous, generous teacher. I miss him very much, and am deeply thankful to have had precious time to learn with him and from him. Thank you Professor Overmyer.
Professor Terry Kleeman, University of Colorado:
Dan was my teacher at the University of British Columbia (1975-79), and a friend and mentor for many years thereafter. When I was doing my Ph.D. with Strickmann, Dan took a sabbatical and came down and read texts with us, seeking to understand Daoism. He was a tireless scholar and a devoted teacher, as well as a humble and kind person. He will be sorely missed.
My favorite recollection of Dan is from my student days. I was sitting in on his undergrad introduction to literary Chinese and he was explaining a passage from the Zuozhuan where the character climbs up on the crossbar of a chariot to peer at something. Dan got so involved in explaining this that he climbed up on his own chair and mimed the action. He was always so earnest and involved. I learned much from him.
Professor Emerita Diana Lary, History, UBC:
My deepest impression of Daniel is his generosity. He was generous to students, to colleagues, to neighbours and to family.  His act of generosity to me came in the early 1980s, when we were both visiting scholars in Nanjing. Those of you who were in China during those long ago times will remember that coffee was almost unobtainable. You could get hideous coffee in hotels, but not powdered coffee. I had not taken enough Nescafé with me, and was suffering and complaining. When Daniel left Nanjing to go on to Suzhou he insisted on giving me his last remaining supply of Nescafé (or possibly Maxwell House). I tried to refuse to take it but his generosity overcame my weak refusals. In the days that followed I savoured every cup of coffee made from his jar – and then left China for home. I reminded him many times after I arrived at UBC of his act of unparalleled generosity and he always replied, 'your need was greater than mine'. A wonderful human being. I feel privileged to have known him.
Professor Harjot Oberoi, Asian Studies, UBC:
I have lots of warm memories of Dan. While we shared many common intellectual interests, popular/folk religion being one, what I found most remarkable about Dan was his collegiality. This was both on the public front and the private front. He would regularly check, in the initial years of my appointment, as to how I was doing. When I got married, he made sure that colleagues contributed to a gift as part of the celebrations. And yes, when I came in 1987 from Sydney, I had unaccompanied baggage. He volunteered to hitch a trailer to his van to assist me in getting this baggage to my place. So, his kindness was legion.
Institutionally, he made major contributions to our Department. Our chair in Punjabi Language, Literature and Sikh Studies was short of close to 50,000 dollars to be officially launched in 1987. He did the rounds and raised this money from a local philanthropist. Otherwise the contract with the Federal government could not be signed.
Associate Professor Emerita Catherine Swatek, Asian Studies, UBC:
My memories of Dan in my early years in the department reflect his philosophy as Head, when we had to teach a six-course load. I recall him telling me, soon after I arrived, that when he first became Head he continued to teach his full load and ended up in the hospital by the end of the first term.  
After he retired, I recall his determination to stay on his feet as he battled the return of the polio he had contracted as a child, and my delight when he regained his mobility after doctors relieved pressure on a nerve, which enabled him to regain mobility, to the point that he was able to drive again and get around with the help of a walker–always cheerful, always glad to see former colleagues.
Assistant professor C. D. Alison Bailey, Asian Studies, UBC:
I have many good memories of Dan over the years and was delighted to be given the enjoyable task of interviewing him for the Asian Studies 60th Anniversary Celebration earlier this summer. However, I thought I would mention his generosity in serving on the committee of my MA student Meng Zhang during the pandemic, his final academic service in November 2020. I remember with great fondness sitting with him and Meng around the table in his apartment, masked and gloved, drinking cups of tea, and discussing the changing narratives of Zigu, the latrine goddess. Dan helped us both navigate the geographical and historical manifestations of this somewhat enigmatic religious figure with great humour and patience. It was an honour to work with him and I am very grateful to have known him.
Professor Peter Nosco, Asian Studies, UBC
One of the many themes in these reminiscences of Dan is his generosity.  When I arrived at UBC in 2003, Dan reached out to me in his distinctly avuncular way. At the time I was sorely in need of friends in my new home, and Dan quickly became an invaluable source of both comfort and context.  He was never too busy to be a steadfast friend to me and to many more.  A world that was enriched by his presence is now blessed by his memory.
Professor Nam-lin Hur, Asian Studies, UBC
One day in the late 1990s I saw Dan returning to Asian Centre after graduate seminar. He looked like quite upbeat. "Nam-lin, it is so rewarding to read primary documents," Dan told me. Dan occasionally mentioned the pleasure of working on primary sources with a group of his best graduate students who are now leading the field. To me, Dan was a model scholar of originality and creativity in research and teaching. At extra times, I remember him often bicycling between home and office with rosy cheeks, I guess, that had to do with "over-speed" pedaling, playfully swimming backstroke in the pool, and wearing a big cowboy hat when it rained hard. When a conflict, not a good one, occurred in the department, Dan often helped both sides of the aisle bridge the gaps with his benign offer of behind-the-scene shuttle diplomacy. Dan was proud of cooking fish deliciously and he taught me one recipe which I am still enjoying.
If you wish to share your brief reminiscences of Professor Daniel Overmyer as colleague, teacher, and friend, please email Asian Studies professor, Alison Bailey at alison.bailey@ubc.ca and Asian Studies Communications and Events Coordinator, Connie Yuchun Wu at yuchun.wu@ubc.ca. Your submission will be added in due time.
Other links: https://stephenjones.blog/2021/11/29/in-memoriam-overmyer/
Society for the Study of Chinese Religions Homepage section commemorating Dan:
https://chinesereligions.org/node/210
Via his family obituary: His autobiography and professional record are here:
https://asia.ubc.ca/profile/daniel-overmyer/; he expressed his
philosophy and love of life and nature in this essay:
http://www.anpere.net/2007/7.pdf