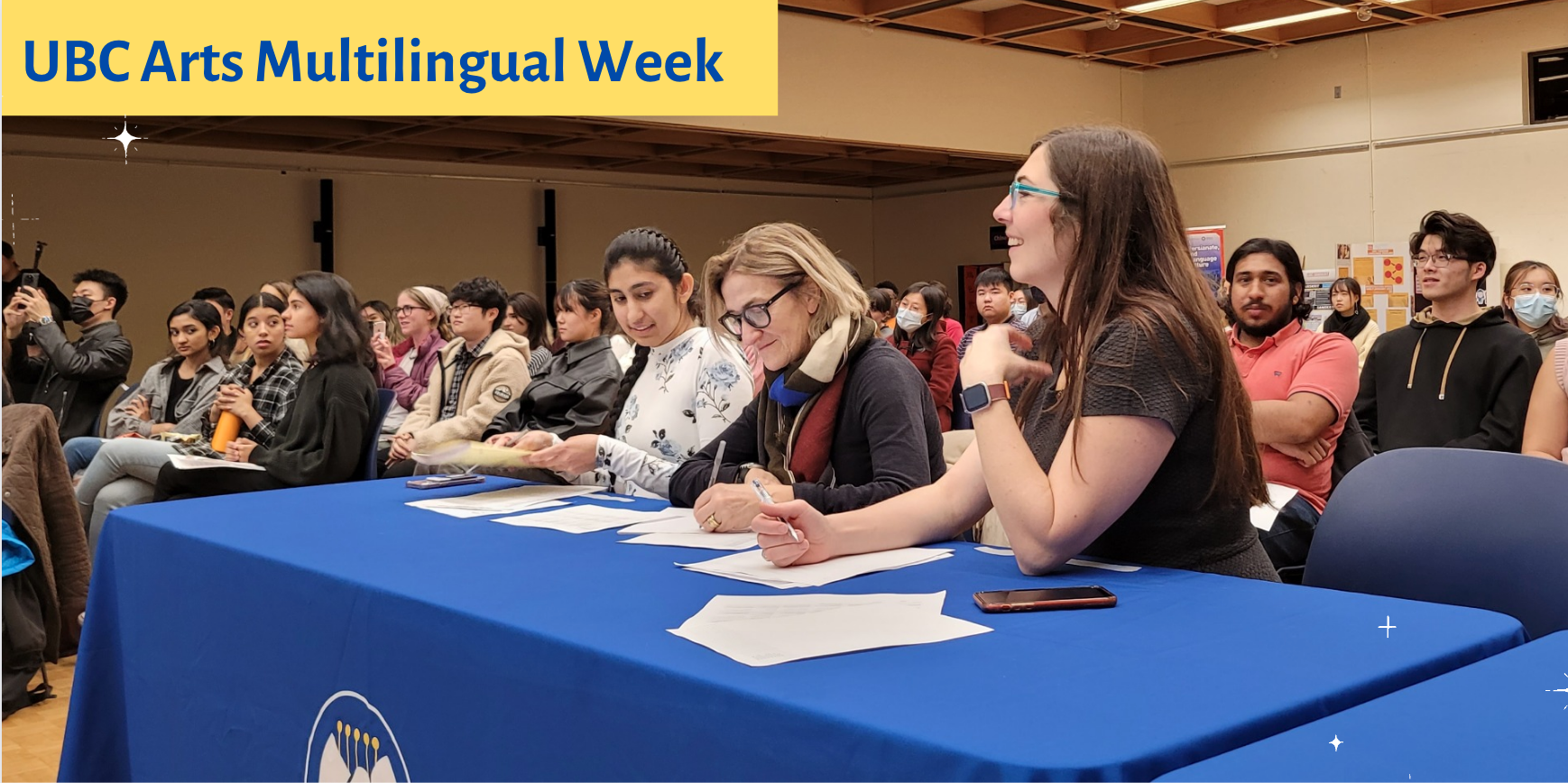 A panel of judges and audience members of the Multilingual Poetry Slam event.
Students do not get surprised when being tabbed multilingual at UBC. The fabric of contemporary society is knitted together by various threads of language, e.g., heritage languages, second languages, indigenous languages, sign languages, artistic languages, etc. The shift in multilingual experience may help change how we explore cultural identities, enhance creativity, and form new ideas about a dynamic future.
In collaboration with dozens of language programs across the campus, UBC's Faculty of Arts launched the first-ever Arts Multilingual Week from October 31 to November 4, 2022, a week-long celebration of the numerous ways the languages we use help shape our everyday lives. As organizers Dr. Qian Wang and Dr. Biz Nijdam point out, "we aim to maximize language learning to go beyond traditional assessment strategies and embrace all the languages our students speak simultaneously."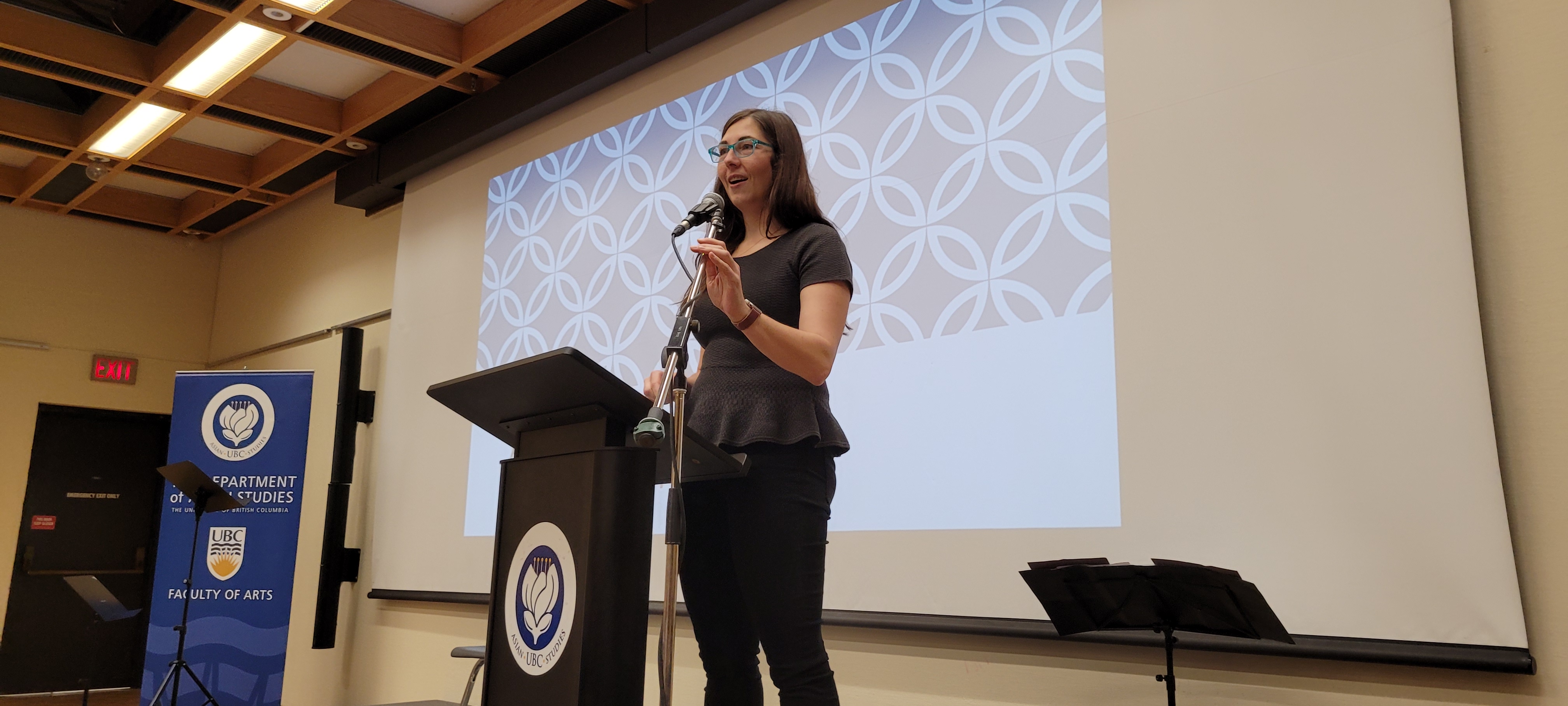 Dr. Biz Nijdam welcomes the audience and participants to the Multilingual Poetry Slam event
Numerous events were held to celebrate Arts Multilingual Week, including an opening roundtable with Associate Dean Dr. Stefania Burk on "Why we study languages," a keynote address from Tier One Canada Research Chair Professor Guofang Li, a presentation on indigenous language revitalization by indigenous comics artist Cole Pauls, and a book discussion by comics scholar Professor Katherine Kelp-Stebbins.
Many language programs at UBC also came together for a Language Table Showcase, where students could interact with various languages and cultures through games and other activities. In particular, students from different language programs gathered to share multilingual experiences in Digital Media Projects, Speech Contest, and Multilingual Poetry Slam that highlighted the Arts Multilingual Week.
The Digital Media Projects centered around the theme of "Untranslatables," which refers to the cases where words are not easily translated into other languages. Through short essays or digital media projects, participants explored the use of words and expressions that retain their distinct meaning only in their original form.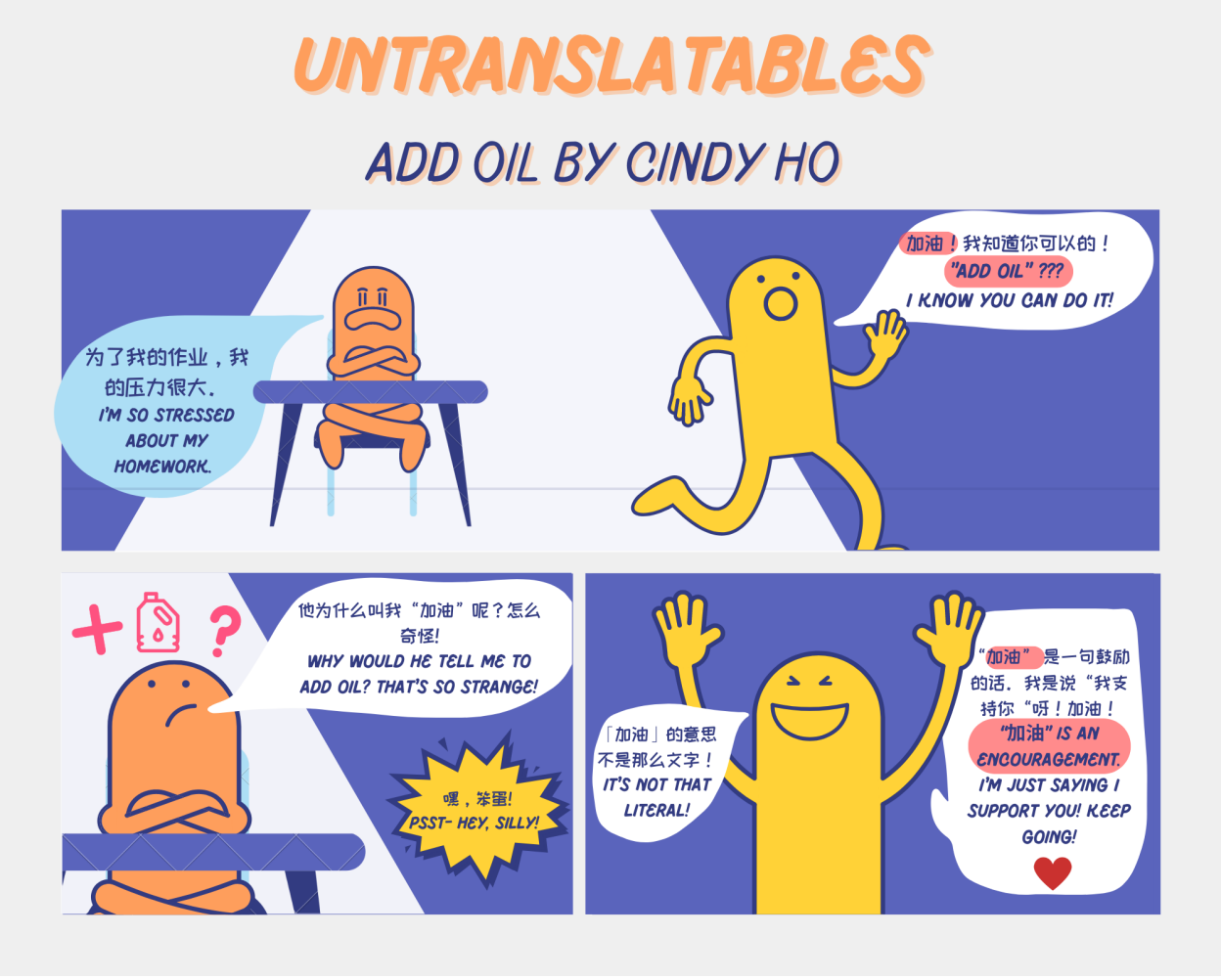 Cindy Ho's Untranslatables Comic
For example, Cindy Ho, a second-year Business student from CHIN 241, created a comic on the untranslatable term 加油 (jiayou). This term literally translates to "add oil" in English, yet it has a much deeper connotation in Chinese that means "I support you." Cindy discussed how this project was created as an homage to her childhood in Hong Kong. She also noted how the event helped her find a creative way to connect her cultural heritage and the culture she picked up in Canada.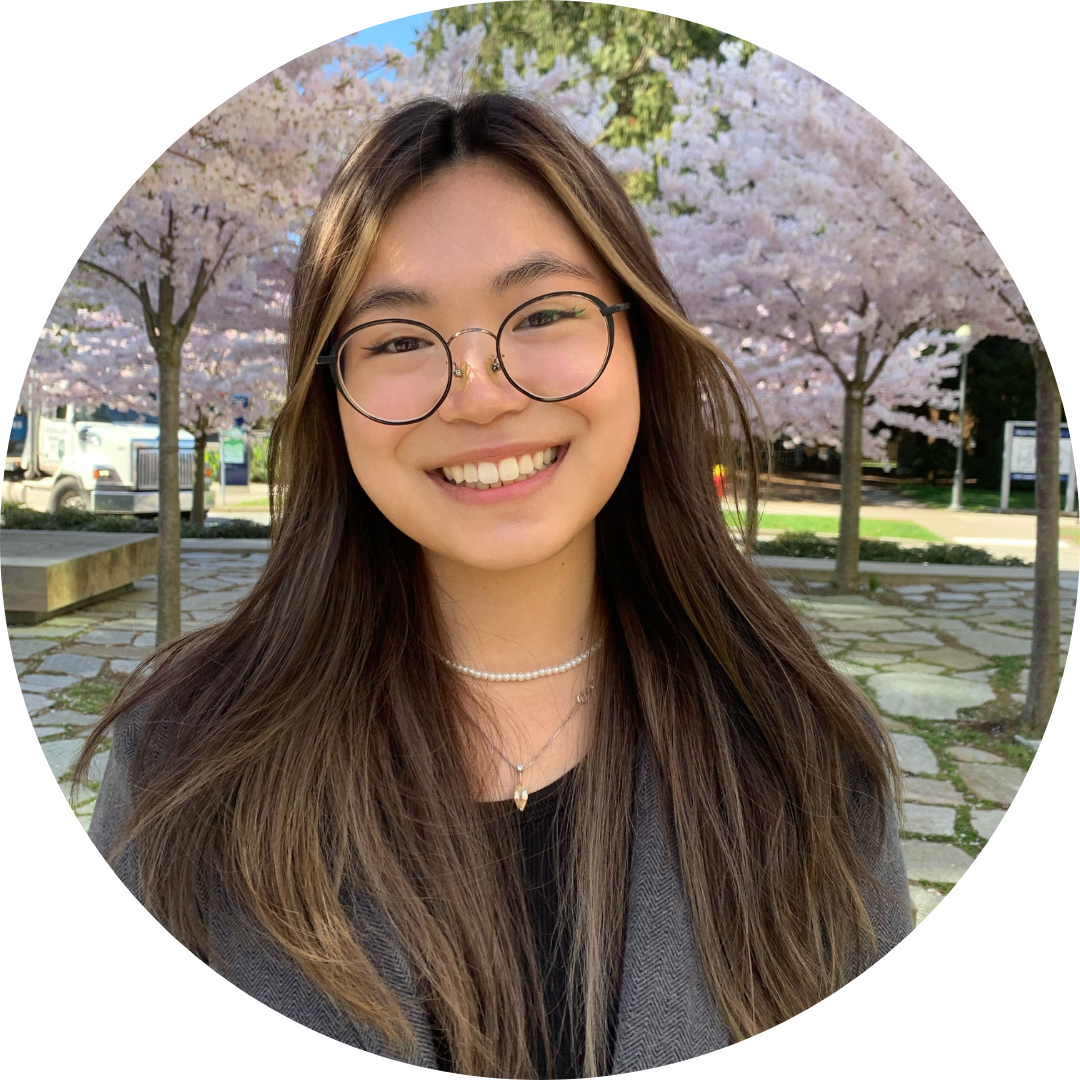 "I've learned to embrace diversity and encourage mutual understanding between different cultures and viewpoints. Also, being able to have a deeper grasp of the Chinese language is very rewarding, both with my family and for my career."
Cindy Ho
Second-year student majoring in Business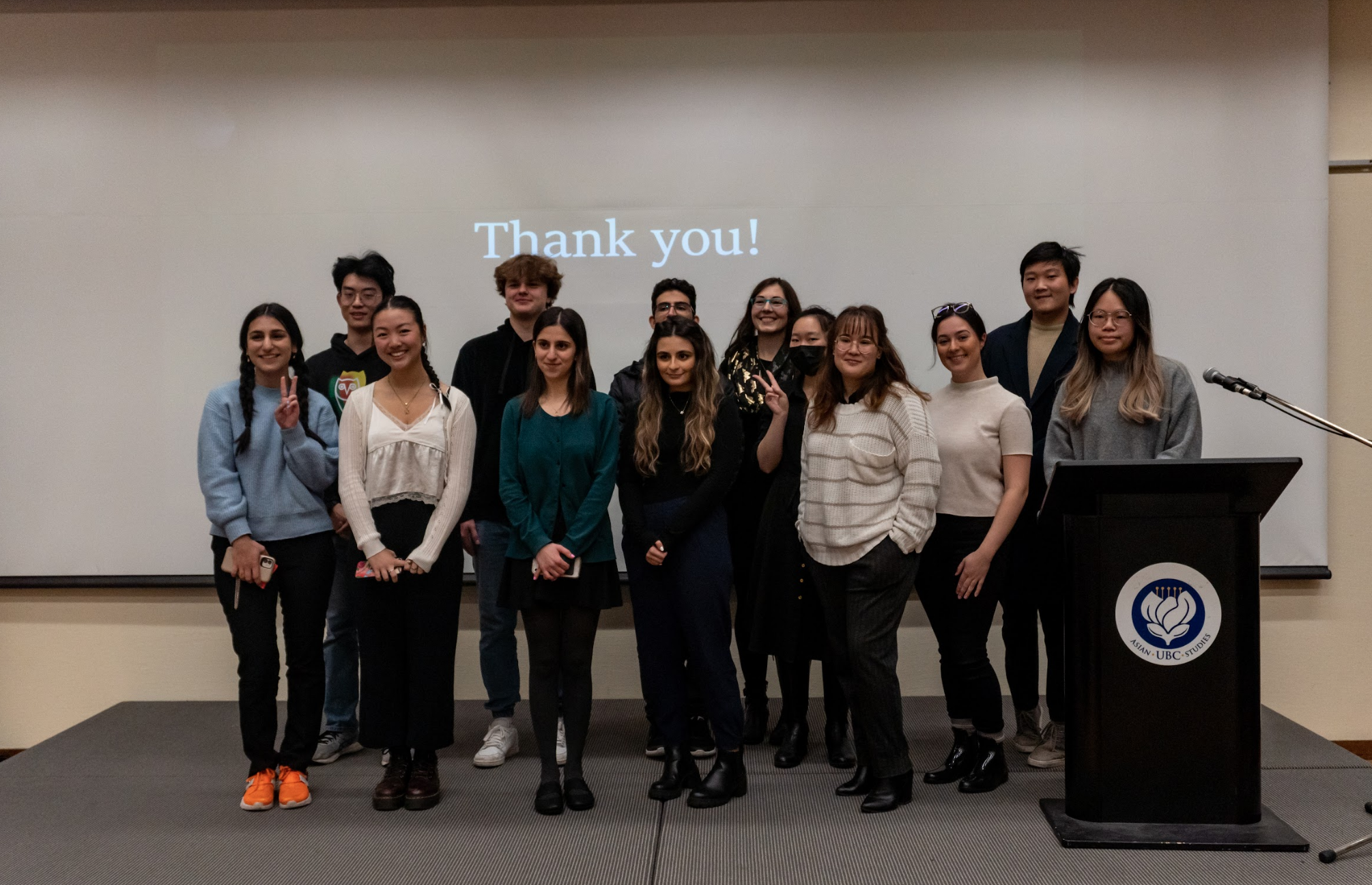 Finalists participants of the Multilingual Speech Contest
In the English-language Speech Contest, participants answered the theme of "What Multilingualism Means to Me" and shared their personal experiences about the value of language learning and multilingual lives.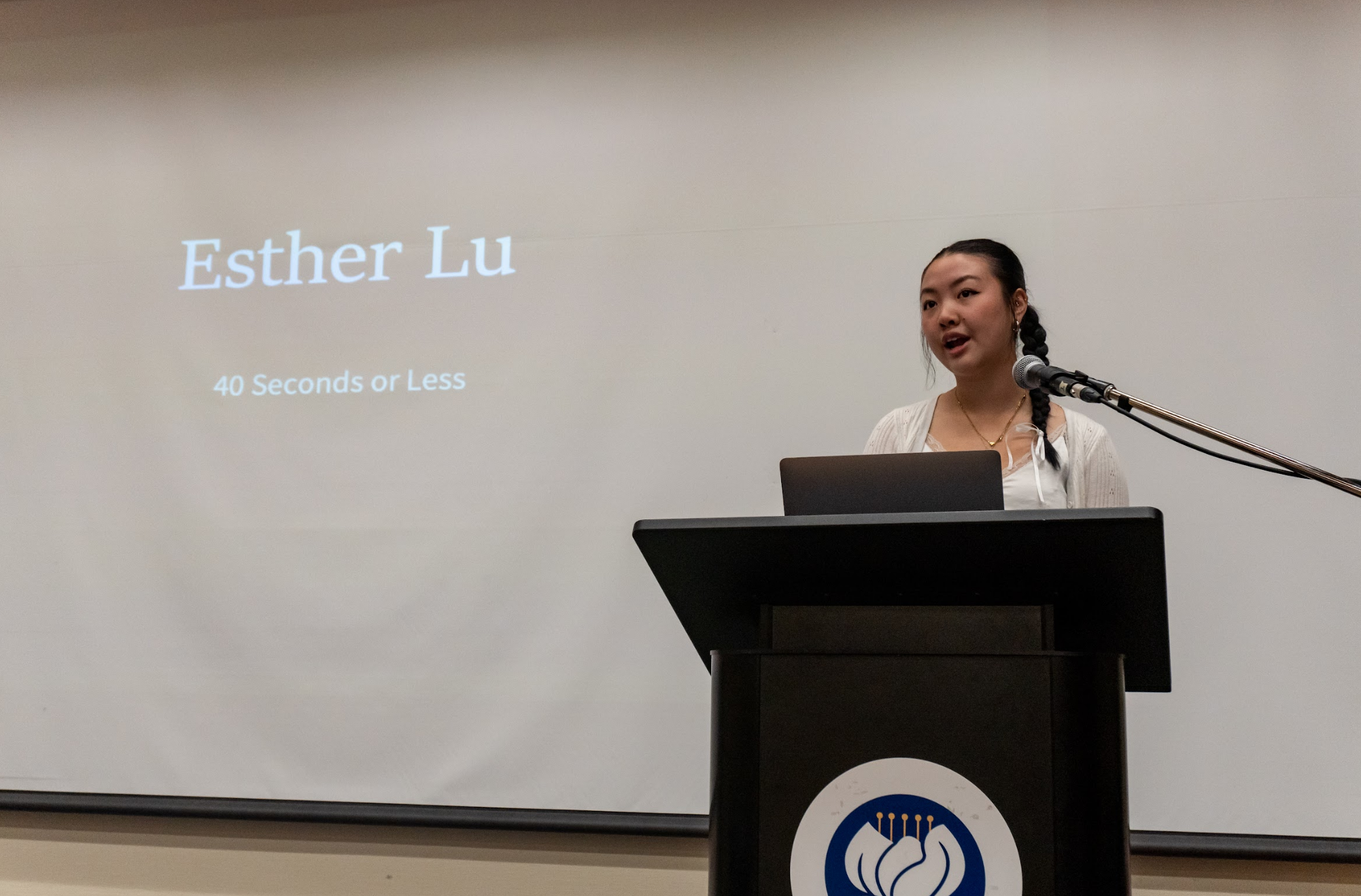 Esther Lu presenting her speech in the Speech Contest
Esther Lu, a second-year International Relations student from CHIN 141, delivered a speech titled "40 Seconds or Less," in which she discussed how she felt stuck between different cultures. She wanted to start a conversation on the challenges of a multilingual life so that people could continue to probe into the topic and connect with others in a community who may share similar experiences.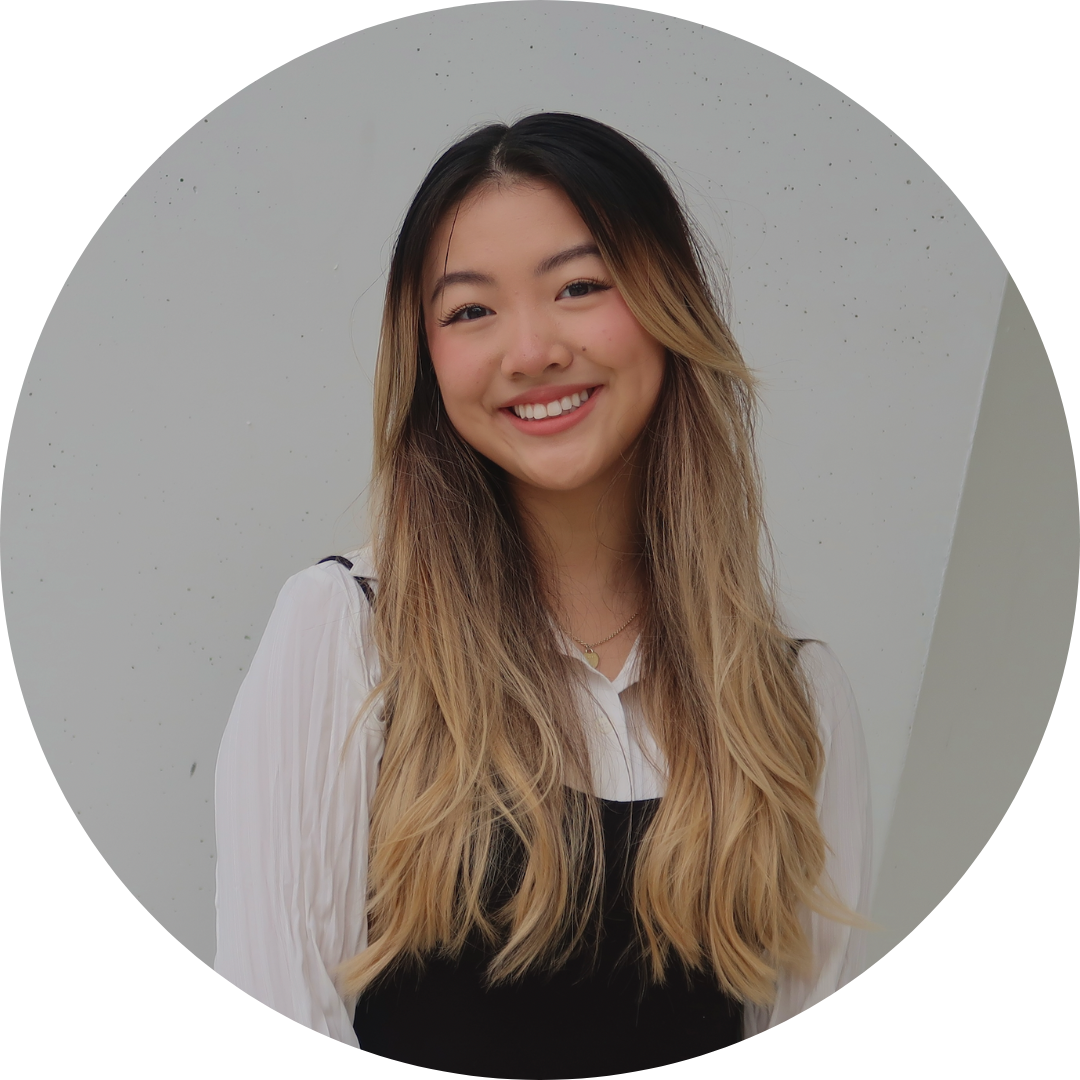 "I feel a sense of belonging in a new multilingual community. It was gratifying to connect with other students enrolled in Asian language courses who also encountered similar feelings of cultural disconnect. This experience has made me feel validated in my heritage and upbringing as a second-generation immigrant."
Esther Lu
Second-year student majoring in International Relations
At the end of the week, UBC's inaugural Multilingual Poetry Slam was held for students to practice multilingualism through multi- and cross-lingual poetry performances. Students could either recite their original poetry or perform their translation of a poem in a different language. Both categories awarded prizes to the top performers, the best poems, and the most compelling translations.
Daniel de la Riva Massaad, a first-year Mathematics doctoral student from CHIN 131, translated a poem by the Korean poet Yoon Dong-ju (윤동주). He said that reaching across time and space to learn about the emotions expressed by a poet from a different culture is a rewarding way of learning about himself:
"Choosing to recite [Dong-ju's poem] was my way of honoring and thanking him for changing my life with his poems. It feels extraordinary and unique when you read a poem from a different time and place, and you can still connect with the writer's emotions. In this way, we can discover a lot about ourselves and our lives."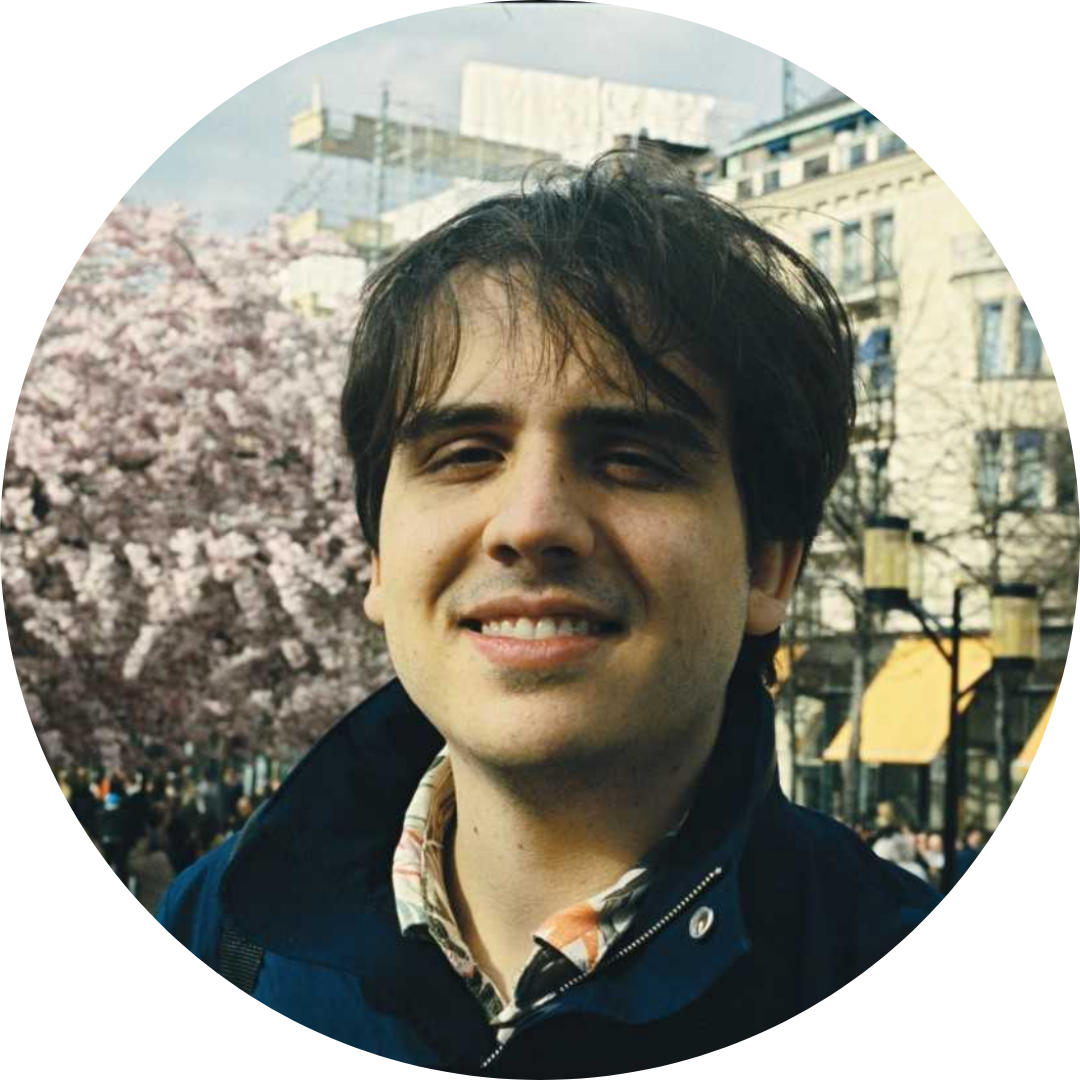 Furthermore, Daniel described how learning Chinese and Korean together has helped him appreciate both cultures more:
"Since both languages share similar historical roots, I decided to learn Chinese partly because I wanted to enhance my understanding of Korean. This choice is enriching my understanding of both cultures, and it helps me engage with these two wonderful and distinct languages."
Daniel de la Riva Massaad
First-year Mathematics doctoral student
The students who participated in Arts Multilingual Week could share with the greater multilingual community how they have explored the meaning of Multilingualism in their own ways. For some, multilingualism was a means to explore their identity, belonging, and heritage as they navigated themselves across multiple cultural backgrounds. For others, multilingualism has helped them reconcile space and time to appreciate diverse cultures and languages. Many participants in the multilingual community were able to relate to these students' captivating stories and reflect on their self-learning journeys.
UBC's Arts Multilingual Week evokes the shared vision that, as a part of a diverse and colorful community, we will continue to cherish and celebrate our multilingualism for days and years.
Written by Kristen Tam
Edited by Shih-wei Wang