Interested in learning what you can do with a degree in Asian Studies? In our "Meet Our Students" interview series, we ask our students how they became interested in Asian Studies, their experience in our program, and their future academic and professional goals.
Meet Anh Luu, who is in her final year of undergraduate studies at UBC. Anh is majoring in Asian Language and Culture with a focus on Japan, and minoring in Asian Language and Culture with a focus on China. In this interview, she shares with us her history of language study while reminiscing on moments with the department, and discusses her plans to continue developing language skills post-graduation.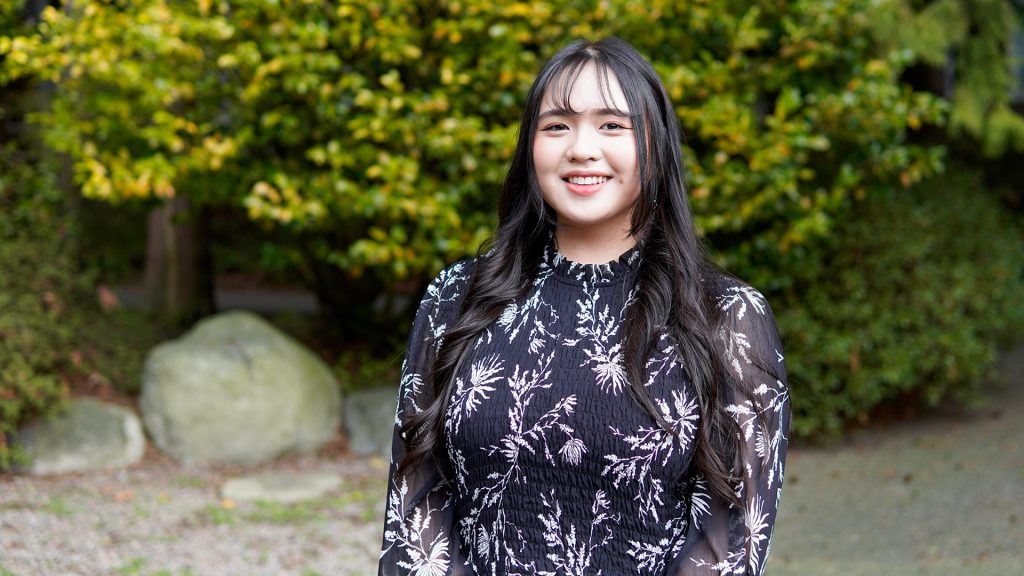 ---
How did you become interested in Asian languages and cultures?
I am a second generation Vietnamese-Canadian and I grew up speaking some Vietnamese at home, but mostly English! Being born and raised in Vancouver, I also grew up learning French like everyone else. But when I reached Grade 9, French was no longer mandatory, and although I did enjoy learning it, I was ready to try something new. My first choice would have been to take Mandarin, since I wanted to be able to speak with the local Mandarin-speaking community but my high school did not offer it (which is ok because I finally got to learn at UBC!), so I decided to try taking Japanese. From there, my passion for language learning started to grow and my journey took off!
---
How has learning Asian languages and culture influenced your life?
I have found that learning a culture, a language, and traditions can bring you a deeper understanding and connection with its people. Even if you don't get to an intermediate speaking level, people can see when you make an effort to learn their language and more about them. The things that I have learned and experienced have made me become more open-minded and diligent as a global citizen. I find joy in language exchange, and I am so grateful that it has allowed me to make friends with people of different backgrounds and from overseas.
---
Reflecting on your time at UBC, how has the pandemic influenced the way you learn and work? What achievements during this time are you most proud of?
I think that language courses were especially difficult when classes went online due to the pandemic. On top of technological issues, it was a lot harder to connect with instructors and peers the way you usually would when you are face to face. However, I always felt the support of my professors; even when they felt the shadows of COVID-19, they would encourage us and remind us that we are never alone. I was also able to feel a greater sense of community with my class again despite being online in CHIN 331 when we sang Jay Chou's 告白气球 (Love Confession) together for the Chinese Language Program's Singing Contest (check out the Singing Contest video below)!
---
What are your future plans for your Japanese and (or) Mandarin learning journey?
Career wise, I am in the process of getting ready to go to Japan with the JET (Japanese Exchange and Teaching) Programme to become an Assistant Language Teacher of English. After that, I plan to return to Canada to pursue a BEd (Bachelor of Education) and a MEd (Master of Education) in Teaching English as a Second Language. I have always wanted to teach abroad, especially in Japan or Taiwan. I think that my Japanese and Mandarin skills will be an asset to help me connect with students and understand what they may struggle with and how I can help them. From the beginning of my language learning journey, I've been inspired by my Japanese and Mandarin teachers. They have motivated me to work towards becoming a teacher that helps students flourish in their learning and potential! I am forever grateful to them, and I owe it to them. makoto ni arigatou gozaimashita まことにありがとうございました!osewa ni narimashita お世話になりました。
---
What are other interests you enjoy pursuing outside of your studies?
I am very interested in Korean and Cantonese language, so I try to learn whenever I have some downtime. I really enjoy watching Korean reality TV series and Cantonese- and Mandarin-related content on YouTube. Surprisingly, the simple words and phrases in Korean and Cantonese that I have picked up over the years have really helped me out in times I encountered language barriers! I really want to learn ASL (American Sign Language) as well, so I look forward to taking on self-learning it next!
---
Can you give any advice to new students in our program or for students considering applying to it?
My advice for new and prospective Asian Studies students is to get involved in the program! By doing so, you will gain a sense of support and community in which you can celebrate your passion for language and culture together. The highlight of my time as an undergraduate in Asian Studies has been connecting with peers, alumni, staff, and faculty by meeting them in class or at various events. My favourite events are the Asian Studies Annual Careers Night because I get to meet alumni and find out about all their different experiences, and the Lunar New Year Celebration because it is an inclusive event where we all get to celebrate the New Year together and it is so much fun!
For students considering Asian Studies, don't hesitate! Try taking even just one language or culture course, and you will be able to learn so many new things alongside motivated peers and instructors who want to help you succeed. I hope you will find heartwarming friendships and make everlasting memories as I have in my time as an Asian Studies student. I'm cheering you on! ganbatte kudasai 頑張ってください!jiayou 加油!