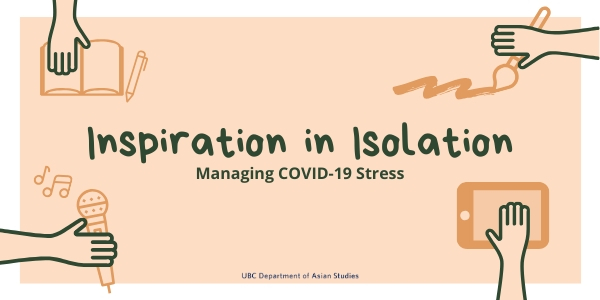 Good thing our department has thousands of years of history to draw upon when it comes to dealing with challenging times! Asian Studies faculty, staff, students and alumni are sharing their challenges and experiences of transitioning to working from home online, plus any particular tips, quotes and activities they've found to be helpful.
Click below to read the profiles with:
Bianca Chui, WorkLearn at the Centre for Japanese Research: "I've joined the kuzushiji benkyokai (くずしじ勉強会) so I've been trying to learn how to identify these cursive brushstrokes! I also discovered the lure of Twitter and joined quite a few virtual lectures, including the Medieval Academy of America and the Stanford Rare Books' lectures on medieval manuscripts. Also, Animal Crossing!"
Cindy Hah, Asian Studies Administrative Assistant: "Sleeping over 2 AM became a regular bad habit. But, after hearing audiobooks, they helped me fall asleep, especially short calm novels. I am listening to The Little Prince recently and it is helping me a lot to sleep deeply thinking of beautiful scenery!
Christina Laffin, Japanese Language Professor: "When classes and meetings went online I returned to my family home on Hornby Island. I recently renewed my fishing license and now sometimes spend afternoons digging for manila clams, shucking oysters, or collecting nettles."
Li-Jung Lee, Chinese Language Visiting Lecturer: "I find learning copywriting is interesting. Watching people teach copywriting is entertaining because I can observe how they promote their copywriting coaching careers. Some coaches are not really good at closing a sale. Haha. It's fun! In addition, watching Kim's Convenience is super relaxing and this TV series is very down to earth."
Mason Leung, Project Assistant: "Although it sounds ironic, video games have been serving as a huge entertainment source and can help you keep connected with your friends in a fun way."
Anthony Pun, Communications Assistant: "I've learned that the extra time has allowed me to let my mind explore more creative and fantastical ideas. This was supplemented with my recent binge on author, Brandon Sanderson, and his lectures on creative writing."
Aydin Quach, Chinese Language Teaching Assistant: "I miss working out at a gym  Thankfully I have some dumbbells at home and some resistance bands so that I can do some exercises. If you have an open doorway at home, it might be worth it to invest in a pullup bar; if you don't have weights at home, you can stuff all those textbooks and do some pushups and pullups!
Dagmar Schwerk, Khyentse Foundation Postdoctoral Fellow in Tibetan Buddhist Studies: "When I think of the frontline workers who put themselves at risk every day (in hospitals, shops, transport, public service, agriculture, and many more areas), it really resonates with one of my favourite verses of a great 8th-century Indian Buddhist master, Shāntideva:All the joy the world contains
Has come through wishing happiness for others.
All misery the world contains
Has come through wanting pleasure for oneself.Shāntideva, The Way of the Bodhisattva (Boston: Shambhala Publications, 1997), 20"
Cherry Tang, Chinese Language Teaching Assistant: "I think that it is important to stay organized and have a defined schedule to follow. Ideally, I would wake up (well, at least try to) around the same time as I would on any other regular day, and start to follow the schedule I set up for myself. I also feel that setting realistic goals before starting the day really helps with my overall productivity."
Yuchun (Connie) Wu, Events and Digital Media Assistant: "Creating a to-do list allows me to have a clear idea of what I will be doing at work during the shift. It prevents me from missing anything that I need to finish at work so that I can enjoy my free time without worrying about any unfinished work duties."
If you would be inserted in taking part, please email our Communications and Events Coordinator, Sophie Gardner sophie.gardner@ubc.ca