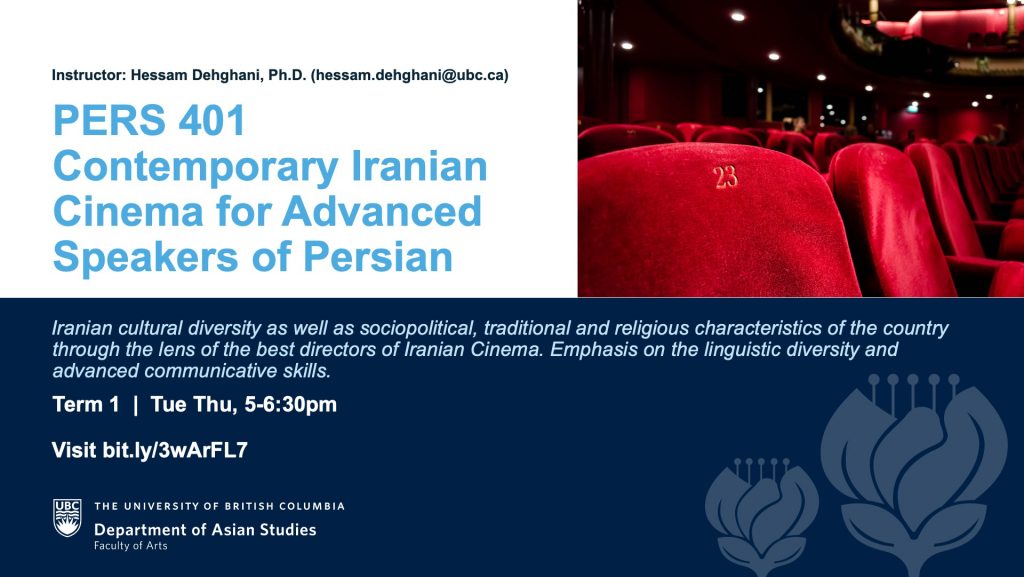 Watch below for a course introduction (in Persian) by the instructor, Dr. Hessam Dehghani!
Course Description
In this course, we will explore contemporary Iranian cinema and its relation with Iranian culture. We will examine how different facets of culture (ethnic, urban and rural) as well as the diversity of languages in Iran are represented in films. We highlight the language of different genre of films including comedy, drama, TV shows, feature films, etc. and how they represent different social classes, political affiliations, ethnic groups, etc. Through the lens of the camera we review how people's lives are impacted during the tumultuous history of the past 50 years (a little before and after the Iranian Revolution).
We will discuss and look at works of the most prominent directors of this period including Abbas Kiarostami, Mohsen Makhmalbaf, Bahram Beyzaii, Asghar Farhadi, Daryoush Mehrjouei, Amir Naderi, Masoud Kimiyaei, Ali Hatami, Bahman Ghobadi, Ebrahim Hatami Kia, Majid Majidi among others.
This is not a course in film studies, but rather we are using films to explore the contemporary Iranian culture and society
Pre-requisites
The class is going to be held all in Persian. Advanced High level of proficiency especially in speaking and listening or PERS 300 is the minimum requirement of the class. If you have not taken PERS 300, you need to take a placement test or discuss your case with the instructor.
Learning Objectives
The aims of this course are two-fold both linguistic and cultural. By the end of this course, students
Expand their linguistic proficiency in different genres and styles, including literary, formal, informal, regional dialects and registers of Persian.
Expand and deepen their understanding of the Persianate culture in its variety by exploring the lives of the people represented in the movies.
Deepen their understanding of the cultural impact of such historical events as war, revolution, as well as Iranian intellectuals' response to the process of industrialization, modernization, globalization, etc.
Learn to speak and write about different aspect of movies in Persian
If you have any questions or concerns, please contact Dr. Hessam Dehghani at hessam.dehghani@ubc.ca.