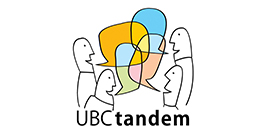 Learning a new language comes with many small "joys". The first time you can read a full line of text and understand it. The first time you order a meal or a train ticket. And the first time you realise you can fully hold a conversation with a native speaker!
"Everyone brings a lot of cultural knowledge to the table, as a speaker of their own language," says Natalie Armendariz, Global Lounge Assistant and Coordinator of UBC's Tandem Language Learning program, which has been running since 2011 and pairs participants up for free sessions to practice in-person conversation, in one another's language.
"The beauty of UBC Tandem is that it complements your courses," she says. "In class, you are usually learning what the teacher has planned for that week, whereas UBC Tandem allows students to take learning into their own hands and bring along anything particular they might need more practice with."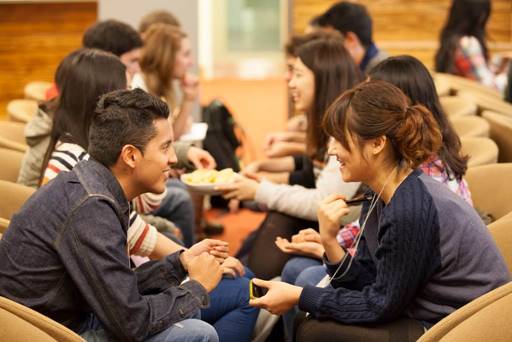 Natalie recalls that past participants have often been amazed as to what they have been able to share with others, even when they might initially be thinking "I'm not a teacher; how can I help someone else learn?" It's a safe space and supportive environment for all volunteers, and UBC Tandem staff are always available to answer questions and provide extra guidance when needed. The fact that it's up to each participant to plan what they might particularly want to practice that week, and what more they'd like to learn, means that there is less pressure on the other side for both to have anything planned in great detail. Plus, an added bonus is that there's no assigned homework!
Typically, sessions were arranged for a weekly meet-up in-person, and participants encouraged to bring along cultural snacks and food items to share. Currently, sessions are virtual and sharing food is a little trickier, but students still benefit greatly from the conversational opportunity. Weekly conversation guides are also issued at various levels of proficiency, for those who would like some suggested conversation topics to begin with. It's also possible for duos to remain paired with one another across more than one term if they find they are particularly learning well together.
Also important to note is that Tandem is not just open to students: anyone in the general UBC community, currently employed or studying there, is eligible to take part. The beauty of virtual learning is that participants can also be situated anywhere in the world and don't have to keep to Vancouver time zones to arrange their conversations.
Past pairings have included duos practicing conversing in Arabic/Urdu, Dutch/German, Spanish/Arabic, and French/Korean. Natalie says that typically the most requested languages people wish to practice are those studying English, Mandarin, Japanese, Cantonese and Korean, though the "romance" languages such as French, Spanish, and Italian are also popular.
"We've even had some requests to learn American Sign Language, but it's trickier to find any teachers of that – if you are a current user of American Sign Language and wish to help someone practice it, we'd love to hear from you!"
UBC Tandem is currently piloting its first virtual summer program, with participants encouraged to meet for one hour per week until the end of August. All going well, it will run again in the fall. In addition to the weekly sessions, participants are invited to virtual social events, trivia and even "language cafes" with a different language each week for visitors to drop in and practice.
The easiest way for interested volunteers to take part is to apply as a "volunteer facilitator" via the UBC Tandem website or email UBC Tandem directly at tandem.program@ubc.ca, which is constantly updated. Natalie herself first encountered the program as a volunteer in 2017, and has enjoyed taking part ever since to the point where she now coordinates the sessions.
"Every language is valuable, and being able to learn and practice it removes a lot of cultural barriers," enthuses Natalie. "Plus, it helps continue to build communities and support networks until we are able to safely meet in-person again."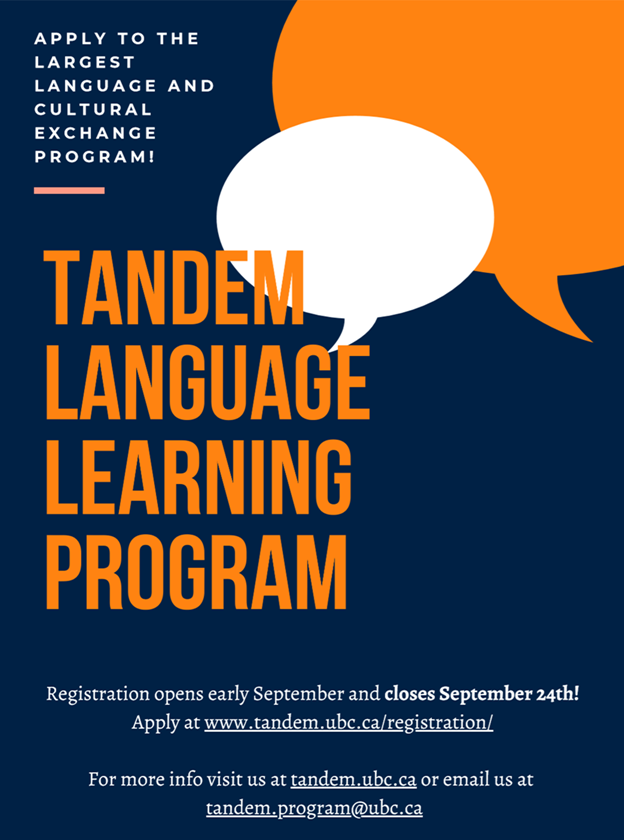 Facebook: UBC tandem Language Learning Program
Instagram: @UBCtandem
Twitter: @UBCtandem
Website: https://tandem.ubc.ca/
Email questions at any time to tandem.program@ubc.ca