On a sunny midsummer's day in July, two scholars from Palacký University Olomouc in the Czech Republic were invited to present a webinar titled Chinese Language Technology for Research and Education to the instructors from the UBC's Chinese Language Program and Cantonese Language Program. Together, Dr. Joanna Ut-Seong Sio (Associate Professor of Chinese Linguistics) and Dr. Luís Morgado da Costa (an interdisciplinary researcher in computational linguistics) shared their current projects focusing on linguistic research, as well as their application to teaching and learning Sinitic languages, including Mandarin and Cantonese.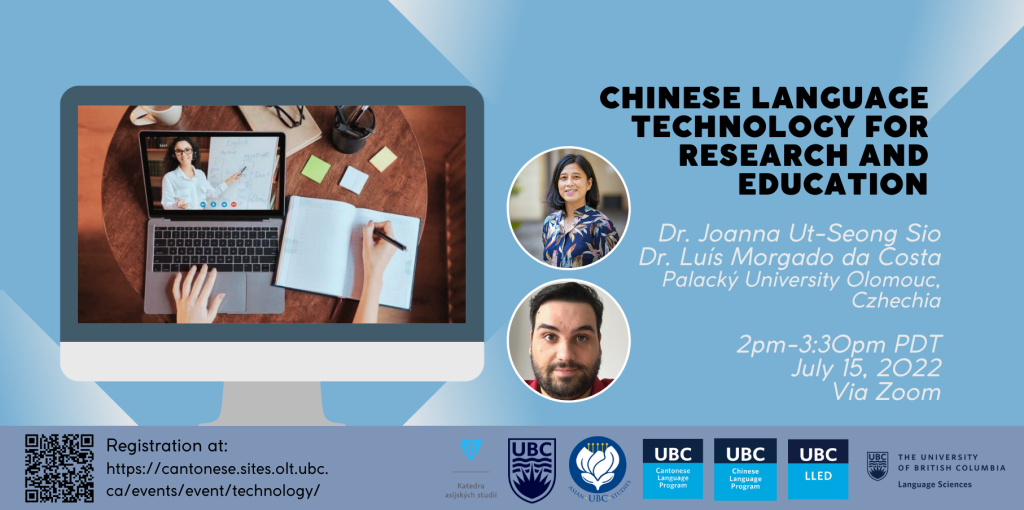 Dr. Sio and Dr. Morgado da Costa reported on the development of the Cantonese WordNet, which is a database showing the hierarchical relations of Cantonese words based on their meaning. While there are already multiple wordnets for Mandarin Chinese in the literature, the introduction of a Cantonese WordNet can contribute to cross-linguistic comparisons among Sinitic topolects. For example, multiple words have the meaning of TONIGHT in Mandarin and Cantonese. In both languages, 今晚 (jinwan in Mandarin; gam1 maan5 in Cantonese) can be used, albeit pronounced differently. However, 今晚黑 (gam1 maan1 hak1) is used exclusively in Cantonese, while 今夜 (jinye) is a Mandarin word, rarely used in spoken Cantonese. Wordnets are useful for learners to identify these similarities and differences.
In the second half of the webinar, the two guest speakers walked the audience through the Chinese Intelligent Language Learning Project, which is a data-driven grammar engineering model for automated error detection for Mandarin Chinese. The model can analyze a Chinese text, identify grammatical errors, and provide feedback for improvement. The project shows a fascinating blend of computer science and language pedagogy.
The webinar was concluded with a roundtable discussion on challenges of teaching Chinese languages as additional languages in Europe versus in North America. Teaching staff from UBC Chinese Language Program and UBC Cantonese Language Program had a chance to exchange ideas and insights with the two guests. We look forward to more opportunities to host outstanding scholars from all over the world.