To the graduating class of 2023,
The Department of Asian Studies heartily congratulates you on the completion of your degree in Asian Studies from the University of British Columbia! We are extremely proud of you – an impressive achievement and hard-earned success overall!
To celebrate you, we composed this "UBC Asian Studies Class of 2023 Graduates Yearbook" page featuring graduates sharing their perspectives on Asian Studies and thanks for those who supported their academic journeys.
2023 Graduates Yearbook
Doctoral degree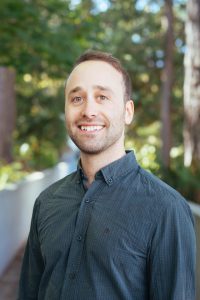 Specialization: Japanese / Korean
Thesis title: Walking in the Founders' Footsteps: Hagiography and Devotion in Shinnyo-en, a Japanese New Religion
Supervisor: Dr. Jessica Main
Master's degree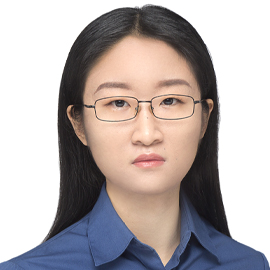 Specialization: Chinese
Thesis title: "Confucian Learning, Politics, and the Way in Seventeenth-Century China: Sun Qifeng (1585-1675) and the Transmission of the Lineage of the Learning of Principle".
Supervisor: Drs. Bruce Rusk and Leo Shin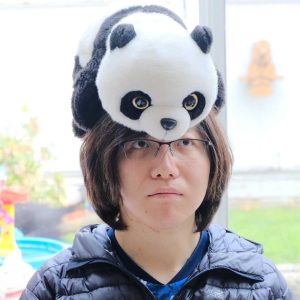 Specialization: Chinese / Japanese
Thesis title: Becoming "Beautiful Fighting Girls": Re-imaginations of Women Warriors in Chinese Video Games
Supervisor: Drs. Renren Yang and Sharalyn Orbaugh
I believe that Asian Studies provides a way for us to make a more critical sense of the socio-cultural and technological environment of the world. This is especially the case today, as we see some phenomena in global pop culture possess distinctive traits inspired by Asian cultures. Yet, what is important is not simply distinguishing the "Asian" from the rest, but looking into the specific contexts that give rise to what's on the surface. My training in Asian Studies is, in this sense, beyond "Asia." It has prepared me to resist the unscrutinized generalizations about how certain individuals or groups of people perceive and interact with the world surrounding them.
I am very grateful for the guidance of my supervisors, Drs. Renren Yang, Sharalyn Orbaugh, as well as Dr. Christina Yi, who served as a member of my supervisory committee. They have supported me whole-heartedly and provided me with numerous wonderful opportunities to learn from throughout my academic journey. My gratitude also goes to Tina Wong, our Graduate Program Assistant. During the especially challenging time of the pandemic, she was always so responsive and kindly provided documents I needed with astonishing speed. There are many more wonderful individuals that I am grateful for, and it certainly would not be possible for me to be where I am today without their support.
Bachelor's degree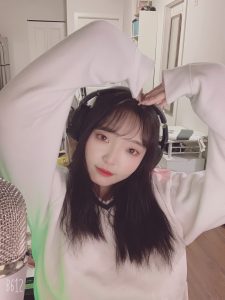 Major in Asian Area Studies
You need to read a lot of books, articles and other materials if you decided to major in Asian Studies. The importance of Asian Studies is it gives us a different sight which from other cultures to look at Asian culture or even we can say examine it. History is like Wikipedia, anyone who has access to it can edit the story. I have a different perspective in seeing what history and culture look like.
I really appreciate my best friend Tianran Han, she is also Asian Studies major. We had the same classes together, and she always guided me on social groupwork when I was afraid to talk to other classmates. She gave me her course notes in order to help me have better understanding. She is a great leader just like a lighthouse on the sea of study, every time I feel confused and depressed, she always lights up the darkness and erase those negative emotions. Another special thanks to Jiajia Dai, who encouraged me during the time I lost my cat, and I lost all my motivations, she gave me power and companionship to stay alive. Without her, I may not live on this beautiful world.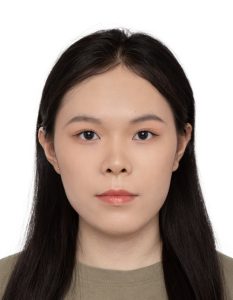 Major in Asian Area Studies
I think the importance of Asian Studies is to let more people know about the culture of the Asian region. I can choose courses according to my interests and learn about many cultures that I did not notice before. For example, with ASIA 250, I learned about the origins of Buddhism, and with ASIA 456, I learned more about Taiwan's history. These courses gave me an interest in the local culture and reminded me of traveling there.
The person I am most grateful to is my friend Paige. I did not go back to China during the three years of COVID-19 because the air tickets were too expensive. I missed a lot of things, like the death of the old, my best friend's wedding, parties, and so on. Before the mid-term or final exams, there will be a lot of assignments or essays. At that time, I wanted to go home because of anxiety and stress. Whenever at this time, my good friend enlightens me, brings me comfort, and she is always by my side. I especially thank her.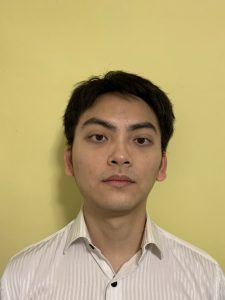 Major in Asian Language and Culture (Japan)
I believe that Asian Studies holds significant importance in today's interconnected world. It offers a profound understanding of the diverse cultures, histories, languages, and contemporary issues across Asia. It fosters cultural competence, global awareness, and an appreciation for the rich tapestry of Asia's societies. I have gained a nuanced perspective on various Asian civilizations, enabling me to navigate intercultural interactions with sensitivity and respect. Asian Studies has broadened my horizons, challenged preconceptions, and encouraged me to engage critically with complex global dynamics. Ultimately, Asian Studies has shaped me into a globally minded individual with a deep appreciation for the vast contributions of Asia.
I am immensely grateful for the unwavering support and dedication of my professors and teachers. Despite the challenges posed by the pandemic, they seamlessly transitioned to online teaching, ensuring continuity in education and maintaining a high standard of instruction. Their adaptability, enthusiasm, and willingness to go the extra mile in guiding and mentoring students have been truly commendable. They provided a nurturing environment, fostering engagement, and encouraging open communication, even in virtual classrooms. Their efforts to create meaningful learning experiences amidst the adversity have been instrumental in my academic growth. I am deeply thankful for their commitment to our education and for their unwavering belief in our potential, which has inspired and motivated me to persevere through challenging times.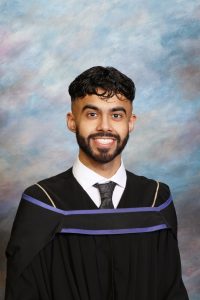 Major in Asian Area Studies
Asian Studies changed the way that I think about Eastern world. Although this degree is quite interdisciplinary in the sense that the Department offers courses ranging from Hindi Cinema to Japanese Women's Self-Writing, you have the opportunity to explore subjects in your desired niche. For me, this flexibility meant learning more about South Asia to better understand my own identity as a second-generation Punjabi Canadian. Through learning about the Partition of India, Mughal History, Sikhism, and poets like Shah Hussain, one of my biggest takeaways is realizing how Orientalism affects much of Asian representation in the West and ignores their rich histories and cultures, allowing me to be more cognizant of the effects of colonialism in the modern world.
Two professors I feel thankful for in my academic journey are Mostafa Abedinifard and Sunil Bhatt. I took four of Dr. Abedinifard's courses in the third year of my degree (my first year as an Asian Studies major) and learned valuable skills with regards to research, reading, and writing. I strengthened my critical thinking skills, while having the privilege of learning about Post-Revolutionary Persian Cinema and Classical Literature. In Dr. Bhatt's courses, I gained insight into Sufi and Bhakti literature and learned so much about my ancestry – exploring art which I would otherwise never have had the opportunity to see and analyze being born and raised in Canada.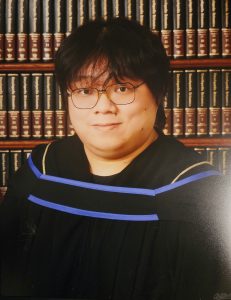 Major in Asian Area Studies
Asian Studies saved my life!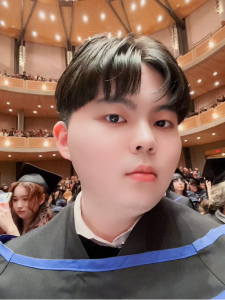 Honours in Asian Language & Culture (Chinese Literature)
Asian Studies captivates and profoundly resonates with me, unveiling a profound realization that I am akin to the ore of jade, which is raw, unadorned essence. The "ore" possesses an innate beauty that roughness, untamed edges, and an unrefined allure may obscure. Nonetheless, the "ore" holds inherent worth and significance, even in its unprocessed form. It is only when entrusted to the skilled hands of an exceptional artisan, guided by a meticulous refinement process, that its true magnificence gradually emerges. Through careful cutting, meticulous polishing, and masterful sculpting, the authentic splendour of jade could be unveiled.
I am immensely grateful to my esteemed Honours Thesis supervisor, Prof. Alison Bailey, for her edification, guidance, and unwavering support. It is through her mentorship and help that I have been able to embark on the academic and personal voyage and reach this far. I would also like to extend my heartfelt appreciation to Profs. Josephine Chiu-Duke, Bin Zheng, Zheng Cai, Raymond Pai, Xiaowen Xu, Zhaokun Xin, and Xueshun Liu. These distinguished professors have profoundly influenced my academic journey, fostering my growth and development. Furthermore, I am indebted to Sophie Rock for her invaluable support in navigating the ASIA Honours program application, fueling my pursuit of academic excellence.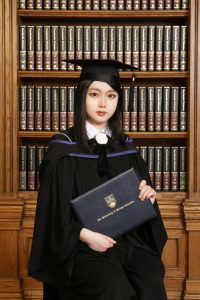 Major in Asian Area Studies
Asian Studies offers me a chance to explore the abundant cultural resources of my homeland in the sphere of arts and humanities and appreciate all literature, art, and historical treasures.
I feel grateful for every person I met on this academic journey.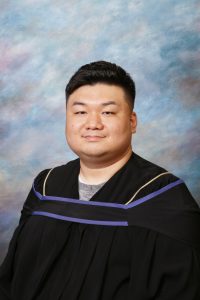 Major in Asian Language and Culture, Minor in History
Asian Studies not only broadened my understanding of Asian cultures and languages, but also allowed me to connect those understandings with diversity. Examining links between Asia and different parts of the world was the best part, as well as expanding my knowledge of Asian culture with a global perspective. I will further advance to deepen communications and understanding between different communities with my experience in Asian Studies.
I would like to thank my family and friends who have supported me during many hard times. I am also thankful to everyone in Asian Studies, especially Senseis in the Japanese Language Program.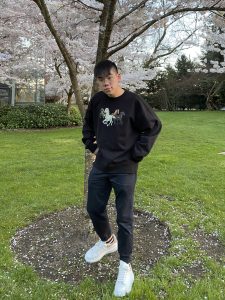 Honours in Asian Area Studies
I am thankful for my parents, family, friends, supervisor, and my special ones.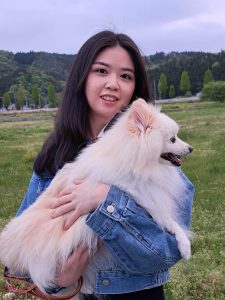 Major in Asian Area Studies
I'm proud to be graduating soon with a degree in Asian Area Studies. This field has given me a wealth of knowledge and understanding that will be valuable in today's rapidly globalizing world. It has taught me to appreciate the diverse cultures, languages, and histories of Asia, which I consider an indispensable asset. My degree has also given me critical thinking and analytical skills that will be useful no matter where my career takes me. Most importantly, studying Asian Studies has broadened my horizons and given me a newfound appreciation for the nuances and complexities of this fascinating region. Overall, this has been a transformative experience, and I look forward to carrying the knowledge and skills I've gained throughout my life.
I am deeply grateful to my professors. They have not only shared their knowledge and expertise but also served as mentors and role models. Their passion for their respective fields and dedication to their students have inspired me to pursue my own passions and strive for excellence in all my endeavours. I must also express my appreciation for the advisors who have assisted me in navigating academic requirements and opportunities. Their professionalism and kindness have been instrumental in shaping my academic path and goals. Lastly, I owe a great deal of gratitude to my family and friends, who have been my pillars of strength. I cannot thank them enough for their love and support.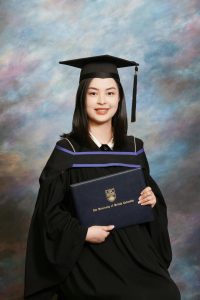 Major in Asian Area Studies
A degree in Asian Studies has enabled me to gain a profound understanding of diverse Asian cultures and languages, facilitating a comprehensive immersion into the region's cultural tapestry from multiple perspectives. Moreover, it has equipped me with invaluable skills in cross-cultural communication, global awareness, and critical thinking.
I would like to thank the Cantonese program and all the people I met in this team. Thanks to their tireless efforts in promoting academic growth, imparting knowledge, and constantly innovating ways of language learning. My interest in learning Cantonese was stimulated by the fun and educational way of teaching. I hope that more individuals will have the opportunity to enroll in UBC's Cantonese courses in the future and discover the captivating charm of Cantonese-speaking culture.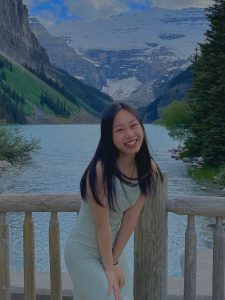 Honours in Asian Area Studies, Major in English
I believe that the importance of Asian Studies lies in its ability to foster a multidimensional understanding of the world. From the degree, I learned how to approach literary works innovatively, became more aware of my cultural heritage, and gained the skill to see social issues more critically.
I took my first few ASIA courses (taught by Professor Clayton Ashton) at the onset of the COVID-19 pandemic. I am grateful for his intriguing course(s) since they sparked my interest in studying Asian Studies. I also wish to thank all the Asian Studies professors who have taught me, particularly Professor Alison Bailey and Professor Renren Yang, for their valuable guidance and the opportunities they provided. And of course, I am thankful for my parents' support along my journey.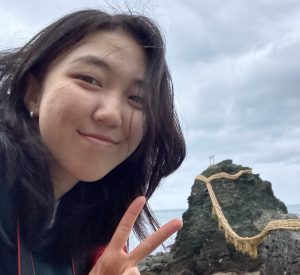 Major in Asian Language and Culture (Japan)
A major in Asian Language and Culture has exposed me to many new cultures and languages, and I've gained the ability to understand a different culture's lifestyle and way of thinking and how to appreciate those differences. It has allowed me to enjoy exchanging languages with others, and it has helped me learn things from my own culture that I, as a child of immigrant parents, was not previously exposed to.
I take away a love for Japanese literature, exchanging and learning languages and culture with others, as well as becoming less afraid of trying (even if I'm scared that I'll mess up, because my language skills are not as fluent as I'd like them to be).
I'm grateful for the support I had throughout my undergraduate degree. Thank you to the professors who were passionate about their subjects and shared that knowledge and enthusiasm in every class. I'm grateful for their patience, understanding, and kindness. Additionally, a big thank you to the professors who recognized and valued mental health, and to those who emphasized that grades do not measure a student's worth. To my friends who studied with me over Zoom during Covid - thank you for helping me concentrate and feel less lonely. Thank you, too, to my friends from language classes – I love that we still meet once a year to have fun at karaoke and eat great food together.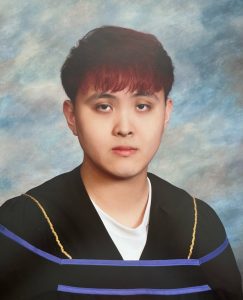 Major in Asian Area Studies, Minor in Psychology
Asian Studies' importance to broaden my view of the Asian region. Through four years of learning the culture and history of different Asian countries, I have learned about the conflicts and cooperation between different countries, as well as the political and cultural development in modern times. This enables me to think about related issues from multiple perspectives with a diversified mind.