Publication title: Literary Information in China: A History
Publication year: 2021
Author: Co-edited by Bruce Rusk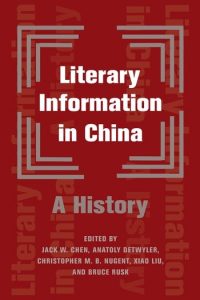 About the book
"Information" has become a core concept across the disciplines, yet it is still often seen as a unique feature of the Western world that became central only in the digital age. In this book, leading experts turn to China's textual tradition to show the significance of information for reconceptualizing the work of literary history, from its beginnings to the present moment.
Contributors trace the organization of literary information across China's three millennia of history, examining the forms and practices of information management that have evolved alongside the increasing scale and complexity of textual production. They reimagine literary history as information processing, detailing the many kinds of storage, encoding, sorting, and transmission that constitute and feed back into China's long and ever-growing cultural tradition. The volume features state-of-the-field essays on all major forms of literary information management, from graphs to internet literature, and from commentaries to literary museums and archives. By shifting focus from individual works and their authors to the informatic schemata of literature, it identifies three scales of information management—the word, the document, and the collection—and surveys the forms that operate at each level, such as the dictionary, the anthology, and the library.
Literary Information in China is a groundbreaking work that provides a systematic and innovative reassessment of literary history with implications that extend beyond the particular Chinese context, revealing how informatic practices shape literary tradition.