In celebration of our 60th Anniversary, we hosted a photo challenge event that invited students to take a photo with one of the three scenic sites related to the Department of Asian Studies, and share their memories and experiences there. (Three main sites include: Asian Centre, Nitobe Memorial Garden, C.K. Choi Building.)
---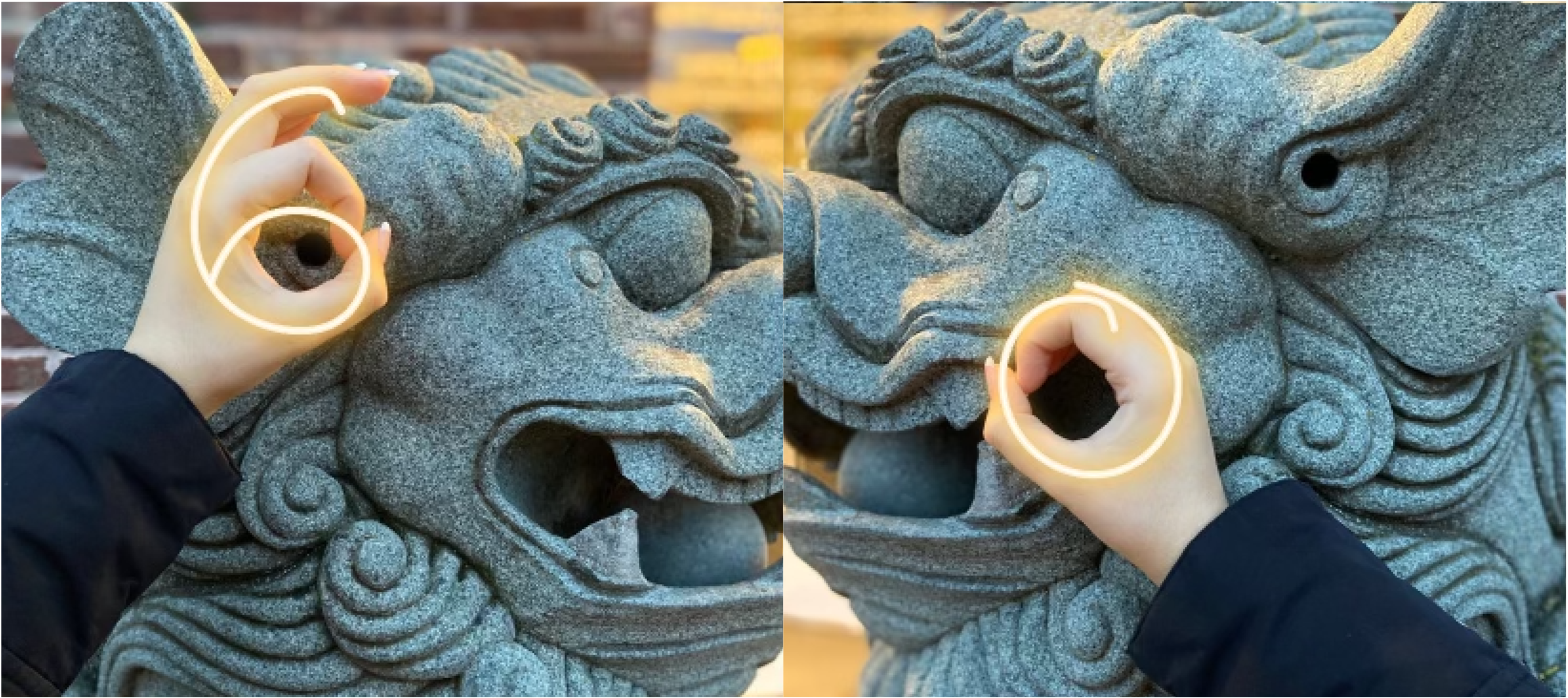 This is my photo for the 60th anniversary of UBC Asian Studies. The photo is rather interesting, since I made a sign of sixty with my hands. Hands symbolize openness and friendliness. There are also two stone lions in the photo, which are symbols of history and antiquity. The UBC Department of Asian Studies also has a long history.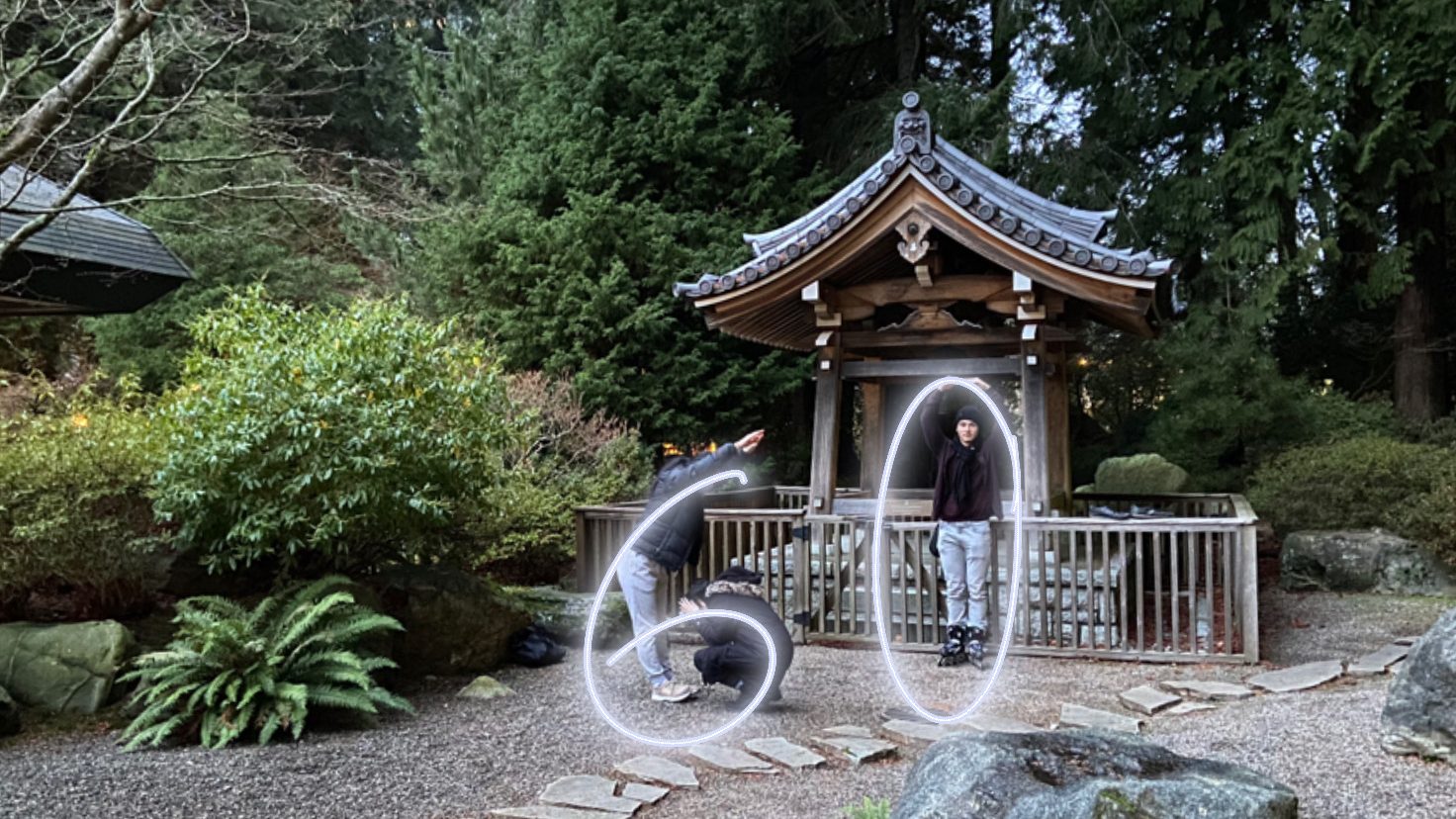 This is my photo for the 60th anniversary of UBC Asian Studies. The photo is rather interesting, since I made a sign of sixty with my hands. Hands symbolize openness and friendliness. There are also two stone lions in the photo, which are symbols of history and antiquity. The UBC Department of Asian Studies also has a long history.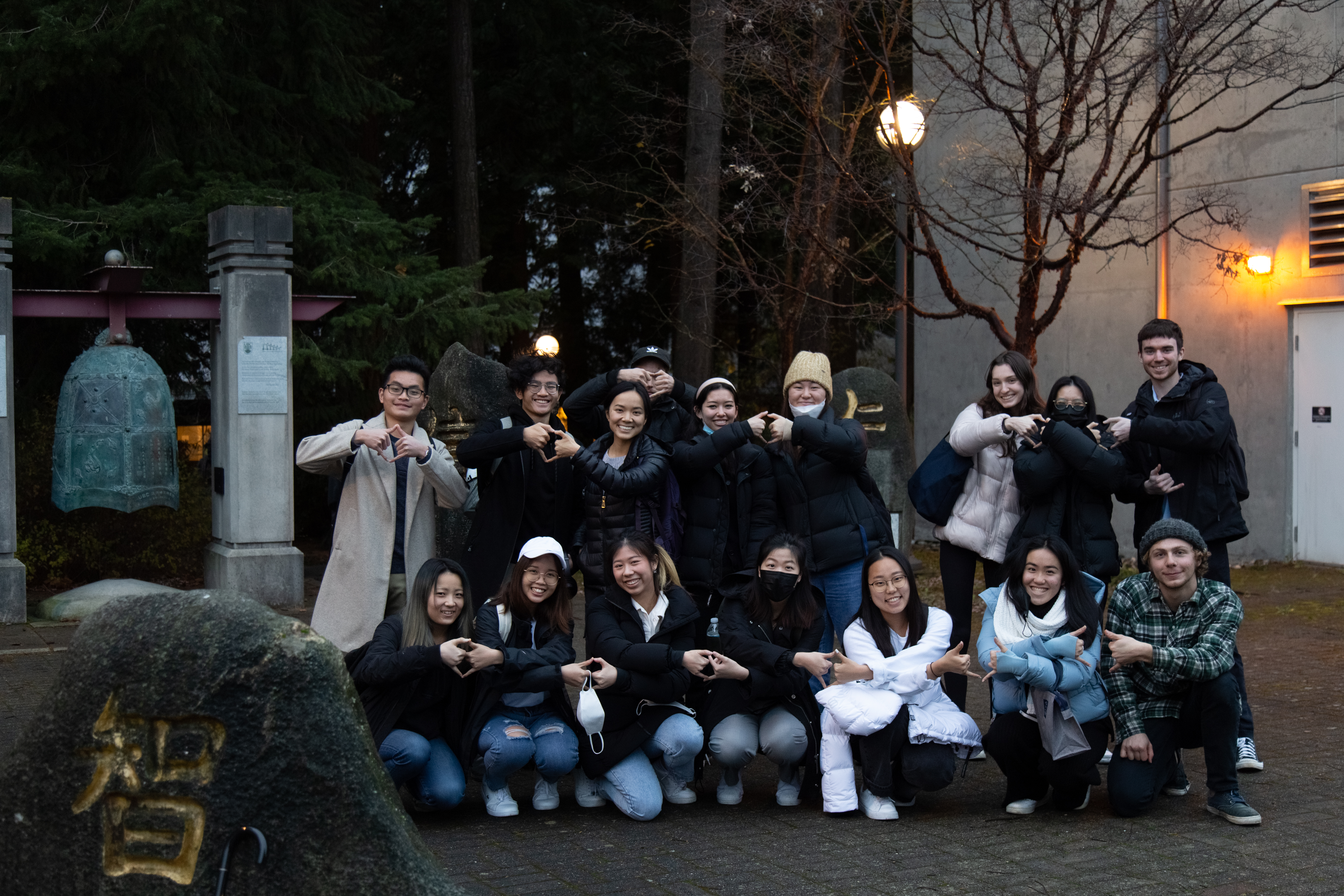 I frequently visit the Asian Centre, since I chat there with my language exchange partners in Japanese and Korean. I think the Asian Centre is quieter than other buildings. So, I like going there very much. When I went there to take the photo with my classmates, I found that our classroom was quite close to the Asian Centre.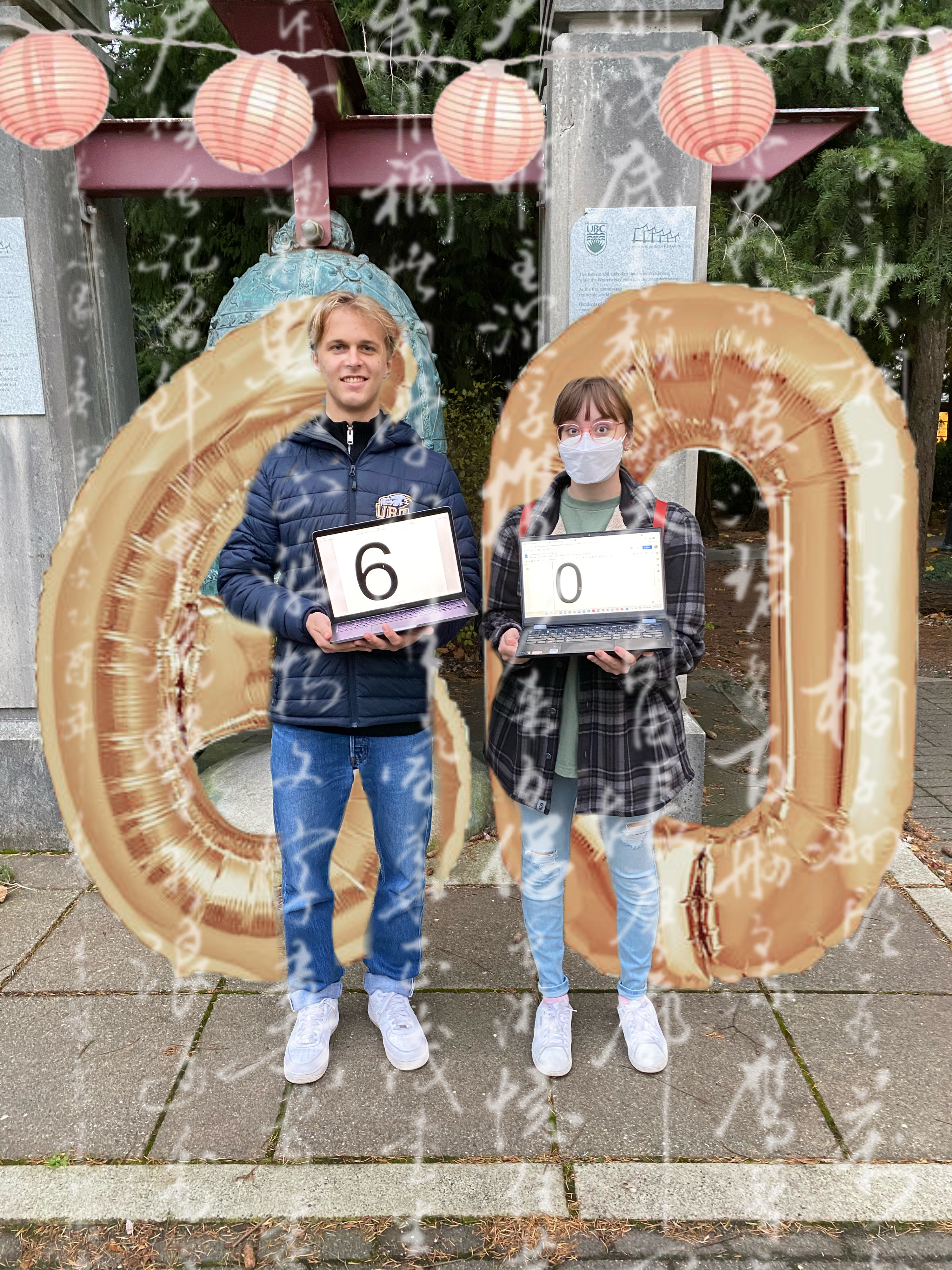 When I first visited UBC campus, I came to this place. I found the Asia Centre quite intriguing. It has been greatly enjoyable to study Asian Studies at UBC. After the exams of this term, I'd like to visit other buildings and gardens related to Asian Studies. Although it has been very busy this term, I like studying at UBC. 🙂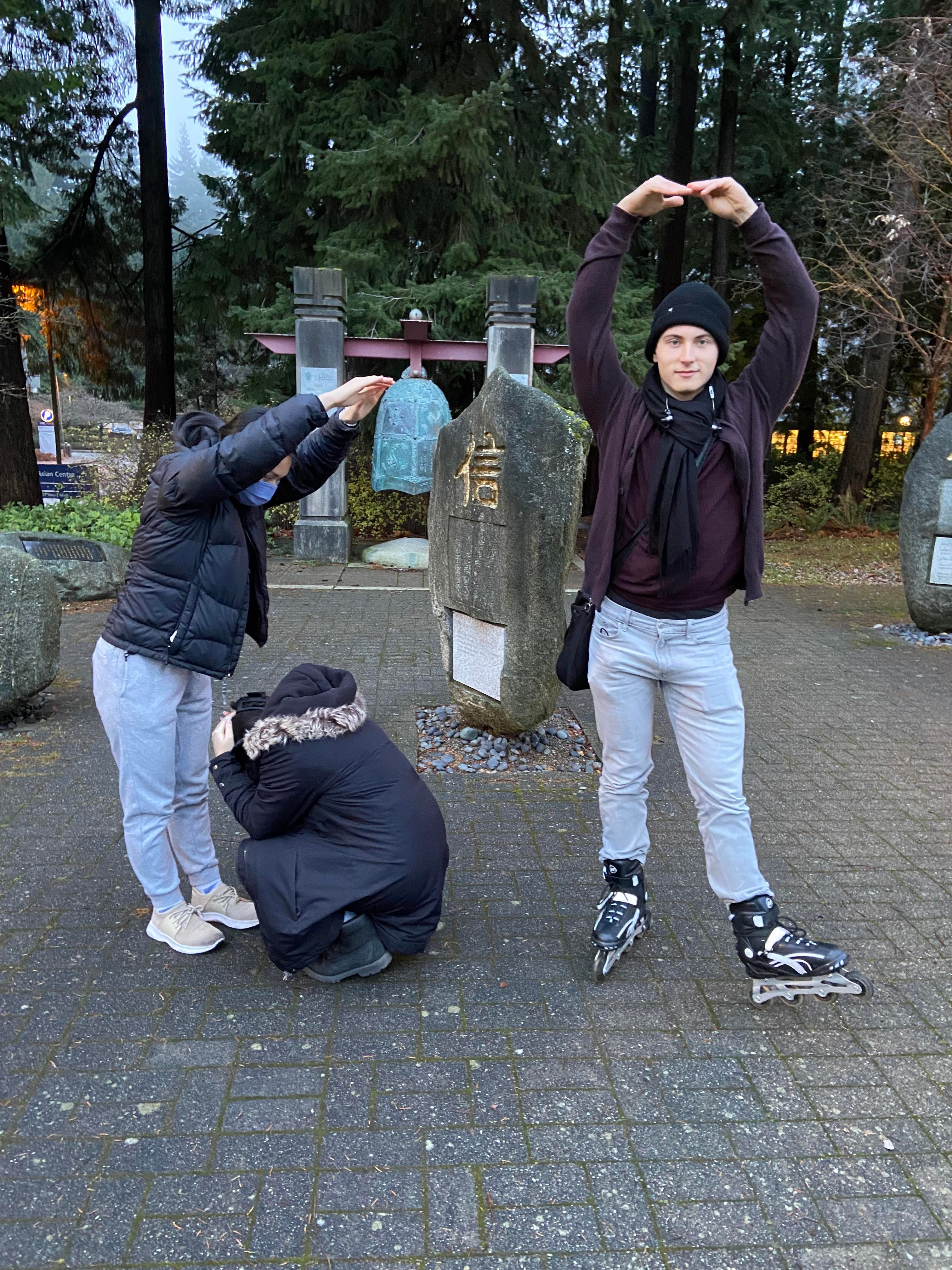 We went to the Asian Centre. Our friend also helped us make the photo, which was great. I went there in my roller skates, which was a bit difficult. But it doesn't matter, since I like visiting this place.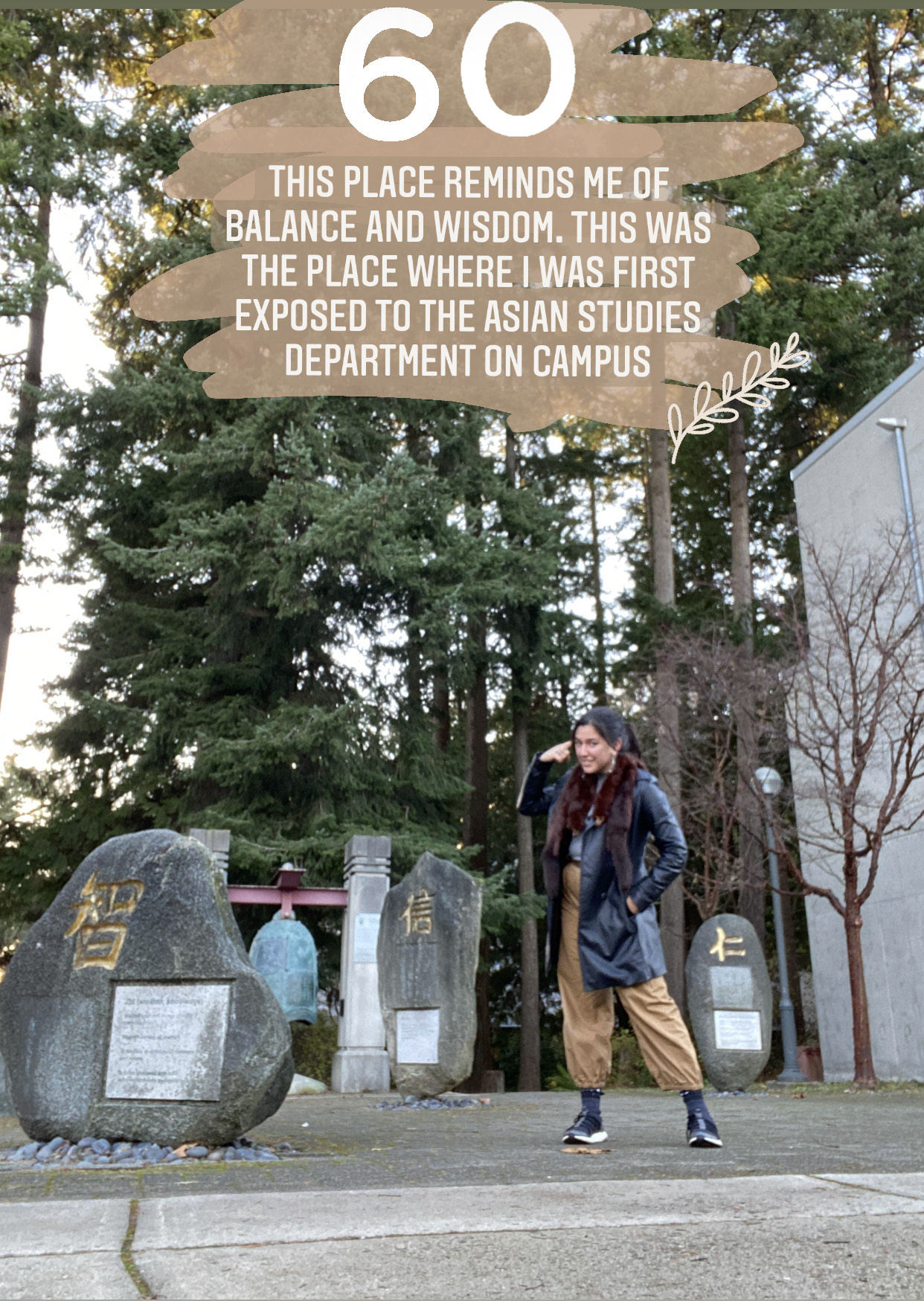 This was the first site I saw when I arrived to UBC and I thought that the building for the Asian department looked very interesting. I looked into the courses and now I take Asian studies classes.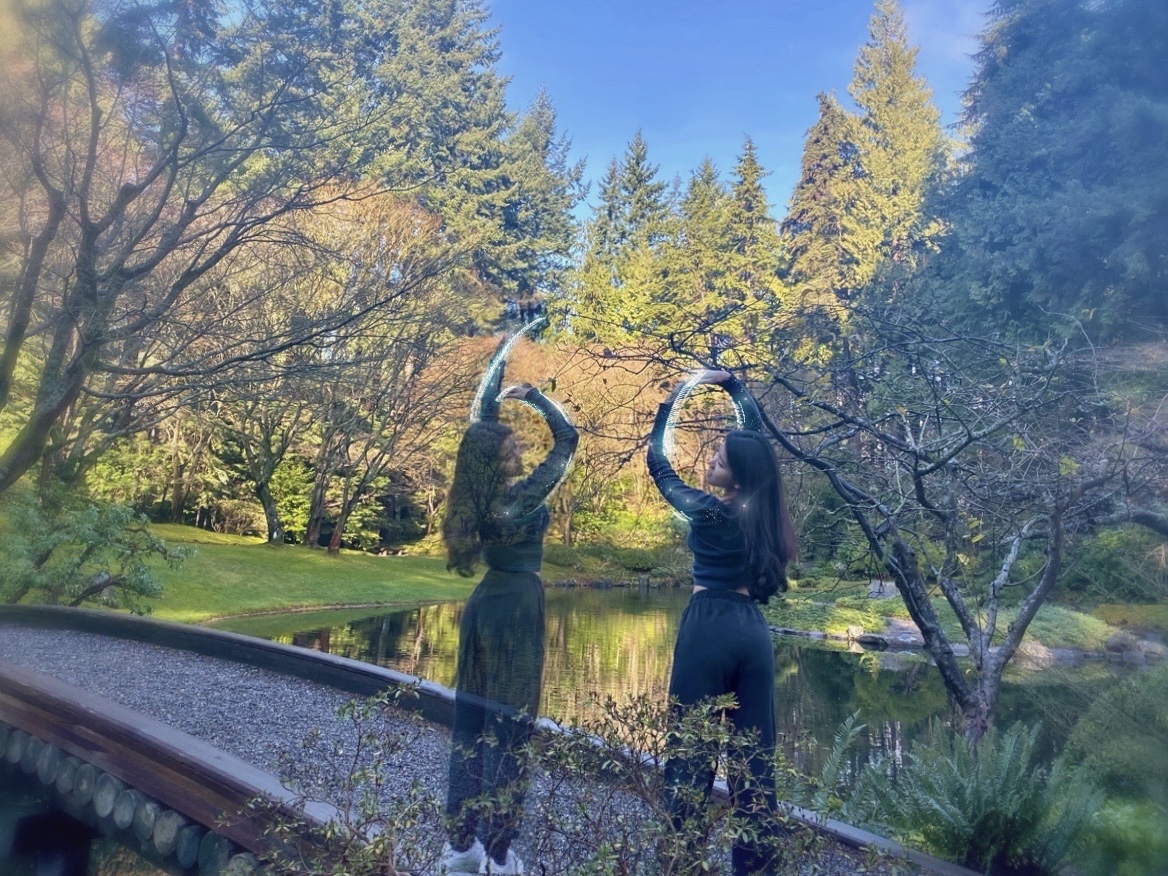 In 2019, I came to the Nitobe Memorial Garden for the first time as a senior high school student. It was a drizzly day and my first time to visit UBC. The campus was abundant in amazements of unfamiliar cultures, but the garden reminded me of the continent that was familiar to me. The convergence of eastern and western cultures that the garden embodies makes me feel calm and comfortable. In 2021, as a second-year UBC student, I paid close attention to the garden schedule and waited for a sunny day to revisit the garden. Today, I'm wandering in the garden of my memories and appreciate its Japanese ambience that pours out from inside the garden. Asian cultures are condensed in the wooden frames, and the gates are like those that can transport one to anywhere. It seems as if the garden has brought me back my home – the Asian continent. In the future, I'll be in the garden when I feel tired of studying, chat with friends, and read superb classics. Maybe in 2024, the fourth-year graduate will gather together with her family from Taiwan and share her memories and experiences over the past four years here in the garden. Perhaps this is precisely my "Peach Blossom Spring."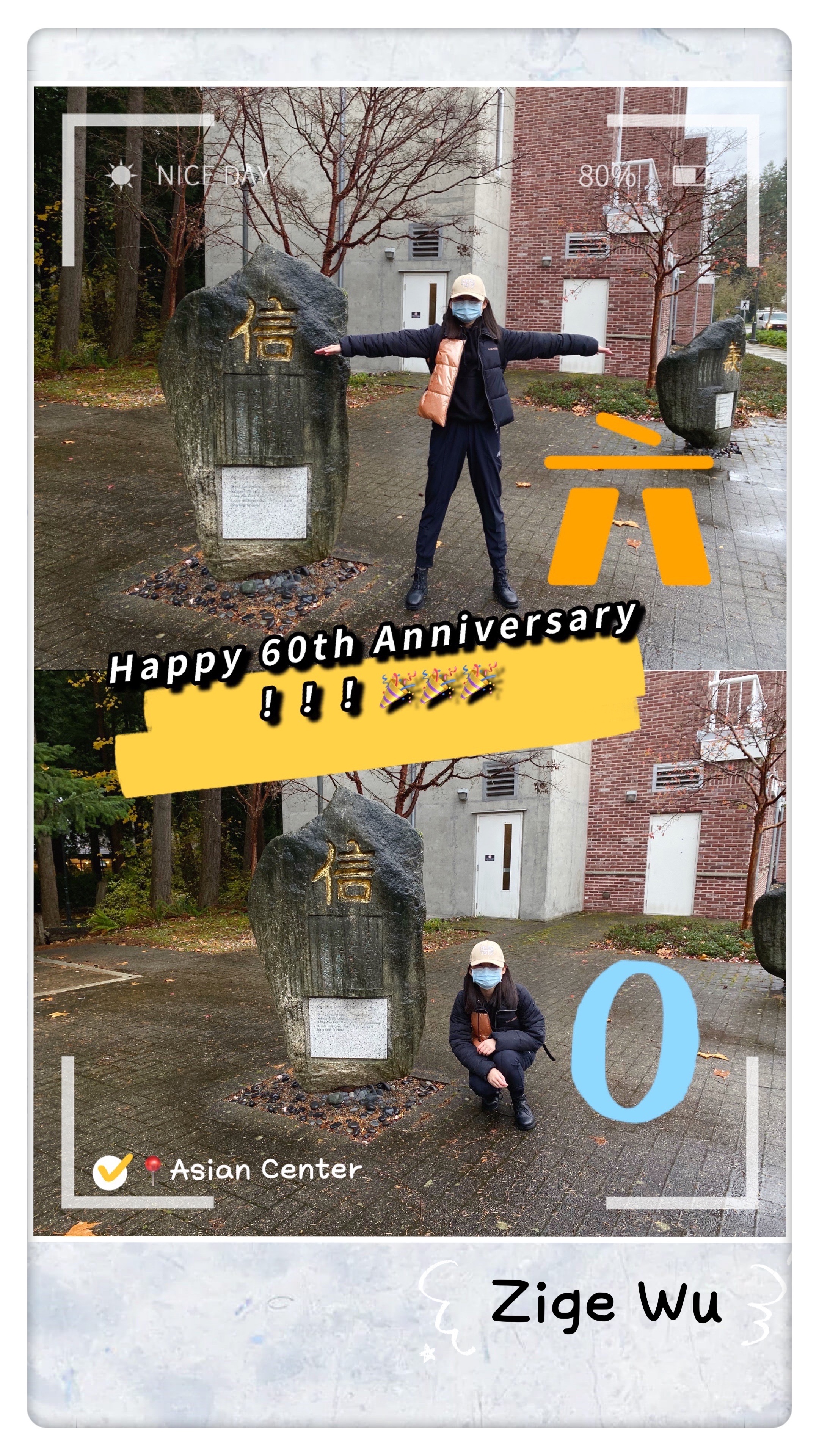 This photo was taken at UBC Asian Center. Before I took this picture, I didn't know what the place looked like, only heard about it. However, as I approached this place, I was first struck by the large stones with Chinese characters carved on them. I felt a sense of belonging, perhaps because I haven't been back to China for a long time, or because these Chinese characters remind me of learning Chinese as a child. Here, I felt the cultural exchange, there are still elements of Asian culture across the ocean. My friends and I took pictures here, hoping to store this warmth with photos. I also hope that more friends can learn about Asian culture and work together to promote the cultural diversity in the world!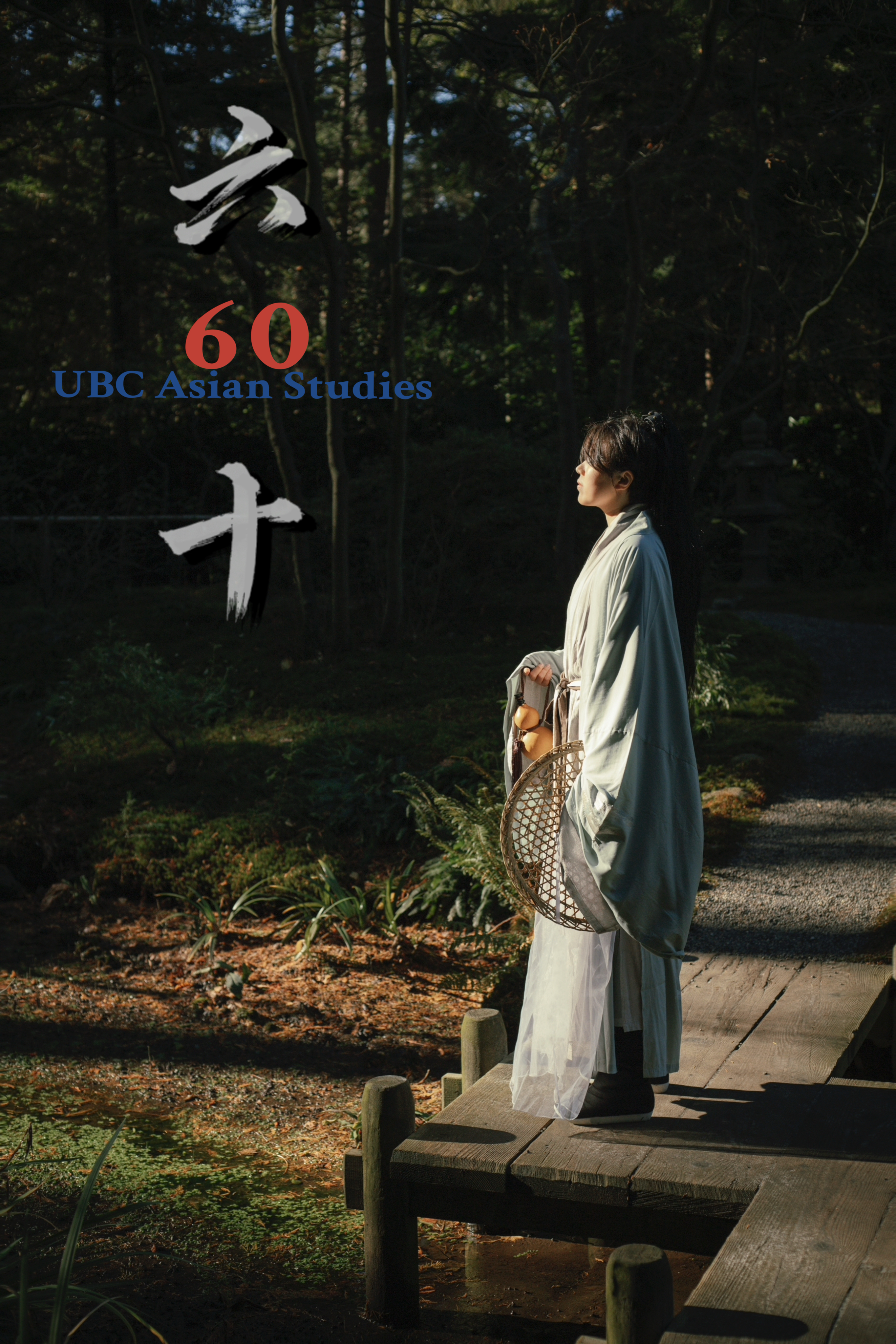 Three years ago, I was not a UBC student yet, but happened to participate in some activities held by the Department of Asian Studies. During the activities, I was greatly attracted by the Nitobe Memorial Garden. Looking from afar, I hoped to enter the garden and have a good look at the amazing scenes inside. This year, I went into the garden for the first time as a UBC student, wearing traditional Chinese Han-costume. UBC Department of Asian Studies not only represents what I looked forward to at UBC, but also the dreams of those who are passionate about Asian cultures. There are always new students coming here, and those who graduated have spent their youthful years here and made great achievement before they embark on a new journey. It has been such a pleasure to bear witness to the 60th anniversary of UBC Asian Studies, and I hope all the students passionate about Asian Studies will realize their dreams and spend their youthful years well.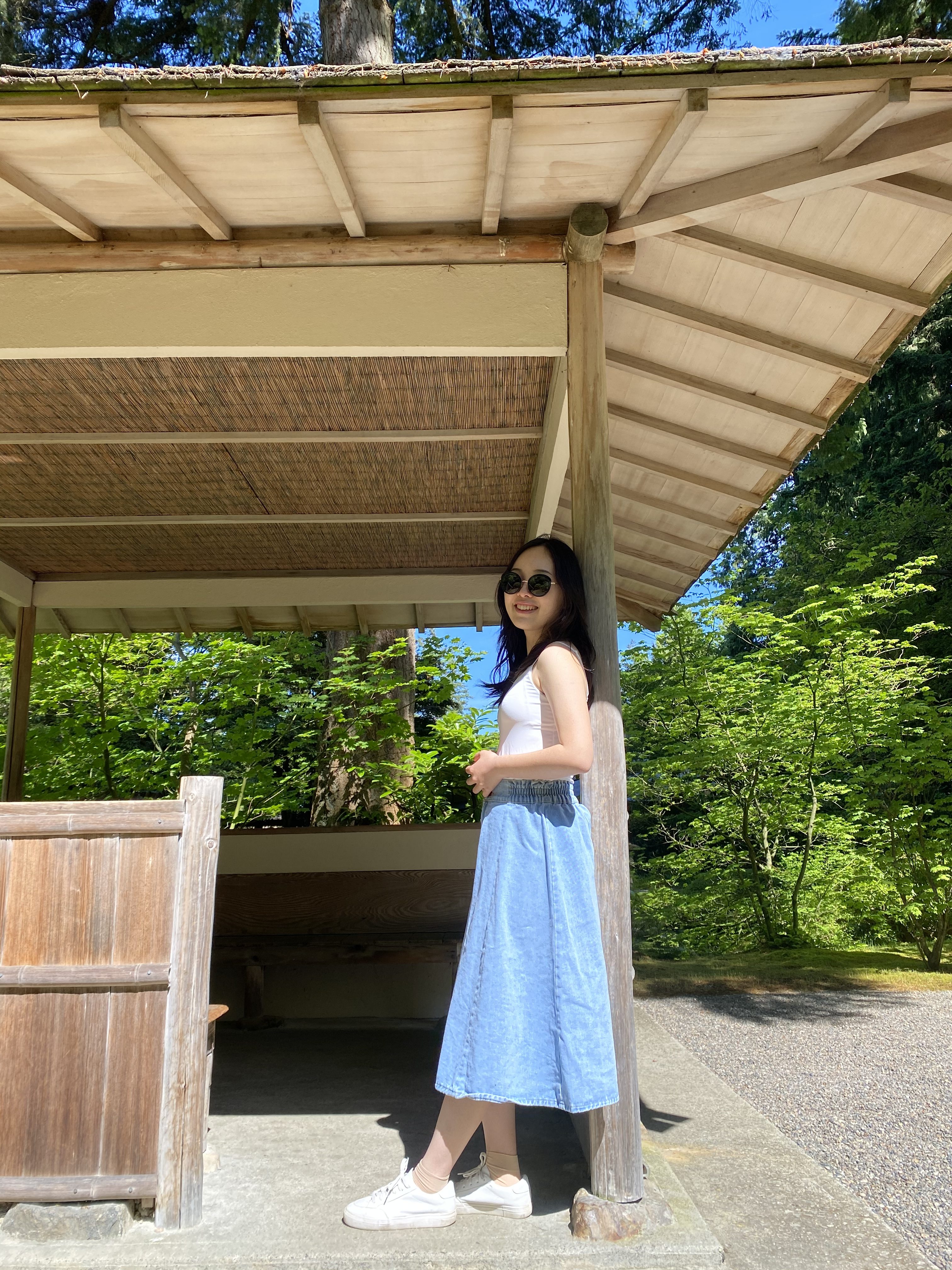 The photo was taken at the Nitobe Memorial Garden. The garden is my favorite spot on UBC campus—you can always feel a lot more refreshed and energized whenever you walk in. Summer and fall are the best time to visit 🙂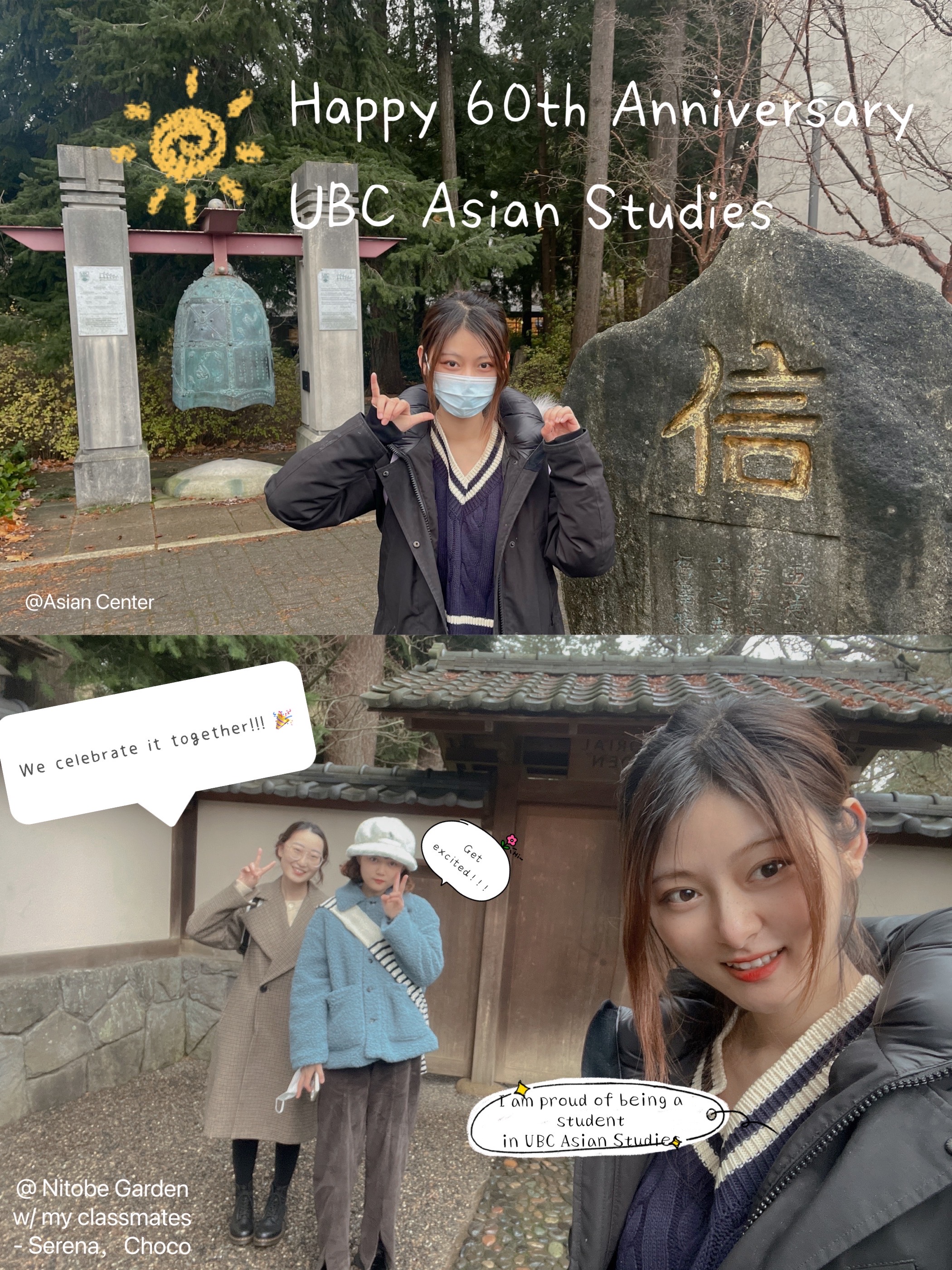 Happy 60th Anniversary UBC Asian Studies!!! We celebrate it together. Get excited!!! I am proud of being a student in UBC Asian Studies:)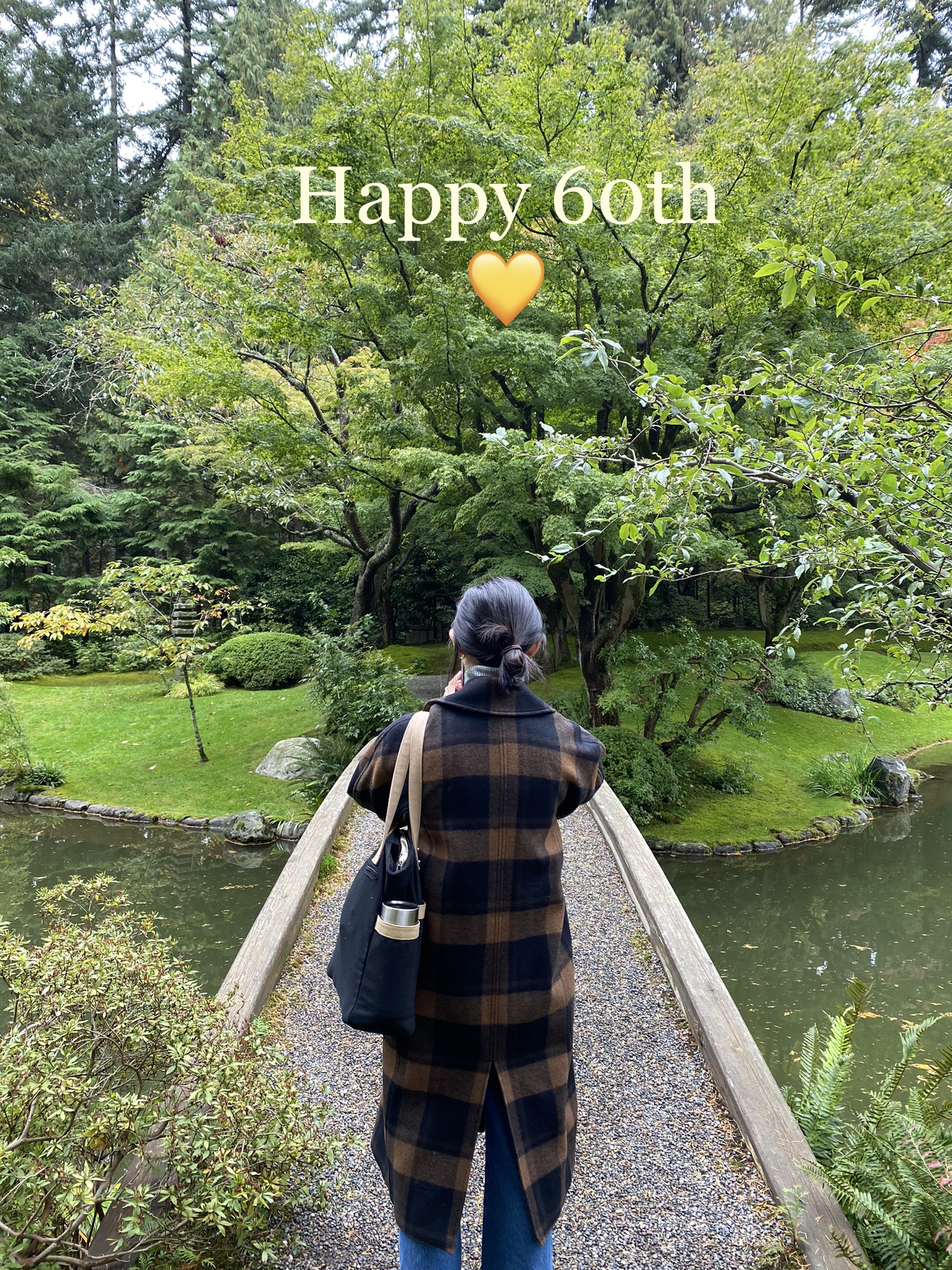 The trees and the pond here are rather beautiful. This place is very quiet and tranquil. I like to view the scenes here with my friends.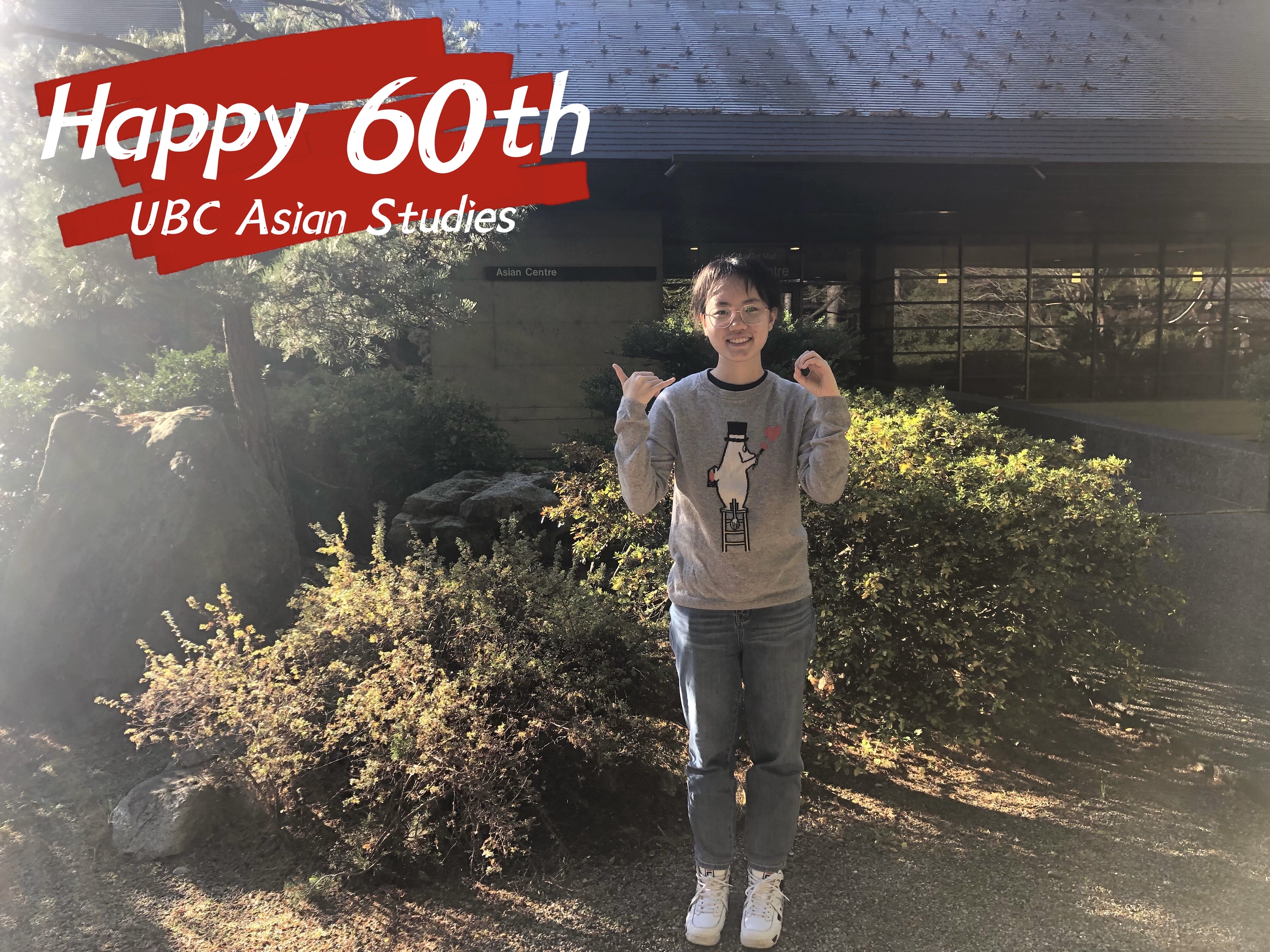 The site in the photo is UBC Asian Centre. It has a serene environment, and its library hosts a large number of Asia-related books. I often come here to study and read books after class, and I read many books related to Chinese literature and history in the library. The serene environment enables me to pay greater attention to my studies. After lunch, I often study and chat with my friends together at Asian Centre, which are my cherished memories. Wish UBC Asian Studies a Happy 60th Anniversary.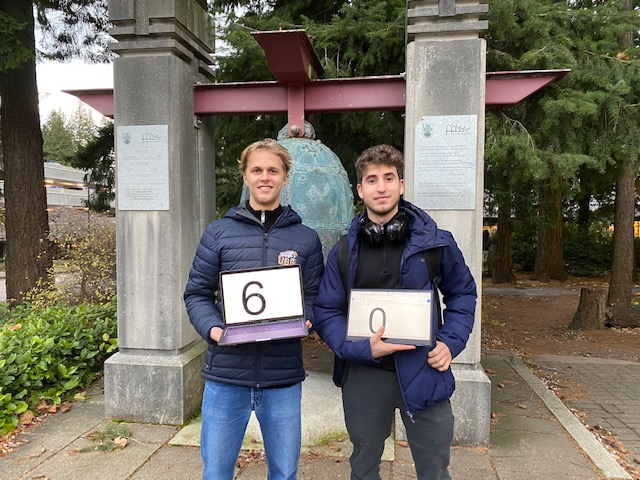 Before I came to UBC, I often visited many scenic sites on campus, because I aspired to attend UBC. I frequented UBC Asian Studies and thought it was rather gorgeous. I'm very excited to study here!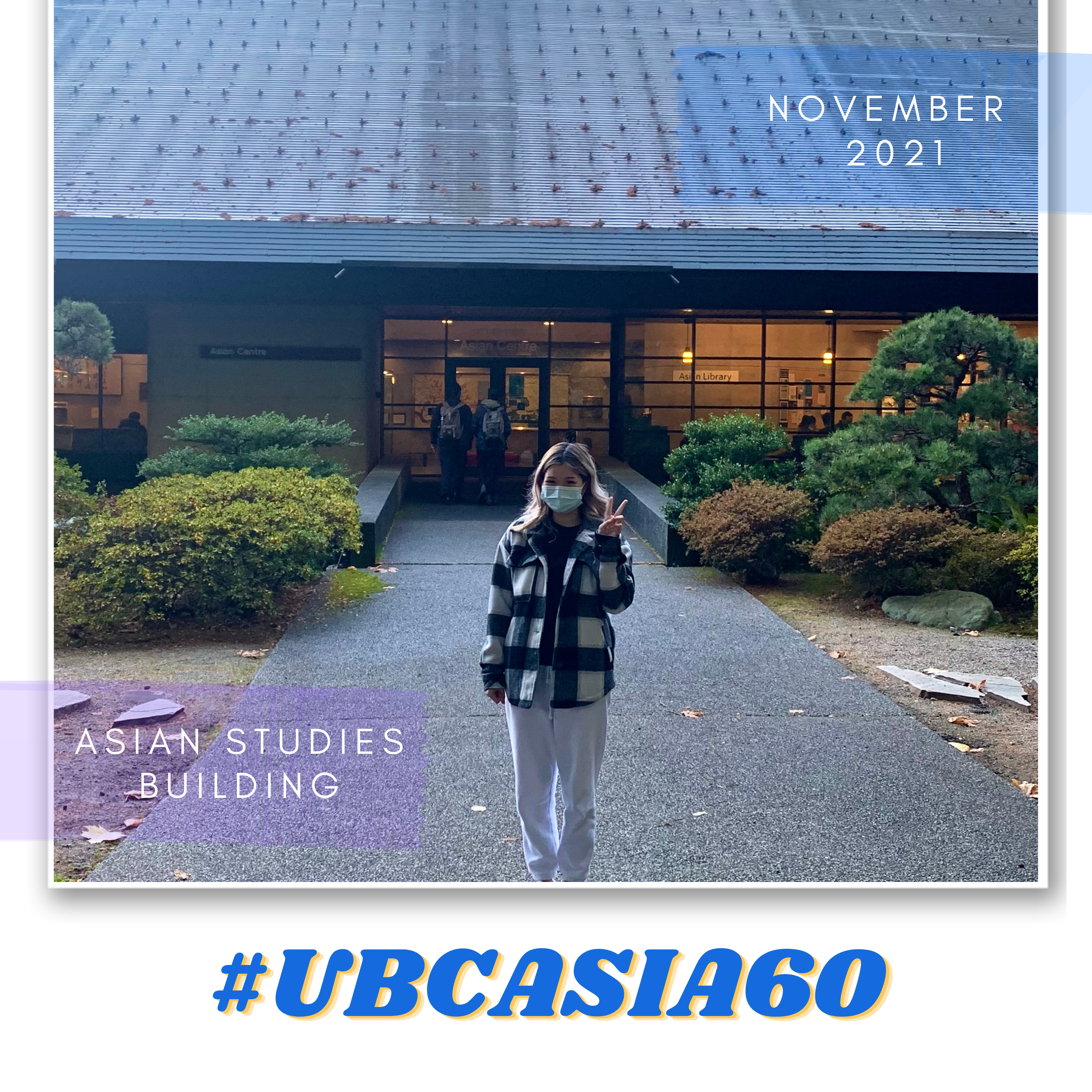 Hi everyone, please pay a visit to the Asia Centre on the UBC campus! You'll see a lot of gems related to Asian cultures, and I think this is a gorgeous and stimulating place!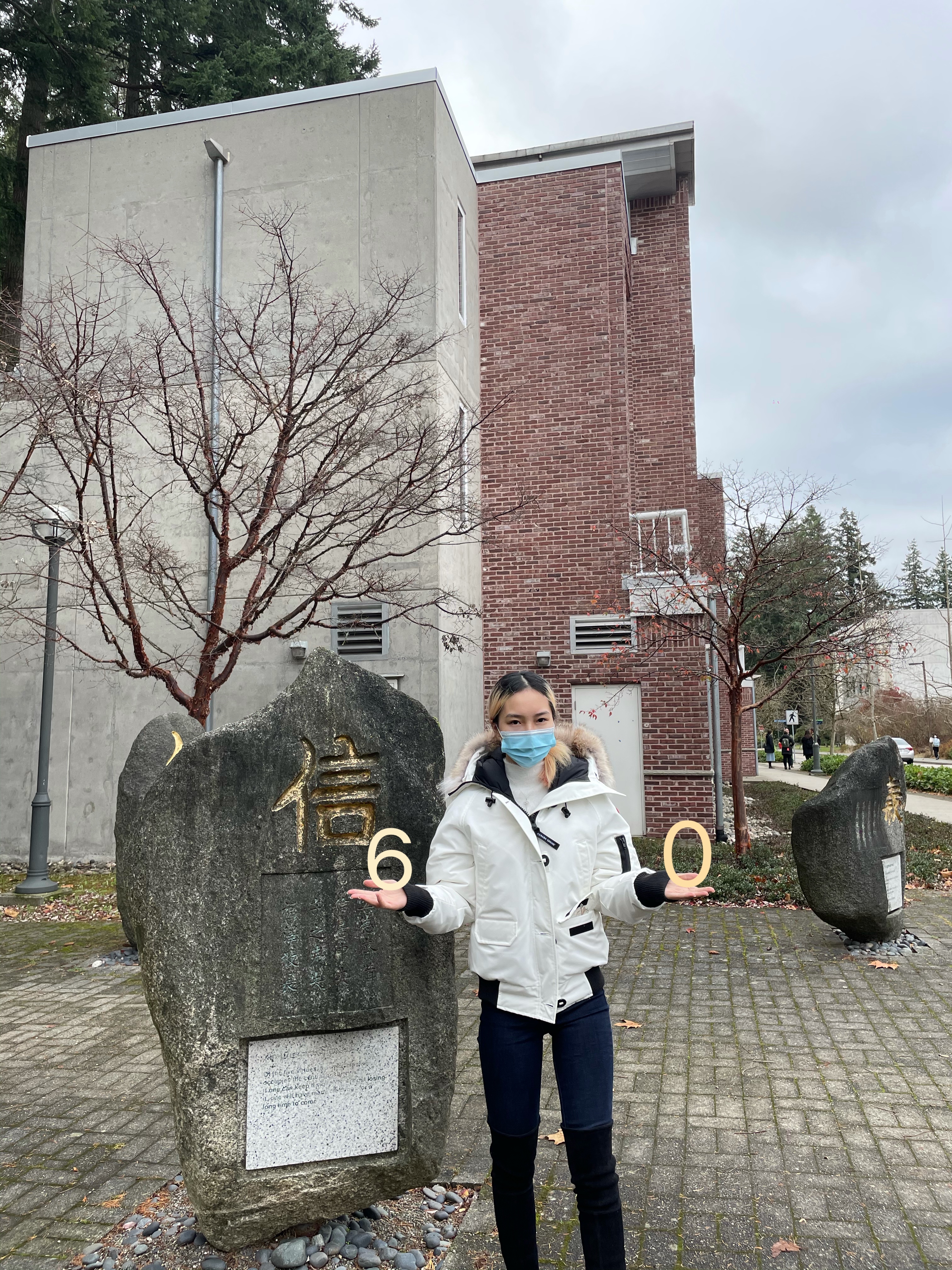 It was my first time visiting this place. I was very happy to see Chinese characters on campus, which make the profound Chinese cultures seen by more people. The five stones embody the five virtues. In Confucius's Analects, the Master said, "I do not know how a person without trustworthiness is to get on." Trustworthiness is not only a traditional virtue in China, but also worth adhering to by everyone. I have chosen to stand beside the word "Trustworthiness" to express my best wishes to the 60th anniversary of Asian Studies in the photo.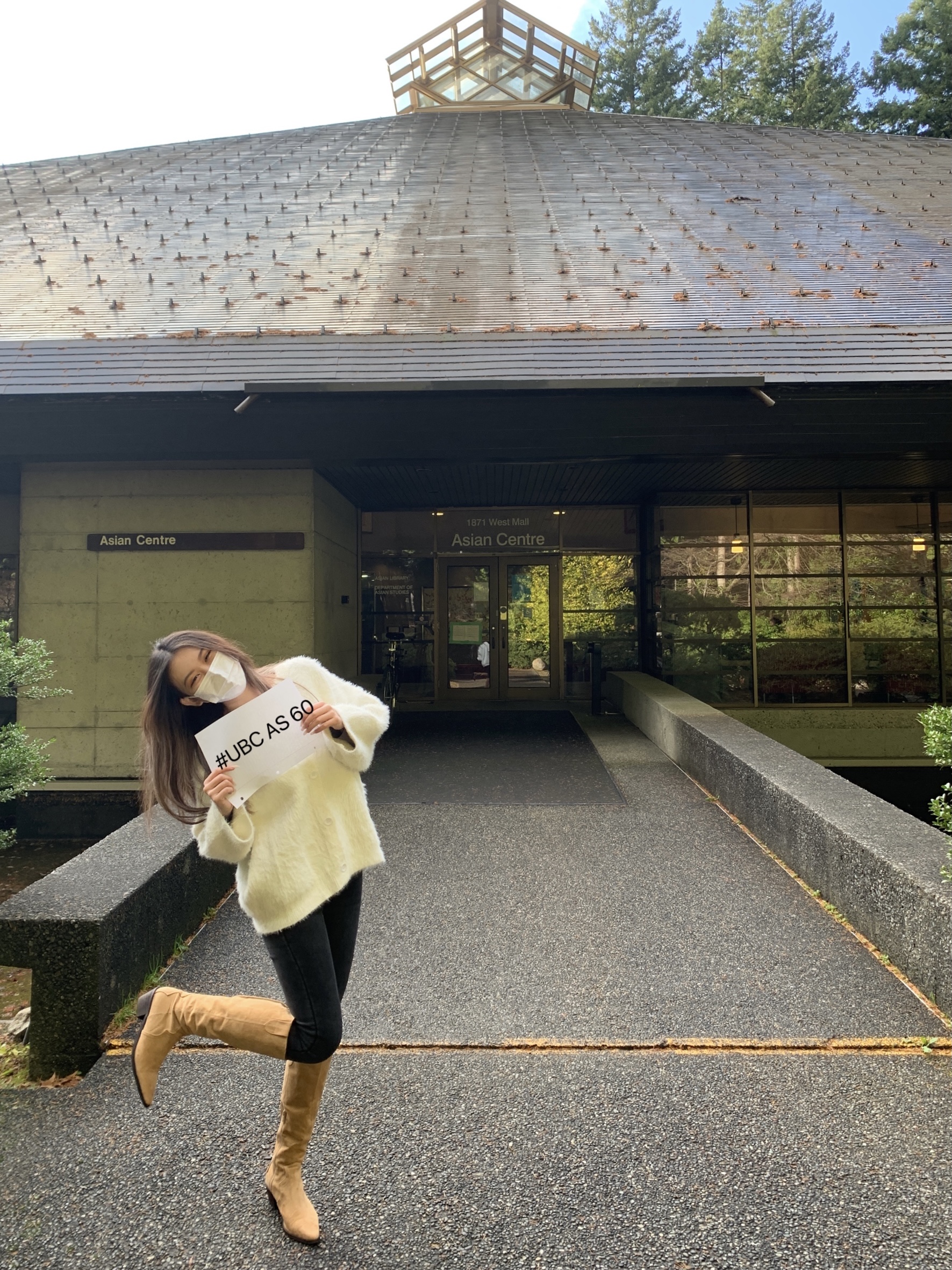 I took the course CHIN481 003: Modern Chinese Literature I offered by the Department of Asian Studies and read some literary pieces by Eileen Chang, from which I learned a lot. For instance, when reading her short story "Sealed Off," I was deeply attracted by the ambience she created, as if I was witnessing what happened in the story. I'd like to read more works by Eileen Chang and learn from her writing style.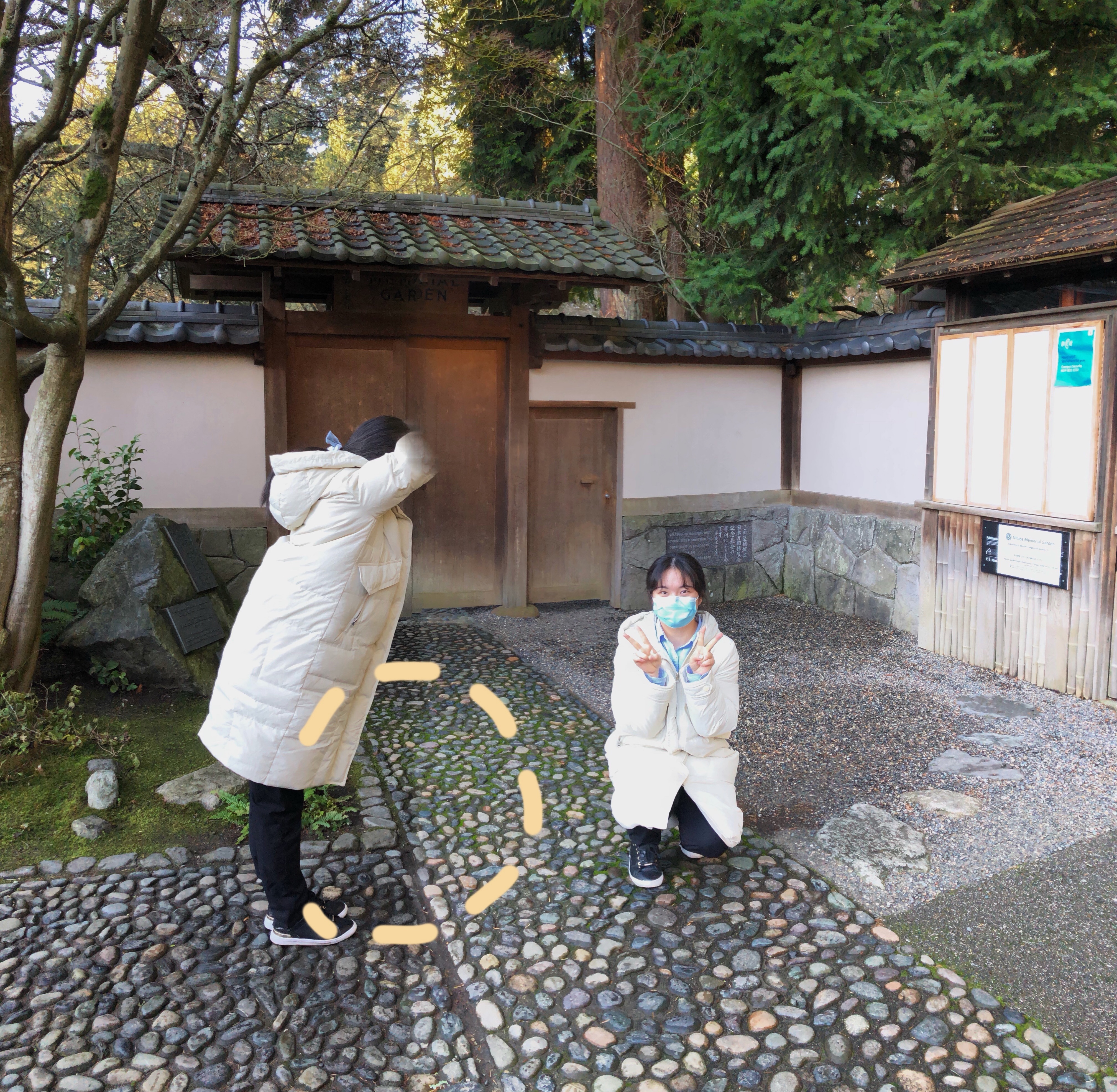 At this time last year, the pandemic has spread across the globe so that UBC has migrated all its courses online. Then, the majority of my friends went back home, and only one stayed behind. When feeling tired after online classes, I often explored the excellent scenic spots on campus with this friend. Previously, we heard about the mysterious Nitobe Memorial Garden and longed for visiting it sometime. But due to schedule adjustments, we haven't been able to enter the garden together. We viewed the maple leaves dyed by the sunset and ate cherry-flavored sunshine on the beach, but we haven't been able to wander in the garden together. Maybe just as Murakami Haruki said, "amazing things in the world are worth waiting." We hope that when spring blossoms bloom next year, our dream will come true so that we can pay a visit to the Nitobe Memorial Garden and appreciate its charms.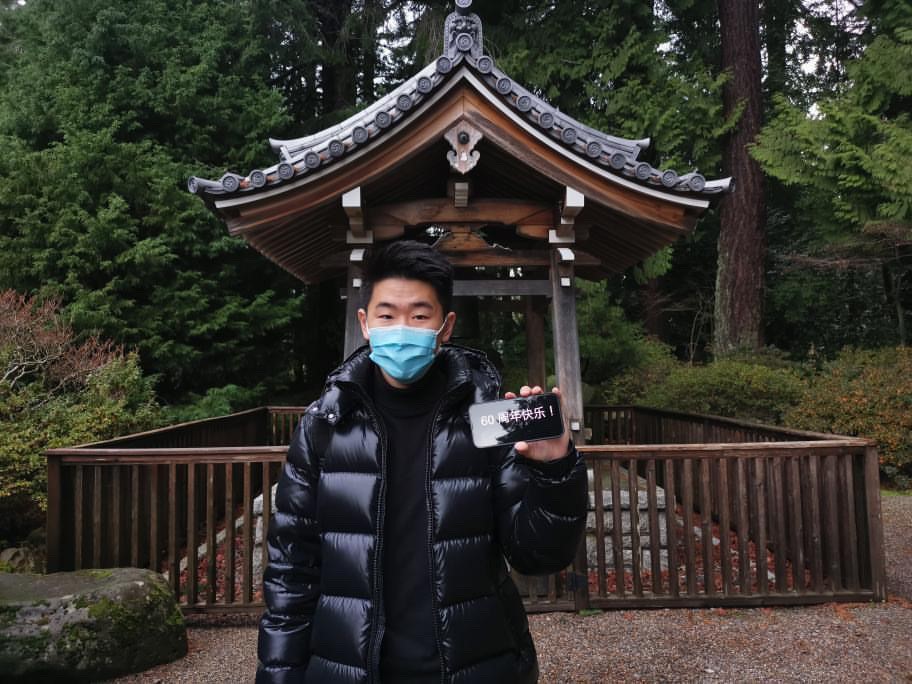 It's wonderful that I take the Chinese class this term. I think the park outside UBC Asian Studies is both elegant and gorgeous!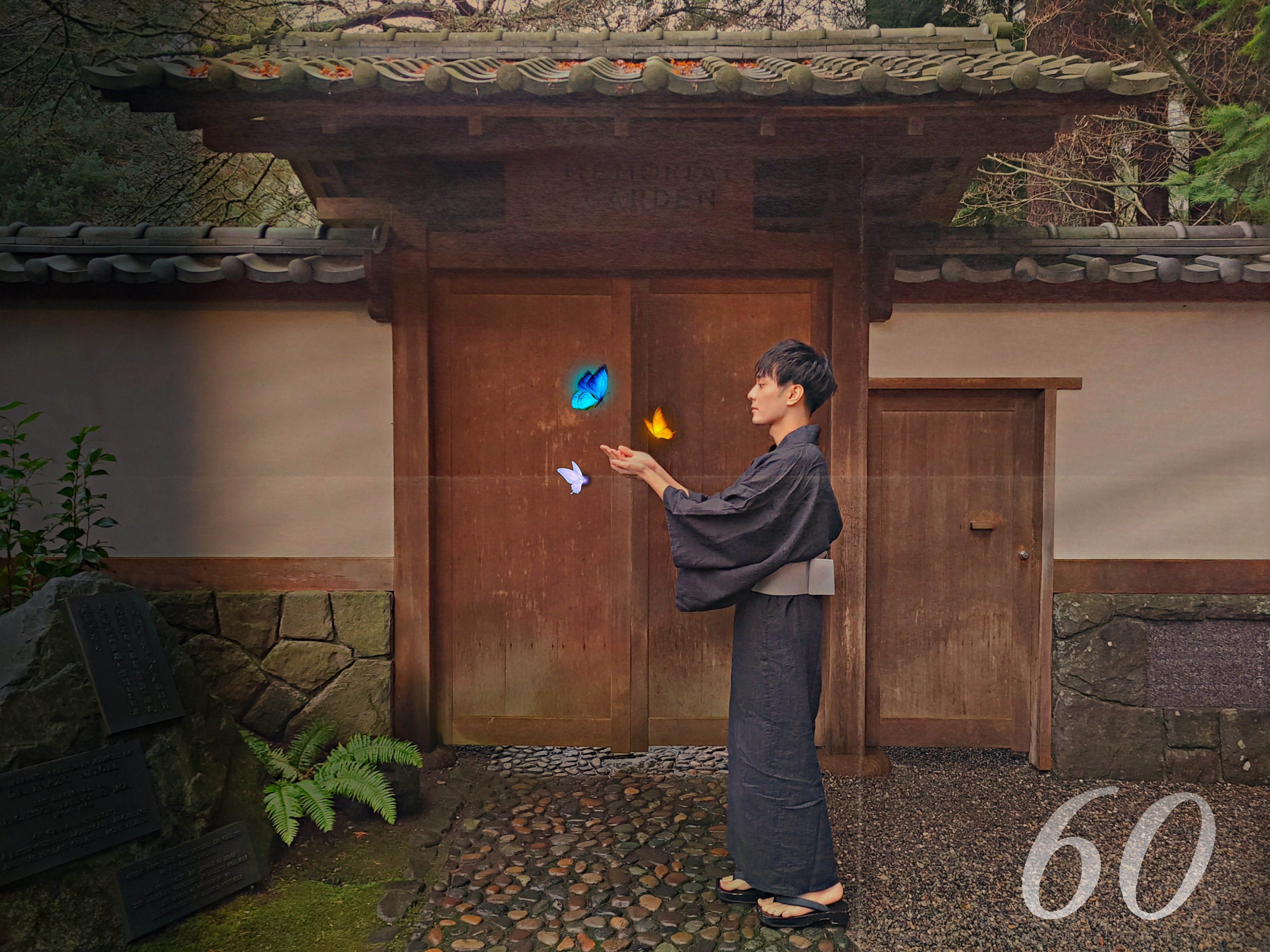 A promise to my friend: Our time together may be short, but our memories made here will last forever.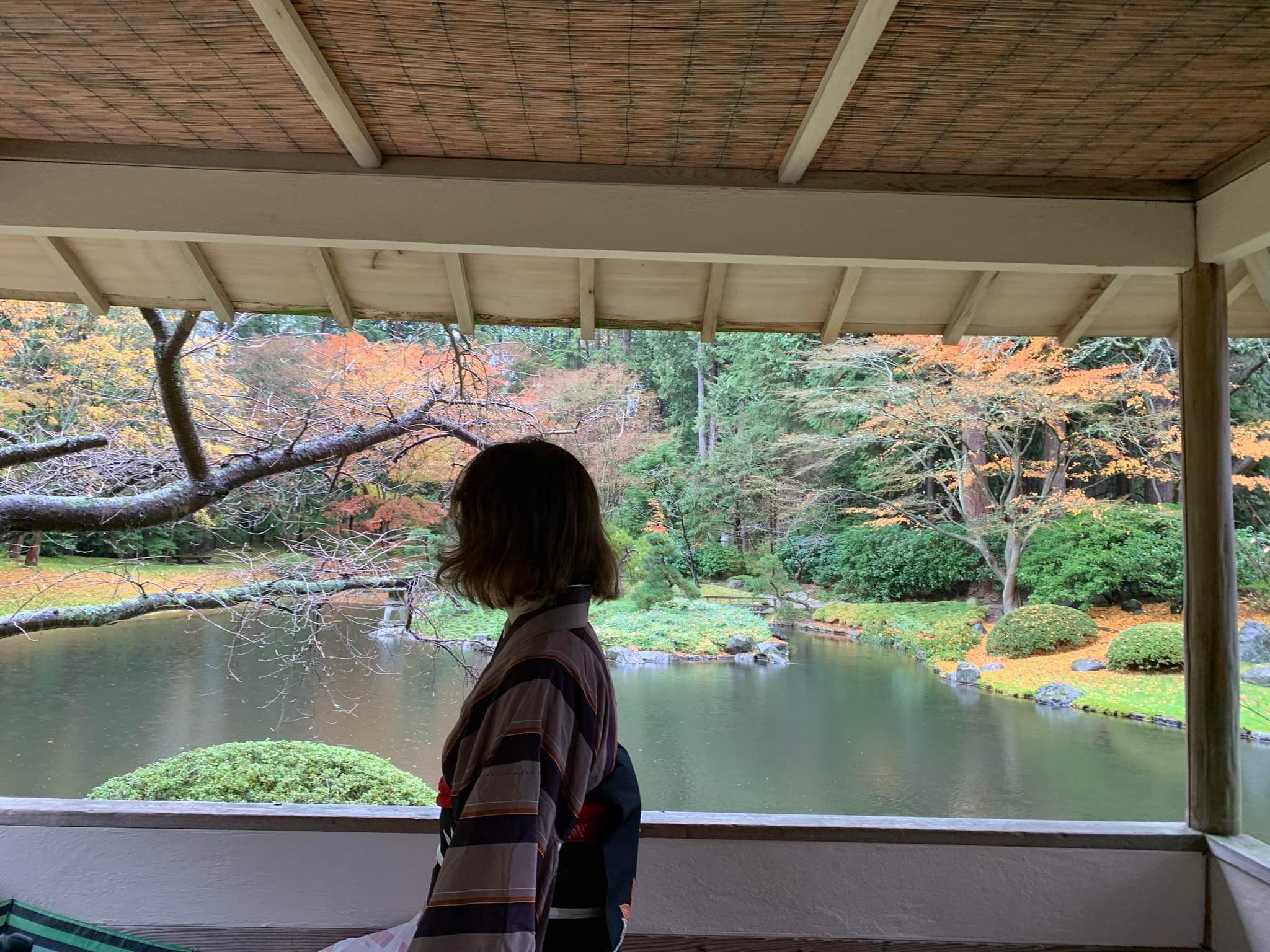 Wearing Kimono in Nitobe Garden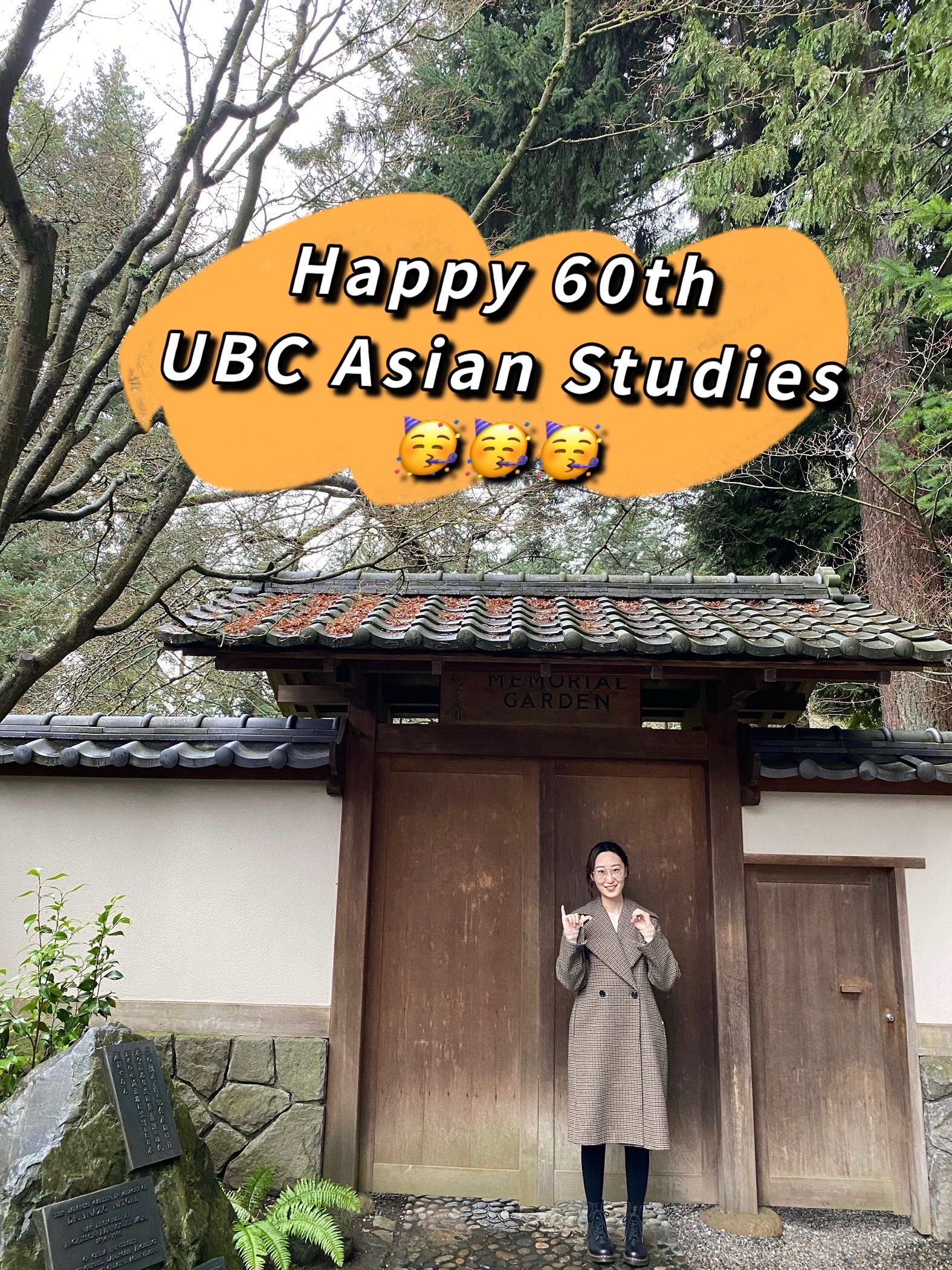 I went with my friends from CHIN 481 to the Nitobe Memorial Garden the other day. But it was such a pity that the garden was not open on that day 😭😭 Luckily, I visited this Japanese-style garden in 2019. The house inside is a Japanese-style building. The garden is not big, but very intricate – each and every plant seems to be carefully trimmed. It is separated from other parts of UBC campus by just a wall, out of which are modern teaching buildings, within which is a traditional and tranquil Japanese garden. Upon entering it, one seems to be transported back to Asia. I've never been to Japan, but thanks to this garden, I've vividly felt the beauty of Japanese gardens and the beauty of Eastern architecture. Happy 60th Anniversary to the UBC Department of Asian Studies! 🥳🥳 I hope more people will get to understand Asian cultures! 🙌🏻 🙌🏻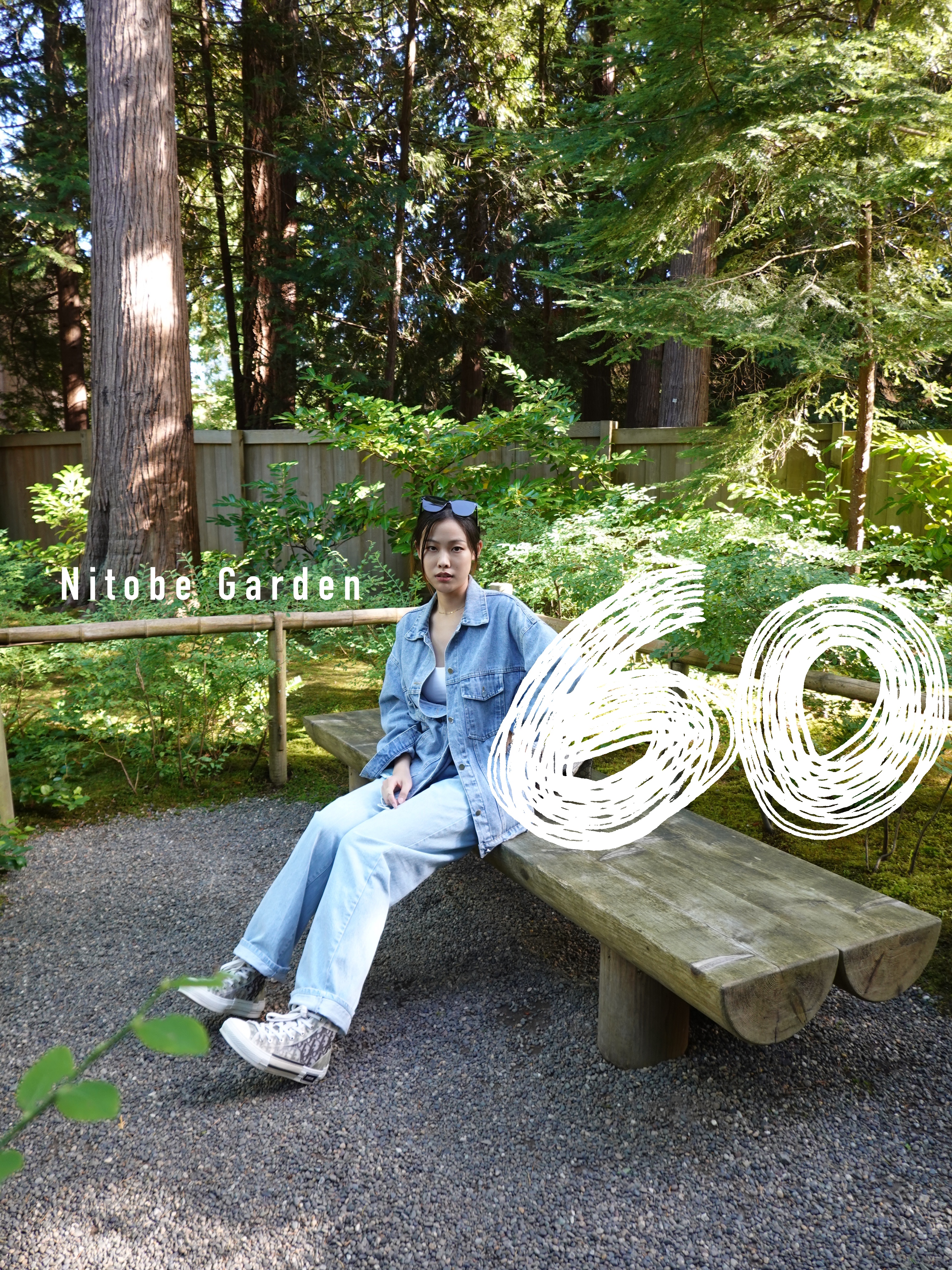 The Nitobe Memorial Garden is a Japanese-style garden hidden in UBC campus. I heard about it when I was a first-year student three years ago, but had no opportunity to explore it until this event as a fourth-year student. It's cozy and delicately designed, with exuberant verdancy. Differing from other parks, the ground is strewn with fluffy and soft algae, which appeared to be a huge carpet. I greatly enjoy the tranquil and harmonious atmosphere inside the garden, which coincides quite well with my expectations of a Japanese-style garden. I would love to frequent the garden from now on.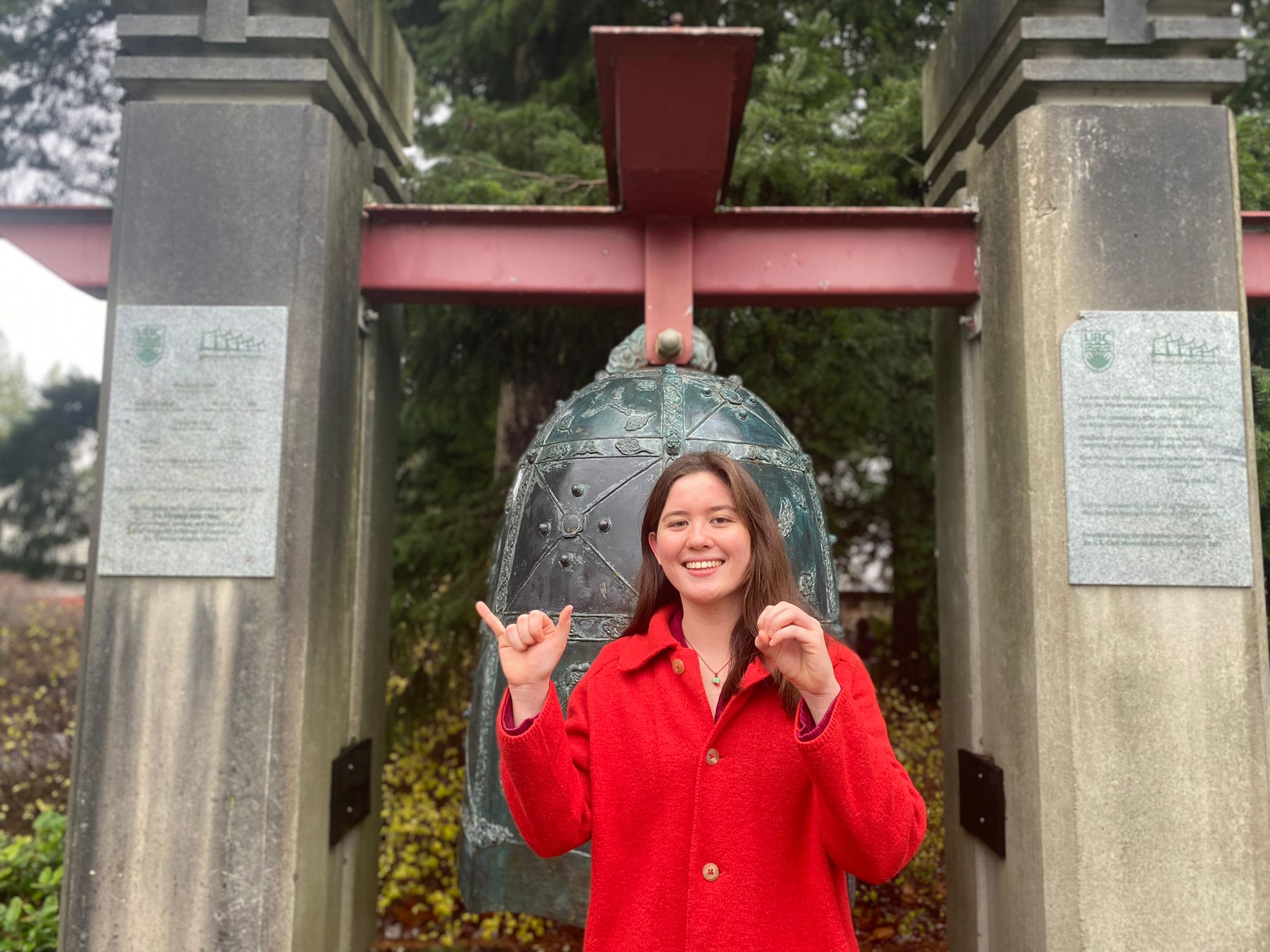 In this photo, I stood by the bell beside the C. K. Choi Building on campus. The bell hangs right at the entrance of the lane to the Asian Library. When I was in my first year, I often walked to the dorm and classrooms via this lane because of my dorm's location. The lane is paved with pebbles, beside which there are tall trees rising up to the sky. It's very serene, transporting me to another world and making me oblivious of a day of exhaustion and concern.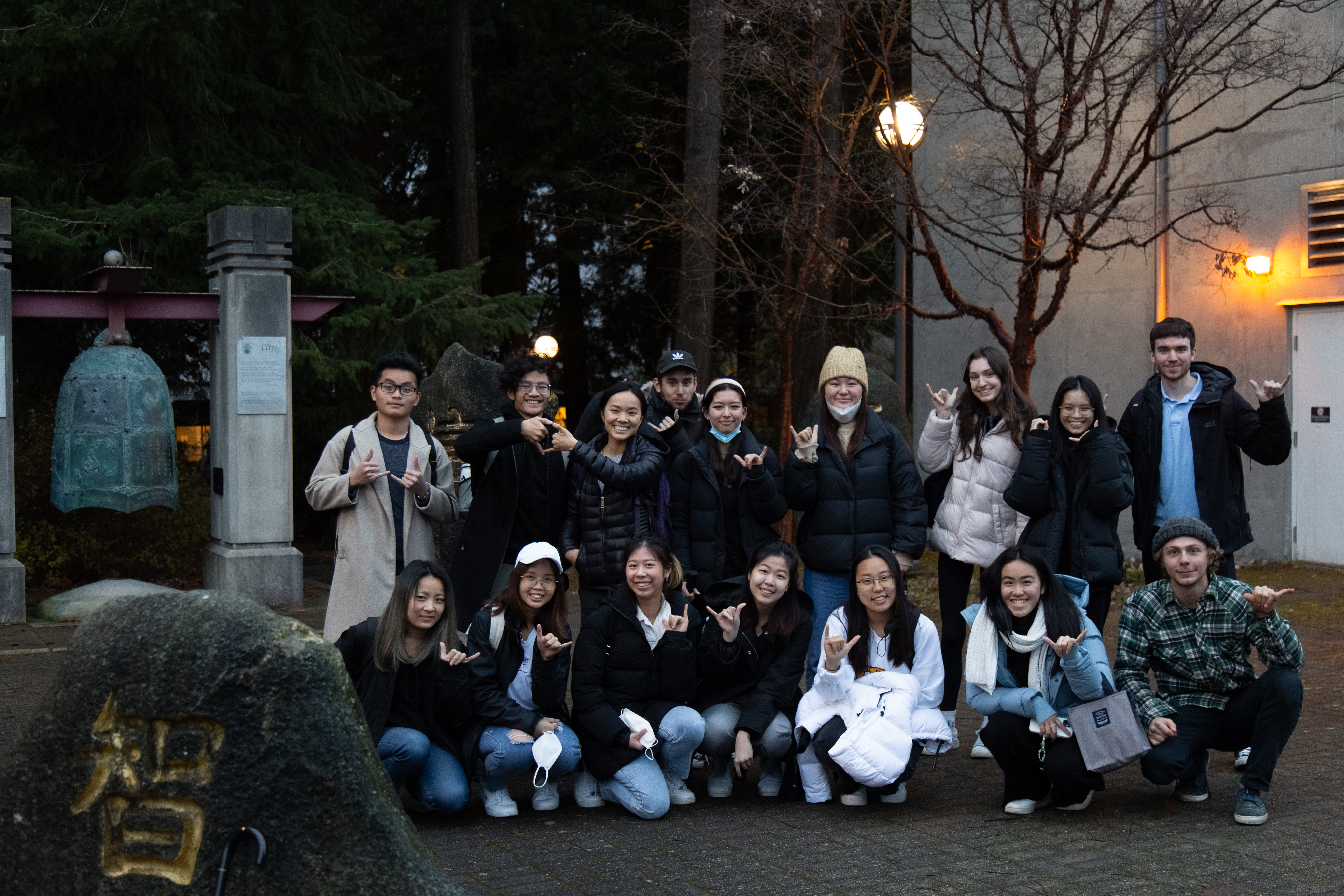 On Thursday, I went to the Asian Centre with my teacher and classmates. Before that, I hadn't visited there. I find the Department of Asian Studies deeply intriguing thanks to its offering of Japanese, Chinese, and many other courses. Besides taking a diverse range of courses, we can also get to know lots of people from other countries. Taking this photo enabled me to meet many new friends. So, I find the events of Asian Studies rather beneficial.