The 2013/14 Yip So Man Wat Memorial Lecture
with Professor Pai Hsien-yung (University of California, Santa Barbara)
Lecture: Father and the Republic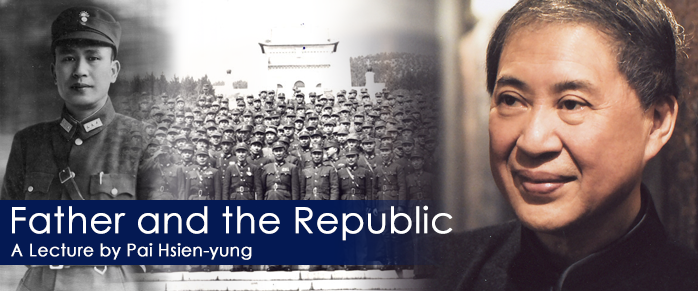 Father and the Republic is a photobiography devoted to the life and career of the late General Pai Ch'ung-hsi (Bai Chongxi; 1893–1966). General Pai's career both paralleled and profoundly influenced the history of the Republic of China: As an eighteen-year-old military cadet in 1911, he joined a "Dare-to-Die" corps that marched to Wuhan to take part in the Wuchang Uprising and helped overthrow the Qing dynasty (1644–1912); in 1928, as Chiang Kai-shek's one-time Chief of Staff, General Pai fought his way into Beijing and brought the Northern Expedition to a successful conclusion; in 1938, as Commander of the Republic's armies in northern China, he gave the Japanese Army, at the Battle of Taierzhuang, what was later called "the worst defeat it had suffered in modern times"; and in the winter of 1939, as commander of forces in Guangxi, General Pai was instrumental in wiping out one of Japan's elite units.
During the Civil War, after routing the army led by Lin Biao (1907–71) in 1946, General Pai argued for the pursuit and destruction of the retreating Communist forces. But, under the pressure of General George Marshall, Chiang Kai-shek ordered a ceasefire, thus allowing the Communist Army to recover Manchuria and, in time, conquer mainland China. In 1949, General Pai commanded the Nationalists' last operational forces on the mainland before withdrawing to Taiwan, where the Republican government's standoff against Communist China continues to this day.
General Pai was immensely popular in China during the war and was recognized as the most brilliant military strategist of his generation, a distinction exemplified by his nickname "Little Zhuge" (a reference to the fabled strategist Zhuge Liang of the Three Kingdoms period). But his military career was overshadowed by a long and complicated relationship with Chiang Kai-shek, who resented his brilliance and kept him under constant surveillance after the Republic's retreat to Taiwan.
Father and the Republic includes nearly six hundred photographs (many appearing in public for the first time) that serve to illustrate the public career and family life of General Pai from the 1920s to his days in Taiwan. As a witness to the birth of the first republic in Asia, Pai Ch'ung-hsi felt an unwavering sense of loyalty to it and chose to stay on in the Republic's last foothold in China. General Pai was also a devout Muslim, and his death in 1966 was honored with a state funeral held in accordance with Muslim customs.
Wednesday, October 2nd, 2013
7:00pm-9:00pm (Pacific Time)
Old Auditorium, 6344 Memorial Road, Vancouver, BC
Free & open to the public. Registration is now closed.
---
Events in Conjunction
Father and the Republic (in Mandarin)
Sunday, September 29th, 2013
2:30pm (Pacific Time)
Richmond Public Library (Brighouse), 7700 Minoru Gate, Richmond
Free & open to the public. Registration is now closed.
"Peony Pavilion" on the World Stage: A Conversation with Pai Hsien-yung
Monday, September 30th, 2013
4:00pm (Pacific Time)
Asian Centre Auditorium, UBC, 1871 West Mall, Vancouver
Free & open to the public. Registration is now closed.
The Making of "Taipei People": A Historical Perspective
Thursday, October 3rd, 2013
2:30pm (Pacific Time)
Asian Centre Auditorium, UBC, 1871 West Mall, Vancouver
Free, only open to UBC students. Registration is now closed.
---
About the Speaker
Son of the prominent military general Pai Ch'ung-hsi (Bai Chongxi), Pai Hsien-yung grew up in Guilin, Shanghai, and Hong Kong during the war years of the 1930s and 1940s. His family eventually resettled in Taiwan, where he received the remainder of his early schooling. Pai Hsien-yung is a graduate of the National Taiwan University (1961), where he co-founded the literary journal Xian dai wen xue (Modern Literature). The journal launched the modern literary movement in Taiwan and subsequently had a great impact on both Hong Kong and China. In 1965, Pai received a master's degree in fine arts with a specialization in creative writing from the famed Writer's Workshop at the University of Iowa. That same year, he joined the faculty of the University of California at Santa Barbara, where he remained active as a teacher, creative writer, and scholar until his retirement in 1994.
Pai Hsien-yung is recognized as one of the most important modern Chinese fiction writers. His works, comprising several dozen volumes, include short story collections, novels, screenplays, and critical essays; among his more notable works are Taibei ren (Taipei People), Nie zi (Crystal Boys), Niuyue ke (New Yorkers), and the stage play You yuan jing meng (Wandering in the Garden, Waking from a Dream). His fiction, set against the backdrop of the great national dramas and tragedies that mark the history of twentieth-century China, explores, among other topics, problems of Chinese identity, migration and nostalgia, and sexuality. Ever innovative and daring, his works examine a startling range of subjects and lifestyles, from the "last aristocrats" of displaced mainlander Chinese in Taiwan and Manhattan in the 1950s and 1960s to the homosexual youth counterculture of Taipei in the 1980s. His novels and short stories have been adapted into full-length films, television series, and stage plays; and his fiction has been translated into English, French, German, Italian, Dutch, and Japanese. In addition to his other creative activities, Pai Hsien-yung has become a leading promoter of the revival of Kunqu opera, and his own production of the sixteenth-century drama "The Peony Pavilion" has been performed more than two hundred times worldwide, winning high critical acclaim.
His most recent endeavor has been the completion of a photobiography of his father, Fu qin yu Min guo (Father and the Republic), which was published simultaneously in Taiwan, Hong Kong, and mainland China in 2012. The publication of the book was a major milestone, which the noted historian Diana Lary has called "a harbinger that a serious reconsideration of China's history of revolution can be discussed in public… [and that] a clearer understanding of modern Chinese history [can be achieved]."
---
About the Yip So Man Wat Memorial Lecture
The Yip So Man Wat Memorial Lectures are made possible by the generous support of Messrs. Alex and Chi Shum Watt in honour of their mother, the late Mrs. Wat, and her passion for Chinese literature and culture. Please visit the full lecture list here.