2020/21 John Howes Lecture in Japanese Studies
With Guest Speaker Professor Daisuke Miyao
(Professor and Hajime Mori Chair in Japanese Language and Literature at the University of California, San Diego)
Nouvelle Japonisme: Le Samouraï (1967) and Jean-Pierre Melville's Cinematic Japan
Thank you to everyone who attended! The recording can be viewed on YouTube via this link here.
Date & Time:
Monday, February 1 | 5:30pm (PST)
Monday, February 1 | 8:30pm (EST)
Tuesday, February 2 | 9:30am (CST)
Location:
Online via Zoom
Presented in English
Free & open to the public. Registration required.
Lecture abstract:
French New Wave, the art film movement that emerged in the late-1950s France, had a curious obsession with Japan. Cahiers du Cinéma's adoration of Mizoguchi Kenji, Alain Resnais's Hiroshima mon amour (1959), Chris Marker's Sans Soleil (1983) to name a few. By focusing on Jean-Pierre Melville's acclaimed 1967 film Le Samouraï, this talk examines what Melville's allusion to the samurai seeks to signify. Despite its title, Le Samouraï is not a jidaigeki (period drama) set in Japan but a story of Jef Costello, a contract killer in Paris in the 1960s. Melville's conception did not only exist in the context of post-World War II France but also descended from the history of Japonisme in France since the nineteenth century.
---
About the speaker: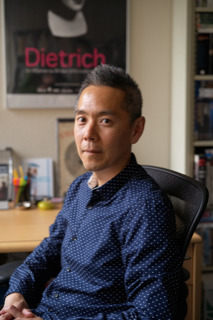 Daisuke Miyao is Professor and Hajime Mori Chair in Japanese Language and Literature at the University of California, San Diego. He is the author of Japonisme and the Birth of Cinema (Duke University Press, 2020), Cinema Is a Cat: A Cat Lover's Introduction to Film Studies (University of Hawai'i Press, 2019), The Aesthetics of Shadow: Lighting and Japanese Cinema (Duke University Press, 2013), Eiga wa neko dearu: Hajimete no cinema sutadizu (Heibonsha, 2011), and Sessue Hayakawa: Silent Cinema and Transnational Stardom (Duke University Press, 2007). Miyao also edited The Oxford Handbook of Japanese Cinema (Oxford University Press, 2014) and co-edited Transnational Cinematography Studies (Rowman & Littlefield, 2017) with Lindsay Coleman and Roberto Schaefer, ASC.
---
About the John Howes Lecture in Japanese Studies:
John Howes was a founding member of UBC's Department of Asian Studies, which he joined in 1961 after earning his doctorate from Columbia University. During his 30 years of active teaching and research, Professor Howes was at the forefront of Canada-Japan cultural, educational and people-to-people relations and inspired countless young Canadians to dedicate their careers and lives to the Canada-Japan relationship in one way or another. In 2012, a number of UBC faculty, staff, and Professor Howes' devoted former students came together to launch an endowment in his honour. The fund supports the John Howes Lecture in Japanese Studies, an annual public lecture for prominent scholars from around the world to speak to the university community and alumni on topics in Japanese Studies with a focus on Humanities. Dr. Howes passed away peacefully on February 4th, 2017, at the age of 92.