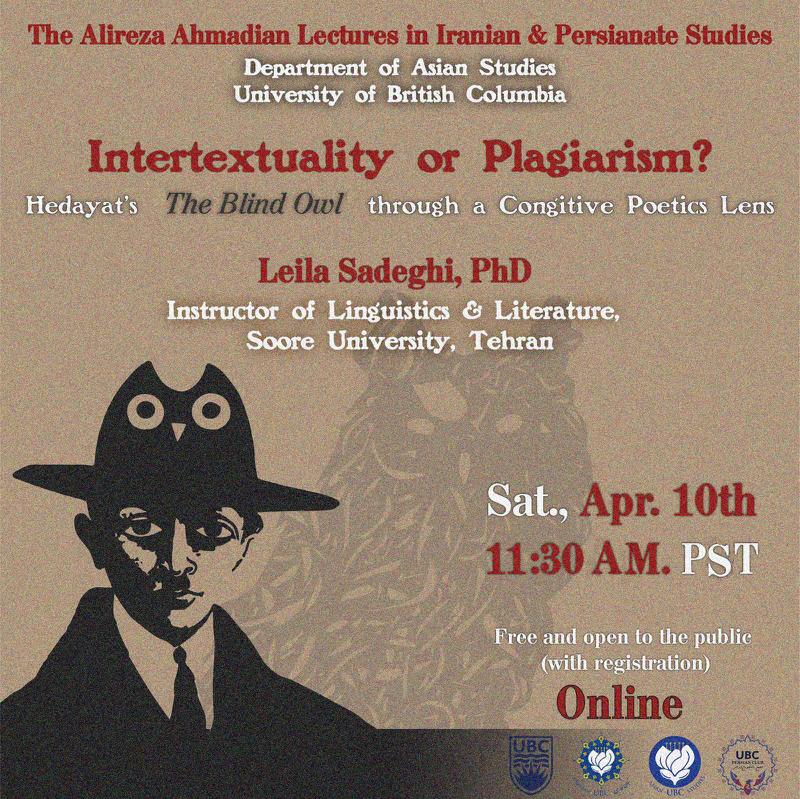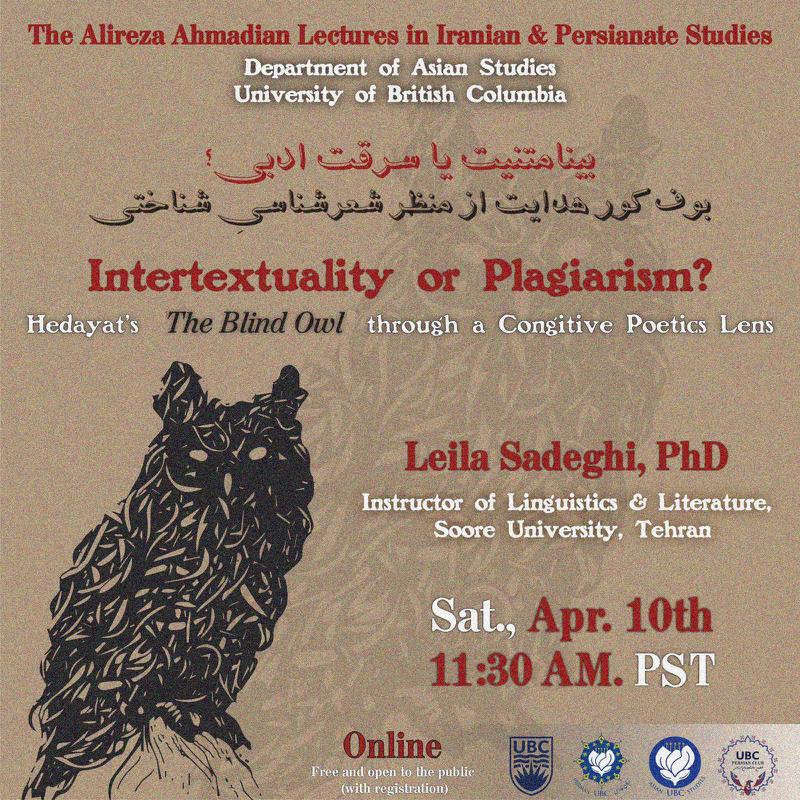 Poster design: Razman Goudarzi (UBC student; Current UBCPC President)
Presented in Persian with English subtitles. Registration is essential here.
Plagiarism is defined as "presenting someone else's work or ideas as your own, with or without their consent, by incorporating it into your work without full acknowledgement." It is, however, often mistaken for intertextuality, which is used to "designate the various relationships that a given text may have with other texts." Despite their different goals, plagiarism and intertextuality are sometimes mistaken for each other due to their overlap in their drawing on others' texts and the fact that they keep readers wandering between two worlds, i.e., that of the cited/copied text and that of the new one. Sadeq Hedayat's The Blind Owl (1936) has often become the subject of a heated debate on the difference between intertextuality and plagiarism; indeed, The Blind Owl has been explicitly accused of plagiarism by some scholars who do not find a clear and practical border between plagiarism and intertextuality.
In this presentation, using The Blind Owl as a point of reference, and drawing on notions and theories in Cognitive Poetics, I will attempt to differentiate plagiarism from intertextuality, while also briefly pointing out the intertextual relations between The Blind Owl and a good number of other texts, including William Shakespeare's Hamlet (1602); Gérard de Nerval's Aurélia (1855); Rainer Maria Rilke's Malte Laurids Brigge's Notebooks (1910); Stellan Rye & Paul Wegener's The Student of Prague (1913);  Wyndham Lewis's Tarr (1918); Franz Hellens's Mélusine, Ou, La Robe De Saphir (1920); Robert Wiene's The Cabinet of Dr. Caligari (1920);  Friedrich Wilhelm Murnau's Nosferatu (1922); André Breton's Nadja (1928); William Faulkner's The Sound and the Fury (1929); Jean Cocteau's The Blood of a Poet (1930); Virginia Woolf's The Waves (1931), etc. In its intertextual connections with these and other texts, The Blind Owl enters into a dialogue with them in order to project an innovative world—a world which would remain partly undiscovered were we not to familiarize ourselves with these intertexts.
Leila Sadeghi is an Iranian postmodernist poet and fiction writer. Holding a PhD in Linguistics from the University of Tehran, Sadeghi has published numerous articles on language and literature in Persian and English. She is an instructor of Linguistics & Literature at Soore University, Tehran.
About the Alireza Ahmadian Lectures in Iranian and Persianate Studies: Alireza Ahmadian (1981 – 2019) was an enthusiastic researcher, a consummate socio-political analyst, and an opinion leader on foreign policy who nurtured the virtues of diplomatic dialogue and liberal democracy. Alireza was a proud and devoted UBC alumnus, supporter of UBC's Asian Studies department, and beloved member of Canadian-Iranian Community. UBC's Asian Studies department renamed this lecture series in his honour in 2019. The Ahmadian family and friends have provided funding to support this series, and this generous gift will see these important academic and community engagement events supported through to the end of the 2025/2026 academic year. To access the full list of events, click here.