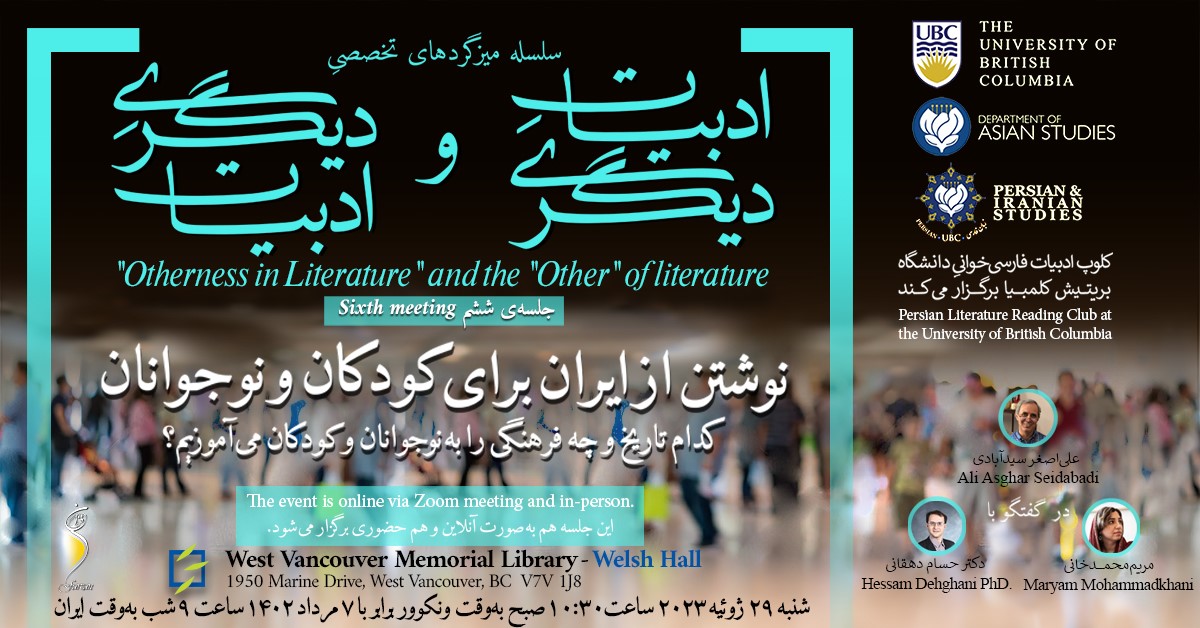 This year, UBC Persian Literature Reading Club at UBC's Iranian and Persianate Literature, Language and Culture Program at UBC is hosting a series of panel discussions about "Otherness" in modern Persian Literature. The question is what it means to be an "Other" as a writer creating and promoting new genres other than the main body of Persian Literature or to be "Other" in depicting the experience of the minorities in the Persianate world. During the Fall, Winter, and Spring of the calendar year, we will attend to both trends in modern Persian Literature.
The sessions are hosted by Iranian writer and critic Amir Hosseing Yazdan Bod and Dr. Hessam Dehghani from the Iranian and Persianate Literature, Language, and Culture Program at UBC. For each session, they invite a writer in that specific genre, introduce and analyze genres as varied as science-fiction, crime novels, detective stories, literature of religious, racial and ethnic minorities, and the like.
This is the sixth session in our current series "Otherness" in Literature and the "other" of literature: Writing for Young Adults and Children". During this discussion, our panelists will delve into the content taught to Iranian children and young adults regarding history and culture, and analyze its evolution over the past few decades. They will critically examine a selection of highly regarded Persian books written for children and young adults, exploring subjects pertaining to Iran's historical, cultural, and literary legacy.
Date & Time:
Saturday, July 29, 2023
10:30am (PDT) / 9:00pm (Tehran Time)
Location: West Vancouver Memorial Library, Welsh Hall (1950 Marine Dr Welsh Hall, West Vancouver, BC V7V 1J8)
There is also an option to attend virtually via Zoom Meeting.
Presented in Persian
Free & open to the public. Registration is required via the form below.
---
Guest Speaker
Ali Asghar Seidabadi, born in 1971, is an author, book promoter, and researcher in children's and young adult literature. He studied journalism at Allameh Tabataba'i University and has written about 80 books in Persian for children and young adults, some of which have also been translated into other languages. He has received prominent awards for his books and research. He has also played a role in establishing influential institutions such as the Association of Children and Young Adult Writers, the Flying Turtle, and the Reading Clubs for Children and Young Adults.
علیاصغر سیدآبادی، متولد سال 1350 نویسنده، مروج کتابخوانی و پژوهشگر ادبیات کودک و نوجوان است. او در رشتهی روزنامه نگاری دانشگاه علامه طباطبایی تحصیل کرده است و تا امروز حدود 80 کتاب به زبان فارسی برای کودکان و نوجوانان نوشته و منتشر کرده که برخی از آنها به زبانهای دیگر هم ترجمه شده است. او تا کنون جوایز مهمی را برای کتابها و پژوهشهایش به دست آورده است و در تاسیس نهادهای تاثیرگذاری چون انجمن نویسندگان کودک و نوجوان، لاکپشت پرنده و جام باشگاههای کتابخوانی کودک و نوجوان نقش داشته است.
Hosts
Dr. Hessam Dehghani earned his first PhD in Linguistics from Allameh Tabātabāi University working on the "Structural analysis and Phenomenological study of Persian Literature" in 2012. He then earned another PhD in Philosophy from Boston College in 2019. Between August 2019 and December 2020, he was a post-doctoral fellow and associate researcher at Harvard Divinity School and the Center for Middle Eastern Studies where he focused his research on the formation of the Persianate identity in Persian Mystic Literature. He has presented on different aspects of Persian mystic literature regularly at Harvard University and Boston College. His latest presentation on Persian Literature at Alireza Ahmadian Lecture Series can be found here. He is also the director and founder of Persian Literature Reading Club at UBC, a public humanities initiative where the most prominent Persian writers, academics, students and the Persianate community at large come together to read about and discuss some of the most pressing human issues raised in the works of Modern Persian Literature.
Besides his research interest, he has been teaching English as a foreign language in Iran since 2000, and Persian and Arabic in North America for the past 8 years. Since 2012, he has taught Persian and Arabic and directed Persian program single-handedly at Boston College for which he received both teaching and leadership award from that institution. In 2021, Dr. Dehghani started his tenure-track position as an assistant professor of teaching Persian language and Culture at the University of British Columbia. In pedagogy, his interests lie in Content-based Instruction and Critical Heritage Language Education for which he has passed multiple CAL, ACFTL and STARTALK workshops and received several certifications from 2013 up to present. He is passionate about implementing technology in teaching Persian and creating open access interactive online textbooks. Implementing the latest findings in Critical Heritage Education and Second Language Acquisition, he and his wife, Mahtab Sirdani, devised a new method of teaching literacy to the heritage learners of Persian, they call Collaborative Storytelling (CT).
Maryam Mohammadkhani, born in 1987 in Tehran, studied Persian language and literature after receiving a gold medal in the Olympiad of Literature and Linguistics. She continued her studies at the University of Tehran until she obtained her master's degree. For over a decade, she has been actively involved in various fields such as creative writing, criticism and research, teaching, and journalism, all centred around children's and young adult literature. She is currently a graduate student at the University of British Columbia, studying children's literature.
---