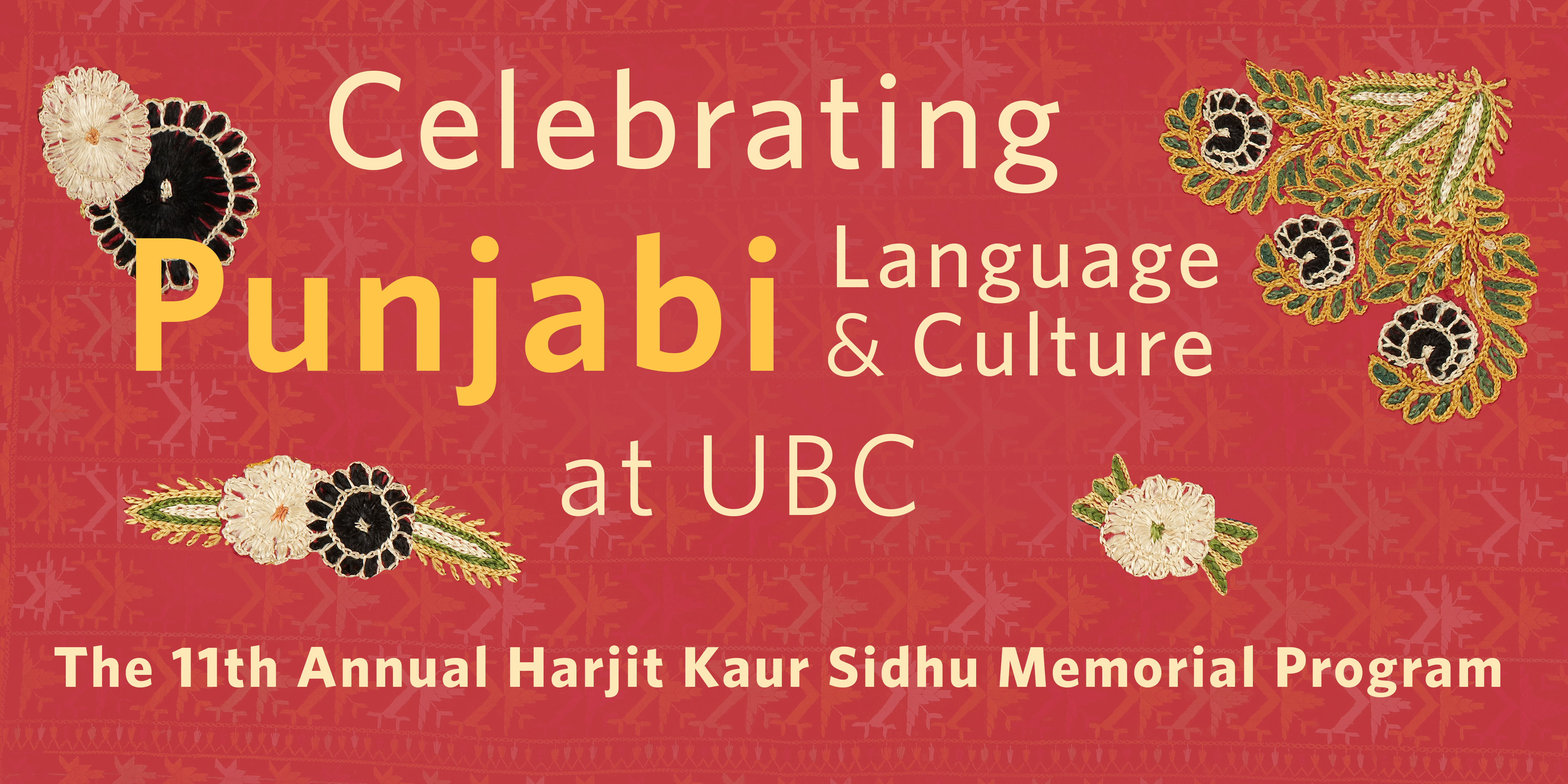 The Department of Asian Studies is pleased to invite you to our 11th Annual Harjit Kaur Sidhu Memorial Program. Join us in celebrating over 30 years of Punjabi language at UBC on March 14th!
Thursday, March 14, 2019
6:00pm Reception with food and refreshments
6:30pm Event Program
Multipurpose room, Liu Institute,  6476 NW Marine Dr, Vancouver, BC V6T 1Z2
Free & open to the public. Please register online
Featuring
Performances by UBC Punjabi language students
A celebration of the life of writer Gurcharan Rampuri (1929 – 2018), the first recipient of the Sidhu Memorial Writer's Award
Awards for winners of a student Punjabi-language essay contest
A lifetime achievement award for BC-based Punjabi language writer, Joginder Shamsher
Due to measures outside of our control, original speaker Mushtaq Soofi will not be joining us. The event, Language and Politics in Pakistan: The Case of Punjabi, on March 13th has therefore been cancelled.
Made possible by the generous support of the Sidhu family, in loving memory of Harjit Kaur Sidhu (née Gill), devoted wife, mother, and strong advocate for education, Punjabi culture and language, and women's issues.
Organized by the Department of Asian Studies and co-sponsored by the Centre for India and South Asia Research and the Office of the Dean of Arts.
Thanks to our media partner Spice Radio 1200AM.
---
Why is Punjabi Studies Important at UBC? 
At the University of British Columbia, the Punjabi language occupies a central place in our South Asia program, and represents one of the largest and longest-standing Punjabi-language programs in the world, outside of South Asia. In this video, hear from students why Punjabi Studies has been integral to their experience at UBC.
---
About the Harjit Kaur Sidhu Memorial Program: 
The Harjit Kaur Sidhu Memorial Program celebrates the rich life of Punjabi language and culture and its importance in BC, in memory of a woman who shared such passions. Our goal is to call attention to important new scholarship on Punjabi language and culture and bring it to our students and the broader Vancouver area audience; encourage and recognize achievements in Punjabi language cultural production; and honor students for their work in learning and using the Punjabi language.
---
Want to stay up to date with Punjabi Studies news and events at UBC?
Register for our mailing list!
---