Professor Chris Rea, assisted by PhD students Liu Yuqing and Yao Jiaqi, has been researching and translating a number of classic Chinese films, now available on YouTube, as part of an ongoing project to make early Chinese cinema history more accessible.
These films are related to his course ASIA 345: Chinese Film Classics (available online in 2020 Summer Term 1), and forthcoming book Chinese Film Classics, 1922-1949, with Columbia University Press.
They are all featured on YouTube playlist "Chinese Film Classics"; you can also subscribe to the main YouTube channel "Modern Chinese Cultural Studies" to receive notifications when new films are posted.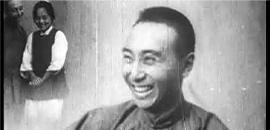 Selected Films
Laborer's Love (1922): The earliest surviving complete Chinese film. In this short slapstick comedy, a carpenter-turned-fruitseller is in love with a doctor's daughter and uses the tricks of his old trade to win her father's approval. Features special effects and original Chinese-English intertitles. A historically significant film that will draw a laugh from kids and grown-ups alike.
Daybreak (1933): An idealistic young man and woman from the countryside move to Shanghai to begin a new life, only to be ruined by a corrupt city. The man is fired, and the woman is tricked into prostitution. She redeems herself by conducting espionage in preparation for the arrival of the National Revolutionary Army, which is sweeping north in their campaign against the warlords. Will she live to see a new dawn for China?
Goddess (1934): Widely regarded as the finest Chinese silent film, Goddess is a stylistic masterpiece. A single mother working as a streetwalking prostitute finds herself trapped in a relationship with a thuggish gambler, and desperately fights to escape. How should society respond to her sacrifices? An exemplary melodrama featuring legendary actress Ruan Lingyu at her most radiant.
Sports Queen (1934): A naturally-gifted runner from the countryside enrolls in a women's sports academy in Shanghai and, after letting early success go to her head, eventually learns about the true athletic spirit. The film was made in response to a national sports craze and the government's New Life Movement, which called for physical and moral self-strengthening. Comic sequences and some elements borrowed from pre-Code Hollywood leaven the moralizing. A star vehicle for the mischievous Li Lili. The music is not original, so feel free to mute it.
The Great Road (1934): Laid-off road workers in Shanghai head to the interior to build a great road across China. Their task becomes more urgent when "the enemy" (Japan) invades, and the army needs a road to the front. A fantastic, genre-defying ensemble piece that, like Sports Queen, makes work look fun. Raymond King, the "Rudolph Valentino of Shanghai," co-stars with Li Lili and emerging star Chen Yanyan, with musical numbers by all three and a few surprises.
New Women (1935): What is the reality women face in Chinese society? What should it be? This "problem film" dramatizes the perils facing women seeking a public role in society, especially a predatory news media that treats them like commodities for public consumption. A film about the dangers of sensationalism, inspired by the recent suicide of an actress, the film itself became a sensation when lead actress Ruan Lingyu committed suicide on International Women's Day. Subtitles translated by Eileen Cheng-yin Chow.
Street Angels (1937): A girl flees war in northeast China (Japan's 1931 invasion) and ends up working as a songstress in a restaurant in Shanghai. When her foster parents decide to sell her to a thug, she runs away with her boyfriend from across the lane. Features two hit songs by Zhou Xuan and charming performances by her and co-star Zhao Dan, one of the era's best comic actors. Another genre-defying tragicomedy focused on the lives of the lower classes.
Song at Midnight (1937): A horror-musical! Phantom of the Opera (1925) inspired the premise and the genre atmospherics, but this film has a lot more going on, including a convoluted revolutionary backstory for the maimed "phantom" and a violent love triangle. The marketing campaign claimed that the film scared a child to death.
Long Live the Missus! (1947): A Chinese take on the screwball comedy, featuring an over-eager-to-please upper class housewife, her unreliable spouse, and a glamorous seductress in Civil War-era Shanghai. Not a wholehearted endorsement of husbands. Shangguan Yunzhu steals the show as the homewrecker "Mimi." Screenplay by Eileen Chang, one of modern China's most celebrated writers (and author of the story "Lust, Caution").
Spring in a Small Town (1948): Hailed as the finest Chinese film of all time, this intimate film tells the story of five people struggling to rebuild their lives in the aftermath of World War II. A married woman's humdrum life in a small town changes when her former sweetheart returns from the war to visit his old friend, her ailing husband. Will she stay or go? Yuwen's voiceover turns the film into a gripping psychological drama, even as Fei Mu's lyrical cinematography shows people hesitating at a moment of uncertainty, amidst an environment of ruins.
Wanderings of Three-Hairs the Orphan (1949): One for the kids! Sanmao (Three-Hairs) is a comic strip character come to life in this film, which strings together several episodes from the original work's depiction of the life of a street urchin in Shanghai, culminating in a bedlam ballroom sequence in a mansion. The filmmakers tacked on the victory parade ending after the People's Liberation Army entered Shanghai in May 1949.
Crows and Sparrows (1949): Several families in a Shanghai rowhouse face eviction by the Nationalist official and his kept woman, who have appropriated the building from its rightful owner and occupied the upstairs flat. In an era of open war, hyperinflation, and violence at home and work, time is running out for everyone—speculators, intellectuals, carpetbaggers, and ordinary citizens. A splendid piece of filmmaking overall, Crows features comic alchemy and three of the most memorable villains in early Chinese cinema.